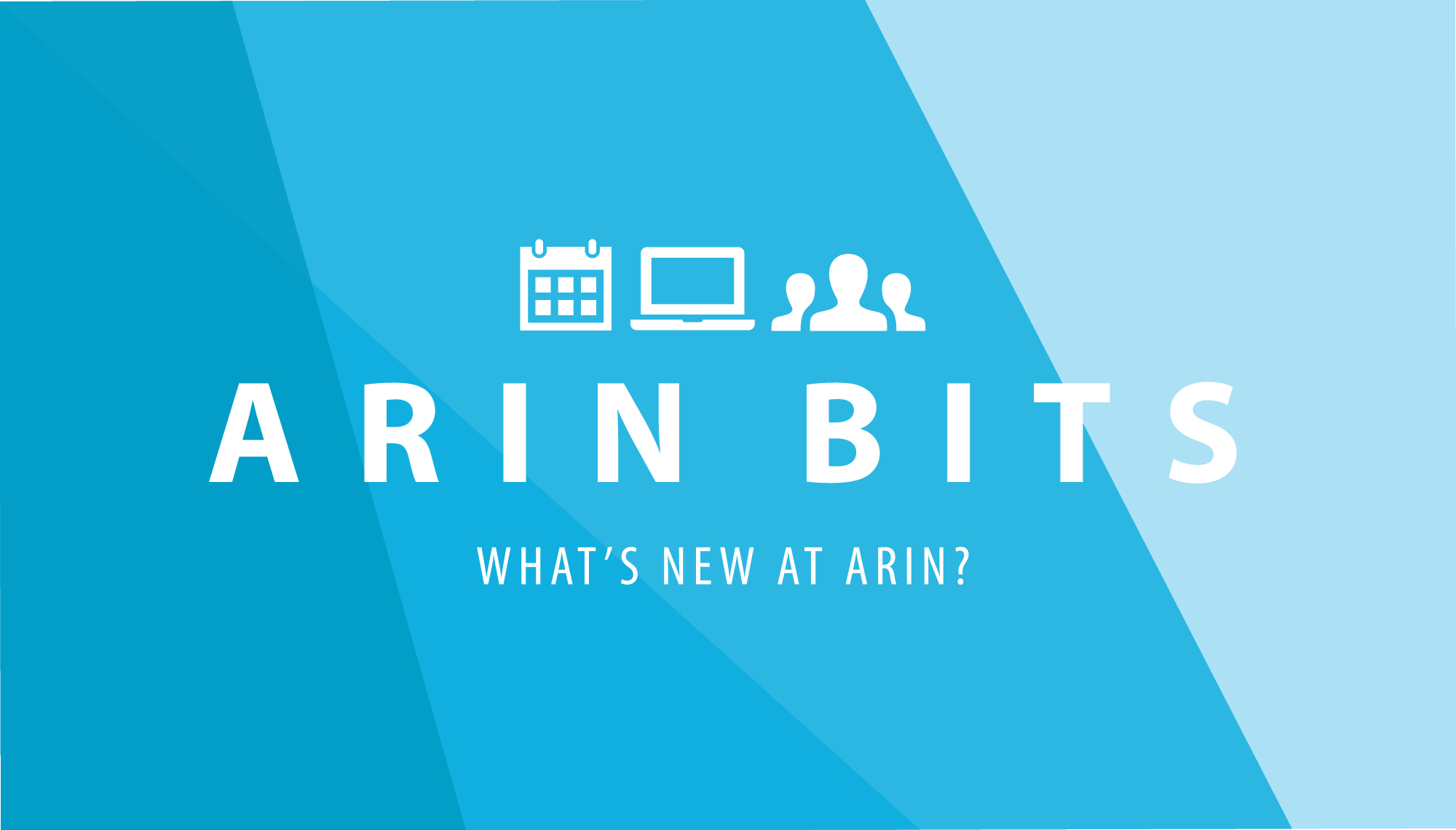 ARIN Bits: September 2022
As the season turns from summer to autumn in our region, it's time for a fresh batch of ARIN Bits! In this edition we share important updates from this past quarter and details about upcoming events, including: how to get involved in next month's Public Policy and Members Meeting and ARIN Elections; new 2FA options; community feedback; this year's grant recipients; and much more. So go ahead and dig into this full plate of bite-size bits of the essentials we've baked up for you.
Missed last quarter's edition? Find all past ARIN Bits posted on the blog.
In This Edition
Join Us for ARIN 50 in Hollywood or From Home
Have you registered for ARIN 50 yet? The fully-hybrid ARIN 50 Public Policy and Members Meeting is fast approaching! Join us from 20-21 October in person at the Loews Hollywood Hotel in Hollywood, California—directly following NANOG 86 in the same location—or virtually from wherever is convenient for you.
Using the experience and feedback we've gained from our past hybrid meetings, we've added processes, tools, and engagement opportunities to ensure a rich experience for both onsite attendees and virtual participants joining us via the Zoom webinar platform. ARIN 50 is a great opportunity to discuss draft Internet number resource policies, participate in technical discussions, learn more about ARIN services and operations, and network with colleagues. Plus, be sure to tune in for the 2022 ARIN Elections candidate speeches and forum on Thursday afternoon.
Ready to start planning for ARIN 50? Head to these links:
For hotel details, travel information, and more, visit the ARIN 50 website.
Know Before You Go
Save the date for the ARIN 50 Meeting Orientation and policy preview on 11 October from 2-3 PM EDT. You will have the option of signing up for this virtual session during your registration for ARIN 50. We welcome all first-time ARIN meeting attendees — or anyone who just needs a refresher — to join us to find out how to make the most of your meeting experience.
In the meantime, help us commemorate ARIN's 50th meeting by sharing a favorite memory you have from any past ARIN meeting, letting us know why you participate, uploading a photo, and choosing a favorite past meeting logo: Fill out the ARIN 50 Memory Lane survey.

View the Slate of Candidates for the 2022 ARIN Elections
As part of the recent Bylaws revision allowing for expansion of the Board from six to nine elected Trustees, there is one new seat up for election this year. Two existing seats have terms ending this year, resulting in a total of three open seats on the Board. As there are no changes to the size of the Advisory Council (AC), five open seats are up for election.
Elections for these Board and AC seats, as well as one seat on the Number Resource Organization Number Council (NRO NC), will be held online from 3:00 PM EDT on Thursday, 20 October, to 7:00 PM EDT on Friday, 28 October 2022.
The 2022 Nomination Committee has reviewed the nominees and has put forward all nominees to the election slates. The following candidates have agreed to run for the terms that will begin 1 January 2023:
Board of Trustees:
Naseem Bawa, Self-employed (Qualified)
Ron da Silva, Network Technologies Global (Qualifications not Demonstrated)
Muhammad Adeel Javaid, SAEM Consulting (Qualifications not Demonstrated)
Hank Kilmer, Cogent Communications, Inc. (Well Qualified)
Bill Sandiford, Self-employed (Well Qualified)
Robert Seastrom, Capital One / ClueTrust (Qualified)
William Sylvester, Addrex, Inc. (Qualified)
Advisory Council:
Jawaid Bazyar, Vero Broadband (Qualified)
Jeremy Bernick, National Science Foundation's Center for Quantum Networks (Qualifications Not Demonstrated)
Douglas Camin, Coordinated Care Services, Inc. (Qualified)
Gerry George, SLICTA - Saint Lucia (Well Qualified)
Brian Jones, Virginia Tech (Well Qualified)
Kendrick Knowles, Knowles Consulting Group (Qualified)
Gus Reese, Cogent Communications Inc. (Qualified)
Alison Wood, State of Oregon (Well Qualified)
The following individuals have confirmed their intent to seek a three-year term on the NRO NC beginning 1 January 2023:
Kate Gerry, NetActuate, Inc.
Nick Nugent, Amazon Web Services, Inc.
At this time, you can view a compilation of candidate biographies and questionnaire responses and submit Statements of Support for the candidates. To learn more about the changes to the ARIN Elections process in 2022, read about them on the blog: What Changes Are Coming to ARIN Elections in 2022?
Join the General Member Mailing List to Engage With the Candidates
All candidates for the Board, AC, and NRO NC have been subscribed to the General Member Mailing List to answer questions from the voting community. If your organization is a General Member at ARIN and plans to vote this year, we encourage you to join the mailing list as well to keep informed of ARIN Election activity.
Provide Feedback on the Proposed Updated Policy Development Process
The Policy Development Process (PDP) Working Group began in early 2020 with a goal to review the PDP and feedback received over the years, then produce a recommendation for changes to:
Improve the readability of the document;
Resolve issues in the current process noted over the past decade;
And resolve ambiguity in the current PDP structure.
After its review, the Working Group embarked on a rewrite of the PDP that included extensive restructuring of the material for improved readability. A log of significant changes in this revision has been provided for community review and we opened ACSP Consultation 2022.6 on 6 September to seek feedback from the community on this topic.
Please provide comments to arin-consult@arin.net by 5:00 PM EDT on 6 October 2022. Thank you for your participation in the ARIN Consultation and Suggestion Process!

Sign the New ARIN Registration Services Agreement
Earlier this month ARIN announced the release of an updated combined Registration Services Agreement (the "RSA") RSA Version 13.0/LRSA Version 5. If your organization is a signatory of any prior version of the RSA or LRSA and is in good standing, you can now update and execute this version of the RSA if you wish.
This updated RSA changes a section that has been the subject of notable community feedback over the years by removing significant representations from Section 7 and renames the section (previously titled "No Property Rights") to "Acknowledged Rights To Included Number Resources." We felt that this small change may be helpful to customers considering ARIN's services, including RPKI and our recently introduced Authenticated IRR, and we are hopeful it will help organizations more easily utilize ARIN's full suite of services. Learn more about the change in the announcement from 12 September.
Cover Legacy Resources With an LRSA Before the Fee Cap Ends 31 December 2023
The ARIN Board of Trustees recently voted unanimously to end the annual legacy maintenance fee cap applied to legacy resources brought under a Legacy Resource Service Agreement (LRSA) beginning 1 January 2024. All organizations with active LRSA agreements will continue to have their fees limited for legacy resources covered before that date. Any new legacy resources brought under an LRSA as of 1 January 2024 forward will fall under the full, normal RSP fees.
We strongly encourage all legacy resource holders who have not yet signed an LRSA to consider doing so by 31 December 2023 to secure the most favorable fees for their ARIN Services and access ARIN's more advanced services such as the Internet Routing Registry (IRR) and Resource Public Key Infrastructure (RPKI).
Learn more about the legacy fee cap and this change in the announcement shared 13 September. If you have any questions about billing or the 2022 Fee Schedule, please contact 2022Fees@arin.net.
Note the Change to Management of the Trust Anchor Locator (TAL) for ARIN's RPKI Service
In response to feedback from the Internet community and in the hope that it will accelerate RPKI deployment in the ARIN region, users are no longer required to sign the ARIN Relying Party Agreement (RPA) to redistribute information from ARIN's Online Resource Certification PKI ("ORCP") in a machine-readable format for network routing purposes. We ask that developers of Relying Party software include the ARIN TAL in future releases and encourage all participants in the RPKI community to download the ARIN TAL and add it to existing validator deployments. The RPA has been updated to reflect the changes in the usage of the TAL. Click here to learn more about the changes and see the updated RPA.
Catch ARIN on the Road in Wichita
After stops in Phoenix, Savannah, and Northern Virginia so far this year, we'll be heading to the Sunflower State for ARIN on the Road's final stop of 2022. If you're in the Wichita area and want to experience our amazing community in person, learn more about ARIN, and explore what we can offer your organization, then don't miss your chance when this special event comes to town Wednesday, 9 November. ARIN staff will be onsite to answer questions about IPv6 deployment and IPv4 status, discuss RPKI and routing security, provide an intro to the Policy Development Process, and more. Need more reasons to attend? We shared five on the blog. Stay tuned to our website for registration opening next month: ARIN on the Road.

Enable 2FA for ARIN Online With SMS, Voice, or Mobile Authenticator
In addition to the TOTP (Time-based One-Time Password) Two-Factor Authentication (2FA) ARIN has offered for ARIN Online account security since 2015, the option of SMS/Voice Call-based 2FA has now been implemented and is available to all ARIN customers in eligible geographical areas. This allows ARIN to address the ongoing threats to the registry by requiring that two-factor authentication be enabled on all accounts going forward. Click here to learn more about 2FA at ARIN and how to enable it for your account today.
Watch the RPKI 101 and 201 Webinars On Demand
Did you miss the RPKI webinars we presented live earlier this month? Not to worry! If you're ready to learn about RPKI — either the basics or more in depth — training is just a click away in our library of on-demand webinars.
Our RPKI 101 webinar, Enhance Your Routing Security using ARIN's Hosted RPKI, will help you gain a clearer understanding of RPKI and its purpose, identify the key components of its infrastructure, and create your first Route Origin Authorization (ROA) using ARIN's hosted RPKI. If you're looking to go further, watch our RPKI 201 webinar — Delegated, Hybrid, and the API: Beyond Hosted RPKI at ARIN — to learn how to use the API interface for deployments and work with our recently added publication service to run your own Certificated Authority while delegating the repository and publication services to ARIN (informally known as "Hybrid" RPKI). Learn more and find out which hour-long webinar is right for you by reading our blog post about them, then tune in anytime, anywhere for free training.
Review Results of the Community Consultation on an ARIN-Discuss Mailing List
In June, ARIN opened a community consultation to determine support and interest in a new, separate mailing list that would be open to any interested party to discuss non-policy matters related to ARIN and the RIR system. Due to the lack of significant community interest, ARIN will not be opening a new discussion mailing list. Parties wishing to discuss a topic relevant to the ARIN community should make use of the existing email discussion lists.
Meet the ARIN 50 Fellows and See What They'll Be Up To
As ARIN staff is busy gearing up for our ARIN 50 Public Policy and Members Meeting, we are also excited to be welcoming a new group of community members into the ARIN 50 Fellowship Program! Twelve Fellows will participate in four virtual sessions held via Zoom between 27 September and 25 October, giving them the opportunity to get immersed into the work of ARIN and feel ready to participate in the upcoming meeting.
Read the blog post about this fall's Fellowship program to get to know the selected Fellows, meet the mentors who will be guiding them, find out about other special guests joining the sessions, and get a look inside the program.
Find ARIN at Upcoming Industry Meetings and Community Events
In addition to the ARIN events we host — like the upcoming Public Policy and Members Meeting and ARIN on the Road — we attend many community events where you can join us to hear updates and presentations, ask us questions, get help with your ARIN account and resources, and more. Here's where you can find us in the next few months:
For a full list of the events ARIN will be participating in, visit our Community Event Calendar online.

Get to Know the 2022 Community Grant Program Recipients
For the fourth year in a row, the ARIN Community Grant Program has provided funding for projects that improve the Internet and make positive contributions to the Internet community in the ARIN region. We recently announced the three projects that have been selected to receive a grant. You can learn more about the work they plan to do in this post on the blog.
If you're interested in applying for a grant next year, we will issue a call for applications in the spring of 2023. Information on how to apply will be posted to our ARIN Community Grant Program page, and we will send out an email via the arin-announce mailing list once the application period opens.
Current Draft Policies and Proposals
Find the status of current policy discussions on our website and subscribe to the ARIN-PPML (Public Policy Mailing List) to voice your opinions. Remember, membership is not required to participate!
A Tip From Our Registration Services Department
If the ARIN Whois registry has a record indicating your organization is using IP addresses provided by an Internet Service Provider (ISP) but your organization no longer uses those IP addresses, how do you delete the record?
The reassignment record originally would have been created by the ISP, verifying who they have authorized to use the unique IP addresses. You will need to contact the ISP and request they delete the reassignment record. It may be helpful to look up the ISP's admin or tech points of contact in Whois and reach out to them directly. Simply enter the IP address or ISP's name into the 'Search Site or Whois' field at the top right of arin.net. You may need to click through the results to locate the point of contact information. If the ISP is unresponsive, please follow these steps for assistance from ARIN: Requesting Removal of Stale Reassignment and Reallocation Records.
Customer and Member Statistics (as of 1 September 2022)
39,290 total customer organizations, including 7,465 General Member organizations and 9,253 Service Member organizations
14,984 organizations holding Legacy Resources; 7,553 organizations holding only ASNs
469 IPv6 delegations equating to 13,570.30 /32s of IPv6 address space (YTD); 44.8% of General Member organizations hold an IPv6 block
Year-to-Date Through 30 August 2022
2,015 transfers requested; 1,754 transfer tickets processed
76,986 /24s transferred via 8.2 transfers; 67,717 /24s transferred via 8.3
16,969 /24s outgoing 8.4 transfers; 9,427 /24s incoming 8.4 transfers

1,114 /24s to APNIC; 3,349 /24s from APNIC
18 /24s to LACNIC; 56 /24s from LACNIC
15,837 /24s to RIPE NCC; 6,022 /24s from RIPE NCC
Statistic of Interest: While outgoing 8.4 transferred address space is on par with recent years, incoming 8.4 address blocks are almost 10-times more than any previous year. Within the ARIN region, 8.2 transferred space is lagging in comparison to recent years, while the amount of space involved in 8.3 transfers is about average.
See all our monthly statistics here, including more detail on IPv6 and transfers!
Recent Posts on the ARIN Blog
Recent blogs categorized under: ARIN Bits
---
GET THE LATEST!
Sign up to receive the latest news about ARIN and the most pressing issues facing the Internet community.
SIGN ME UP →
---
Blog Categories
IPv6
•
Business Case for IPv6
•
Fellowship Program
•
Grant Program
•
Caribbean
•
Internet Governance
•
Updates
•
IPv4
•
ARIN Bits
•
Elections
•
Tips
•
Public Policy
•
Customer Feedback
•
Security
•
Outreach
•
RPKI
•
Training
•
IRR
•
Data Accuracy