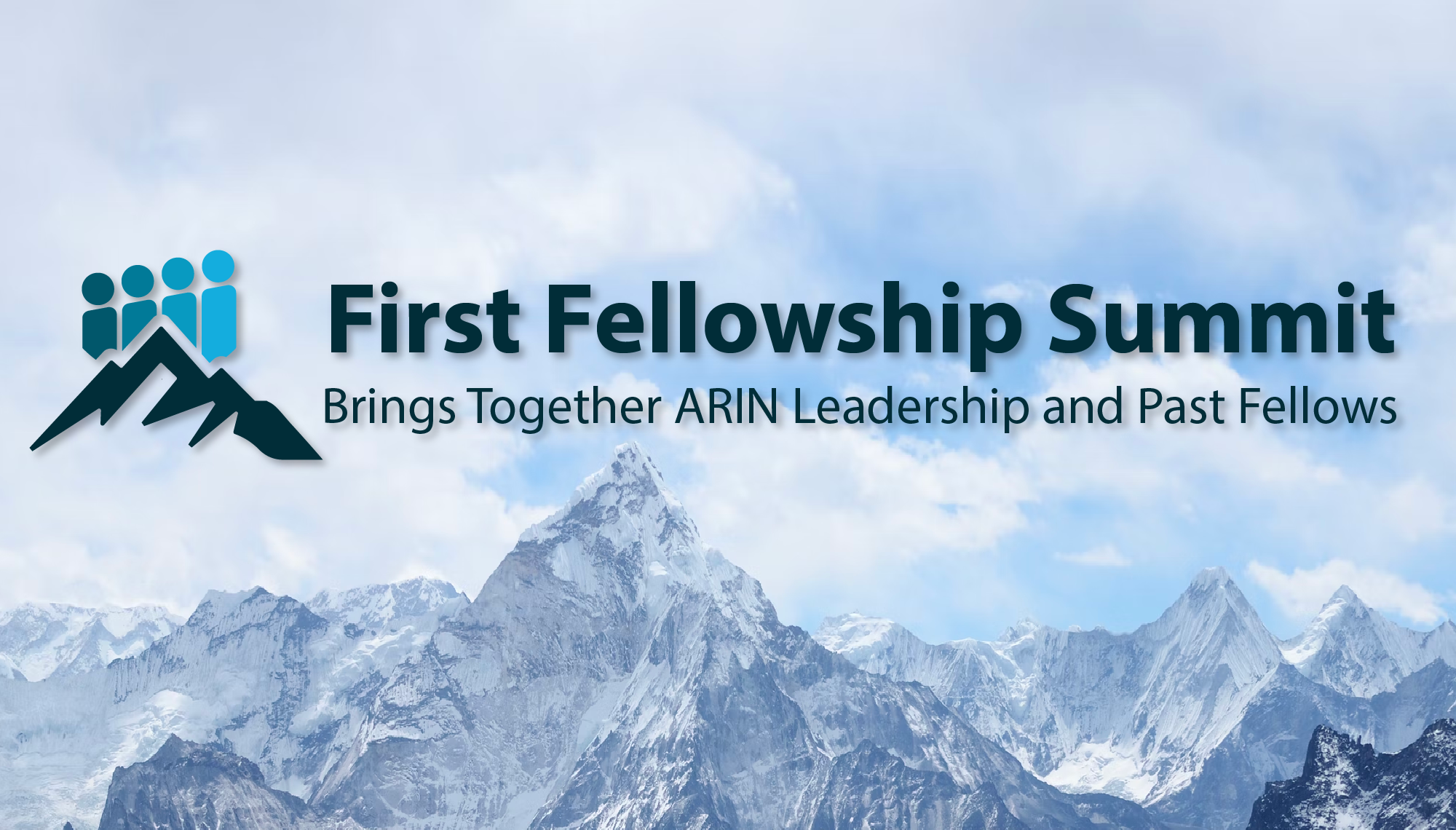 First Fellowship Summit Brings Together ARIN Leadership and Past Fellows
Last month, the ARIN Fellowship Program expanded its offerings of learning, participation, and networking opportunities by hosting the inaugural Virtual Fellowship Program Summit. The exciting new initiative, open to alumni of the Fellowship Program, capitalizes on the benefits of virtual programming that our recent groups of Fellows have enjoyed.
An Unexpected (Virtual) Evolution
When COVID-19 abruptly ending in-person gatherings in 2020 and forced a creative restructure of the Fellowship Program, it reemerged for ARIN 47 as a fully virtual program featuring four sessions in the weeks surrounding the Public Policy and Members Meeting (PPMM). The new format has expanded and enhanced the accessibility and scope of the program, and our virtual Fellows have shared rave reviews about their experiences.
Even with this increased opportunity for presentations, discussions, and mentorship time leading up to the PPMM, Fellows were still eager for more. "It made me realize that there is so much to learn about the organization, that one sitting will not suffice," said Winsome Bennett (ARIN 47).
Phoebe Rouge (ARIN 48) noted her interest in more discussion time with ARIN's Vice President of Government Affairs, Einar Bohlin: "I thought the Q&A with Einar in particular was very engaging, and only regret that we couldn't have more time to dive into some of the topics." Meri Baghdasaryan (ARIN 48) agreed. "Having been involved in Internet governance for the last five years, I found the discussion with Einar especially fascinating and engaging," she said. "For the next edition of the program, I'd suggest giving him more time to lead the discussion."
The View at the Summit
Inspired by that feedback and more, we set out to create an additional gathering for Fellows where they could continue the learning, networking, and great discussions initiated during their Fellowship Programs.
All Things Internet Governance
The first priority was to include Einar Bohlin in the agenda. ARIN's Vice President of Government Affairs was a Fellow favorite guest speaker of the ARIN 48 and 49 programs during which he shared his wealth of knowledge on Internet governance. At the Summit his presentation fully lived up to expectations, covering topics including the:
EU Digital Markets Act,
EU Digital Services Act,
ITU Plenipotentiary Conference,
Declaration for the Future of the Internet,
Ongoing Canadian legislation,
and broadband expansion.
The insightful briefing generated many questions and great discussion, along with multiple requests for updates like this to be shared more regularly with the ARIN community.
ARIN Tools and Services
Because the standard Fellowship Program, even in its expanded virtual format, doesn't present the opportunity to cover the tools and services ARIN provides, including that information was priority number two for the Summit. During the event, ARIN Fellows could spend time in breakout rooms of their choice, discussing topics of interest with the following ARIN staff members and with other Fellows:
Jon Worley – ARIN's Senior Technology Architect and expert on ARIN's tools and services.
Bevil Wooding – ARIN's Director of Caribbean Affairs, participating to engage with our Caribbean Fellows.
Sean Hopkins – ARIN's Senior Policy Analyst, covering the Number Resources Policy Manual (NRPM) and Policy Development Process (PDP).
Einar Bohlin – ARIN's Vice President of Government Affairs, providing another opportunity for further discussion on Internet governance.
From Fellowship to Leadership
Some Fellowship alumni have been inspired by their experience in the program to seek an even more active role in the ARIN community and run for positions on the ARIN Advisory Council (AC) and Board of Trustees. To highlight these leadership journeys for Summit participants, we invited a panel of past Fellows currently serving as AC and Board members to join us and share their experiences. The panel included:
Bram Abramson – ARIN Board of Trustees, ARIN 44 Fellow
Nancy Carter – ARIN Board of Trustees, ARIN 39 and 40 Fellow
Kerrie Richards – ARIN Advisory Council, ARIN 30 and 40 Fellow
Matthew Wilder – ARIN Advisory Council, ARIN 43 Fellow
Many thanks to Bram, Nancy, Kerrie, and Matthew for their participation and their enlightening answers to questions about: the professional experience or skills someone should have if they want to serve on the AC or Board; advice for those interested in pursuing a leadership position; and how their time during the Fellowship Program encouraged them to run in an ARIN Election.
Sharing Their Stories
Last but not least, we wanted to make sure we heard from the Fellows themselves! Summit participants had the opportunity to share with the group about the activities and projects related to ARIN or the Internet community that they have been working on:
Alfredo Calderon (ARIN 38, 39) explained how his Fellowship experience helped bring an ARIN on the Road to Puerto Rico and how the pandemic led to the creation of the Virtual School on Internet Governance.

Glenn McKnight (ARIN 36, 40) emphasized his efforts to promote ARIN events, including strongly recommending them to people he encounters through his work with the Virtual School for Internet Governance, ISOC and ICANN.

Meri Baghdasaryan (ARIN 48) discussed her work on the UN Cybercrime Treaty, a comprehensive global treaty to counter cybercrimes.

Jeremy Bernick (ARIN 48) updated the group on his academic work at the University of Arizona, the legal nuances encountered with new Quantum Networks, and plans to attend the upcoming ICANN 74 General Meeting in Malaysia.

Meri and Jeremy share a passion for increasing youth engagement in Internet governance, and they joined forces to plan the first-ever Youth Internet Governance Forum (IGF) USA coming up on 20 July as a pre-event to IGF-USA 2022. Read more about their efforts and the new event in this blog post: ARIN Fellowship Program Alumni Empower Next Generation Voices.

James Hulce (ARIN 49) shared about his time in Chicago for the National Convention of the Future Business Leaders of America and how he was recently elected as Collegiate Vice President of Financial Development. James also elaborated on how, through the Fellowship Program, he transitioned from just reading ARIN mailing lists to participating in them and learning the Policy Development Process (PDP). Read more about his experience in this blog post: An ARIN Fellow's Experience: Opening Doors to a Future in the Internet Industry.

Roman Tatarnikov (ARIN 49) described how when he applied for the Fellowship all he knew about ARIN was that we collect fees for and administrate IP addresses, but now he knows about policy development and how he can contribute to those conversations — and the experience continues to inspire him in his IT career.
It's a Hit
Thanks to all our attendees for making the first Virtual Fellowship Program Summit a success. We look forward to the continuation of this unique, additional opportunity for our Fellows to connect, network, and engage with members of the ARIN community each summer. And this year's participants agreed, sharing positive feedback and their biggest takeaways from the event, including: learning about the interesting work Fellows have been doing; current Internet governance issues; how to get involved in ARIN and work toward a Board of Trustees or Advisory Council position; the state of international developments; the Virtual School of Internet Governance; and the diverse and accepting people and skillsets coming together to make the ARIN community better.
See you next summer!
Recent blogs categorized under: Fellowship Program
---
GET THE LATEST!
Sign up to receive the latest news about ARIN and the most pressing issues facing the Internet community.
SIGN ME UP →
---
Blog Categories
ARIN Bits
•
IPv6
•
Business Case for IPv6
•
Fellowship Program
•
Grant Program
•
Caribbean
•
Internet Governance
•
Updates
•
IPv4
•
Elections
•
Tips
•
Public Policy
•
Customer Feedback
•
Security
•
Outreach
•
RPKI
•
Training
•
IRR
•
Data Accuracy