Membership
Overview
There are two types of ARIN Members: General Members and Trustee Members.
General Members
General members are entities that have a valid ARIN Registration Services Agreement (RSA or LRSA) for Internet number resources and are enrolled in ARIN's Registration Services Plan or pay an annual membership fee. General members fall into two categories:
Automatic Members
The vast majority of ARIN Members are Internet Service Providers (ISPs) that are automatically enrolled in ARIN's Registration Services Plan and receive membership at no additional cost after receiving an initial direct allocation of IPv4 or IPv6 addresses.
ARIN Membership via Application
Entities with a signed LRSA / RSA and Internet number resources from ARIN (end users, for example) may become members by filling out the application and paying an annual $500 membership fee or requesting to enroll in ARIN's Registration Services Plan.
To apply for membership:
Log into your ARIN Online account.

Select Your Records > Organization Identifiers from the navigation menu.

Select the Organization Identifier (Org ID) that you wish to register as a member.

In the Org Info section, from the Actions menu, select Membership. (This menu option appears only if your organization is eligible for membership.)
(Optional) Enter the URL of your organization's website to add it to the information provided in ARIN's member list.
Choose Apply. A ticket is automatically created for your request.
Note: Before applying, ensure that your organization name legally exists. In certain cases, organizations may need to update their organization name with ARIN before receiving membership.
Trustee Members
Trustee Members are comprised of the individuals elected or appointed to the ARIN Board of Trustees and the President and CEO of ARIN. Trustees are members during their tenure on the Board.
Membership Benefits
ARIN provides the following membership benefits designed to encourage participation. As an ARIN Member, your organization may:
Vote in ARIN Elections - each ARIN Member is entitled to vote through its Voting Contact.
Nominate individuals to the Board of Trustees and Advisory Council.
Participate in the ARIN Discuss Mailing List.
Take advantage of future membership benefits offered.
Take pride in your contribution to the Internet community by posting the ARIN Member logo on your website and printed materials! To receive a copy of the member logo, please send an email to members@arin.net. Be sure to include information about whether the logo will be for print or online, and what size you would prefer. Please be aware that the logo for print publication may be a large file.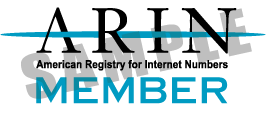 Member Responsibilities
As a service organization, ARIN places a premium on being responsive to the needs of the community. Our ability to respond is heavily impacted by the level of community participation in elections, meetings, and the policy process.
As the ARIN community grows and changes, we are actively seeking to diversify community involvement through our outreach and education activities. We rely on our members to be "good citizens" by voting in elections, attending meetings, and participating in the policy process, so we can continue to fulfill our mission.
Since voting in elections is one of the most important benefits of membership, this means that designating a Voting Contact and keeping that information up-to-date is a crucial responsibility of each ARIN Member. Without updated Voting Contact information, a member organization loses the ability to vote in annual ARIN Elections, which shape the future of our community and the Internet itself.