ARIN Board of Trustees
Role
The Board of Trustees maintains authority over the scope, mission, and along with the President and Chief Executive Officer establishes the strategic direction and fiscal oversight. The President and Chief Executive Officer, along with ARIN staff, executes the strategic direction through the operational management of ARIN. The Board also has oversight authority of the nomination, appointment, and election of individuals to Board committees and similar roles.
The Board of Trustees consists of seven members. Six members are elected by ARIN's membership and the President of ARIN serves as the seventh Trustee. An additional voting member (potentially bringing the Board to 8 voting seats) may be appointed by the Board at its discretion (for a term not to exceed one year) to provide diversity to the Board's membership.
Members are selected in accordance with the ARIN Bylaws and the published election process. The President sits on the Board throughout the duration of his/her employment contract. While Board members are welcome to bring comments, questions, and concerns to senior ARIN staff (directors), Board members must include the President in any correspondence. Any assignments or tasks are assigned to staff members only by the President.
The Board has standing committees, and from time to time may appoint special committees. Read the Election Guidelines for more information on how Board members are nominated and elected. Please see the ARIN Bylaws for further details about the Board of Trustees.
Current Members of the Board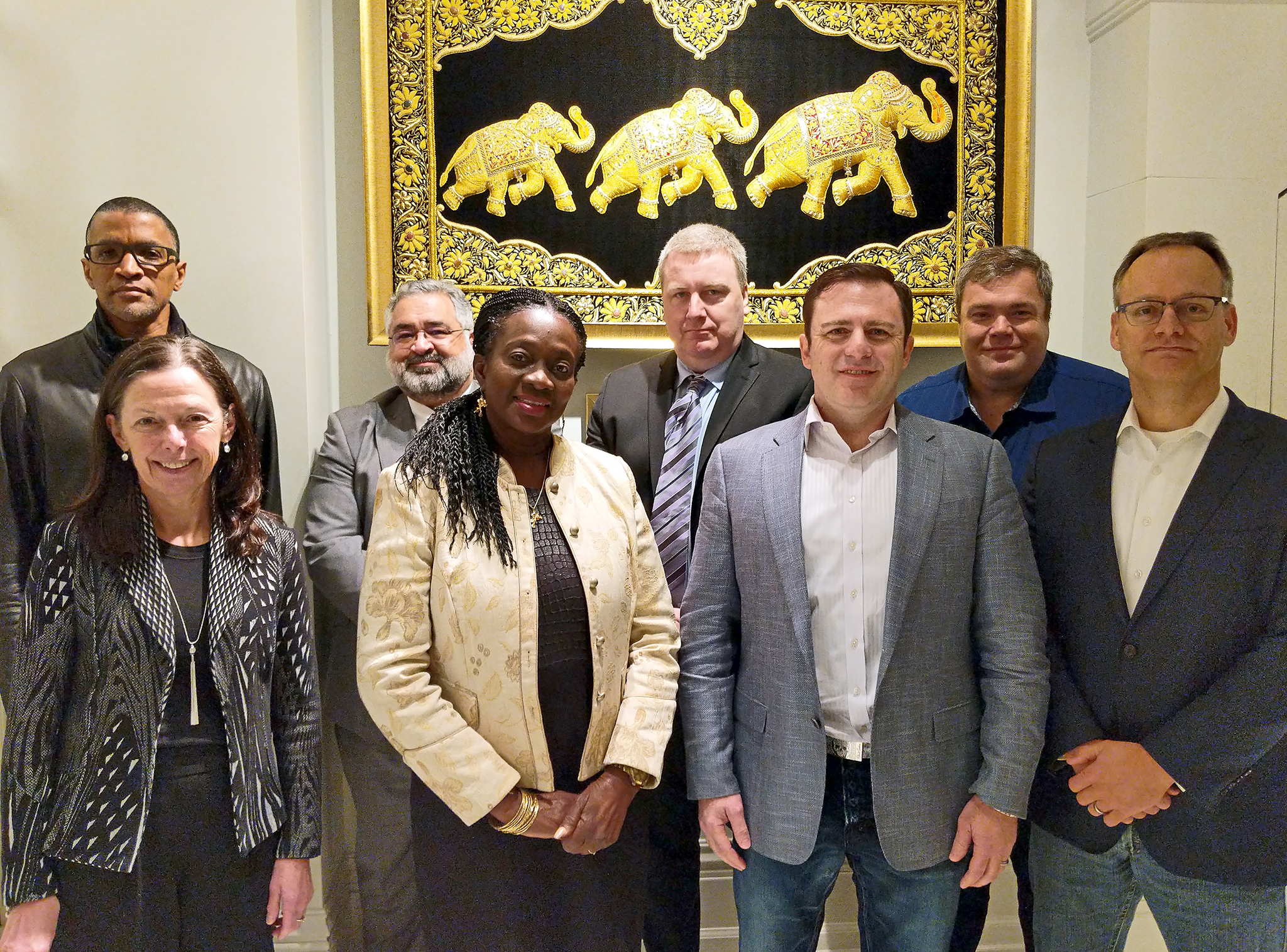 Board Secretary
Stephen M. Ryan, General Counsel
Biographies
Dan Alexander is currently a Network Engineer for Comcast Cable. He is responsible for the planning and management of Internet number resources on the cable network. Prior to joining Comcast, he served a similar role with Excite@Home after obtaining a Bachelor of Science degree from Southern Illinois University. Dan has advocated the bottom-up model of Internet governance and IPv6 deployment for fifteen years, and filled a crucial role in helping one of the largest Internet Service Providers on the globe become a leader in IPv6 deployment. He has also participated in inter-RIR coordination efforts and the ITU IPv6 Working Group. Dan served on ARIN's Advisory Council for twelve years, three of which as Chair. He was elected to the ARIN Board of Trustees in 2017. His current term expires 31 December 2020.
Paul Andersen has been with egateNETWORKS Inc., a managed network service provider based in Toronto, since he founded the company in 1996. He is responsible for the design and implementation of the organization's IP network. He has served as Board Chairman for both the Canadian Internet Registration Authority (the dot-ca registry) and the Toronto Internet Exchange. Paul is a licensed member of Professional Engineers Ontario, and holds a B.A. Sc. in Computer Engineering from the University of Toronto. Paul joined the ARIN Advisory Council (AC) on 1 January 2004 to fill a one-year term, and he was re-elected in 2004 and 2007. He vacated his position on the AC when he was elected to the Board of Trustees in 2009, and he was re-elected in 2012, 2015, and 2018. His current term expires 31 December 2021.
Nancy Carter is the CFO of CANARIE Inc., a key partner in Canada's National Research and Education Network. As CFO, she is responsible for the financial integrity and operations of the organization, which includes the management and administration of CANARIE's funding and program delivery; human resources; IT management; and all legal and contracting. Nancy also acts as Treasurer on a Condominium Board, and sat on the Board of the Internet Society Canada Chapter (ISCC) for four years as Treasurer. Nancy was elected to the ARIN Board of Trustees in 2017. Her current term expires 31 December 2020. She served as Treasurer of the Board in 2018.
John Curran is the President and CEO of ARIN. John is a recognized expert on Internet and telecommunications matters and has been the Chief Technology Officer of three successful Internet companies: BBN/GTE-Internetworking, XO Communications, and ServerVault Corporation. John led development of several early Internet research networks and provided technical leadership to BBN's transition to commercial Internet services. He has been an active participant in the Internet Engineering Task Force (IETF), having both co-chaired the IETF Operations and Network Management Area and served as a member of the IPng (IPv6) Directorate.
John is a founding member of the ARIN Board of Trustees, having served since August 1997. He was re-elected in 2000, 2003, and again in October 2006, and served as Chairman of the Board of Trustees from inception through early 2009. Since 2009, John serves as ARIN's President and CEO of ARIN, which is a non-elected, full-voting member of the Board of Trustees.
Regenie Fräser has spent her entire career in the telecommunications industry working to develop accessibility and services in Suriname and throughout the Caribbean. Following a twenty year career with TELESUR, where she spent a decade as the Head of International Affairs, Regenie next served from 2004 – 2015 as the Secretary General of the CANTO (Caribbean Association of National Telecommunication Organizations). In this capacity she directed the development and implementation of services to 128 member companies in 30 countries on 4 continents, managing research and development activities as well as new business development and technical assistance. Regenie holds a Master of Arts in Telecommunications and a Licentiatus in Law. She is active in many professional bodies including Soroptimist International, Hubert H. Humphrey Caribbean Association and PLOTT (Powerful Ladies of Trinidad and Tobago). Regenie was appointed to serve a one year term on Board, 1 January – 31 December 2019.
Patrick Gilmore VP of Marketplace Services at Addrex. The Addrex Marketplace is the only worldwide marketplace set up solely for IPv4 number block transfers. Patrick is also Founder and Special Advisor at Deep Edge Technologies. Previously, Patrick was Chief Technology Officer (CTO) at Markley Group, responsible for Markley's Cloud Computing and Infrastructure as a Service offerings. Before that, Patrick was Chief Network Architect of Akamai Technologies, where he worked for over 13 years. At Akamai, Patrick's group was responsible for managing peering and capacity for the world's largest CDN, one that served approximately 25% of all traffic on the Internet. In addition to ARIN, Patrick is currently on the Board of Directors for the North American Network Operators' Group (NANOG) and the PeeringDB, as well as a previous board member of the London Internet Exchange (LINX) and the Seattle Internet Exchange (SIX). Patrick was elected to the ARIN Board of Trustees in 2016. His current term expires 31 December 2019.
Peter has built the core web infrastructure for several of Silicon Valley's Internet titans and is CCIE-certified, among many technical accomplishments. He is currently the cofounder and CTO of Colovore a high density colocation facility specializing in customers with super computing needs. Prior to this, Peter worked at Google where he helped manage global data center demand and capacity planning; the Google Fiber FTTH program and its initial data center infrastructure rollout; and YouTube's CDN server deployment and maintenance. Prior to Google, Peter was an Operations Director at eBay, where he helped build Shopping.com's search engine grid infrastructure, and a Network Manager at Netflix, where he helped launch Netflix's streaming Internet Video technology. Peter was elected to the ARIN Board of Trustees in 2018. His current term expires 31 December 2021.
Bill has over 22 years of senior management experience in the ISP and telecommunications business. He is a current member of the Board of Trustees of the American Registry for Internet Numbers (ARIN) and a member of the board for the Canadian Internet Registration Authority (CIRA). Prior to his election to the Board of Trustees at ARIN, he served on the ARIN Advisory Council for 4 years.
Bill is the former President and Chairman of the Board of the Canadian Network Operators Consortium (CNOC), a not-for-profit trade association that represents the interests of Canada's independent telecommunications service providers. Additionally he is a former Vice-President of the Toronto Internet Exchange (TorIX), and a former Vice-President of the Whitby Dunlops Senior Hockey Club.
Bill commenced his career in telecommunications after attending Laurentian University in Sudbury, ON. He is a graduate of the Institute of Corporate Directors NFP Program from the University of Toronto's Rotman School of Management.
Outside of work Bill enjoys hockey, rugby, scuba diving, and piloting his Cessna aircraft to exotic destinations around North America and the Caribbean. He resides in Toronto, ON, Canada with his wife and 3 children.
Bill served on the ARIN Advisory Council from 2009 to 2013. He was elected to the ARIN Board of Trustees in 2013, and was re-elected in 2016. His current term expires 31 December 2019.