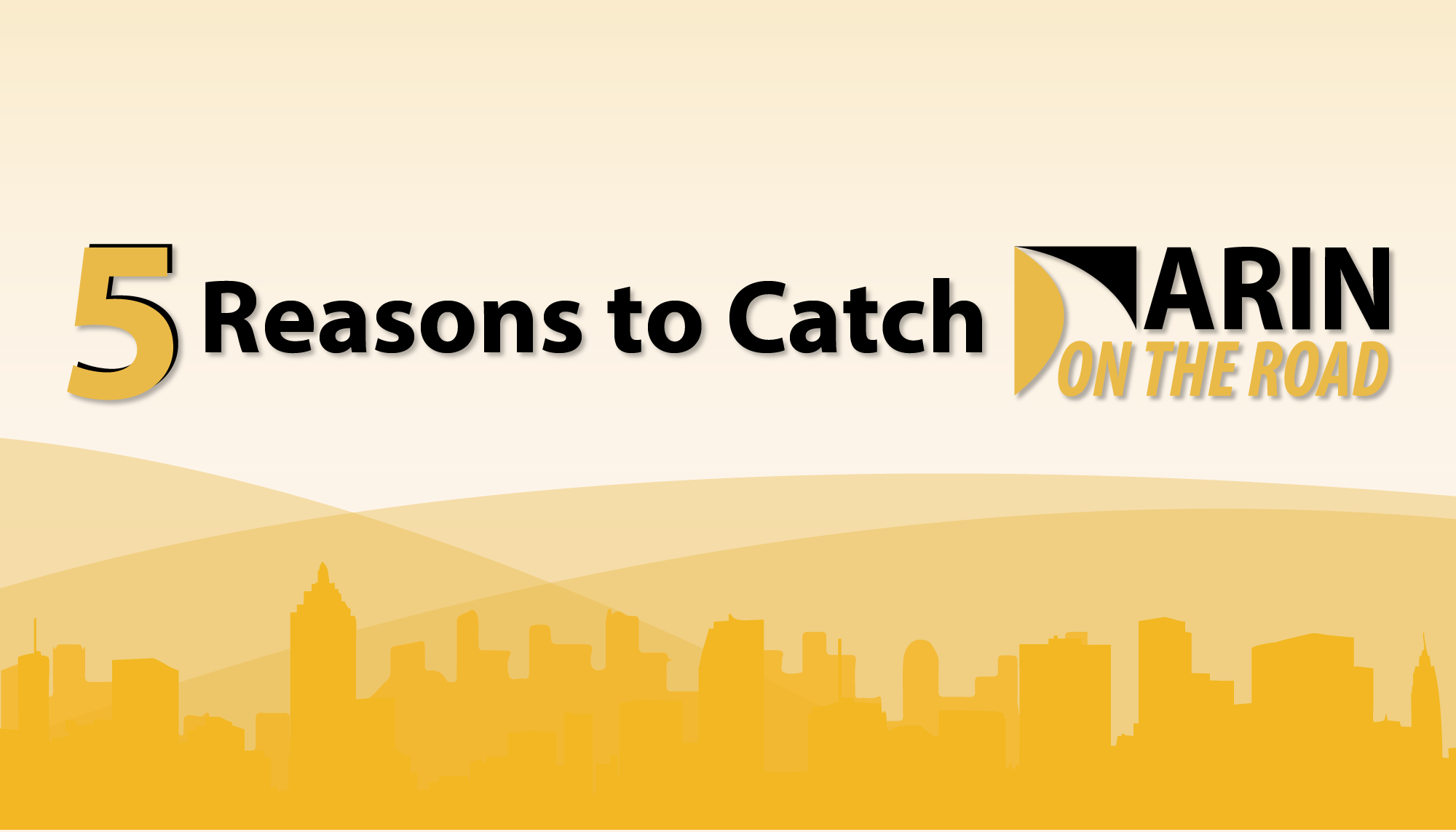 5 Reasons to Catch ARIN on the Road When it Comes to Your Town
We may be a little biased, but we think the ARIN community is a great one to spend a day with. If you want to experience our amazing community in person, learn more about ARIN, and explore what we can offer your organization, then don't miss your chance when our ARIN on the Road program comes to your town.
ARIN on the Road events are no-cost, traveling educational and interactive workshops that bring our staff and leadership directly to our customers to share the latest news from ARIN. Tailored based on feedback provided in attendee registrations, these events cover everything from requesting Autonomous System Numbers (ASNs) and the status of IPv6 adoption to current policy discussions and updates about the tools and services we provide and how to use them.
If that's not enough to pique your interest, here are five more compelling reasons why you should catch ARIN on the Road when it comes to your town.
#1: Get face-to-face time.
ARIN on the Road events are your chance to have face time with ARIN staff. You'll get to interact with a panel of true ARIN experts who are the leaders and key decision makers at the organization. Throughout the day, they present an overview of current ARIN activities and services, meet with you to discuss topics of interest, and take your questions to provide straight-from-the-horse's-mouth answers on any ARIN topic. Plus, ARIN on the Road will give you a chance to connect and network with local colleagues and fellow ARIN customers.
#2: Have questions? We have answers.
Do you have questions about IPv6 resources? Are you wondering how your organization can deploy RPKI? Need help navigating ARIN Online? ARIN on the Road is designed to be your opportunity to ask the questions you need answered to optimize your experience as an ARIN customer and community member.
During check-in, we invite you to let us know your main reason for attending and what you hope to get out of your time with us. We'll do our best to cover your topics of interest during the main program, and we'll address your specific questions during focused sessions on topics like: IPv4 Transfer Market & Waiting List / IPv6 Deployment; Digging Deeper into RPKI; and Programs & Participation.
Our Registration Services Help Desk is also on-site to answer your questions related to acquiring Internet number resources, routing security, using your ARIN Online account, and more. Plus, we always end the day with a Q&A session to cover any other information you need. And, if all else fails, we encourage you to speak one-on-one with an ARIN staff member!
#3: It's totally free!
Registration for ARIN on the Road is free, and breakfast and lunch are on us. Plus, there's a raffle at the very end of the event for those who complete a short survey about the day.
Seating is limited for these workshops, so pre-registration is required, and we encourage you to sign up early to reserve your space. Two individuals per ARIN customer (i.e. an organization holding resources directly issued from ARIN) are welcome to attend.
#4: Learn how to participate.
If you think you may be interested in becoming more involved in the ARIN community, an ARIN on the Road event is the perfect first step. In addition to providing substantial professional education, it's a chance to find out how you can help shape the future of the Internet. We discuss ARIN's mission and core values, how you can participate in the ARIN community, ways you can provide feedback to ARIN, and a brief introduction to the Policy Development Process.
#5: We've got (IPv6) stickers.
Yes, we do bring swag to ARIN on the Road events — including some sought-after stickers so you can show your support for ARIN and IPv6. But, more importantly, we provide you with the key information and personal guidance to help you move forward with your IPv6 address plans and deployment knowing what resources you need and how to get them.
Beyond IPv6, you'll learn about:
Click here to see where ARIN on the Road is headed next and register for one near you — or help us spread the word by extending the invitation to interested local friends and colleagues.
Please contact meetings@arin.net if you have any questions.
Recent blogs categorized under: Outreach
---
GET THE LATEST!
Sign up to receive the latest news about ARIN and the most pressing issues facing the Internet community.
SIGN ME UP →
---
Blog Categories
ARIN Bits
•
IPv6
•
Business Case for IPv6
•
Fellowship Program
•
Grant Program
•
Caribbean
•
Internet Governance
•
Updates
•
IPv4
•
Elections
•
Tips
•
Public Policy
•
Customer Feedback
•
Security
•
Outreach
•
RPKI
•
Training
•
IRR
•
Data Accuracy