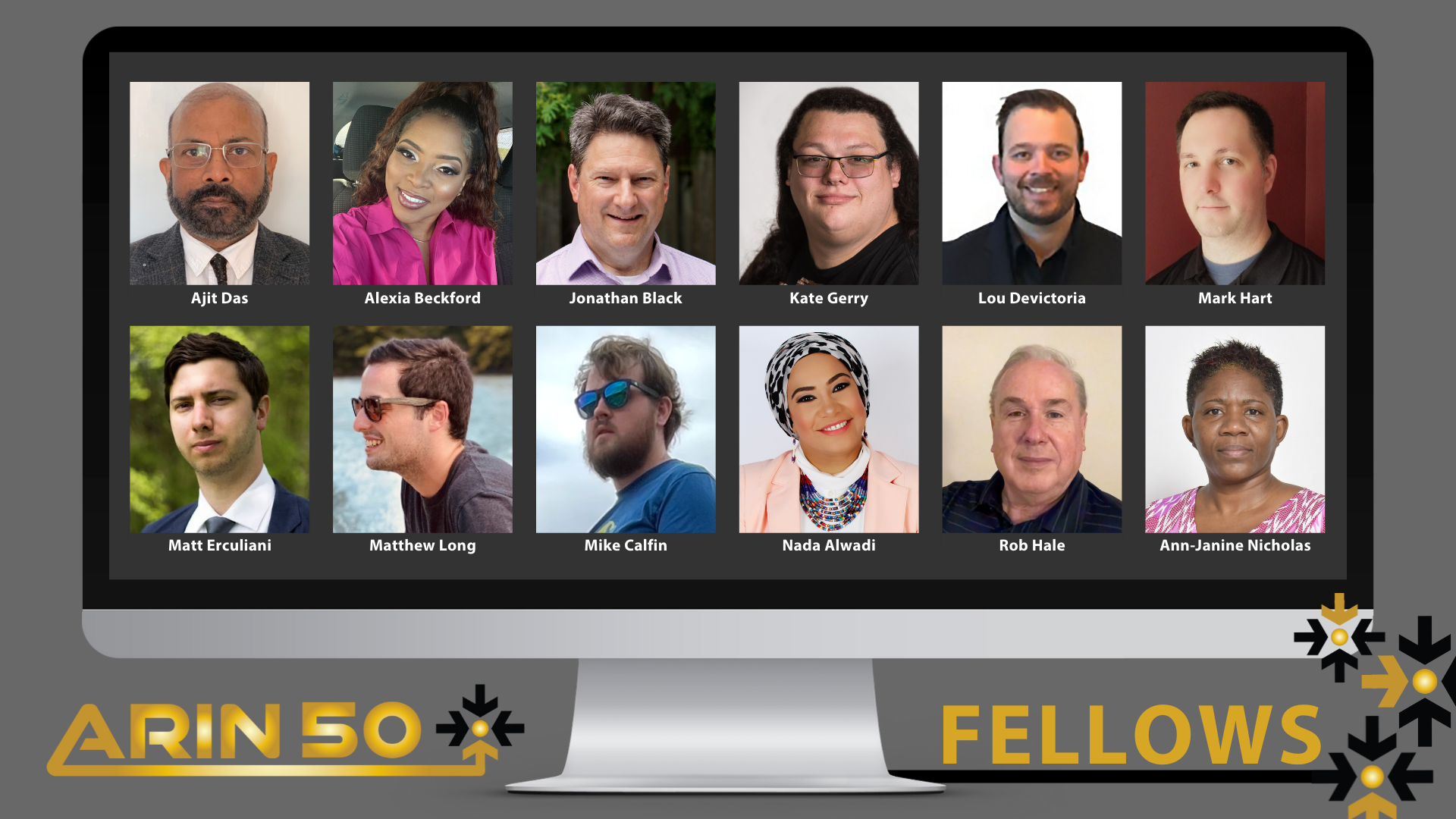 Introducing the ARIN 50 (Virtual) Fellows
ARIN staff is busy preparing for our fall Public Policy and Members Meeting, ARIN 50, which will take place online and in person in Hollywood, CA, 20-21 October 2022. Meanwhile, we are also excited to be kicking off the ARIN 50 Fellowship Program!
Comprising of four, 90-minute virtual sessions that provide an overview of Internet governance, Internet number resource policy and its development, ARIN services and operations, and the Internet Number Registry System, the ARIN 50 Fellowship Program is a great way for Fellows to get immersed in ARIN's work and feel ready to participate in the upcoming meeting. With this group of Fellows, we have now welcomed nearly 200 new voices to our community over the last decade.
Meet the ARIN 50 Fellows
To get to know them better, we asked each of our new Fellows to share a few tidbits of information, including: one word that describes how they felt upon learning they were selected for the program; what they are most looking forward to during the virtual experience; and their favorite book, movie, or hobby. Let's meet the ARIN 50 Fellows!
USA
Nada Alwadi – PhD Student, School of Public and International Affairs, Virginia Tech
Reaction: Excited
Looking forward to: Mentoring sessions
Favorite book: "The Power of Vulnerability" by Brené Brown

Michael Calfin – Chief Technology Officer, Mystic.com
Reaction: Happy
Looking forward to: Meeting other internet and networking experts that are working hard to build amazing software to make the world and internet better for everyone.
Favorite book: "1984" by George Orwell

Ajit Das – Senior Principal Engineer, Cyber and Network Infrastructure, SAIC
Reaction: Euphoria
Looking forward to: Learning for the sake of understanding the world better and building it safer is what drives my intellectual pursuits.
Favorite movie: "Cast Away" (2000)

Lou Devictoria – Lead Network Engineer, Opti9
Reaction: Excited
Looking forward to: Learning and meeting other people in the space.
Favorite hobby: Hiking

Matt Erculiani – Network Engineer, Google
Reaction: Relief
Looking forward to: Getting to know the mentors and other fellows and making connections outside of my normal circle.
Favorite movie: "The Matrix" (1999)

Kate Gerry – Director of Global Networking, NetActuate; President, Converted Networks
Reaction: Shocked
Looking forward to: Participating virtually so sessions are easier to attend.
Favorite book: "Friday" by Robert A. Heinlein

Robert Hale – Senior Manager, Technical Engineering, Novant Health
Reaction: Ecstatic
Looking forward to: Interaction with peers and gaining in-depth knowledge of how ARIN operates.
Favorite book: "Fahrenheit 451" by Ray Bradbury

Mark Hart – Bulk MDU Customer Service, Comcast
Reaction: Excited
Looking forward to: Working with staff and mentors on understanding the Policy Development Process.
Favorite hobbies: Resin, 3D Printing, and Gaming

Matthew Long – Senior Software Engineer, One Finance, Inc.
Reaction: Elated
Looking forward to: Getting connected with the community and learning along the way.
Favorite hobby: Running
CANADA
Jonathan Black – Executive Director, CanWISP; Partner, Kuro Partners
Reaction: Excited
Looking forward to: Meeting others in the program.
Favorite hobbies: Photography, Skiing
CARIBBEAN
Alexia Beckford – Program Manager, Jamaica Technology & Digital Alliance
Reaction: Happy
Looking forward to: Meeting the mentors and Fellows whilst learning more about Internet governance and the different initiatives.
Favorite movie: "The Bodyguard" (1992)

Ann-Janine Nicholas – Lecturer, Dominica State College
Reaction: Elated
Looking forward to: A wide-eyed experience and knowledge sharing.
Favorite book: "Who Moved My Cheese?" by Spencer Johnson
Thank You to Our Mentors and Special Guests
Fellows will be paired with an experienced ARIN Advisory Council (AC) or ARIN community member mentor to help guide them through the meeting and policy discussions. Mentors also lead small group breakout sessions to discuss policy development and other topics in more detail. A few other members of the AC will join us throughout the program to explain the Policy Development Process (PDP) and what to expect from the policies on the docket during ARIN 50.
Thank you to our volunteers for their involvement in the ARIN 50 Virtual Fellowship Program — their participation is key to the success of our Fellows!
Mentors
Cathy Clements – Retired, former ARIN Transfer Services Lead
Chris Tacit – ARIN Advisory Council
Chris Woodfield - ARIN Advisory Council
Special Guests
Einar Bohlin – ARIN Vice President of Government Affairs
Sean Hopkins – Senior Policy Analyst
Kat Hunter - ARIN Advisory Council, Vice Chair
Leif Sawyer - ARIN Advisory Council, Chair
Alison Wood – ARIN Advisory Council
Jon Worley – ARIN Senior Technology Architect
A Glance Inside the Program:
The ARIN 50 Fellowship Program will consist of four sessions held virtually from 27 September to 25 October.
Leif Sawyer and Kat Hunter, the Chair and Vice chair of the AC, will join us for the first two sessions. They, along with ARIN's Senior Policy Analyst, Sean Hopkins, will discuss the PDP at ARIN and policies on the docket at ARIN 50. Each mentor will have time in the spotlight, too, to talk about their career journey and their experiences with ARIN.
During the third session, Fellows will attend the ARIN 50 Meeting Orientation to learn more about ARIN and receive helpful information for attending and participating in the ARIN 50 Public Policy and Members Meeting.
At our last session, Fellows will discuss their experience and takeaways from ARIN 50. Then they will participate in an Internet Governance Q&A session with Einar Bohlin, ARIN's Vice President of Government Affairs, and hear from ARIN's Senior Technology Architect, Jon Worley, about Internet Number Resources.
We look forward to a fun and meaningful experience with this group of Fellows and to adding more new voices to our public policy discussions.
For more updates, follow us @TeamARIN on Facebook, Twitter, and on LinkedIn at ARIN's company page. Stay tuned for information regarding the ARIN 51 Fellowship Program this spring!
Recent blogs categorized under: Fellowship Program
---
GET THE LATEST!
Sign up to receive the latest news about ARIN and the most pressing issues facing the Internet community.
SIGN ME UP →
---
Blog Categories
ARIN Bits
•
IPv6
•
Business Case for IPv6
•
Fellowship Program
•
Grant Program
•
Caribbean
•
Internet Governance
•
Updates
•
IPv4
•
Elections
•
Tips
•
Public Policy
•
Customer Feedback
•
Security
•
Outreach
•
RPKI
•
Training
•
IRR
•
Data Accuracy