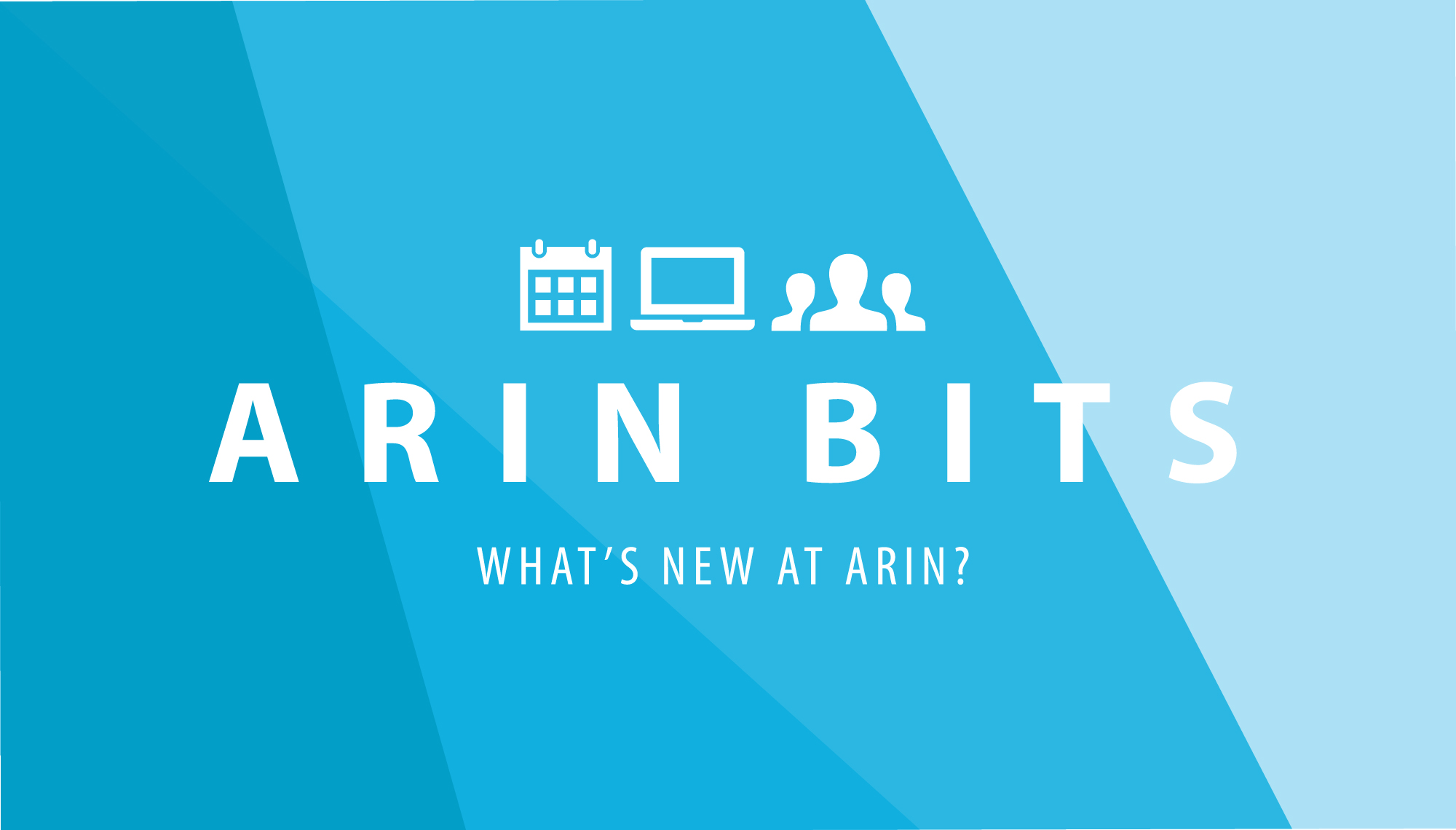 ARIN Bits: March 2023
We may just be entering the spring season officially, but at ARIN we've been moving with a spring in our step since the very beginning of 2023. The first three months of the year have been a whirlwind of updates, deployments, travel, and more as we continue working to enhance our services and fulfill ARIN's mission. In this edition of Bits we share important updates from this past quarter and details about upcoming events, including: ARIN 51 and its Fellowship Program, a new NRPM and PDP, changes to our RPKI and IRR tools, security compliance achievements, upcoming industry events, and much more. Read on to learn about all the exciting things blossoming at ARIN and in our community.
Missed any previous editions? Find all past ARIN Bits posted on the blog.
In This Edition
Join Us at ARIN 51 in Tampa or Online
Our next Public Policy and Members Meeting is less than a month away, and we hope to see you there! ARIN 51 will take place 16-19 April at the Grand Hyatt Tampa Bay in Tampa, Florida, for in-person attendees and online for virtual participants joining us via the Zoom webinar platform. Click here to register.
ARIN 51 will be a great opportunity to:
Discuss draft Internet number resource policies.
Participate in technical discussions.
Hear reports from our Board and Advisory Council.
Get updates from ARIN staff on topics including Internet Governance, routing security, and departmental happenings.
Network with colleagues.
Plus, celebrate 25 years of production IPv6 at Virginia Tech with a keynote address from some of the engineers who made it happen. They'll discuss their early adoption of IPv6 as well as the challenges and successes along the way. Then stick around for the IPv6 Success Stories panel moderated by ARIN's President and CEO, John Curran, on Tuesday afternoon to hear from more industry experts with IPv6 deployment experience.
For our in-person attendees, ARIN will be hosting a ROA-thon on the afternoon of Sunday, 16 April, to help you and your organization get started with Resource Public Key Infrastructure (RPKI). Join ARIN's Senior Product Owner of Routing Security, Brad Gorman, for an instructional session on how to enhance the routing security of your Internet number resources. Then catch up with friends and colleagues and connect with other meeting attendees at Happy Hour on Sunday evening. At any point during the meeting, visit the onsite ARIN Help Desk, hosted by experienced resource analysts from our Registration Services Department, to get any questions you might have answered. And don't forget to stop by the User Testing Desk, to share your thoughts on your experience with the ARIN website and ARIN Online — we want your input!
Virtual attendees are encouraged to participate in table topic discussions, on Tuesday during lunch, and to receive support from our Virtual Help Desk. ARIN staff will be just a click away during the first 90 minutes of each day and our scheduled lunch breaks to help you get answers, troubleshoot any technical issues you experience, and ensure you have all the links and information you need for a successful meeting.
For hotel details, travel information, and more, visit the ARIN 51 website.
Prepare to Participate
No matter how you plan to attend the meeting, save the date for the ARIN 51 Meeting Orientation on Thursday, 13 April, from 1-2 PM EDT. You'll have the option of signing up for this virtual session during your registration. Whether it's your first ARIN meeting or your 51st, we invite you to get a sneak peek at the policies up for discussion, learn more about what to expect during ARIN 51, and find out how to make the most of your meeting experience.

Meet the ARIN 51 Fellows
With ARIN 51 around the corner, that also means it's time to introduce our next cohort of ARIN Fellows! We're excited to welcome a new group of community members into our first-ever hybrid-format Fellowship Program. Twelve Fellows will participate in two virtual sessions, held via Zoom on 30 March and 6 April, before attending ARIN 51 either in person or virtually. The virtual sessions will provide Fellows the opportunity to get immersed into the work of ARIN through presentations, discussions, and Q&As with ARIN leadership so they can feel ready to actively participate in the upcoming meeting.
Read the blog post about this spring's Fellowship Program to get to know the selected Fellows, meet the mentors who will be guiding them, find out about other special guests joining the sessions, and get a look at the agenda. 
Brush Up on the New NRPM
The ARIN Board of Trustees has adopted the following policies in recent meetings:
Editorial Change ARIN-edit-2022-6: Editorial Clean-up of NRPM Sections 2.12 and 2.14
Editorial Change ARIN-edit-2022-7: Editorial Clean-up of NRPM Section 2.16
ARIN-2020-6: Allowance for IPv4 Allocation "Swap" Transactions via 8.3 Specified Transfers and 8.4 Inter-RIR Transfers
ARIN-2022-1: MDN Clarification for Qualification
ARIN-edit-2022-10: Editorial Clean-up of NRPM Sections 2.4 and 2.5
These policies are now in effect; the latest version of the ARIN Number Resource Policy Manual (NRPM), effective as of 1 March 2023, is available here. Interested in learning more about the ARIN Policy Development Process? Check out a video overview here!
Speaking of the Policy Development Process…
From 6 September to 6 October 2022, ARIN conducted a community consultation regarding the proposed updated Policy Development Process (PDP) for the ARIN region. As a result, the Board of Trustees adopted the Advisory Council's recommended revision to the PDP at its meeting on 15 December 2022. This revision will be implemented after ARIN 51 in the second quarter of 2023, alongside further communication and associated educational content.
For details on the revision and associated consultation (2022.6), visit: https://www.arin.net/participate/community/acsp/consultations/2022/2022-6/.

Legacy Fee Cap Expires This Year
Last year, the Board of Trustees voted unanimously in favor of ending the annual legacy maintenance fee cap applied to legacy resources brought under a Legacy Resource Services Agreement (LRSA) beginning 1 January 2024. All organizations with active LRSAs entered prior to 1 January 2024 will continue to have their fees limited for legacy resources covered before that date. Any new legacy resources brought under an LRSA on 1 January 2024 or later will fall under the full, normal Resource Services Plan fees. We strongly encourage all legacy resource holders who have not yet signed an LRSA to consider doing so before 31 December 2023.
Learn more about the legacy fee cap in the announcement about this change. For additional information about LRSAs and services available to organizations holding legacy resources, visit the Legacy Resources page on our website.
Is your organization a governmental entity or similar institution? Check out our new webpage with specific guidance on the information required for ARIN to consider limited modifications to the LRSA.
ARIN's RPKI Interface Is Getting a Facelift
In order to a provide an easier, enhanced, and at-a-glance experience for users of ARIN's Resource Public Key Infrastructure (RPKI) services, we have begun implementing a series of upgrades to the RPKI and Internet Routing Registry (IRR) interfaces in ARIN Online. You'll now find a Routing Security tab in the left-hand navigation menu for better, more direct access to your RPKI and IRR management tools. Within RPKI, we have made changing between Orgs easier, and increased the visibility of Orgs and their eligibility for ARIN Routing Security services. ARIN's Trust Anchor Locator has also been moved into the new RPKI Org index and removed from Downloads and Services.
Stay tuned for more information about additional upgrades to the RPKI dashboard, navigation, and management planned for later this year.
Apply for a 2023 ARIN Community Grant (Soon)
Next month we will issue the call for applications for the 2023 ARIN Community Grant Program, which provides financial support for operational and research projects that improve the overall Internet industry and Internet user environment. The program has awarded $183,975 since its start in 2019, supporting projects for Internet technical improvements, registry processes and technology, informational outreach, and research. We look forward to supporting more projects that benefit the ARIN community this year and encourage you to apply if you think your project seems like a good fit!
If you are thinking about applying, take a look at past grant recipients to get a sense for the types of projects we typically fund and carefully read through all the selection criteria to ensure your project can meet them. Plus, you can tune in to ARIN 51 on 18 April to watch presentations from the three 2022 Grant Program recipients.
Learn more and stay tuned for 2023 application information on the Grant Program page of our website.

We're SOC 2 Type 1 Certified!
Did you hear the news? ARIN has successfully completed the System and Organization Controls (SOC) 2 Type 1 audit of its Resource Public Key Infrastructure (RPKI). SOC 2 compliance demonstrates our ongoing commitment to protecting sensitive customer and organizational data from unauthorized access via its infrastructure, tools, and processes.
Achieving this certification is a significant milestone in ARIN's ongoing security efforts, but the journey is not over. We look forward to completing our SOC 2 Type 2 audit this year and will notify the community upon its completion. 
Read this blog post from Christian Johnson, Chief Information Security Officer, to learn more about ARIN's SOC 2 certification.
For more information on ARIN's security practices, visit arin.net/security.
Have You Signed In to ARIN Online Recently?
If not, and you don't have two-factor authentication (2FA) on your account, you'll be prompted to complete 2FA set up the next time you log in. As of 1 February 2023, ARIN now requires 2FA for all ARIN Online accounts. You can choose between Time-Based One-Time Password (TOTP), SMS-based, and FIDO2/Passkey-enabled security key authentication methods.
Learn more about ARIN's 2FA options and find instructions for enabling these methods by visiting the Two-Factor Authentication page on our website.

Catch ARIN on the Road in Denver
We're heading to the Mile High City for ARIN on the Road's first stop of 2023! If you're in the Denver area and want to experience our amazing community in person, learn more about ARIN, and explore what we can offer your organization, then don't miss your chance when this special event comes to town Thursday, May 18. ARIN staff will be on site to answer questions about IPv6 deployment and IPv4 status, discuss RPKI and routing security, provide an intro to the Policy Development Process, and more. Need more reasons to attend? We shared five on the blog.
Stay tuned to our website for registration opening soon: ARIN on the Road.
Find ARIN at Upcoming Industry Meetings and Community Events
If you're not able to make it to ARIN 51 in Tampa or ARIN on the Road in Denver this spring, you'll have other opportunities to connect with us in person. In addition to the meetings and workshops we host, we attend many community events where you can join us to hear updates and presentations, ask us questions, get help with your ARIN account and resources, and more. Here's where you can find us in the next few months:
For a full list of the events ARIN will be participating in, visit our Community Event Calendar online.
Current Draft Policies and Proposals
Find the status of current policy discussions on our website and subscribe to the ARIN-PPML (Public Policy Mailing List) to voice your opinions. Remember, membership is not required to participate!
On the subject of policy, we have a staffing update of note. After 13 years with ARIN in various roles, most recently as Senior Policy Analyst, Sean Hopkins has taken a new job opportunity. We wish him well, thank him for his many years of service, and congratulate Eddie Diego — who has been with ARIN's Registration Services Department for nearly 12 years — on becoming ARIN's new Policy Analyst!
A Tip From Our Registration Services Department
Has your Point of Contact left your organization? Read on to find out if you need to submit an Organization (Org) Recovery request to add yourself as the new Point of Contact for an Organization Identifier (Org ID).
If your Org ID's current Point of Contact (POC) is a Role Point of Contact (which represents a group within your organization) and has a distribution list for its email address, an Org Recovery may not be needed. If you can receive email at the email address listed for the Role Point of Contact, you may be able to simply link your account to the Role Point of Contact. To do this, log in to account.arin.net. Then, under "Your Records," select "Point of Contact Records." In the upper right, under "POC Actions," select "Link POC." Here you'll be able to link your user account to the Role Point of Contact. Once you request the link, an authorization email will be sent to the Role Point of Contact's email address. You'll need to retrieve the email and complete the link process using the URL provided. Now you will have authority as a Point of Contact for the Org ID and will have all rights and permissions associated with the Point of Contact type.
If the Point of Contact for your Org ID is not a Role Point of Contact with a distribution list for its email address, you will need to submit an Org Recovery request to add yourself as the new Point of Contact.
More information about Org Recovery requests can be found here: https://www.arin.net/resources/guide/account/records/org/#recovering-an-org-id
Please note: An Org Recovery cannot be processed if the organization's name has changed due to merger, acquisition, or reorganization. Instead, you must submit an 8.2 Transfer request to transfer the registration rights of directly assigned resources to a new Org ID that represents your current business entity. You may need to request a new Org ID if one does not already exist.
More information about 8.2 Transfers due to Merger, Acquisition, and Reorganization can be found here: https://www.arin.net/resources/registry/transfers/#transfers-due-to-mergers-acquisitions-and-reorganizations.
More information on Points of Contact and Org IDs can be found here: https://www.arin.net/resources/guide/account/records/.
Customer and Member Statistics (as of 1 March 2023)
39,264 total customer organizations, including 7,272 General Member organizations and 9,765 Service Member organizations
14,819 organizations holding Legacy Resources; 7,424 organizations holding only ASNs
108 IPv6 delegations equating to 63.25 /32s of IPv6 address space (YTD); 45.4% of General Member organizations hold an IPv6 block
Year-to-Date Through 28 February 2023
402 transfers requested, 397 transfer tickets processed
14,871 /24s transferred via 8.2 transfers; 4,993 /24s transferred via 8.3
651 /24s outgoing 8.4 transfers, 31 /24s incoming 8.4 transfers

5 /24s to APNIC; 5 /24s from APNIC
4 /24s to LACNIC; 16 /24s from LACNIC
642 /24s to RIPE NCC; 10 /24s from RIPE NCC
Statistic of Interest: The Historical Statistics page on our website has been updated to include the totals from 2022. As the charts on that page show, 2022 had the largest amount of IPv4 space transferred into the ARIN region and the second-largest amount transferred out of the ARIN region (all via 8.4 transfers). Last year also saw the largest ever amount of IPv6 space delegated from ARIN.
See all our monthly statistics here.
Recent Posts on the ARIN Blog
Recent blogs categorized under: ARIN Bits
---
GET THE LATEST!
Sign up to receive the latest news about ARIN and the most pressing issues facing the Internet community.
SIGN ME UP →
---
Blog Categories
Grant Program
•
Public Policy
•
IPv4
•
Updates
•
Security
•
RPKI
•
IPv6
•
Data Accuracy
•
Elections
•
ARIN Bits
•
Business Case for IPv6
•
Fellowship Program
•
Caribbean
•
Internet Governance
•
Tips
•
Customer Feedback
•
Outreach
•
Training
•
IRR