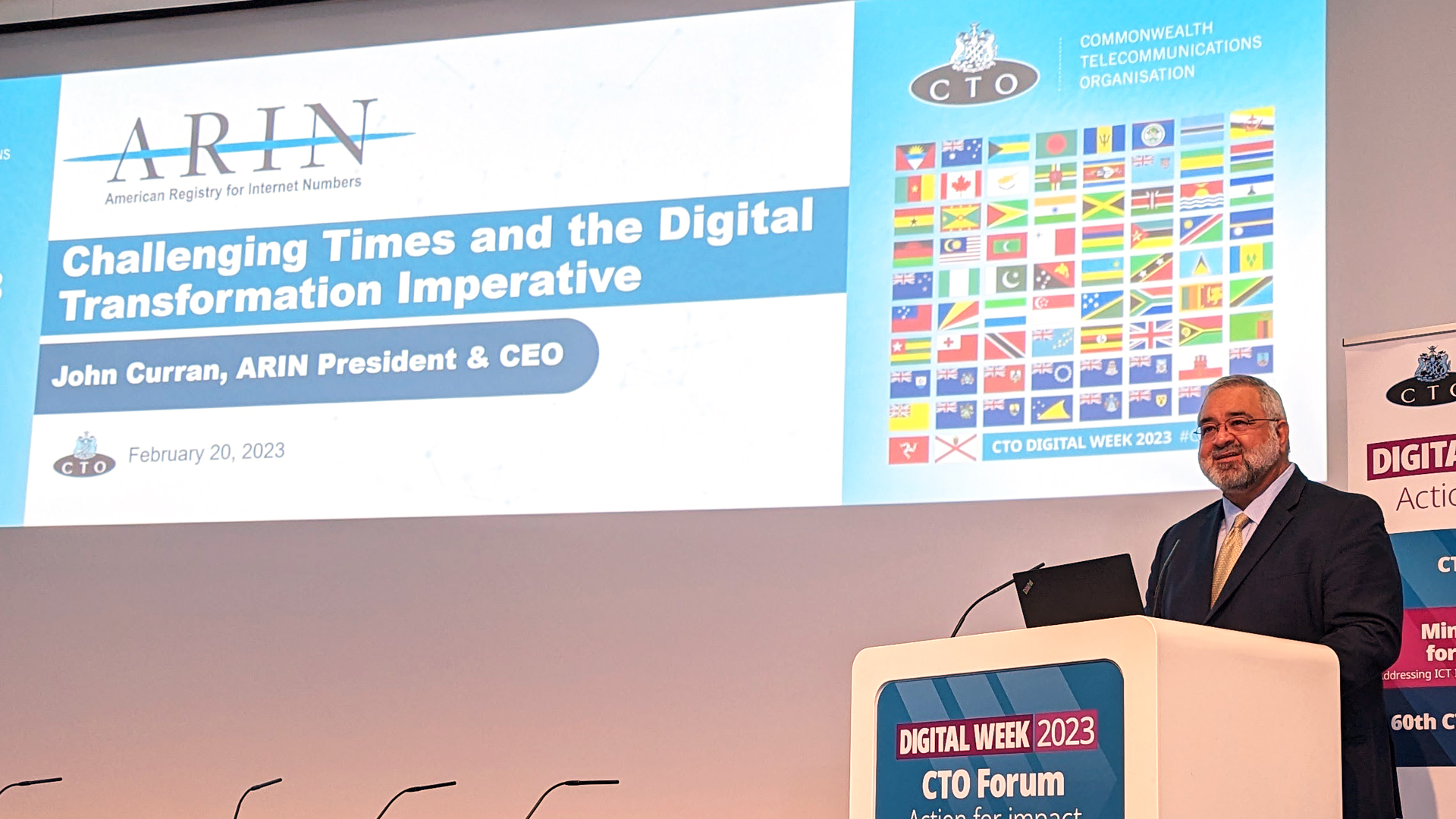 Greater Vigilance and Collaboration Needed in Digital Transformation Initiatives
The road to digital transformation is paved with endless possibilities and opportunities, but the journey also comes with the risks of cyber threats and vulnerabilities. This dichotomy was the focus of ARIN President and CEO John Curran's keynote address at the Commonwealth Telecommunications Organisation's CTO Forum 2023 held in London on 20 February. Mr. Curran's thought-provoking speech, titled "Challenging Times and the Digital Transformation Imperative," highlighted the risks and opportunities governments and industries face as they undergo rapid digital transformation.
Mr. Curran began by noting that one of the most amazing things about the Internet is how it allows permissionless innovation on a global scale. This characteristic has enabled users to create new content without centralized planning and has been a key driver of the unprecedented innovation and creativity the Internet has ushered in across the world. Mr. Curran followed this celebration with a sobering caution that rapid digital innovation has also made governments, industries, and consumers more vulnerable to exploitation, abuse, and criminal activity.
"Cybercrime is now a major, multibillion-dollar, global business that is professional, highly organized, well-funded, and operating in a permissionless environment," he said. "This is an ecosystem that aims for scale and is innovating rapidly."
The insights Mr. Curran went on to share with the more than 75 government ministers, regulators, and senior public sector officials from more than 20 Commonwealth countries in attendance are particularly relevant to policymakers in the ARIN service region, where digital transformation is also an urgent priority for governmental entities and industries.
As governments and businesses in Canada, the United States, and the Caribbean seek to develop their digital infrastructure and increase connectivity, it is critical that we are all aware of the risks involved and that we take appropriate measures to protect organizations and communities.
The simple steps Mr. Curran outlined for protecting against cyber threats are especially important to economically challenged, developing regions and resource-constrained organizations. Those important steps to take to protect against cybercrime include:
Conducting continual training
Establishing and enforcing compliance standards
Securing systems and connections
Maintaining a cyber incident response strategy and team
Organizing routine cyber incident simulations
Developing an insider threat program
Collaborating on security
As we move forward, collaboration will be key to creating a safer and more secure digital environment. Governments and industries can work together with organizations like ARIN and its partners to establish compliance standards, secure systems, and develop strategies to respond to cyber incidents.
For its part, ARIN remains committed to supporting governments and organizations in our service region to ensure a secure and resilient Internet for all. Let us move forward with courage and confidence, knowing that we are together in this journey.
Recent blogs categorized under: Internet Governance
---
GET THE LATEST!
Sign up to receive the latest news about ARIN and the most pressing issues facing the Internet community.
SIGN ME UP →
---
Blog Categories
ARIN Bits
•
IPv6
•
Business Case for IPv6
•
Fellowship Program
•
Grant Program
•
Caribbean
•
Internet Governance
•
Updates
•
IPv4
•
Elections
•
Tips
•
Public Policy
•
Customer Feedback
•
Security
•
Outreach
•
RPKI
•
Training
•
IRR
•
Data Accuracy