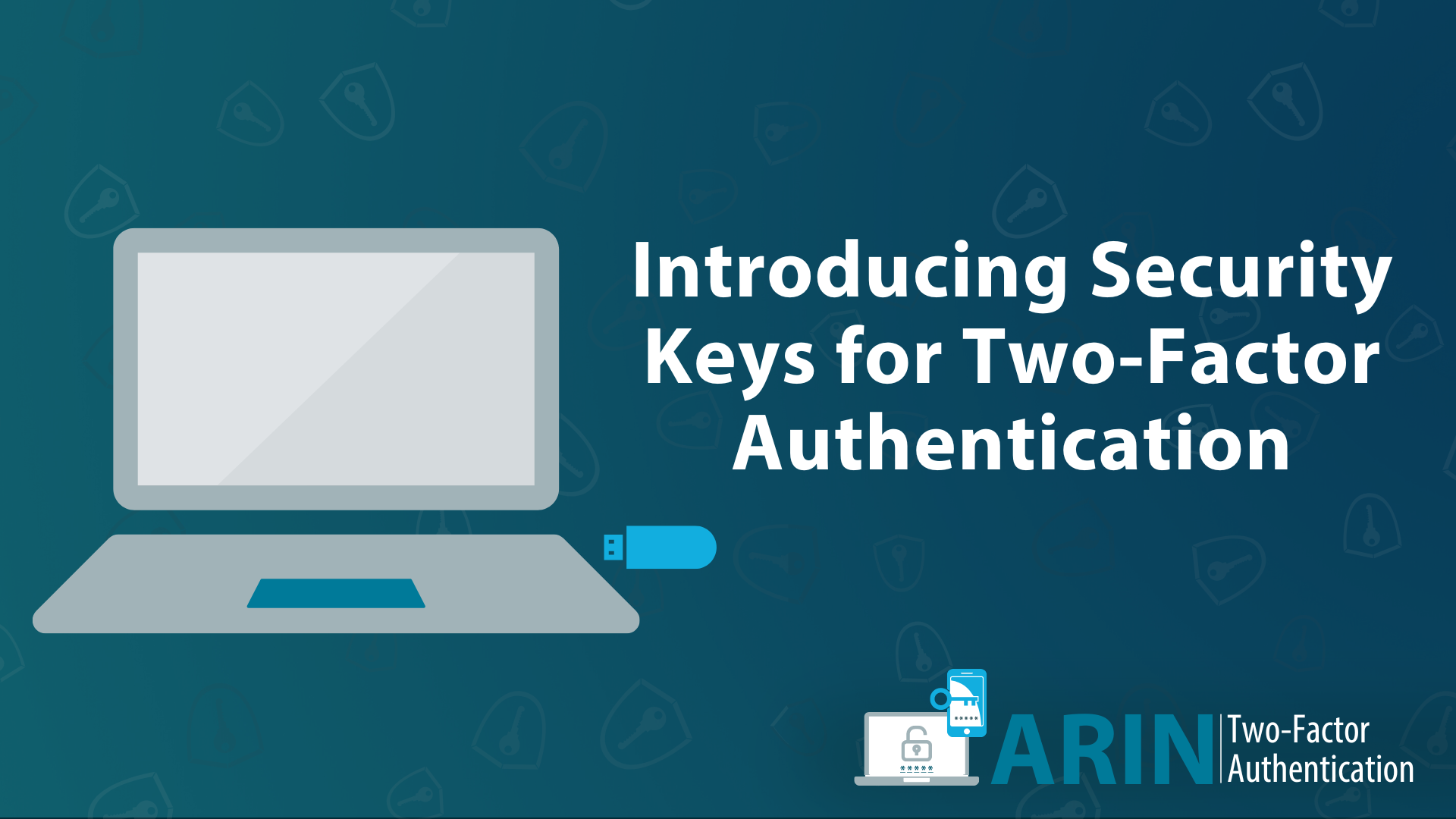 Introducing Security Keys for Two-Factor Authentication
One of the many features added to ARIN Online in our 3 January release is the option to use a security key — also known as a Passkey or Universal 2nd Factor (U2F) device — to complete your account login with two-factor authentication (2FA). These security keys use FIDO2 (Fast IDentity Online), an open-source industry standard for secure, decentralized authentication of devices and services. FIDO2 is designed to be more secure and easier to use than traditional authentication methods like 2FA apps or time-based one-time passwords (TOTP), and it has been adopted by many major tech companies and organizations as a standard for secure online authentication.
What Is a Security Key?
Security keys are physical hardware devices, often taking the form of a small USB dongle. The key is connected to your computer or mobile device when you're going to log into your account and used to answer the second-factor challenge during login, verifying your identity and allowing you to access supported services like ARIN Online easily and securely. For some security keys, plugging in the device is enough; with others, you may need to tap a button on them to complete the authentication.
In our development of Security Key 2FA, we tested our systems with these security keys:
YubiKey 5C
SoloKeys Solo USB-A
AuthenTrend ATKey.Pro Type C
Google Titan Security Key
We tested each device on Mac OS with Safari, Chrome, and Firefox and tested each device on Windows with Chrome, Firefox, and Microsoft Edge.
How Do I Protect my ARIN Online Account with One?
Enabling 2FA for your ARIN Online account with a security key is as easy as setting it up with SMS or an authenticator application. We've provided a walkthrough of the setup process here. Note that currently you can only associate a single security key with each account.
With security key 2FA enabled, even if an attacker were to obtain your login credentials, they would not be able to access your account without also possessing the registered physical passkey device. This makes it exceedingly more difficult for unauthorized users to gain access to sensitive information.
Still have questions or need assistance with 2FA? Use the Ask ARIN feature in your ARIN Online account or call our Registration Services Department at +1.703.227.0660.
Recent blogs categorized under: Updates
---
GET THE LATEST!
Sign up to receive the latest news about ARIN and the most pressing issues facing the Internet community.
SIGN ME UP →
---
Blog Categories
IPv6
•
Business Case for IPv6
•
Fellowship Program
•
Grant Program
•
Caribbean
•
Internet Governance
•
Updates
•
IPv4
•
ARIN Bits
•
Elections
•
Tips
•
Public Policy
•
Customer Feedback
•
Security
•
Outreach
•
RPKI
•
Training
•
IRR
•
Data Accuracy