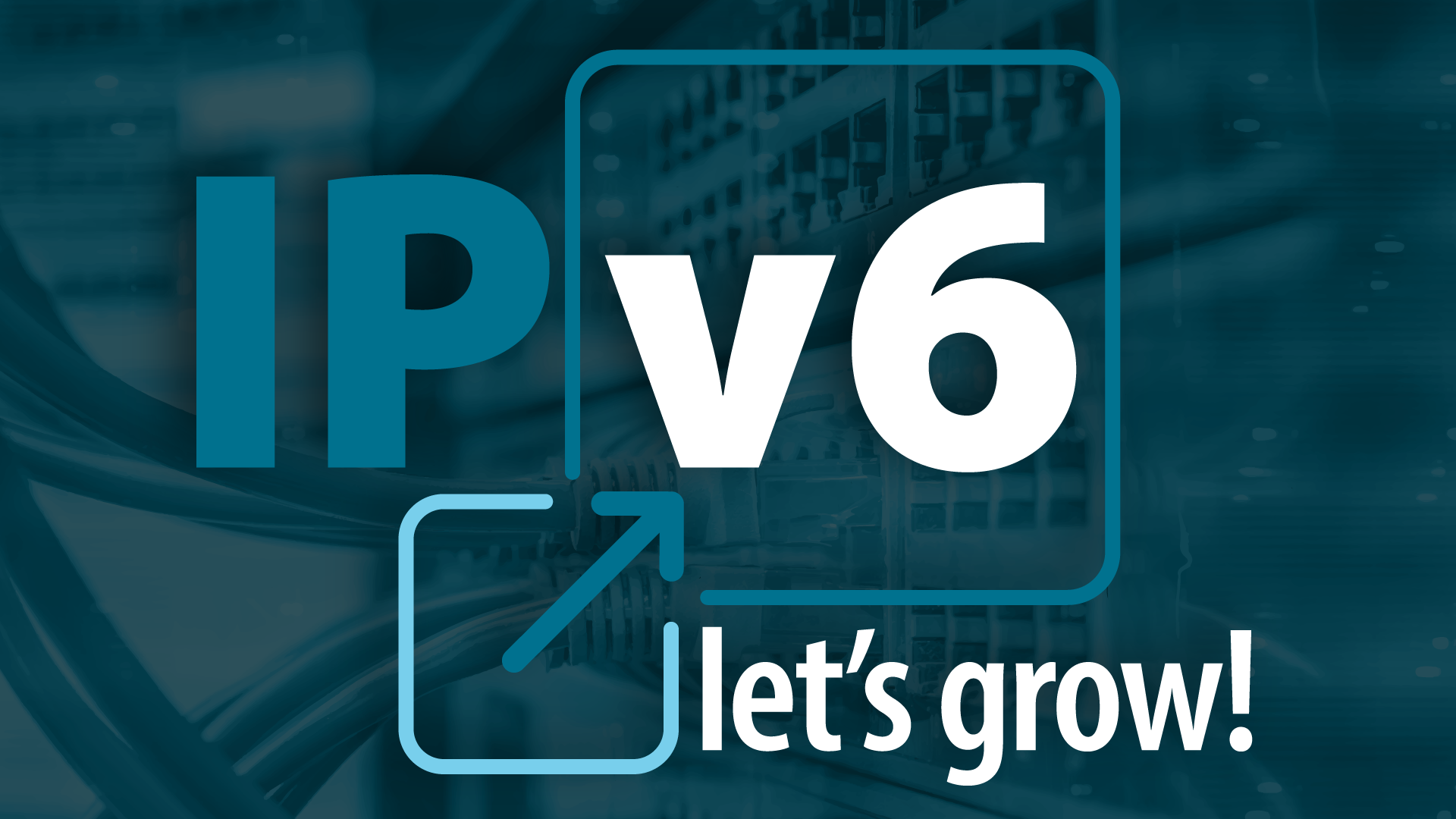 Let's Grow with IPv6
As we approach the 25th anniversary of the introduction of IPv6 protocols in an IETF Draft Standard in December 1998, ARIN is more conscious than ever of the importance of encouraging the deployment of IPv6 for the continued health and growth of the Internet.
Since making our first IPv6 allocation on 3 August 1999, we have worked to facilitate the adoption and foster the use of IPv6, including increased outreach and education in response to the depletion of the IPv4 address free pool. In 2023, ARIN is once again ramping up efforts to promote the no-longer-new protocol through our "IPv6: Let's Grow!" campaign.
Click here to see some of the significant milestones and history in the adoption of IPv6 and ARIN's efforts to help promote it.
IPv6 isn't the future; it's already here, and global IPv6 adoption continues to grow year over year. In late 2015, when ARIN declared IPv4 depletion, global IPv6 adoption was under 10%. It has increased about 10% each year, putting the world on track for full IPv6 adoption around 2030. In the first quarter of 2023, a survey of large content providers (Akamai, Google, Cloudflare, Facebook) found IPv6 adoption rates of approximately 50% in the US, 33% in Canada, and up to 25% in the Caribbean economies ARIN represents.
Ready, Set, Grow
With the expansion of the Internet of Things (IoT) and global Internet use continually increasing the need for IP address space, along with the rising scarcity and cost of IPv4 space, organizations can no longer afford to view IPv6 as a luxury feature or "someday" acquisition.
The path to growth — of networks, customer bases, operations, revenue, and more — leads through IPv6 adoption. Fortunately, it is easy to get IPv6 from ARIN; the fees are minimal, and IPv6 provides a much larger address pool than IPv4, so many more devices can be connected to the Internet. It also improves addressing and routing of network traffic.
Through the Let's Grow campaign, ARIN will continue using direct outreach to customers, appearances at tradeshows and industry events, and publication of educational content and case studies from our community on the ARIN Blog to encourage and support deployment of IPv6.
We launched the Let's Grow campaign at CES® 2023 earlier this month, and there's still plenty of time to register and enjoy the show's Digital Venue through 28 February. ARIN's digital booth features resources and info about IPv6, the upcoming ARIN 51 Public Policy and Members Meeting, and more.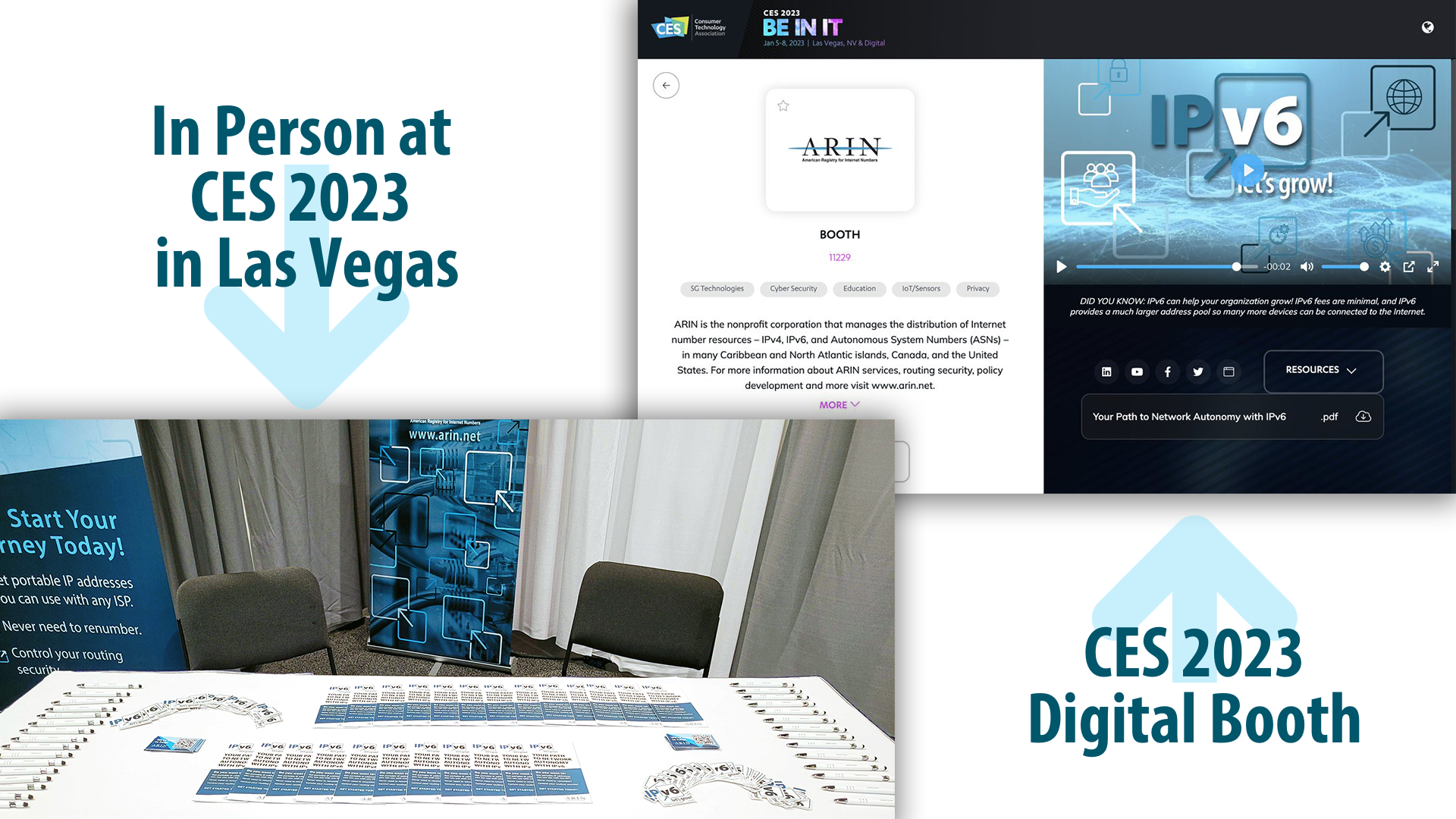 Why Do You Need IPv6?
Because ARIN's free pool of IPv4 addresses has been depleted, organizations will need to request IPv6 address space for any new networks and plan to transition existing networks from IPv4 to IPv6. Everyone qualifies for IPv6, and, once you register an IPv6 block with us, you become eligible to request a /24 of IPv4 space as frequently as once every six months to assist with your IPv6 deployment. Read more about the reserve block of IPv4 in ARIN's Number Resource Policy Manual (Section 4.10).
Not sure how much space you need? ARIN can help determine how much IPv6 space your organization should request based on the number of end sites in your network (for end users) or the number and size of subnets to be assigned to customers (for ISPs). The standard initial allocation is a /32, and we encourage everyone to get a block large enough to allow for many years of growth (so down the line you don't regret requesting a smaller block).
Getting space directly from ARIN also ensures your network autonomy, meaning your organization directly holds the rights for your IP address blocks. Those blocks are portable, meaning you can use them with any Internet Service Provider (ISP) you choose, you will never need to renumber, and you can control your routing security using ARIN's Resource Public Key Infrastructure (RPKI) and Internet Routing Registry (IRR) services.
IPv6 is particularly important for new Internet service providers (ISPs), such as those receiving government funds to deploy Internet access to rural and underserved areas. A new ISP that plans to deploy service to around 8,000 customers and wants to assign a unique IP address to each customer would need to spend approximately $500,000 to obtain IPv4 addresses via the transfer market. Those same users can be numbered, with plenty to spare, using an IPv6 /32 block available at ARIN's cost-for-service fee of $1,000. Adopting IPv6 now helps new networks reach the entire Internet without the lag of solutions like IPv4 large-scale Network Address Translation (NAT).
Learn More and Get Started
Ready to see what IPv6 can do for your organization? Let's grow!
Whether you have yet to take the first step, or you're already on your journey to growth and network autonomy with IPv6, ARIN is here to support you. We have plenty of resources on our website including a step-by-step guide, helpful handouts, videos, and case studies, as well as an informative on-demand webinar. The motivating inspiration of a new year is still fresh, and there has never been a better time to make and keep your resolution to work toward (or keep working on) deploying IPv6 on your networks.
Talk IPv6 with Us at These Upcoming Events
Have questions, experiences, suggestions, or anything else IPv6-related that you want to discuss with us? Find us in person at these industry events happening soon! Our staff will be happy to chat and support your IPv6 planning and resource requests.
If you're not able to connect with us in person, you can always reach out to our Registration Services Help Desk at +1-703-227-0660 for answers and assistance regarding any ARIN resources and services.
Share Your Experience and Thoughts
If your organization has already made progress on its IPv6 journey, we want to work with you to share that experience and perspective with our community. ARIN's IPv6 case studies provide detailed accounts of IPv6 planning and deployment, exploring topics such as:
Why your organization chose to deploy IPv6
When and how you began a migration plan
What areas of growth your organization anticipates or has seen as a result of integrating IPv6 (network, customer base, revenue, security, etc.)
The challenges and solutions experienced in your organization's particular industry or role in the industry
Tips, tricks, suggestions, or lessons learned
Email us at blog@arin.net or reach out to us on Twitter, Facebook, or LinkedIn if you have an IPv6 story to tell!
Not there yet? Let us know what obstacles you're dealing with, what might be holding you back from making the move to IPv6, or what support we could provide to help get you on the right track. Send us an email at training@arin.net or tweet us at @TeamARIN with your thoughts. Also, stay tuned to the ARIN Blog and our website this year for additional IPv6 content and resources. For more information right now, check out our online guide to IPv6 or make your first IPv6 request. We wish you luck on your deployment journey, whatever stage you may be in!
Recent blogs categorized under: IPv6
---
GET THE LATEST!
Sign up to receive the latest news about ARIN and the most pressing issues facing the Internet community.
SIGN ME UP →
---
Blog Categories
ARIN Bits
•
IPv6
•
Business Case for IPv6
•
Fellowship Program
•
Grant Program
•
Caribbean
•
Internet Governance
•
Updates
•
IPv4
•
Elections
•
Tips
•
Public Policy
•
Customer Feedback
•
Security
•
Outreach
•
RPKI
•
Training
•
IRR
•
Data Accuracy