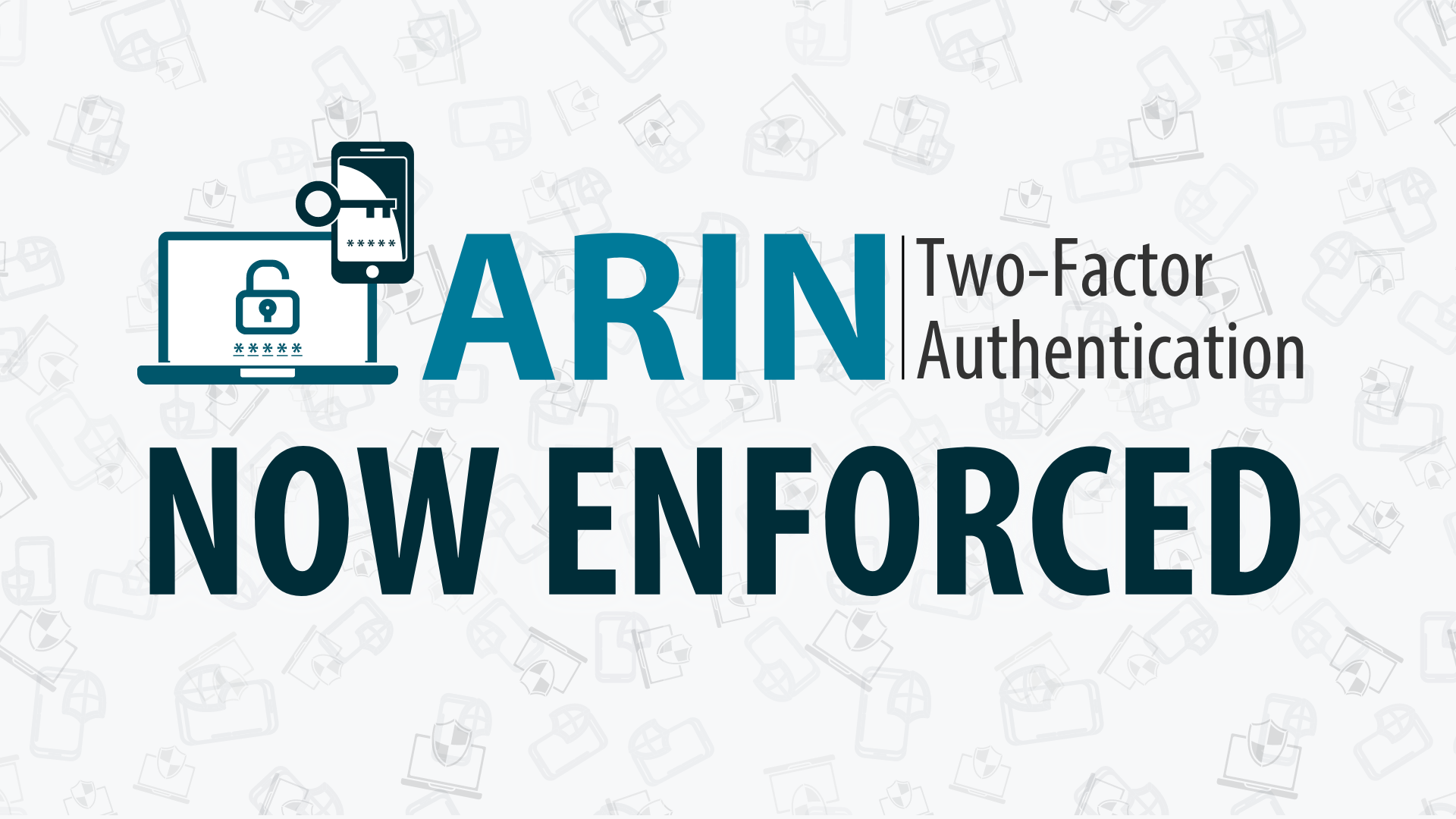 Two-Factor Authentication Now Enforced
Have you set up two-factor authentication (2FA) on your ARIN Online account yet? If not, you'll be prompted to do so the next time you log in. As of 1 February 2023, ARIN now requires 2FA for all ARIN Online accounts. So that this change is not interruptive to your account access, use the following notes, reminders, and tips to prepare for the process to ensure you have all the necessary information and tools on hand when you log in.
What to Expect
If you have not yet enabled 2FA, the first time you log in to your ARIN Online account on or after 1 February 2023, you will be automatically redirected to the 2FA setup process. You must complete this process before you will be able to access or accomplish anything else in your ARIN Online account.
If you have already enabled 2FA but wish to change authentication methods, log in to your ARIN Online account and access the two-factor authentication settings by selecting "Settings" from the menu under your name.
When enabling 2FA, you will be able to choose between three options for your authentication method:
Authenticator Application
Authenticator applications provide 2FA using a time-based one-time password (TOTP), used in addition to the conventional username and password combination. These TOTP's are single-use and regularly refreshed by the authenticator app until required.

SMS
SMS 2FA relies on the delivery through text message of a one-time passcode to be input during login in addition to the conventional username and password combination.

FIDO2/Passkey-enabled Security Key
FIDO2/Passkey-enabled security keys provide 2FA using a physical hardware device to verify identity in addition to the conventional username and password combination.
Please note: Voice call authentication is not available for new 2FA sign ups. However, it remains available for users previously signed up and approved.
How to Prepare
Prior to logging in to ARIN Online and beginning the 2FA setup process, make sure you've completed these steps to ensure you're able to complete the process without getting stuck or slowed down:
If you plan to use an authenticator application, obtain a compatible third-party mobile authenticator.
If you plan to use SMS 2FA, verify that your phone number is registered in one of the countries and geographical areas in the ARIN region for which we provide support. Click here to see the list. Then, be sure your phone is within reach and able to receive SMS messages when you log in to ARIN Online and start the 2FA setup process.
If you plan to use a FIDO2/Passkey-enabled Security Key, acquire your security key hardware. Learn more about using a security key in this blog post.
No matter which method you choose, be prepared save the set of 16 2FA Recovery Codes provided for use if you lose access to your authenticator, phone number or security key — these codes will only be displayed once. You can save them in a password management tool, print them out, or write them down and store it in a safe place.
ARIN Online accounts are intended to be used by individuals, and sharing an account will not be possible once 2FA is enforced. Click here to learn how to grant each user the same authorities so all your team members have the access required to continue properly maintaining your Internet number resources.
Why It's Required
By enforcing 2FA, the ARIN community should see stronger security for the registry, reduced risk of account fraud attempts, and increased confidence in the integrity of their ARIN resources. Due to significant community feedback received during our community consultation on requiring 2FA for ARIN Online accounts, we delayed enforcement of 2FA until we were able to complete implementation of support for FIDO2/Passkey-enabled security keys, which was included in the 3 January 2023 release of new features for ARIN Online. 
Where to Learn More
Learn more about your two-factor authentication options, get detailed instructions for setting up each method, and find information about supported applications, locations, and hardware by visiting the 2FA page on our website. You can also visit our two-factor authentication FAQ page for troubleshooting help and answers to frequently asked questions.
Recent blogs categorized under: Updates
---
GET THE LATEST!
Sign up to receive the latest news about ARIN and the most pressing issues facing the Internet community.
SIGN ME UP →
---
Blog Categories
ARIN Bits
•
IPv6
•
Business Case for IPv6
•
Fellowship Program
•
Grant Program
•
Caribbean
•
Internet Governance
•
Updates
•
IPv4
•
Elections
•
Tips
•
Public Policy
•
Customer Feedback
•
Security
•
Outreach
•
RPKI
•
Training
•
IRR
•
Data Accuracy