Two-Factor Authentication FAQ
Voice call authentication is not available for new 2FA sign ups. However, it remains available for users previously signed up and approved.
Can I enable 2FA for an account that's shared between multiple users?
ARIN Online accounts are intended to be used by individuals, and each user must create their own account to log into ARIN Online. With two-factor authentication (2FA) enabled, sharing an account will not be possible.
The good news is that each user account can be granted the same authorities by creating a Role Point of Contact that represents the group responsible for your network (i.e., "Network Operations," "Sys Admin," etc.). This group name is what will be publicly visible in the ARIN Whois.
Creating a Role Point of Contact with a group email address, distribution list, or alias will allow you and your team members to link to the Point of Contact and have the access required to continue properly maintaining your Internet number resources. You just need to ensure that all team members can receive emails sent to the email address placed on the Role Point of Contact. Each user will link their account to the Role Point of Contact to gain access to the Point of Contact, Organization Identifier (Org ID), and any issued resources, essentially establishing shared access to your organization's resources while maintaining secure login credentials.
More detailed step-by-step instructions for creating accounts and linking to Points of Contact can be found here.
Can I change my selected 2FA method?
Yes, you can. You can easily do so in your ARIN Online account by navigating to the Settings page and selecting 'Actions' under Security Info, and then selecting 'Manage Two-Factor Authentication.'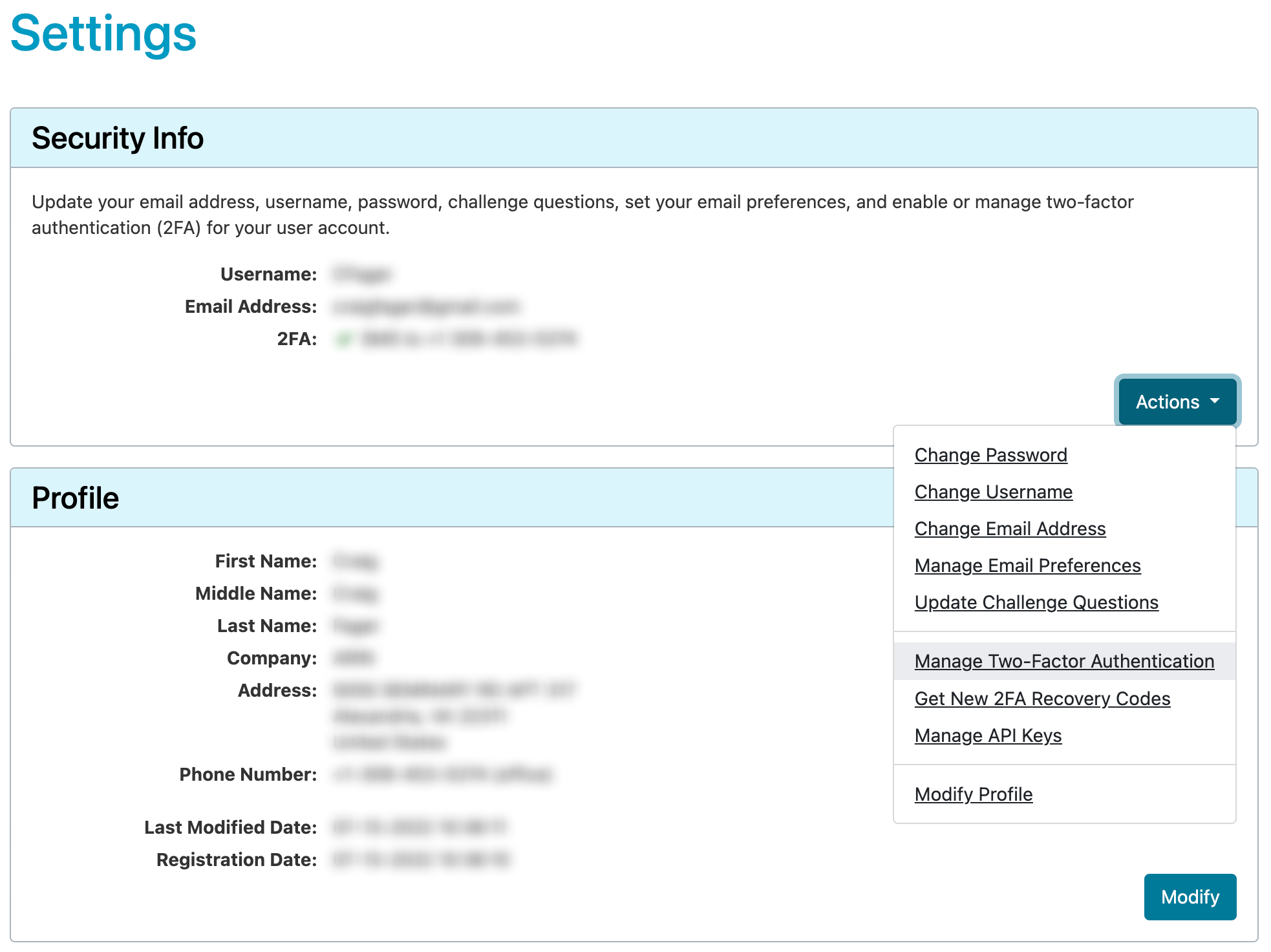 This will allow you to change your selected 2FA method.
Can I register more than one security key on my account?
Not at this time. Accounts are limited to a single method of authentication which includes registering only one security key. ARIN is exploring the possibility of changing this in the future to allow more than one.
What happens if I lose access to my active authentication method?
If you have lost access to your authenticator app, phone number, or hardware key, it is still possible to access your account.
If you do have a usable 2FA Recovery Code:
Enter your user name and password as normal.
Select Trouble with two-factor authentication? at the bottom of the ARIN Online log in screen.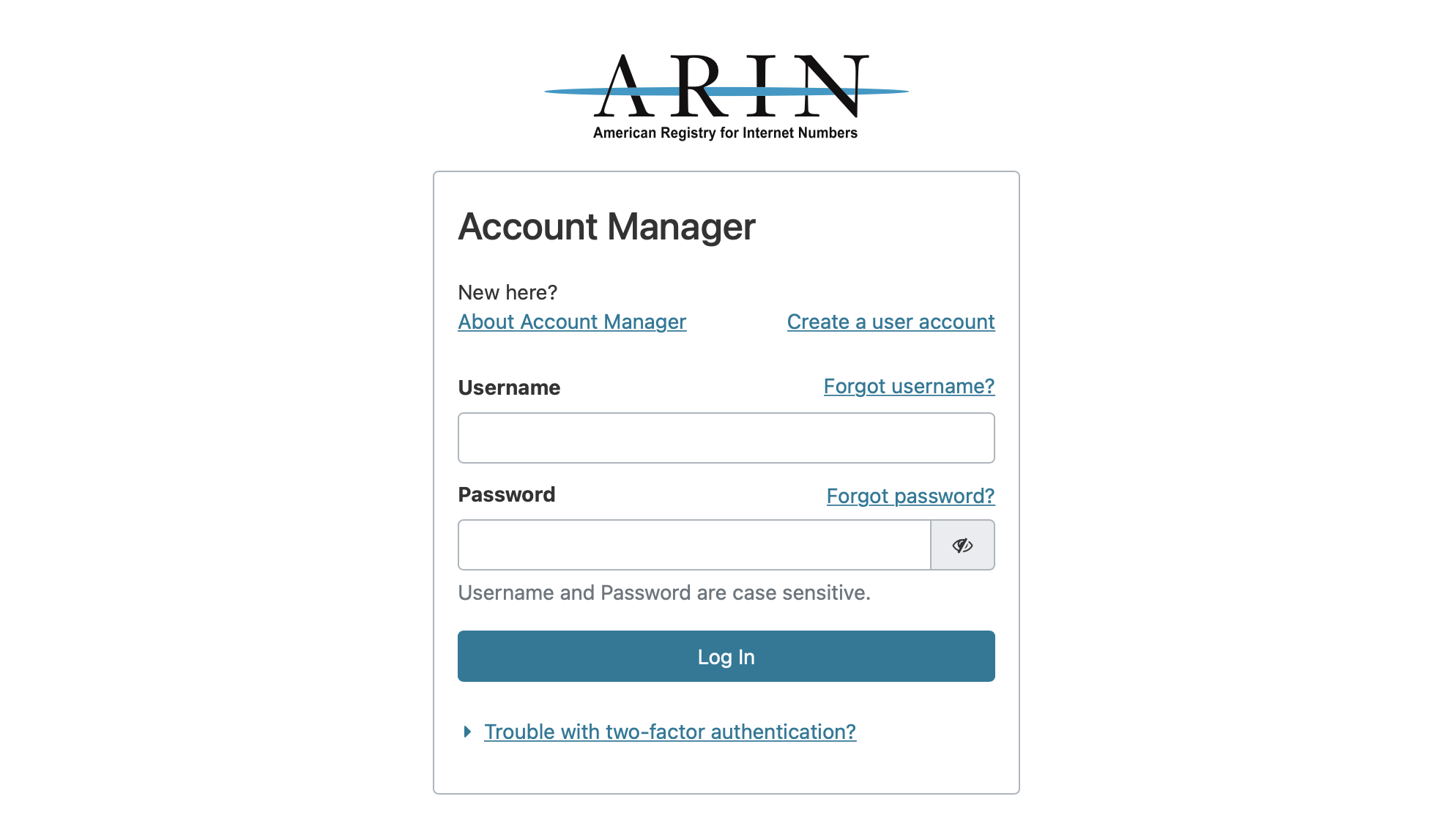 A third field will appear on the log in screen for one of your 2FA Recovery Codes.
Enter the 2FA Recovery Code and select Sign In.
Each 2FA Recovery Code can only be used once, though they can be used in any order.
If you do not have a usable 2FA Recovery Code:
Call ARIN Registration Services at +1 703-227-0660, Monday - Friday, 7:00 AM - 7:00 PM.
Provide the answers to your account security questions.
Why am I not receiving my 2FA SMS passcodes?
Some countries cannot support SMS 2FA, detailed here. If you are unable to use SMS two-factor authentication, you will need to utilize an authenticator app or a security key in order to enable two-factor authentication on your ARIN Online Account.
If you consistently are not receiving our SMS messages, despite living in a country that we list supporting SMS 2FA, it is possible that your service provider does not support delivery of these SMS messages. 
We apologize for the inconvenience. You can use an authenticator app or security key to avoid this issue.
Related
Registration Services Help Desk
7:00 AM to 7:00 PM ET
Phone: +1.703.227.0660
Fax: +1.703.997.8844