SMS and Voice Call Two-Factor Authentication
SMS or Voice Call Two-Factor Authorization (2FA) relies on the delivery of a one-time passcode through text message or phone call to be input in addition to the conventional login and password combination.
ARIN provides support for SMS and Voice Call two-factor authentication for some countries in our region, detailed below. If SMS and Voice Call two-factor authentication is not available in your location, you will need to utilize an authenticator app or, beginning in January 2023, a hardware key in order to enable two-factor authentication on your ARIN Online Account.
Enabling Two-Factor Authentication Through SMS or Voice
Log in to your ARIN Online account. If you have yet to set up two-factor authentication, an alert will appear on the Dashboard which reads 'Two-Factor Authentication is not set. Configure it now.' Select Configure it Now. (Two-factor authentication settings can also be accesssed by selecting Settings from the menu under your name.)

Under the first step of 'Select Method,' confirm your choice of 'Text Message' or 'Voice Call,' and select Continue.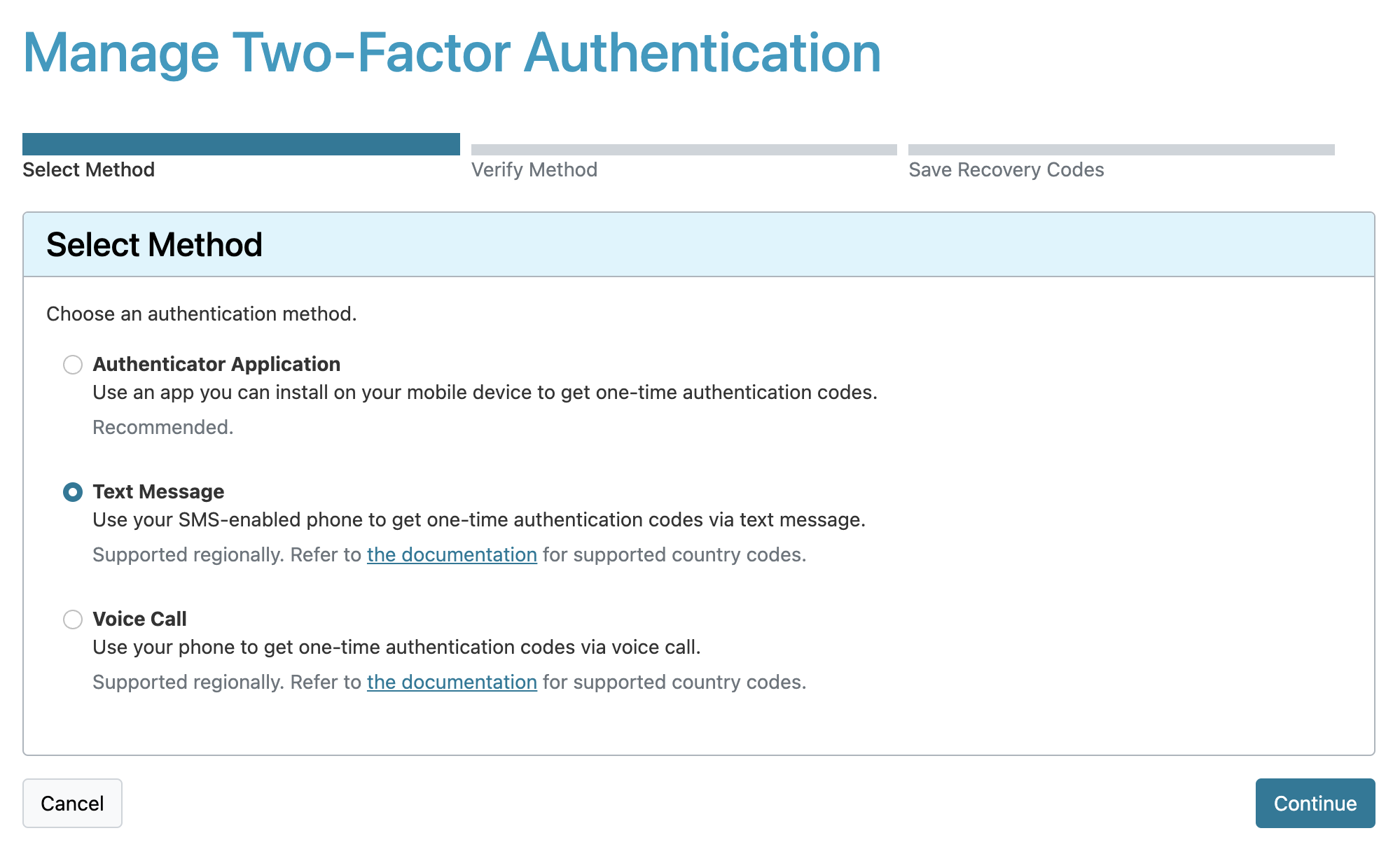 Under the second step of 'Verify Method,' Enter your mobile phone number in the field and select Send Code.

You will be prompted to enter the code delivered by SMS or Voice, and then select Continue.

You will be provided a set of 16 2FA Recovery Codes that can be used if you lose access to your authenticator or phone number. You can enter any of these codes once each to log in to ARIN Online.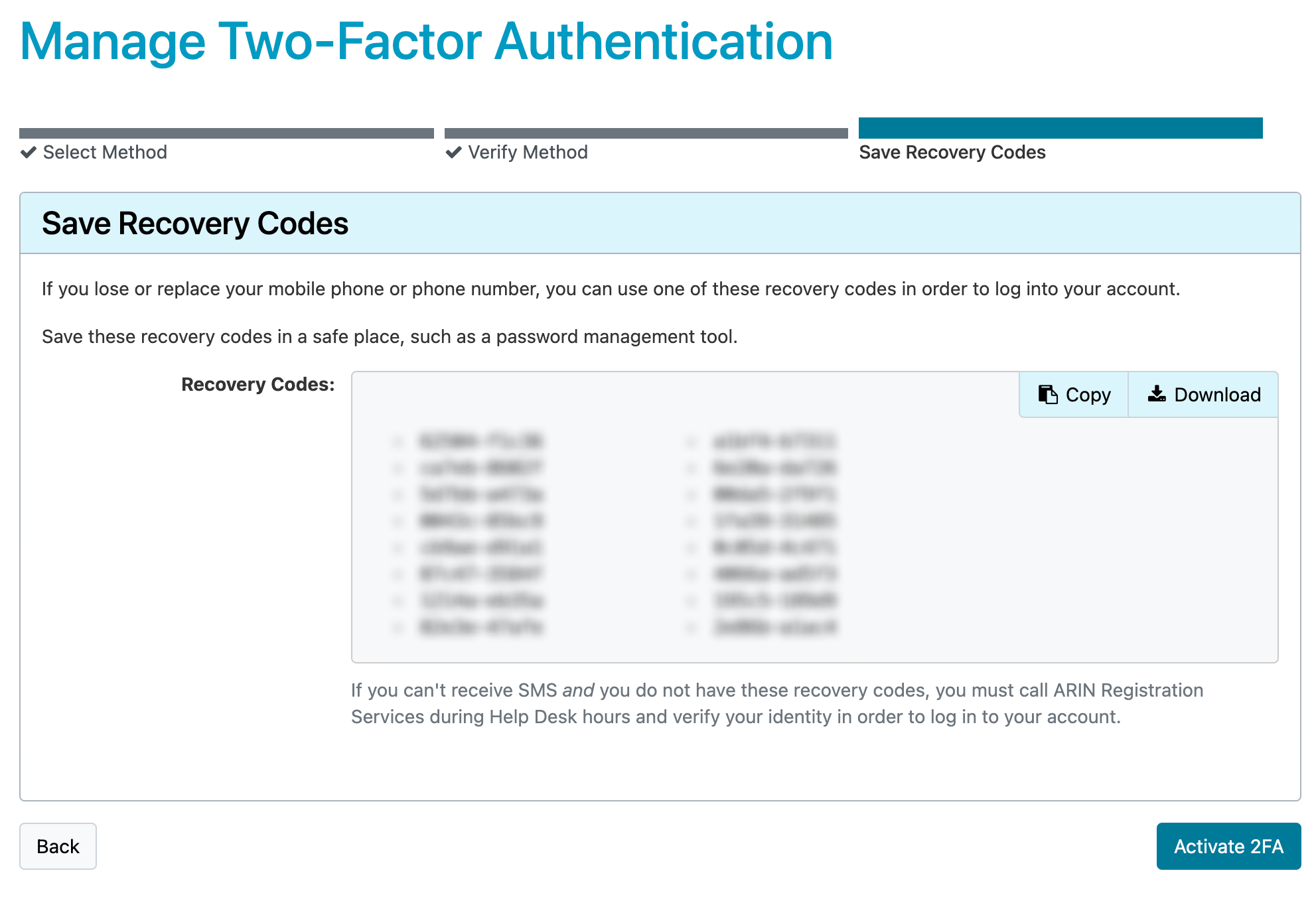 Important: Save the 2FA Recovery Codes in a password management tool, print it out, or write it down and store it in a safe place. These codes will only be displayed once.
Each 2FA Recovery Code can only be used once, though they can be used in any order.
Select Activate 2FA to complete the setup process.
Countries and Geographical Areas in the ARIN Region
The list below details the countries and geographical areas in the ARIN region supported by SMS/Voice Calls for 2FA.
Canada Sector

| Country / Geographical Area | Country Code | Supports SMS/Voice Call |
| --- | --- | --- |
| Canada | +1 | Yes |
Caribbean and North Atlantic Islands Sector

| Country / Geographical Area | Country Code | Supports SMS/Voice Call |
| --- | --- | --- |
| Anguilla | +1 | Yes |
| Antigua and Barbuda | +1 | Yes |
| Bahamas | +1 | Yes |
| Barbados | +1 | Yes |
| Bermuda | +1 | Yes |
| Cayman Islands | +1 | Yes |
| Dominica | +1 | Yes |
| Grenada | +1 | Yes |
| Guadeloupe | +590 | Yes |
| Jamaica | +1 | Yes |
| Martinique | +596 | Yes |
| Montserrat | +1 | Yes |
| Saint Barthelemy | +590 | No |
| Saint Kitts and Nevis | +1 | Yes |
| Saint Lucia | +1 | Yes |
| Saint Martin (French) | +590 | Yes |
| Saint Pierre and Miquelon | +508 | Yes |
| Saint Vincent and the Grenadines | +1 | Yes |
| Turks and Caicos Islands | +1 | Yes |
| Virgin Islands (British) | +1 | Yes |
United States Sector

| Country / Geographical Area | Country Code | Supports SMS/Voice Call |
| --- | --- | --- |
| United States | +1 | Yes |
| Puerto Rico | +1 | Yes |
| Virgin Islands (U.S.) | +1 | Yes |
| United States Minor Outlying Islands | N/A | No |
Outlying Areas Sector

| Country / Geographical Area | Country Code | Supports SMS/Voice Call |
| --- | --- | --- |
| Antarctica | N/A | No |
| Bouvet Island | N/A | No |
| Heard and McDonald Islands | N/A | No |
| Saint Helena | N/A | No |
Countries or Geographical Areas Not Part of the ARIN Region That Support SMS or Voice Call 2FA
Other Countries or Geographical Areas

| Country / Geographical Area | Country Code | Supports SMS/Voice Call |
| --- | --- | --- |
| Belize | +501 | Yes |
| Guyana | +592 | Yes |
| Haiti | +509 | Yes |
| Suriname | +597 | Yes |
| Trinidad & Tobago | +1 | Yes |