Governmental Entity/Institution LRSA Requests
The Legacy Fee Cap will expire 1 January 2024. All organizations with active Legacy Registration Services Agreements (LRSA) entered prior to 1 January 2024 will continue to have their fees limited for legacy resources covered before that date per the annual legacy maintenance fee cap. Any new legacy resources brought under an LRSA as of 1 January 2024 forward will fall under the full, normal Registration Services Plan fees.
Thank you for your interest in entering an Registration Services Agreement/Legacy Registration Services Agreement (RSA/LRSA) with ARIN. To maintain uniformity and consistency, and in fairness to other organizations, modifications to the agreements are not permitted. However, ARIN will consider limited modifications for governmental entities in circumstances where there is a demonstrated need. Demonstrated need refers to circumstances where a governmental entity would not be able, under applicable law, to execute the agreement absent the modification(s).
If you have a demonstrated need, please provide the following required information for consideration in your ticket submitted via ARIN Online:
Provide information that shows your organization is a governmental entity, state university, etc. For example, charters, legislative documents, funding/budget documents.

Provide, for ARIN's review, the specific changes to the agreement text that are being requested as necessary to remain compliant with applicable law.

For each change that is being requested, please provide the legal/statutory citation that demonstrates the necessity for the requested change. ARIN cannot consider changes to the RSA/LRSA if this information is not provided.
Once this information is received, ARIN will review the request and, as appropriate, may provide a modified RSA/LRSA. There may be cases where ARIN may not be able to grant a request to modify a particular provision.
Submitting Your Request
To submit a request, use the "Ask ARIN" feature from within your ARIN Online account. Once logged in, simply select "Ask ARIN" in the left-hand navigation.
When submitting your request via "Ask ARIN," please include the following:
Topic: Legacy Resources (Use this topic only)
Subject: Legacy RSA Application (Enter subject exactly as shown)
Provide the following information:

Organization name
Organization ID
IP address blocks and/or ASNs to be covered
Contact information for the person submitting the request - should include name and phone number

If you require modifications to the agreement, please make sure to include the attachments outlined above for expedient processing.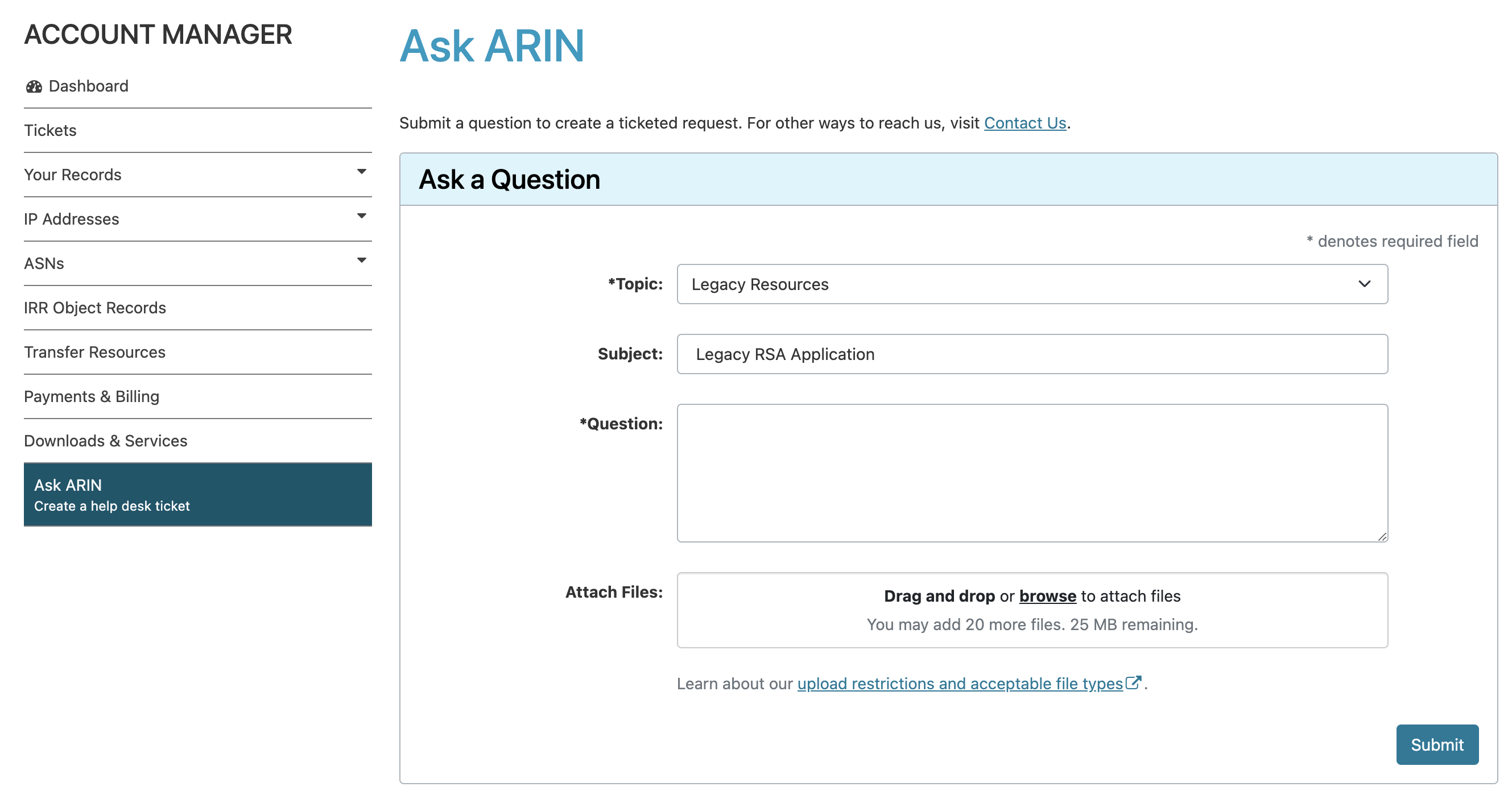 If you do not have an ARIN Online account, you can easily create one by following the steps on our guide to ARIN Online account creation.
Governmental Entity/Institution LRSA Requests
Related
Registration Services Help Desk
7:00 AM to 7:00 PM ET
Phone: +1.703.227.0660
Fax: +1.703.997.8844