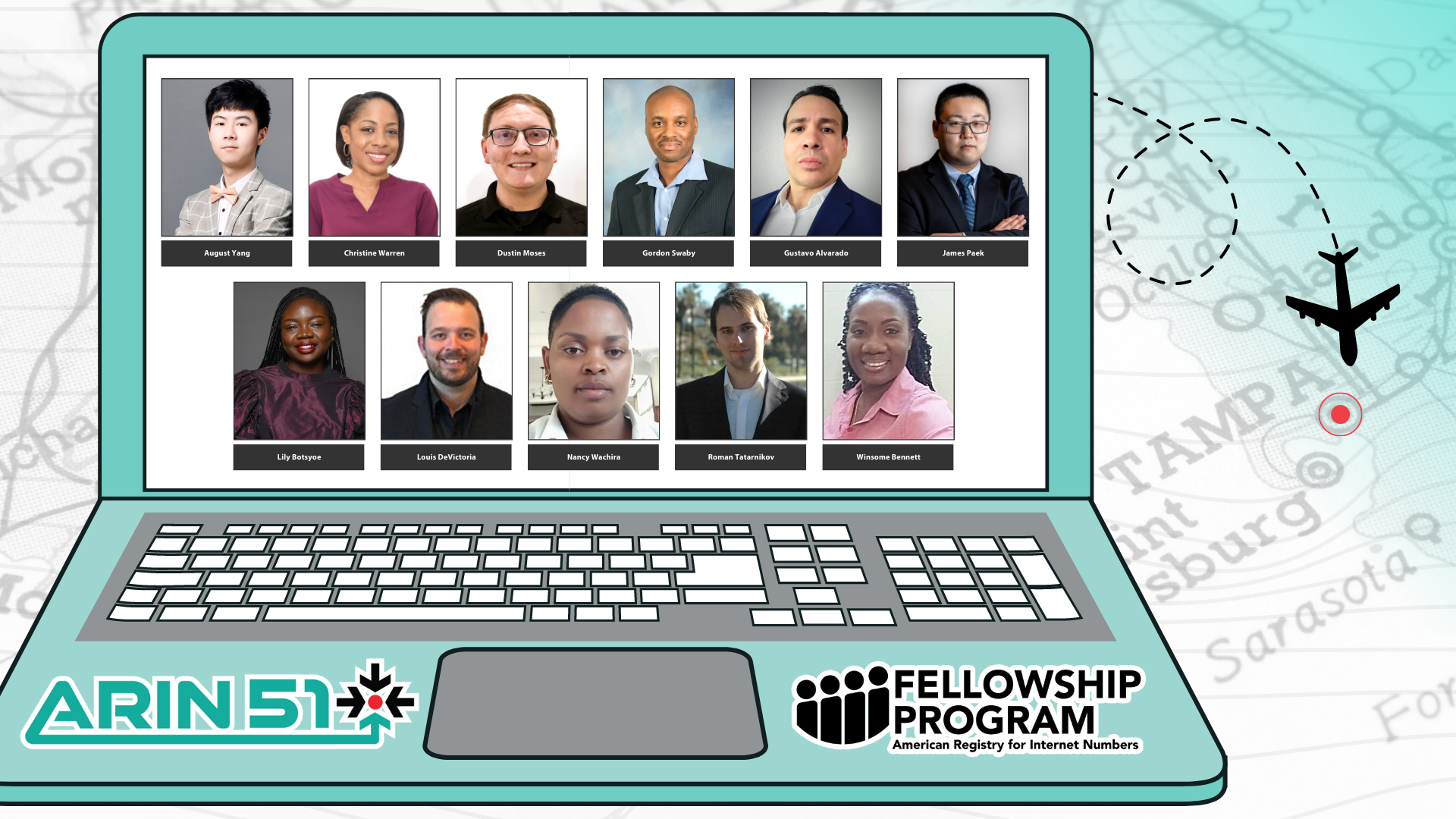 Introducing the ARIN 51 Fellows
ARIN staff is busy preparing for ARIN 51, our spring Public Policy and Members Meeting taking place 16-19 April online and in person in Tampa, Florida. Meanwhile, we are also excited to be kicking off the ARIN 51 Fellowship Program!
A Hybrid Experience
For the first time, the Fellowship Program will be conducted in a hybrid format. The agenda will include:
Two virtual sessions introducing the workings of the organization and the ARIN Policy Development Process (PDP),
The virtual ARIN 51 Meeting Orientation, and
Participation in ARIN 51 either virtually or in person in Tampa.
Throughout the program, Fellows will also benefit from mentorship by an ARIN Advisory Council member.
Click here to learn more about this spring's hybrid program agenda.
The ARIN Fellowship Program provides a fun and engaging way for Fellows to get immersed in ARIN's work and feel ready to participate in the upcoming meeting. With the addition of this group of 11 Fellows, we have now welcomed nearly 200 new voices to our community over the last decade.
Meet the Fellows
To get to know them better, we asked each of our new Fellows to share a few tidbits of information about themselves, including: one word that describes how they felt upon learning they were selected for the program; what they are most looking forward to about the experience; and their favorite book, movie, or hobby. Let's meet the ARIN 51 Fellows!
USA
Dustin Moses – Network Engineer II, NewMax LLC 
Reaction: Excited
Looking forward to: Meeting the Mentors and understanding more about ARIN policy making
Favorite book: "Fahrenheit 451" by Ray Bradbury
Gustavo Alvarado – Computer Security Researcher, Toyota Motor North America
Reaction: Motivated
Looking forward to: Engaging with the ARIN community
Favorite book: "Control and Communication in the Animal and the Machine" by Norbert Wiener
James Paek – Corporate Manager, QuikTrip 
Reaction: Excited
Looking forward to: Interacting with the Mentors and other Fellows
Favorite movies: Star Wars films
Lily Botsyoe – Graduate Student, University of Cincinnati
Reaction: Ecstatic
Looking forward to: The Mentoring and learning sessions building up to the meeting, as they offer the opportunity to sharpen understanding of policy issues, as well as the community, networking, and fun sessions
Favorite hobby: Dancing
Lou DeVictoria – Network and Cloud Expert, Perimeter 81
Reaction: Wonderful
Looking forward to: The RPKI ROA-thon
Favorite movie: "Back to the Future" (1985)
Roman Tatarnikov – CEO, IntLös
Reaction: Accomplished 
Looking forward to: In-person interactions, and, as a result, fewer distractions 
Favorite hobbies: Hiking, traveling, and camping
Canada
August Yang – Owner and Operator, August Internet 
Reaction: Thrilled
Looking forward to: Engaging with Internet governance professionals and gaining insights into the latest policy developments
Favorite hobbies: Badminton
Nancy Wachira – Support Worker, L'arche Homefires
Reaction: Smiled
Looking forward to: Guided introductions to working groups and the policy development process, along with opportunities to network
Favorite hobbies: Mountain climbing and hiking
Caribbean
Christine Warren – Help Desk Officer, St. Vincent and the Grenadines Port Authority 
Reaction: Thrilled
Looking forward to: Learning about current issues and what the organization does
Favorite hobby: Baking
Gordon Swaby – Telecommunications Engineer, Office of Utilities Regulation
Reaction: Surprised
Looking forward to: Networking and learning about the issues impacting developing nations concerning the Internet
Favorite book: "The Third Wave" by Alvin Toffler
Winsome Bennett – Programme Coordinator, University of the Commonwealth, and Secretary and Chapter Coordinator, ISOC Jamaica
Reaction: Elated
Looking forward to: A fun-filled and informative experience that is inspiring and rewarding
Favorite hobby: Exploring new opportunities
Our Mentors and Special Guests
Fellows will be paired with an experienced ARIN Advisory Council (AC) member to help guide them through the meeting and policy discussions. Mentors also lead small group breakout sessions to discuss policy development and other topics in more detail. A few additional members of the AC and ARIN staff will join us throughout the program to explain the Policy Development Process (PDP), what policies to expect on the docket for discussion at ARIN 51, and ARIN resources and services.
Thank you to these volunteers for their involvement in the ARIN 51 Fellowship Program — their participation is key to the success of our Fellows!
Mentors
Alicia Trotman – ARIN AC
Douglas Camin – ARIN AC
Matthew Wilder – ARIN AC
Special Guests
Eddie Diego – ARIN Policy Analyst
Kat Hunter – ARIN AC, Vice Chair
Leif Sawyer – ARIN AC, Chair
Jon Worley – ARIN Senior Technology Architect
Peek Inside the Program
The ARIN 51 Fellowship Program will consist of multiple sessions held virtually from 30 March to 27 April.
Leif Sawyer and Kat Hunter, AC Chair and Vice Chair, respectively, will join us for the first two sessions. They, along with ARIN's Policy Analyst, Eddie Diego, will discuss the PDP at ARIN and policies on the docket at ARIN 51. Each mentor will have time in the spotlight, too, to talk about their career journey and their experiences with ARIN.
For the third session, Fellows will attend the virtual ARIN 51 Meeting Orientation to learn more about ARIN and receive helpful information for attending and participating in the ARIN 51 Public Policy and Members Meeting.
Fellows then have the opportunity to travel to the meeting in Tampa (or participate virtually), where they will see and experience firsthand the policy discussions, presentations, and networking with members of the ARIN community.
In the final session, Fellows will discuss their experience in the program and takeaways from ARIN 51. We look forward to a fun and meaningful experience with this group of Fellows and to adding more new voices to our public policy discussions.
For more updates, follow us @TeamARIN on Facebook and Twitter and on LinkedIn at ARIN's company page. Stay tuned for information regarding the ARIN 52 Fellowship Program this fall!
Recent blogs categorized under: Fellowship Program
---
GET THE LATEST!
Sign up to receive the latest news about ARIN and the most pressing issues facing the Internet community.
SIGN ME UP →
---
Blog Categories
Grant Program
•
Public Policy
•
IPv4
•
Updates
•
Security
•
RPKI
•
IPv6
•
Data Accuracy
•
Elections
•
ARIN Bits
•
Business Case for IPv6
•
Fellowship Program
•
Caribbean
•
Internet Governance
•
Tips
•
Customer Feedback
•
Outreach
•
Training
•
IRR