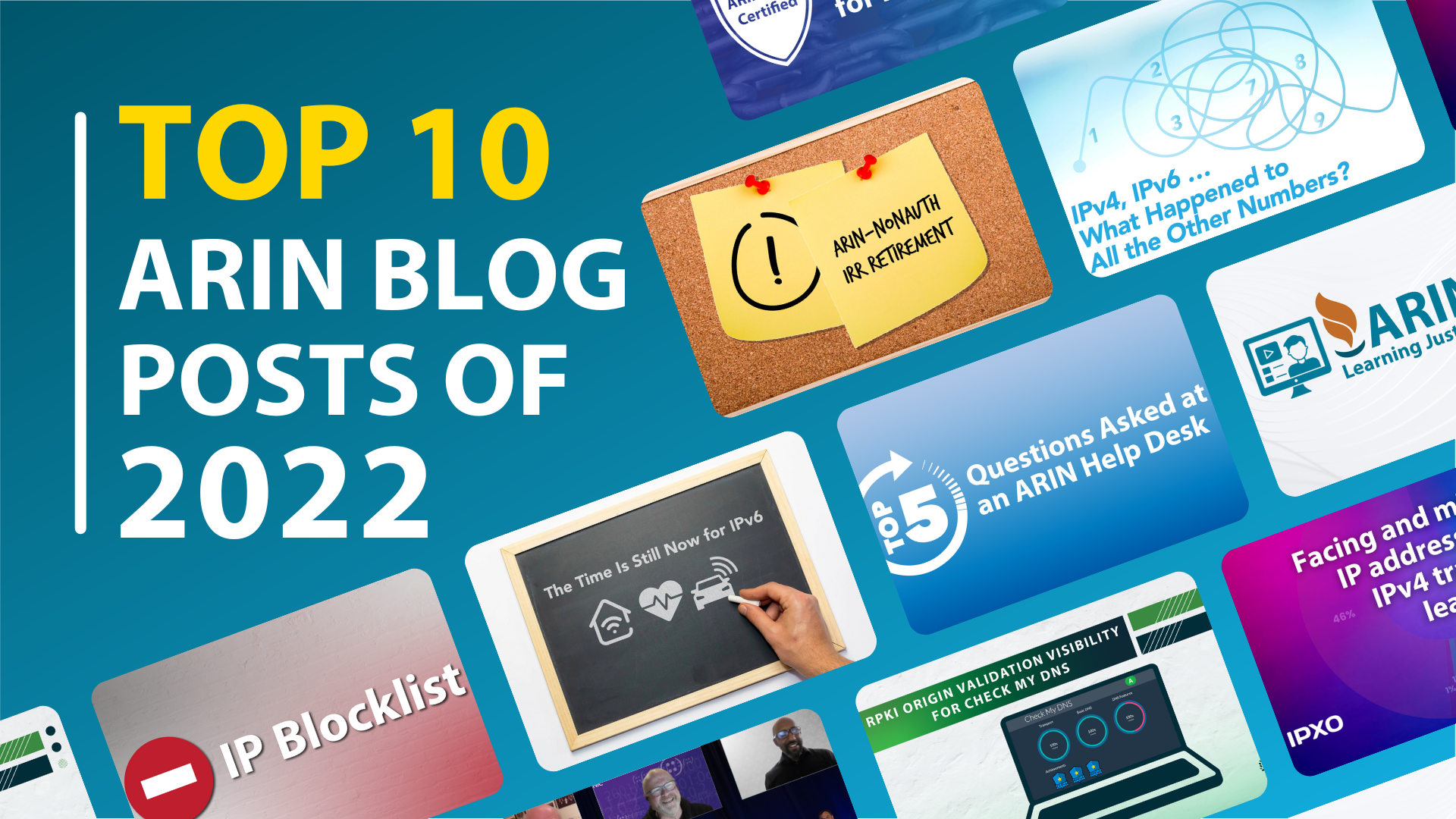 Top 10 Most Popular Blog Posts of 2022
Before the new year gets into full swing, we wanted to take a moment to look back on the most popular content we shared in 2022 and thank all the authors who contributed their time and expertise to provide valuable content for our community.
Last year was a busy and productive one for ARIN, and the blog covered many stories and topics beyond those that made it into this top 10 list. Between traveling to Nashville and Hollywood for our Public Policy and Members Meetings and hosting four ARIN on the Road workshops around the region, we implemented a new membership structure, hosted the inaugural Virtual Fellowship Program Summit, launched two new Leadership Development instructional videos, rolled out changes to ARIN's election processes, welcomed our first paid Premier Support Plan customer, celebrated our 25th anniversary, and so much more.
That said, our most popular blog topics in 2022 were more technically focused, including: Resource Public Key Infrastructure (RPKI); IPv6; IPv4; ARIN's Internet Routing Registry (IRR); and the ARIN Help Desk. So, without further ado, here's a look at the top 10 blog posts from last year!
Top 10 Most Popular Blog Posts of 2022
1. Take Action Now to Prepare for the ARIN-NONAUTH IRR Retirement
Brad Gorman, Senior Product Owner of Routing Security, shared what you needed to know about the retirement of the ARIN-NONAUTH Internet Routing Registry (IRR) on 4 April 2022.
2. Why Doesn't the Internet Migrate Entirely to IPv6?
Former ARIN External Relations Manager, Jennifer Bly, provided a summary of the thought-provoking discussion that took place during the IPv6 panel we hosted at ARIN 49 in April — including some bold predictions and positions shared by our six Internet expert panelists.
3. The Time Is Still Now for IPv6
Why can't IPv6 be avoided? How insanely big is the IPv6 address space, and can we actually run out of IPv6 addresses? Is IPv6 faster and more secure than IPv4? IPv6 Evangelist Jonathan Weissman answers these questions and more to help increase understanding of IPv6 as its adoption expands.
4. IPv4, IPv6 … What Happened to All the Other Numbers?
Does frequent talk of IPv4 and IPv6 have you wondering about the other Internet Protocol version numbers (the ones that come before, in between, and after 4 and 6)? Jonathan Weissman, Associate Professor and Networking and Cybersecurity Program Coordinator at Finger Lakes Community College and Senior Lecturer at Rochester Institute of Technology, takes a look at the history and current state of those oft' unspoken of versions.
5. Help! My Newly Allocated IPv4 Block is on a Blocklist
Following the fulfillment of requests off the ARIN IPv4 Waiting list in April, Chief Customer Officer John Sweeting explored why some individuals may have experienced routing issues with their newly allocated IP addresses from the IPv4 Waiting List and what can be done to remedy the issue.
6. RPKI Origin Validation Visibility for Check My DNS
Keith Mitchell of DNS-OARC shared how the funds they received from the ARIN Community Grant Program in 2020 aided the organization in updating their Check my DNS nameserver.
7. Top 5 Questions Asked at an ARIN Help Desk
John Sweeting, Chief Customer Officer, provides insight into topics frequently discussed with ARIN's traveling Help Desk, which can help answer your questions about all things IP addresses, routing security, and ARIN services at convenient locations across the ARIN region.
8. New! ARIN Publication Service for Delegated RPKI
With ARIN's release of a publication service for delegated Resource Public Key Infrastructure (RPKI) for all RPKI users after a period of closed beta testing, Brad Gorman, Senior Product Owner of Routing Security, shared an overview of this new RPKI option and how to implement it.
9. RPKI Learning Just a Click Away
Whether you're new and looking to gain an understanding of RPKI basics or you're ready for a more in-depth look at delegated RPKI and ARIN's publication service, our library of on-demand webinars now includes both options. Our Training Development Program Specialist, Beverly Hicks, helps determine which one is right for you.
10. Facing and Mitigating IP Address Abuse in IPv4 Transfer and Lease Markets
As IPv4 addresses increase in value, malicious actors have found a way to take advantage. Vincentas Grinius, CEO and Co-Founder at IPXO, takes a closer look at IPv4 transfer market abuse and dives deep into leased IP asset abuse statistics.
What's in Store for 2023?
What was your favorite blog post published last year? What topics would you like to see covered in 2023? Let us know over on Twitter @TeamARIN! And, as always, we love working with guest authors to share their stories and perspectives, so please reach out to us at blog@arin.net if you have a topic you'd like to write about. We truly are powered by your participation.
Once again, thank all who contributed to and read the ARIN Blog in 2022; we look forward to even more great content this year!
Recent blogs categorized under: Updates
---
GET THE LATEST!
Sign up to receive the latest news about ARIN and the most pressing issues facing the Internet community.
SIGN ME UP →
---
Blog Categories
IPv6
•
Business Case for IPv6
•
Fellowship Program
•
Grant Program
•
Caribbean
•
Internet Governance
•
Updates
•
IPv4
•
ARIN Bits
•
Elections
•
Tips
•
Public Policy
•
Customer Feedback
•
Security
•
Outreach
•
RPKI
•
Training
•
IRR
•
Data Accuracy