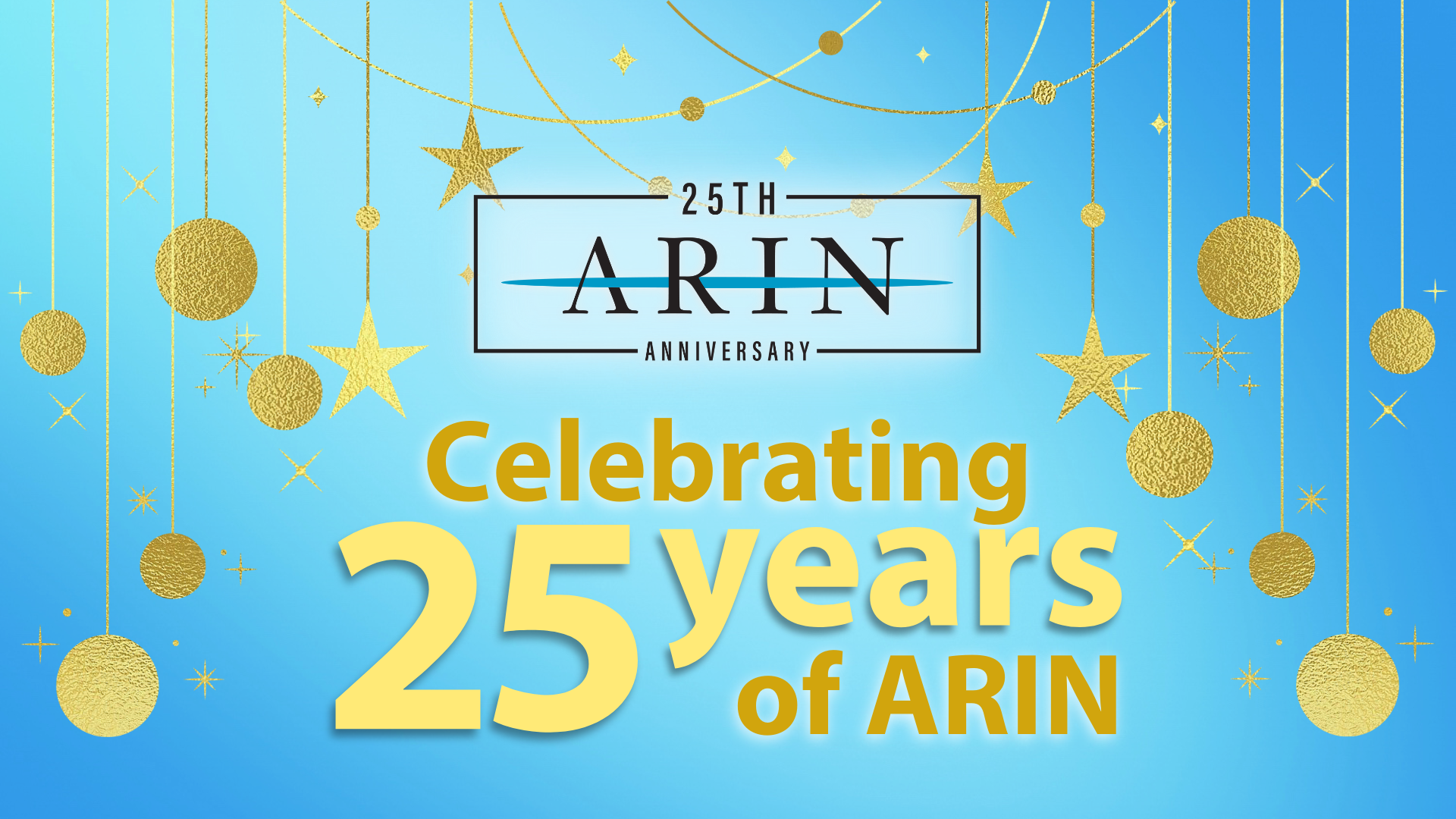 Celebrating ARIN's 25th Anniversary
December 2022 marks 25 years that ARIN has been in operation, and we couldn't have made it to this milestone without our amazing community and staff. From all of us here at ARIN, we wish to express our sincere gratitude to you for the support we've received over the past quarter century.
Together with our community, we have accomplished so much since 1997, such as managing regional Internet number resource policy through our community-driven policy development process (PDP), offering a variety of educational and training opportunities, continually deploying updates to the tools and services ARIN provides to our customers, hosting Public Policy and Members Meetings and other outreach events around our region, and much more.
25 Days of ARIN
To commemorate this special anniversary, we've been sharing fun facts and figures about the organization's notable achievements, programs, and community happenings for "25 Days of ARIN" leading up to our 25th anniversary on 22 December. If you haven't already, we encourage you to check it out by following us @TeamARIN on Twitter and to join in the festivities by tweeting us your favorite ARIN memory, milestone, or fun fact!
See all the interesting anecdotes we have shared by scrolling through them below or searching #25DaysOfARIN on Twitter.
Happy Holidays and Cheers to 25 Years
With 2022 drawing to a close and the holiday season upon us, we find ourselves reflecting not only on ARIN's whole lifetime, but on the past year in particular. We're thrilled to have been able to return to many in-person events around our region as well as deploy new services, updates, security upgrades, training, and more.
Thank you to the ARIN Board of Trustees, the Advisory Council, the Number Resource Organization Number Council, and everyone who has contributed to ARIN's mission this year and the 24 before it. We wish you each the best as you embark on the new year ahead, and we look forward to serving and collaborating with you in 2023 and for many more years to come!
Commemorative Facts and Figures
On the 1st day of #25DaysOfARIN, we're highlighting our 39K customer organizations, which include: 9,500 Service Members, 7,300 General Members; 7,400 ASN-only customers; & 15K Legacy Resource Holders (all numbers approx.). Learn more about membership: https://t.co/JWwRxZvHjs pic.twitter.com/pC2CjcpSMQ

— ARIN (@TeamARIN) November 28, 2022
#25DaysOfARIN continues today with fun fact #2!
ARIN's service area includes 2️⃣9️⃣ countries and geographical areas in Canada, the Caribbean and North Atlantic Islands, the U.S., and outlying areas.
🗺️ Learn more about our region: https://t.co/IjVmCYNlju #ARINiversary pic.twitter.com/wGRzDCW6is

— ARIN (@TeamARIN) November 29, 2022
On Day 3 of #25DaysOfARIN, we're featuring our Advisory Council (AC), which consists of 15 elected members who shepherd policy proposals through the Policy Development Process. 73 members have served on the AC to date, with 4 more to come on 1 Jan. 2023! https://t.co/kpnhpef5Gy pic.twitter.com/R760IoV4g5

— ARIN (@TeamARIN) November 30, 2022
It's #ThrowbackThursday for fun fact #4 in our #25DaysOfARIN series! The first post to our Public Policy Mailing List (PPML) was sent 1 Sept. 1999. When did you subscribe? If you haven't yet, sign up now to discuss existing and proposed ARIN policies. https://t.co/HvqP2MSV4N #tbt pic.twitter.com/1EbJCiotQ9

— ARIN (@TeamARIN) December 1, 2022
Our #FridayFeeling is #wanderlust as we look back on day 5 of #25DaysOfARIN at the 50 Public Policy & Members Meetings we've held in 35 cities across 5 countries & geographical areas. See the list at https://t.co/2ziz1iNf13, and plan to join us 16-19 April for #ARIN51 in #Tampa! pic.twitter.com/PqRrMOrX6Y

— ARIN (@TeamARIN) December 2, 2022
Today's #25DaysOfARIN tidbit emphasizes how community participation is critical to our Policy Development Process. Anyone can submit proposals for changes to number resource policy, & we've received 318 to date: 171 implemented, 147 abandoned. See them at https://t.co/UQ4Ub4vRhz pic.twitter.com/lzWMynD0OI

— ARIN (@TeamARIN) December 3, 2022
Next up in the #25DaysOfARIN spotlight is the ARIN Fellowship Program, which has hosted 187 Fellows since it began in 2009! We'll add up to 10 more to that list when the #ARIN51 cohort gathers this spring. Want to be in it? Learn more & apply from 5 Jan.: https://t.co/9VvNqrvRen pic.twitter.com/7SwHoohcm7

— ARIN (@TeamARIN) December 4, 2022
Did you know that prior to 27 July 2002, what is now the @lacnic region was supported by ARIN? Congrats to LACNIC on celebrating its own major milestone anniversary, it's 20th, this year! See all the Regional Internet Registry regions: https://t.co/nrOMee4hOp#25DaysOfARIN pic.twitter.com/XaI0GhArkK

— ARIN (@TeamARIN) December 5, 2022
#TuesdayTip: You can apply for funding from ARIN for your project that improves the overall Internet industry & user environment! Since the ARIN Community Grant Program began in 2019, we've awarded grants to 18 recipients. Read about them at https://t.co/9K83sy50BW #25DaysOfARIN pic.twitter.com/GMS2RzyOIF

— ARIN (@TeamARIN) December 6, 2022
On day 10 of #25DaysofARIN, we celebrate the recent 10th anniversary of ARIN's #RPKI service, which launched 17 Sept. 2012. Learn more about RPKI, create your 1st ROA, or go beyond Hosted RPKI w/ Delegated, Hybrid & the API in our free, on-demand webinars! https://t.co/z885vggY0i pic.twitter.com/tA9ZHXEmUf

— ARIN (@TeamARIN) December 7, 2022
From Anchorage, AK, to Roseau, Dominica, & many spots in between, we've hosted 64 ARIN on the Road events since the program began in 2010, bringing our staff directly to you in free, interactive workshops. See the top 5 reasons to attend one: https://t.co/dfxpZctePi #25DaysofARIN pic.twitter.com/rbTZVxve0O

— ARIN (@TeamARIN) December 8, 2022
In our SEARCH for #25DaysOfARIN fun facts, the next one we came up with is: On 2 March 2019, ARIN launched a website update to use RDAP for the default Whois search. Learn more about RDAP, which queries additional RIRs & registrars to obtain some info: https://t.co/YanGyilJvt pic.twitter.com/HGsJguyBVz

— ARIN (@TeamARIN) December 9, 2022
The ARIN Community Grant Program has awarded $183,975 since its start in 2019, supporting projects for Internet technical improvements, registry processes and technology, informational outreach, and research. Read the latest project reports: https://t.co/64Iqr9vAUf #25DaysofARIN pic.twitter.com/FJCcpBMnu3

— ARIN (@TeamARIN) December 10, 2022
Next up in the #25DaysofARIN spotlight... the ARIN Blog! We've shared 694 posts since March 2010, covering #IPv4, #IPv6, #PublicPolicy, #InternetGovernance, Tips, #RPKI, #IRR, #DataAccuracy, Training, the #Caribbean, Customer Feedback, and more. Read up! https://t.co/hbTllcnCek pic.twitter.com/WMzL59iDj4

— ARIN (@TeamARIN) December 21, 2022
ARIN's Registration Services Help Desk answers about 30 phone calls & online chats on a typical day. Learn more, see hours of operation, and get tips for calling the Help Desk and using the Ask ARIN chat feature in your ARIN Online account: https://t.co/D7bQ4iV9bF #25DaysofARIN pic.twitter.com/UD11gQ1Zzq

— ARIN (@TeamARIN) December 12, 2022
Did you know ARIN has 11 memberships and Memorandums of Understanding (MoUs) in the Internet technical community? 📋 @CanWisp @CANTO_ICT @CaribNOG @TheCtunion @ICANN ASO @OEA_CITEL @ITU @internetsociety @M3AAWG @theNRO & @OECD ITAC. Details: https://t.co/9qFrX9ehfB #25DaysofARIN pic.twitter.com/mD2LLJoPMl

— ARIN (@TeamARIN) December 13, 2022
#25DaysOfARIN continues w/ this interesting perspective on #RPKI:
39% of all #IPv4 space currently covered by ROAs are from the ARIN region. (That's 512 million of 1.29 billion — which is up from 430 million just 1 year ago.) Learn more about RPKI w/ ARIN: https://t.co/PoxMrXptoc pic.twitter.com/dFMkcVjfwA

— ARIN (@TeamARIN) December 14, 2022
On 4 Oct. 2008, ARIN Online launched with these features for account management:
⚙️ Register & Manage Web Account
⚙️ Login & Login Assistance
⚙️ Point of Contact (POC) Linking
⚙️ Manage POC Records
⚙️ Manage Org Records
⚙️ Query Whoishttps://t.co/M2LyPv0K9h #25DaysOFARIN pic.twitter.com/AKJrfTeBpH

— ARIN (@TeamARIN) December 15, 2022
#FridayFact: 2022 marks the 20th anniversary of the current ARIN logo — our 3rd version. We began w/ block letters w/ a pink accent in the proposal for the org, followed by the map version. See them in action:
1️⃣https://t.co/cauTa23MdR
2️⃣https://t.co/Pe6pjdHnsG#25DaysOfARIN pic.twitter.com/YBYxZKcd9Z

— ARIN (@TeamARIN) December 16, 2022
We can't celebrate #25DaysOfARIN w/out featuring our great training resources! The 14 instructional videos on our YouTube channel have been viewed nearly 55K times, we offer 6 on-demand webinars, &, since 2019, we've presented 40 live webinars. Learn more: https://t.co/cFq7chs0Xe pic.twitter.com/ovFiie49is

— ARIN (@TeamARIN) December 17, 2022
To round out week 3 of #25DaysOfARIN, we're featuring our Board of Trustees, which consists of 6 elected members who maintain authority over ARIN's scope and mission. 31 members have served on the Board to date, with 2 more to come on 1 Jan. 2023! https://t.co/gLWqx3jt1t pic.twitter.com/Hf0xb5okWA

— ARIN (@TeamARIN) December 18, 2022
Following up on that #25DaysOfARIN fun fact #21, we also wanted to give a special shout out and thank you to the seven founding members of the ARIN Board of Trustees. We're grateful to Scott Bradner, Randy Bush, John Curran, Kim Hubbard, Jon Postel, Don Telage, and Raymundo Vega Aguilar for their invaluable service!
We're nearing the end of #25DaysOfARIN, but of course we have to talk #IPv6 first! On 3 August 1999 ARIN made its first IPv6 allocation. Curious what organization it went to? Search ARIN's Whois for 2001:400::/32 : https://t.co/nIc5ljv9UX #ARINiversary #25thAnniversary pic.twitter.com/VktZNMclOZ

— ARIN (@TeamARIN) December 19, 2022
25 years of ARIN has brought growth from 15 employees during its 1st year of operations starting in Dec. 1997 to 95 employees today, in Dec. 2022 (252 employees total to date). And our current staff holds a combined total of 732 years tenure! https://t.co/W0mXywyYWy #25DaysOfARIN pic.twitter.com/5DMRoNfp1B

— ARIN (@TeamARIN) December 22, 2022
How about wrapping up #25DaysOfARIN with a big number? ARIN currently manages 1.6 billion #IPv4 addresses (that's the total issued inventory under RSA, LRSA or Legacy). Learn more about IPv4 addressing options in our guide: https://t.co/6UblZ8E3IR #ARINiversary #25thAnniversary pic.twitter.com/wZMS5tvBSG

— ARIN (@TeamARIN) December 21, 2022
It's day 25 of #25DaysOfARIN! 🎉 ARIN was founded 22 Dec 1997, making today our #25thAnniversary — thanks for celebrating w/ us! We couldn't have made it to this milestone w/out our amazing community's support & participation. Stay tuned for a commemorative post on the ARIN Blog! pic.twitter.com/C6DZA3Mffm

— ARIN (@TeamARIN) December 22, 2022
Recent blogs categorized under: Updates