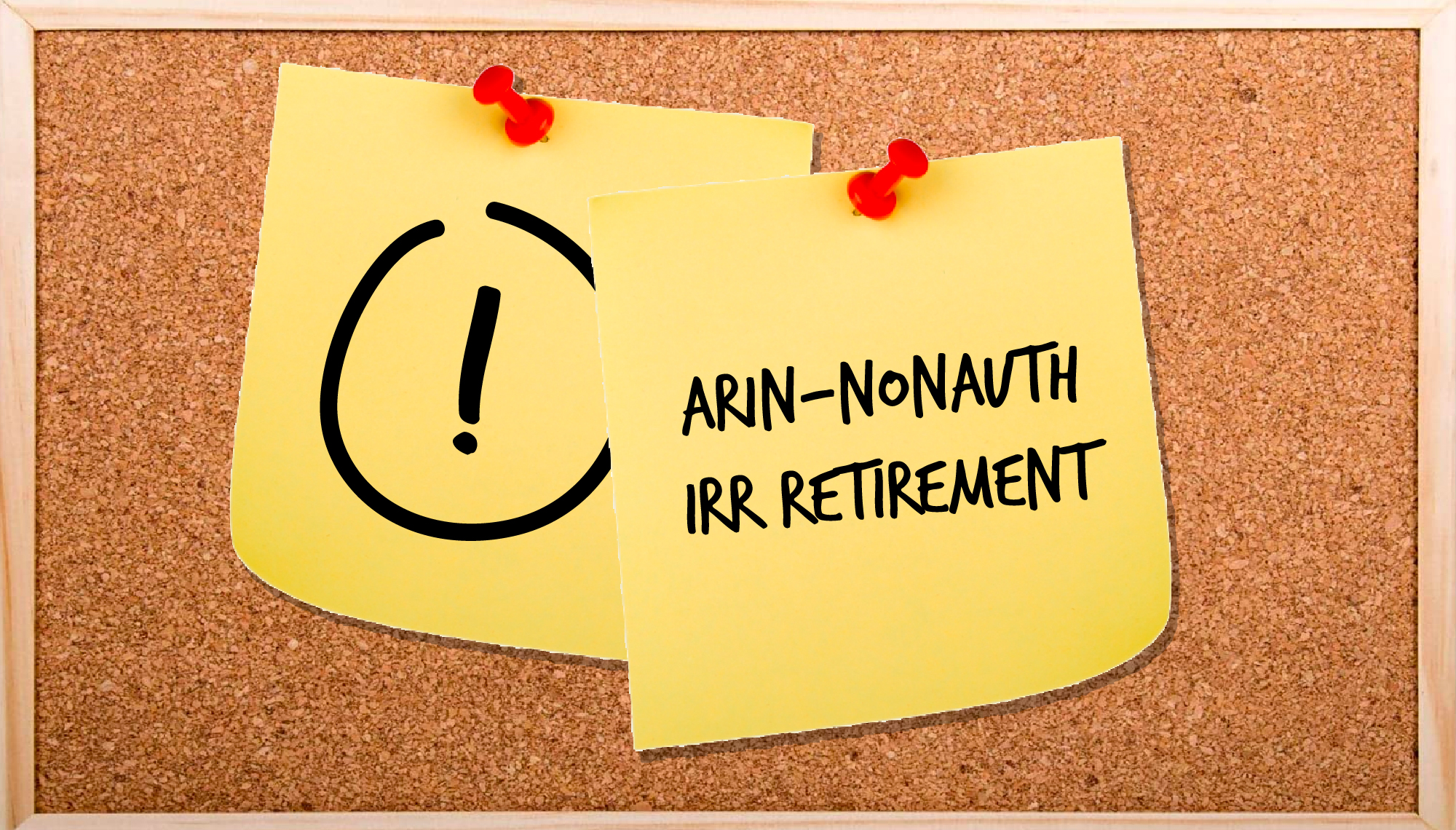 Take Action Now to Prepare for the ARIN-NONAUTH IRR Retirement
In June 2020, ARIN deployed an authenticated Internet Routing Registry (IRR) database, a trusted source of information that network operators can use to build routing policy to help secure their network resources. Users may create objects, validated by ARIN for accuracy, using the ARIN Online web interface or the ARIN API. This resulted in ARIN maintaining two IRR data streams, ARIN authenticated IRR and ARIN-NONAUTH IRR.
You might ask, "Why should I care about the shutdown of ARIN-NONAUTH IRR"?
Many network operators build routing policy based on information they pull from one or more of the twenty-four IRR databases that make up the IRR ecosystem. This ensures the best opportunity to view the objects they care about. We are nearing the date when ARIN will retire the ARIN-NONAUTH IRR database – Monday, 4 April 2022.
The ARIN-NONAUTH data stream will no longer be available using Near Real Time Mirroring (NRTM), File Transfer Protocol (FTP) or Whois Port 43. The outdated email template entry method will be deprecated as well. Organizations with objects ONLY in the ARIN-NONAUTH database should work with ARIN to fix the issues with their objects or find another IRR to publish their records. Failure to take one of these actions could result in interruption of access to their network resources.
Why did the date of retirement get pushed back?
Back in February of last year, ARIN held a consultation with the community asking if a six-month period would be enough time to migrate to another IRR system. After reviewing feedback from the community, ARIN extended the availability of the ARIN-NONAUTH IRR for an additional six months and increased our proactive engagement in notifying customers who currently use our unauthenticated IRR.
On 14 June 2021, an email was sent to all Admin, Tech, and Routing Points of Contact linked to Organizations with objects in the ARIN-NONAUTH Internet Routing Registry (IRR), of ARIN's intent to shut down the database on Thursday, 31 March 2022. The triggers for notification are a mismatch of Org (derived from the maintainer of the object) to allocated resource (e.g. prefix or ASN) in the IRR object, or the resources are not covered by Registration Services Agreement (RSA) or Legacy Registration Services Agreement (LRSA).
Since that original email, ARIN has generated regular messages on ARIN mailing lists, given notice in multiple blog posts, and presented IRR Spring Cleaning at NANOG 83, specifically calling out the rapidly approaching ARIN-NONAUTH IRR shutdown. The date was recently changed to Monday, 4 April 2022. We thought it was best to avoid the first day post shutdown being a Friday and 1 April (aka April Fool's Day).
What do I need to do to prepare?
We want to make sure you account for your resources while there is enough time to make the necessary changes. It might be a simple fix, such as creating new objects in the ARIN authenticated IRR. There may be more steps that need to be taken, like signing an RSA or LRSA, required to use the ARIN authenticated IRR. You may consider creating objects in a 3rd party IRR – it's your decision how to proceed – but ARIN is here to help with whatever decision you make. The point we want to emphasize is to take action before we reach crunch time.
Any Questions?
If you have questions about this transition or need any assistance, you can contact us by:
Submitting an Ask ARIN ticket or chat with us using your ARIN Online account
emailing the Routing Security Team at routing.security@arin.net
contacting the Registration Services Help Desk by phone Monday through Friday, 7:00 AM to 7:00 PM ET at +1.703.227.0660
Recent blogs categorized under: IRR
---
GET THE LATEST!
Sign up to receive the latest news about ARIN and the most pressing issues facing the Internet community.
SIGN ME UP →
---
Blog Categories
ARIN Bits
•
IPv6
•
Business Case for IPv6
•
Fellowship Program
•
Grant Program
•
Caribbean
•
Internet Governance
•
Updates
•
IPv4
•
Elections
•
Tips
•
Public Policy
•
Customer Feedback
•
Security
•
Outreach
•
RPKI
•
Training
•
IRR
•
Data Accuracy