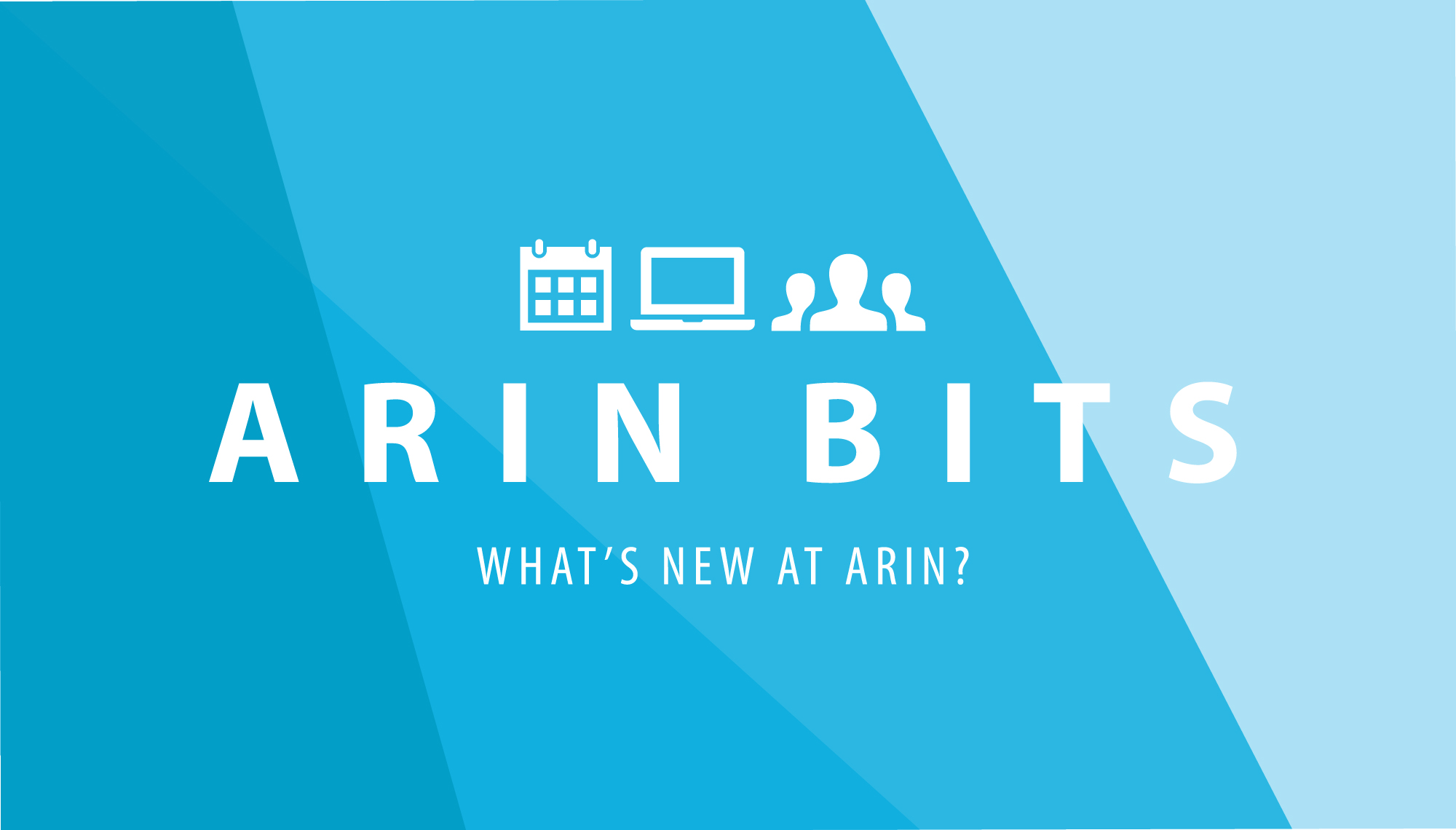 ARIN Bits: December 2022
'Tis the season to be jolly … Because another ARIN Bits is here! In this edition we share important updates from this past quarter and details about upcoming events, including: ARIN's 25th anniversary, new two-factor authentication (2FA) options and impending enforcement, changes to API keys, Fellowship Program applications, industry meetings on our calendar, and much more. Read on for fa-la-la-la-lots of details on all the merry measures we're taking to fulfill ARIN's mission.
Missed any previous editions? Find all past ARIN Bits posted on the blog.
In This Edition

Celebrate ARIN's 25th Anniversary
December 2022 marks 25 years that ARIN has been in operation, and we couldn't have made it to this milestone without our amazing community and staff. From all of us here at ARIN, we wish to express our sincere gratitude for the support we've received over the past quarter century.
To celebrate, we've been sharing a fun fact or figure about the organization's notable achievements, programs, and community happenings for "25 Days of ARIN" leading up to our 25th anniversary on 22 December. Follow us @TeamARIN on Twitter to join in the festivities, and see all the things we've shared so far by searching #25DaysOfARIN.
Welcome Your Newly Elected Leaders
The 2022 ARIN Election cycle for the Board of Trustees, Advisory Council, and NRO Number Council ended on 28 October and the winners were announced on 31 October and 9 November. We'd like to congratulate all of those who participated, and we look forward to your continued community involvement. Here are your newly elected or re-elected (R) leaders for 2023:
Board of Trustees
Bill Sandiford (R)
Robert Seastrom
Hank Kilmer
Advisory Council
Alison Wood (R)
Brian Jones (R)
Gerry George
Kendrick Knowles
Gus Reese
Douglas Camin
NRO Number Council
Catch Up on Everything from ARIN 50
ARIN 50 was held 20-21 October as a hybrid meeting, with participants joining us either in Los Angeles, California, or virtually from home. If you were unable to attend, missed a session, or would like to refer back to anything that was shared, you can view the ARIN 50 Meeting Report, which includes videos, transcripts and presentations. And a big thank you to everyone who participated to make our 50th meeting a success! We're already gearing up for ARIN 51, which is scheduled for 16-19 April 2023 in sunny Tampa, Florida. Registration will open soon, and we hope to see you there either virtually or in person!

Prepare for New 2FA Options and Requirements
Have you set up two-factor authentication (2FA) on your ARIN Online account yet? If not, we strongly encourage you to do so before it becomes required on 1 February 2023 so that this change is not interruptive to your account access. By enforcing 2FA for ARIN Online accounts, the ARIN community should see stronger security for the registry, reduced risk of account fraud attempts, and increased confidence in the integrity of their ARIN resources.
Customers will be able to choose between Time-Based One-Time password (TOTP), SMS-based, and Fast Identity Online 2 (FIDO2/Passkey) for their authentication methods. FIDO2/Passkey support is pending release in January 2023. Learn more about your 2FA options by visiting the 2FA page on our website.
New Year, New Recipient Transfer Processing Fee
Last month ARIN announced that, beginning 1 January 2023, it will implement a new transfer processing fee proportional to the size of the IPv4 aggregate block being transferred. This fee will be paid by the recipient of the transfer. The current fee to initiate a transfer request (and which is paid by the source party) remains unchanged. A matrix of the new fees can be found on our website.
Learn more about the change in the announcement from 4 November.

Get Ready for Changes to Reg-RWS API Keys
To increase our level of security and prevent bad actors from accessing or manipulating your valuable data, ARIN will be making changes to Registration RESTful Service (Reg-RWS) API keys. Starting 3 January 2023, we will begin encrypting all API keys in our database. This means that after you create and save your key (and download or copy the key into your secure storage), you won't be able to see your key in ARIN Online and, more importantly, neither will we. Additionally, the required length for new keys generated will increase from 16 to 32 characters.
Learn more about API key security and this change in the post on the ARIN Blog.
ARIN 51 (Hybrid) Fellowship Program Applications Open 5 January
Are you interested in meeting other members of the ARIN community, learning about policies on the docket for ARIN 51, receiving mentorship by a member of the ARIN Advisory Council, and more? Applications for this spring's Fellowship Program will be open 5-25 January, and the selected Fellows will have the option to attend ARIN 51 in person!
In the meantime, check out this guest blog post by ARIN 49 Fellow James Hulce for a summary of his experience and a firsthand look at what the Fellowship Program is all about. Need more reasons to attend? Read 10 shared by other past fellows.
Stay tuned to our website for registration opening next month: ARIN 51 Fellowship Program.

Read or Watch the 2021 ARIN Community Grant Program Recipients' Final Reports
Blog posts and video presentations sharing the final reports from the three 2021 ARIN Community Grant Program recipients are now available on the ARIN Blog and YouTube channel. Learn how Diplo.US, the Virtual School on Internet Governance, and Saatvik Research have been hard at work the past year using the grant funds to improve the overall Internet industry and Internet user environment.
Visit the ARIN Community Grant Program page for more information and to find out how your organization can apply in 2023.
Find ARIN at Upcoming Industry Meetings and Community Events
In addition to the ARIN events we host — like our Public Policy and Members Meetings and ARIN on the Road workshops — we attend many community events where you can join us to hear updates and presentations, ask us questions, get help with your ARIN account and resources, and more. Here's where you can find us in the next few months:
CES 2023 | 5-8 January | Las Vegas, NV
Join us at the Las Vegas Convention Center and Venetian Expo for the 2023 Consumer Electronics Show. Find ARIN staff at booth #11229 in the North Hall.
PTC'23 | 15-18 January | Honolulu, HI
Start the new year off right at the Pacific Rim's premier telecommunications event, which will include a panel on the State of the IPv4 Market moderated by ARIN's President and CEO, John Curran, and featuring Chief Customer Officer John Sweeting among the industry experts discussing the options available to organizations who seek to acquire IPv4 addresses, how transfers are completed through RIRs, recent movements in market pricing, the state of IPv6 adoption, and more.
WISPAMERICA | 7-9 March | Louisville, KY
Join us at the premier conference and trade show for the Wireless Internet Service Provider industry in North America. The ARIN Help Desk will be onsite, with ARIN staff available to provide personalized assistance, answer all your questions, and aid with any resource requests you're currently working on or plan to submit in the near future.
For a full list of the events ARIN will be participating in, visit our Community Event Calendar online.
Current Draft Policies and Proposals
Find the status of current policy discussions on our website and subscribe to the ARIN-PPML (Public Policy Mailing List) to voice your opinions. Remember, membership is not required to participate!
A Tip From Our Registration Services Department
We are occasionally asked how to create a shared ARIN Online account for an organization. ARIN Online accounts are intended to be used by individuals, and each user must create their own account to log into ARIN Online. With the upcoming changes that require two-factor authentication (2FA) to be activated on each ARIN Online account, sharing an account will not be possible.
The good news is that each user can be granted the same authorities by creating a Role Point of Contact that represents the group responsible for your network (i.e., "Network Operations," "Sys Admin," etc.). This group name is what will be publicly visible in the ARIN Whois.
Creating a Role Point of Contact with a group email address, distribution list, or alias will allow you and your team members to link to the Point of Contact and have the access required to continue properly maintaining your Internet number resources. You just need to ensure that all team members can receive emails sent to the email address placed on the Role Point of Contact. Each user will link their account to the Role Point of Contact to gain access to the Point of Contact, Organization Identifier (Org ID), and any issued resources, essentially establishing shared access to your organization's resources while maintaining secure login credentials.
More detailed step-by-step instructions for creating accounts and linking to Points of Contact can be found on our website.
Customer and Member Statistics (as of 1 December 2022)
39,251 total customer organizations, including 7,333 General Member organizations and 9,568 Service Member organizations
14,906 organizations holding Legacy Resources, 7,461 organizations holding only ASNs
427 IPv6 delegations equating to 13,641 /32s of IPv6 address space (YTD); 45.1% of General Member organizations hold an IPv6 block
Year-to-Date Through 30 November 2022
2,748 transfers requested, 2,377 transfer tickets processed
152,222 /24s transferred via 8.2 transfers; 103,307 /24s transferred via 8.3
25,148 /24s outgoing 8.4 transfers, 10,383 /24s incoming 8.4 transfers

1,188 /24s to APNIC; 3,506 /24s from APNIC
20 /24s to LACNIC; 56 /24s from LACNIC
24,726 /24s to RIPE NCC; 6,820 /24s from RIPE NCC
Statistic of Interest: With the year coming to a close, the amount of space transferred in 2022 via 8.2 and 8.3 transfers has remained steady in comparison to previous years, while the amount of space in both inbound and outbound 8.4 transfers has greatly increased. The number of /24s coming into the ARIN region in 2022 was more than twice of the total of the past six years combined, while the number of outbound /24s in 8.4 transfers was about the same as the last three years combined.
See all our monthly statistics here.
Recent Posts on the ARIN Blog
Recent blogs categorized under: ARIN Bits