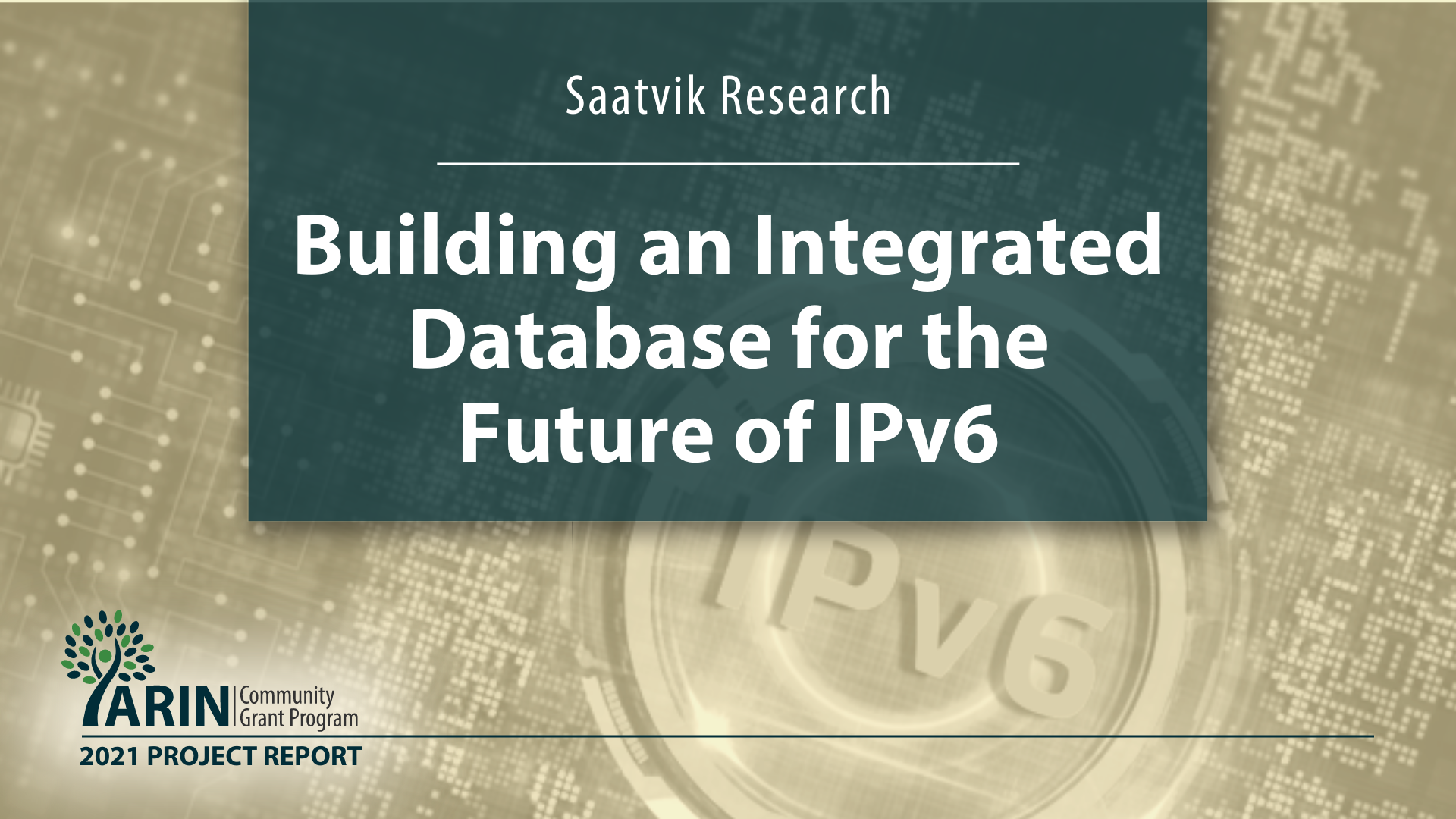 Building an Integrated Database for the Future of IPv6
2021 ARIN Community Grant Program Recipient Report
Saatvik Research received ARIN Community Grants in 2020 and 2021 to support its work creating a database of IPv6 adoption culled from both ARIN and National Institute for Standards and Technology (NIST) data. This integrated database can be used to identify trends and roadblocks for enterprise IPv6 adoption as well as to provide a foundation for Internet researchers.
The Internet community — and specifically the IPv6 community — does not currently have access to an integrated source of data from which to conduct research. This project's goal is to close that gap and make the resulting relational database publicly available to entities conducting their own research into IPv6 adoption and usage. The Internet community also faces the hurdle of relying on lagging indicators of IPv6 adoption. Our continued research will make available leading indicators of enterprise adoption by industry classification.
Learn about phase one of Saatvik Research's project in their 2020 ARIN Community Grant report.
Benefits to the ARIN Region: Supporting Strategy
This effort is foundational to developing industry-specific strategies for accelerating adoption of IPv6. An understanding of how long enterprises are taking to pursue IPv6 adoption is the starting point for changing their adoption behavior. Project results will be combined with identification of industry-specific technological and business barriers to produce impact/mitigation strategies, communication strategies, and technological and business recommendations for accelerating IPv6 adoption.
Phase Two: Complete Integration
In phase two, supported by the 2021 ARIN Community Grant, the project completed integration of the IPv6 address acquisition data from ARIN with the NIST service enablement data. Border Gateway Protocol (BGP) data was also integrated. Programmatic and manual validation of the integrated dataset along with the first set of metrics were completed.
We anticipated continuing to see some outlier negative day counts indicating service enablement dates occurring prior to the IPv6 acquisition dates. Of the 1,000 entities tracked by NIST, 727 could be matched to an ARIN Org ID. Of these 727:
551 had no IPv6 address allocated by ARIN.
176 had IPv6 addresses allocated by ARIN.
231 services were found IPv6-enabled as reported by NIST (BGP=58, DNS=93, Email=32, Web=48).*
However, an unanticipated outcome arose as we encountered shifts in entity-to-domain ratios between the time NIST deployed the monitor and the date of the integration. As a result, the level of effort necessary for manual validation exceeded estimations. This is attributable to the number of years the NIST monitor has existed and the high number of business events (dissolutions, mergers, and acquisitions) occurring during that time frame.
Watch the video presentation of Saatvik's project update on YouTube.
Ongoing Vision: Expansion and Distribution
This project will continue its research into enterprise IPv6 adoption by adding industry information to the IPv6 Integrated Database and providing updated statistical results depending on industry sample sizes. This information being critical to creating a baseline for enterprise adoption, we will develop and deliver webinars to the Internet community to explain the structure and usage of the IPv6 Integrated Database and to share the statistical results of the project's phase one activities. The next steps would be to engage in industry-specific reasons for delaying or proceeding with IPv6 adoption and provide a measure for holistic adoption strategies.
Click here to learn more about all 2021 ARIN Community Grant Program Recipients.
About the ARIN Community Grant Program
ARIN provides financial grants in support of initiatives that improve the overall Internet industry and Internet user environment. Are you working on a project that advances ARIN's mission and broadly benefits the Internet community within the ARIN region through informational outreach, research, Internet technical improvements, or Registry processes and technology improvements? Visit the ARIN Community Grant Program page for more information and to find out when and how your organization can apply in 2023. For application tips and support, read this post on our blog.
*This number indicates services only. It does not indicate that 231 of the 727 had services IPv6-enabled. Some of these enabled services fell into the negative date condition.
Any views, positions, statements, or opinions of a guest blog post are those of the author alone and do not represent those of ARIN. ARIN does not guarantee the accuracy, completeness, or validity of any claims or statements, nor shall ARIN be liable for any representations, omissions, or errors contained in a guest blog post.
Recent blogs categorized under: Grant Program
---
GET THE LATEST!
Sign up to receive the latest news about ARIN and the most pressing issues facing the Internet community.
SIGN ME UP →
---
Blog Categories
ARIN Bits
•
IPv6
•
Business Case for IPv6
•
Fellowship Program
•
Grant Program
•
Caribbean
•
Internet Governance
•
Updates
•
IPv4
•
Elections
•
Tips
•
Public Policy
•
Customer Feedback
•
Security
•
Outreach
•
RPKI
•
Training
•
IRR
•
Data Accuracy