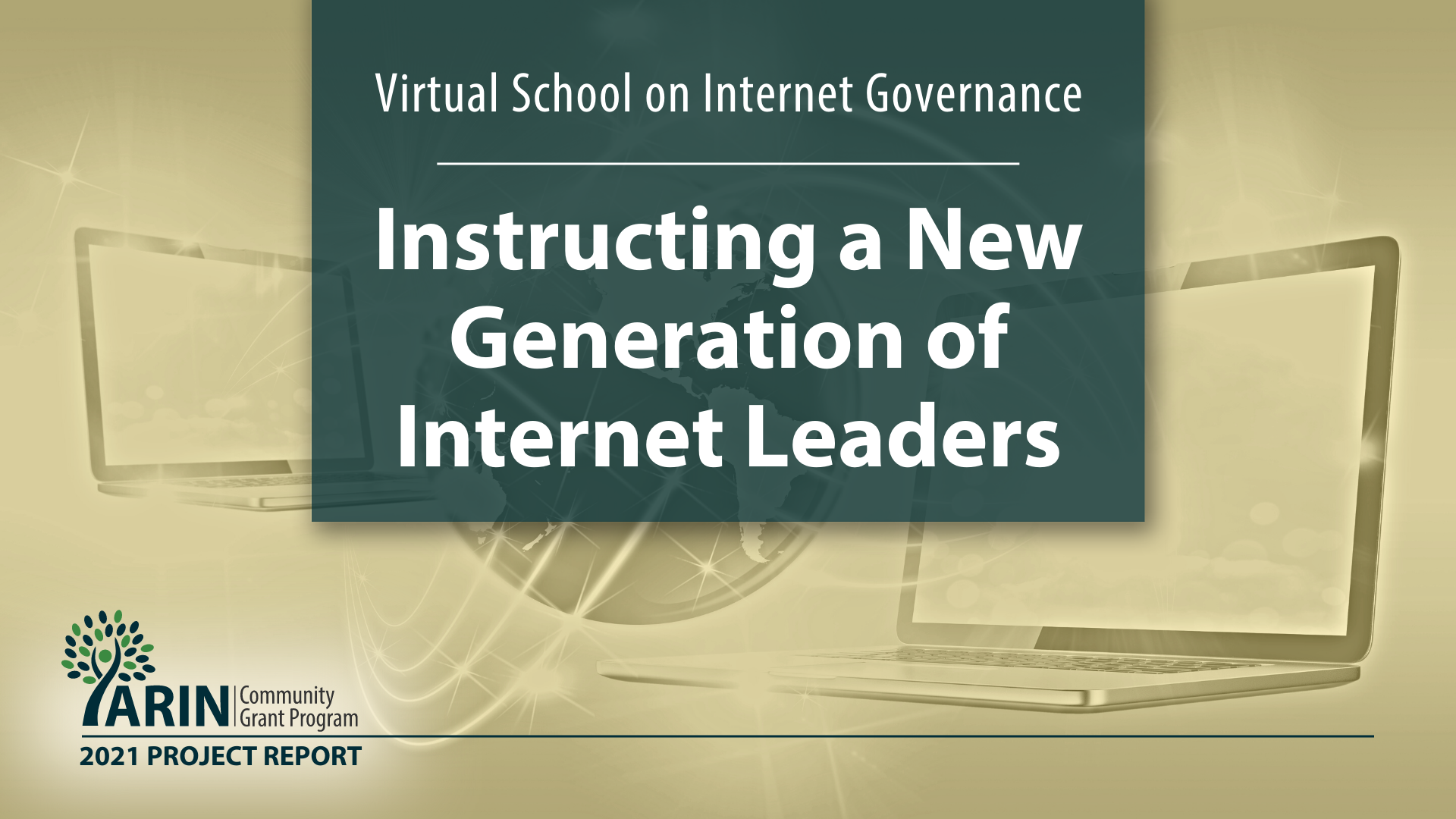 Virtual School on Internet Governance: Instructing a New Generation of Internet Leaders
2021 ARIN Community Grant Program Recipient Report
The Virtual School on Internet Governance (VSIG) is a free, online course dedicated to teaching the key pillars of Internet Governance to both novices and advanced learners. It began in 2020 as a necessity due to the restrictions imposed by the COVID-19 pandemic, and, thanks to the support of ARIN Community Grants and ARIN staff participation, it has become an international success.
In this second year of the project, we have succeeded in meeting our goal of expanding the course offerings, exceeded our target number of participants, and delivered the online training course on time and under budget. Also of notable interest is our collection and free distribution of a series of lectures on the core tenets of Internet Governance on YouTube.
Learn about phase one of the VSIG project in its 2020 ARIN Community Grant report.
Maintaining Momentum: Phase Two Accomplishments
The entire VSIG course undergoes routine updates, corrections, and ongoing development to keep the content fresh and current. With the funding from our 2021 ARIN Community Grant, we have been able to:
Expand from our initial courses in English to include versions in Spanish and French, with the bonus of showcasing local expertise in the language of the learner's choice.
Deliver seven English, three Spanish, and two French courses, all strictly online and absolutely free to participants. (We have removed the financial barrier to anyone interested in taking the course, and, if their Internet bandwidth is poor, they have the option of utilizing a text-based version of the content from the video/audio recordings.)
Make all course materials available for download and accessible at any time after the course.
Convert complimentary resources to Ebooks for easy reading on many platforms.
Configure the course for tablet and mobile use.
Provide 24/7 access to the course to accommodate learners' busy schedules; if they miss any weekly live presentations, all recordings can be viewed on our YouTube playlists.
Focus on achieving a balance of gender, north-south distribution, variance in opinions, and interactive sessions in our live presentations.
Counting Up the Cohorts
Completed in 2022
A total of 609 students have completed the course so far this year:
English cohorts A, B, C, D, E, and F = 564 students
Spanish cohorts A, B = 45 students
Projected Numbers
These cohorts are currently in progress and expected to complete the course by the end of 2022:
English G (began 5 September 2022) = 50 students
French A (Pilot in May 2022), B (began 14 September 2022) = 90 students
Spanish C (began 14 August 2022) = 25 students Upon these cohorts' completion, we project our total number of students in 2022 to reach 774.
How does VSIG benefit the ARIN community?
While providing a clear pathway for self-directed online learning about Internet governance, VSIG supports ARIN's mission and community in the following ways:
Key ARIN staff speak at some live sessions to connect with students and share important information and updates about ARIN.
Session recordings are shared on the VSIG and PostDIGITAL Facebook pages to reach an even wider audience within the community.
ARIN Fellows are encouraged to continue their exploration of Internet Governance by taking the VSIG course. We also shared about the work of VSIG with participants in the inaugural Fellowship Program Virtual Summit held in summer 2022.
Throughout our courses' sessions, ARIN's role in the Internet Governance ecosystem is explained and promoted as a progressive and well-run operation.
Don't Just Take It From Us
All students are asked to complete a survey upon completion of the course, and the responses have been positive! Here are some of the comments we've received:
"In my opinion, since NASIG in Puerto Rico to now, I noticed an interesting improvement. Because we are online and we have recorded the sessions, we can review the content. The quizzes were very important in order to make us do research about the topics delivered. So, this course was the most efficient one in terms of level of speakers."
"Very friendly and knowledgeable."
"They are very good and supportive."
"Excellent and competent. Keep it up."
"Great interaction with the instructors, Alfredo and Glenn."
Watch the video presentation of the VSIG project update on YouTube.
What's Next for the Project?
We are staying true to our objective of offering a free and multilingual course open to anyone. Our goal is to continue making the course more accessible through additional language translation in the future, including commencing translation of the course into Russian for a 2023 launch and raising funds to produce the course in Hindi, Chinese, and Bengali.
Ready to Enroll?
If you're interested in joining an upcoming cohort, stay tuned to the VSIG website, Facebook page, and Twitter to learn when registration opens. Email registration@virtualsig.org or info@virtualsig.org if you have any questions.
Click here to learn more about all 2021 ARIN Community Grant Program Recipients.
About the ARIN Community Grant Program
ARIN provides financial grants in support of initiatives that improve the overall Internet industry and Internet user environment. Are you working on a project that advances ARIN's mission and broadly benefits the Internet community within the ARIN region through informational outreach, research, Internet technical improvements, or Registry processes and technology improvements? Visit the ARIN Community Grant Program page for more information and to find out when and how your organization can apply in 2023. For application tips and support, read this post on our blog.
Any views, positions, statements, or opinions of a guest blog post are those of the author alone and do not represent those of ARIN. ARIN does not guarantee the accuracy, completeness, or validity of any claims or statements, nor shall ARIN be liable for any representations, omissions, or errors contained in a guest blog post.
Recent blogs categorized under: Grant Program
---
GET THE LATEST!
Sign up to receive the latest news about ARIN and the most pressing issues facing the Internet community.
SIGN ME UP →
---
Blog Categories
ARIN Bits
•
IPv6
•
Business Case for IPv6
•
Fellowship Program
•
Grant Program
•
Caribbean
•
Internet Governance
•
Updates
•
IPv4
•
Elections
•
Tips
•
Public Policy
•
Customer Feedback
•
Security
•
Outreach
•
RPKI
•
Training
•
IRR
•
Data Accuracy