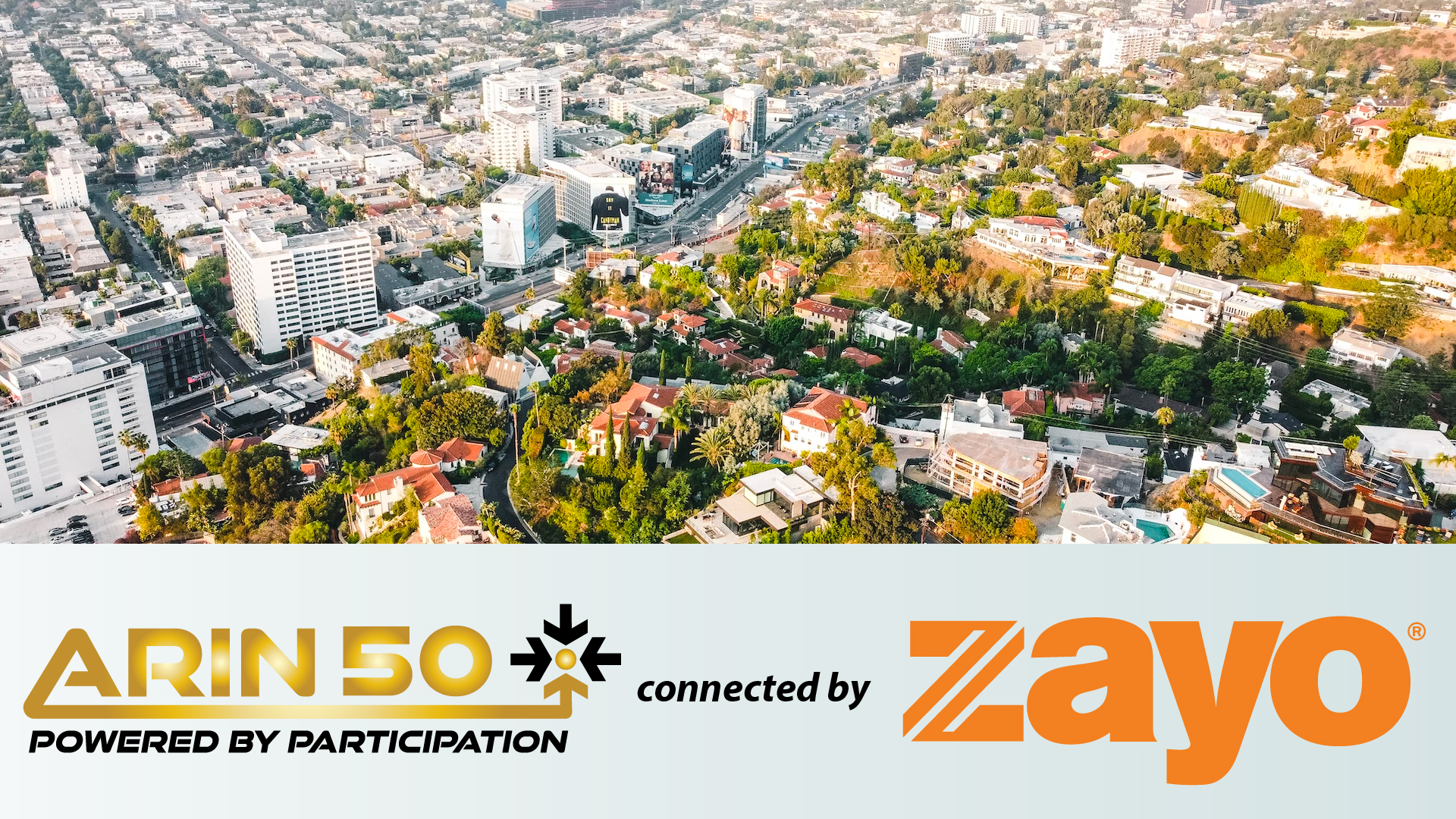 Meet ARIN 50 Network Sponsor, Zayo
We asked our ARIN 50 network sponsor to explain what motivated them to provide connectivity for the meeting. If your company would be interested in supporting a future ARIN meeting, let us know! Here's what Zayo had to say:
---
As a Tier 1 ISP and a proud Member of the ARIN community, Zayo is honored to serve the broader Internet community at ARIN 50, as well as NANOG 86, in Hollywood, CA.
This conference represents a unique opportunity to engage on topics and policies that will shape the future of IP connectivity for the ever-adapting needs of the users and organizations who depend on it. Considering the Internet ecosystem requires collaboration and commitment from all networks involved, we strongly encourage participation from organizations spanning all industries. As a network owner and operator, it has helped shape our vision and strategy over the last few years.
Zayo, for one, is actively committed to MANRS compliance and improving security and protection across Internet infrastructure. Earlier this year, we rolled out Two-Factor Authentication (2FA) for BGP sessions and Dynamic IRR updates to ensure that our customers' valuable resources and the global Internet routing tables are protected from AS impersonation. Later this month, Zayo's network (AS6461) will be RPKI compliant and consistent with industry standards, further improving BGP security and prevention of IP hijacking. These network adaptations are critical to providing customers with resilient and secure Internet connectivity.
When it comes to establishing connectivity for a meeting as the network sponsor, it's largely business as usual for us. Zayo's deep breadth of fiber spanning over 16-million miles has laid the groundwork for us to connect to more than 44,000 on-net buildings, including the Loews Hollywood Hotel. As part of Zayo's Metro Access Architecture strategy, we enable enterprise locations with passive WDM. allowing Zayo to easily add incremental dedicated 10G connections, conserving fiber, reducing delivery intervals, and providing savings to our customers. Zayo is committed to standardizing this strategy across our network over the next three to five years to enable a best-in-class network with unparalleled resiliency in North America, Canada, and Europe.
On behalf of Zayo, I am pleased to welcome the ARIN community back to California, where all meeting attendees can enjoy a 10G dual stack-enabled connection on one of America's best networks!
Any views, positions, statements, or opinions of a guest blog post are those of the author alone and do not represent those of ARIN. ARIN does not guarantee the accuracy, completeness, or validity of any claims or statements, nor shall ARIN be liable for any representations, omissions, or errors contained in a guest blog post.
Recent blogs categorized under: Public Policy
---
GET THE LATEST!
Sign up to receive the latest news about ARIN and the most pressing issues facing the Internet community.
SIGN ME UP →
---
Blog Categories
Grant Program
•
Public Policy
•
IPv4
•
Updates
•
Security
•
RPKI
•
IPv6
•
Data Accuracy
•
Elections
•
ARIN Bits
•
Business Case for IPv6
•
Fellowship Program
•
Caribbean
•
Internet Governance
•
Tips
•
Customer Feedback
•
Outreach
•
Training
•
IRR