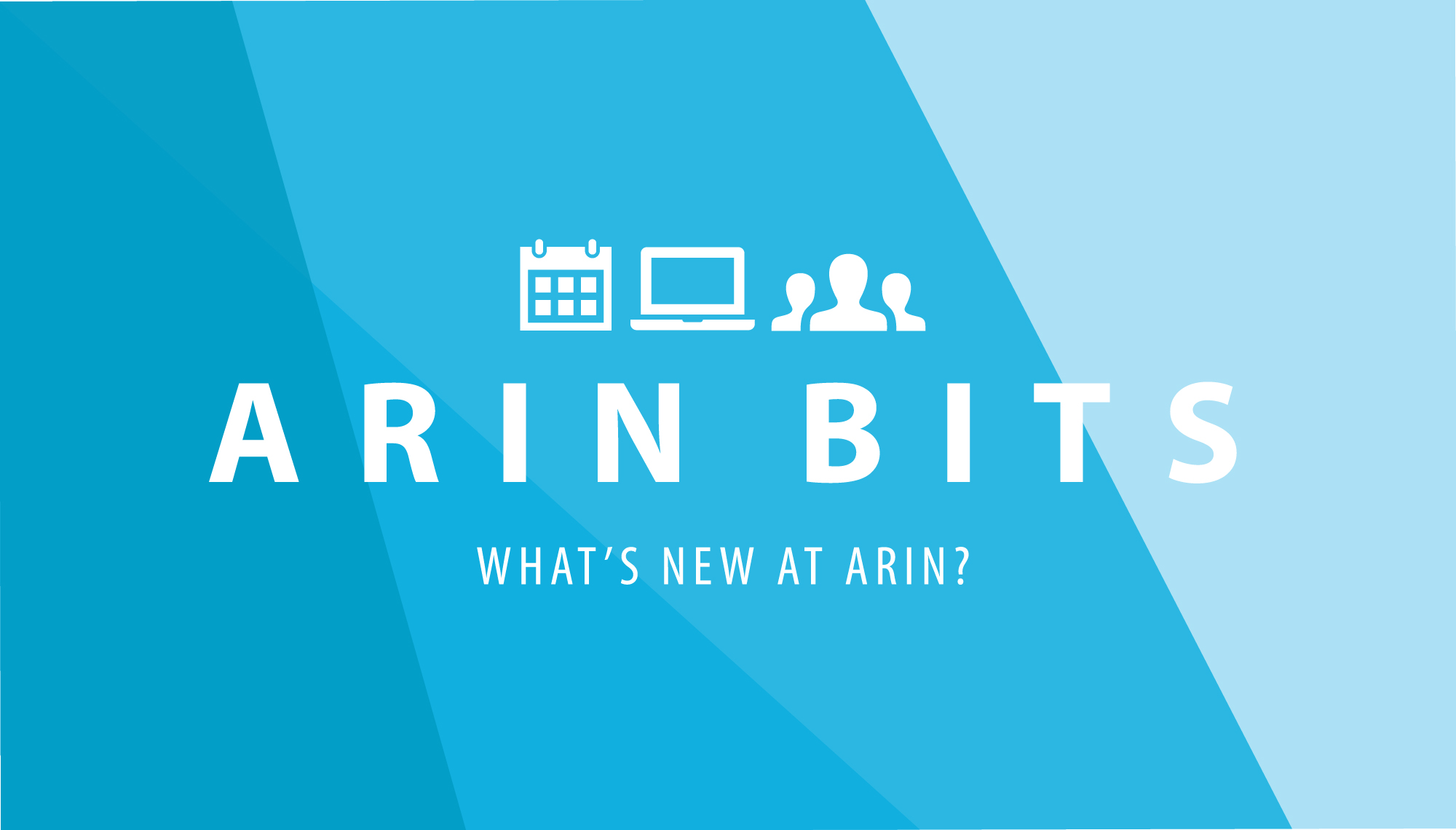 ARIN Bits: June 2022
Quarter two of 2022 feels like it went by twice as fast, if you ask us. Do you feel it, too? Time flies when events, updates and other exciting things are happening in double time! In other words, the past three months have been busy ones at ARIN, and we have a lot to cover in this edition of Bits. We'll catch you up on our recent Public Policy and Members Meeting, ARIN 49, along with Bylaws and Election changes, instructional webinar updates, current policy proposals and consultations, and much more.
Missed last quarter's edition? Find all past ARIN Bits posted on the blog.
In This Edition
Learn About New Changes to ARIN Elections
Last year the ARIN Board of Trustees dedicated focused effort to the review and improvement of ARIN governance, resulting in multiple recommendations regarding ARIN's Election processes and governing bodies. Following the receipt of feedback from the community to multiple consultations, the Board adopted changes to ARIN's Bylaws at its meeting on 16 May 2022.
These changes include:
Replacing the current Electoral Process model to move from third-party nomination to self-nomination.
Expanding the Board's elected seats from six to nine Trustees.
Listing Standing Committees explicitly and adding committee governance requirements.
Establishing term limits for Board Trustees (up to three consecutive full terms followed by a two-year ineligibility period).
Modifying language to be gender neutral.
For the full list of changes to the ARIN Bylaws, see the 7 June announcement of their adoption. Plus, read our blog post providing an in-depth overview of the changes to ARIN Elections and Voting taking effect this year: What Changes Are Coming to ARIN Elections in 2022?.
The Call for Nominations for Board of Trustees, Advisory Council, and NRO NC opens Friday, 24 June, and will close Friday, 8 July. And remember voting is restricted to the Voting Contacts of General Members in Good Standing in place 45 days before the election. If you want to vote this fall, please be sure to update your organization's Voting Contact information by Monday, 5 September. If your organization is currently a Service Member but would like to participate in ARIN Elections, please log into your ARIN Online account and submit your request to be a General Member and establish a Voting Contact before that date.
Access On-Demand ARIN Leadership Development Resources
Looking to take on a leadership role in the ARIN community? We just launched two new instructional videos on Governance and Policy that explain how ARIN fits into the larger Internet governance community, our election cycle, the composition and responsibilities of the ARIN Advisory Council (AC) and Board of Trustees, and how you can get involved. Now it's easier and more convenient than ever to learn about the process if you are interested in becoming part of the Board or AC — or just get a better understanding of what those bodies do and how you can participate without running for office. Learn more about Leadership Development at ARIN and the new video series on the blog: ARIN Leadership Development Series On-Demand Videos Now Available.
Watch the Inside the American Registry for Internet Numbers (ARIN): Governance and Inside the American Registry for Internet Numbers (ARIN): Policy Development videos on our YouTube channel.
Weigh in on 2FA
A couple days remain to share your feedback on this community consultation! Since October 2020, the ARIN Online system has been subject to a series of dictionary-based password guessing attacks to which accounts not using Two-Factor Authentication (2FA) are susceptible. Because the security of ARIN Online accounts is paramount to the success of the registry, it is our intention to require 2FA for all ARIN Online accounts shortly after SMS-based 2FA authentication is generally available. We are seeking confirmation from the ARIN community regarding this plan, and have asked the following consultation question:
Once SMS-based two-factor authentication (2FA) is available for ARIN Online, do you believe ARIN should not proceed with requiring 2FA authentication (SMS-based or TOTP) for all ARIN Online accounts? If so, why?
If you wish to weigh in on the 2FA requirement, please provide comments to arin-consult@arin.net by 5:00 PM EDT on 24 June 2022.

Join Discussions of ARIN Governance on the General Member Mailing List
In January, we announced the opening of a new General Member Mailing List (GML) created as the successor to the previous member-only mailing list, "arin-discuss." Subscription to this list is limited to General Members, Trustees, and key ARIN staff, and it is intended for discussion of topics related to the governance of ARIN — including the 2022 election cycle now underway. Subscribers must use an email address associated with an ARIN General Member organization for verification purposes. Subscribe to this mailing list at https://lists.arin.net/mailman/listinfo/general-members.
Should ARIN Have a Public "ARIN Discussion" Mailing List?
Recent discussion on the ARIN Public Policy Mailing List (arin-ppml) raised an important question: Should ARIN have a public "ARIN discussion" mailing list for broad discussion of ARIN topics which is open to all (i.e., much like the present arin-ppml, but with a scope greater than supporting number resource policy development)?
To help us determine the path forward regarding the possible creation of a new, open arin-discuss mailing list, we opened ACSP Consultation 2022.5 on 21 June to seek feedback from the community on this topic. Please provide comments to arin-consult@arin.net by 5:00 PM EDT on 21 July 2022. Thank you for your participation in the ARIN Consultation and Suggestion Process!
View the ARIN 49 Meeting Report
The ARIN 49 Public Policy and Members Meeting Report, including presentations, links to daily recaps on our blog, transcripts, and webcast archives, is available on our website. We wish to thank everyone who participated in person or virtually at ARIN 49 and made it a success! Please plan to join us for ARIN 50 so you can continue participating in this critical part of ARIN's Policy Development Process.

Save the Dates and Share Your Memories for the Next ARIN Meeting
This year marks ARIN's 25th anniversary and 50th meeting, and ARIN 50 is scheduled for 20-21 October in Hollywood, CA. We look forward to gathering with you again this fall in person, online, or both!
In the meantime, help us commemorate these silver and gold jubilee milestones by sharing a favorite memory you have from any past ARIN meeting, letting us know why you participate, uploading a photo, and choosing a favorite past meeting logo: Fill out the ARIN 50 Memory Lane survey.
Speaking of ARIN 50…

Are you interested in meeting other members of the ARIN community, learning about policies on the docket for ARIN 50, receiving mentorship by a member of the ARIN Advisory Council, and more? Applications for this fall's Virtual Fellowship Program will open in late July. In the meantime, check out this guest blog post by ARIN 49 Fellow James Hulce for a summary of his experience and a firsthand look at what the Fellowship Program is all about!
Dive Deeper Into RPKI With Our Latest Webinar
If you've been hoping for a more in-depth workshop on ARIN's RPKI services and how to use them, check out the "Delegated, Hybrid and the API — Beyond Hosted RPKI" webinar now available on-demand after we hosted two live sessions in May and June.
After watching this instructional webinar, you'll be able to:
Identify differences between Hosted and Delegated RPKI with ARIN and see how our new Publication Service for Delegated RPKI can offer the best of both worlds.
Use the web interface for Hosted deployments.
Use API interface for RPKI deployments.
Attendees of the live sessions let us know they most appreciated the insight into the dashboard and the interaction with Krill. They also said they greatly appreciate the ARIN team for producing these webinars and documentation and for hosting these events and the RPKI for their customers. Thanks to those who attended live, and happy viewing to all who watch on-demand!
Coming Soon: ARIN Premier Support Plan as a Paid Service
In May of 2021, ARIN launched the Premier Support Plan (PSP) to customers who are in a 2XL or larger Registration Services Plan (RSP). Beginning 15 August, this same service package will be made available to customers who are in an XL or smaller RSP at an annual cost of $5,000 USD. Organizations that choose to enroll will be able to do so through ARIN Online and will receive the same suite of services, including: a dedicated account manager; prioritized ticket processing; 24/7 on-call support; waived transfer fees; and more.
We are excited to open this opportunity for our PSP to a wider ARIN audience! Please send any questions to psp.support@arin.net.
Current Draft Policies and Proposals
| Number | Title | Current Version | Status | Staff/Legal Review(s) | Community Presentation |
| --- | --- | --- | --- | --- | --- |
| ARIN-2020-6 | Allowance for IPv4 Allocation "Swap" Transactions via 8.3 Specified Transfers and 8.4 Inter-RIR Transfers | 2 May 2022 | Recommended Draft Policy | 22 July 2020, 7 December 2021 | ARIN 46, ARIN 47, ARIN 48, ARIN 49 |
| ARIN-2021-3 | Private AS Number and Unique Routing Policy Clarifications | 2 May 2022 | Pending Board of Trustees Review | 25 January 2022 | ARIN 48, ARIN 49 |
| ARIN-2021-4 | Clarifications to Sections 6.5.2.1, 8.3, 8.4 and 8.5.6 | 2 May 2022 | Pending Board of Trustees Review | 1 February 2022 | ARIN 48, ARIN 49 |
| ARIN-edit-2021-5 | Update ISP and End User References For 2022 Fee Schedule | 21 September 2021 | Pending Implementation | 6 December 2021, 9 February 2022 | ARIN 48, ARIN 49 |
| ARIN-2021-6 | Permit IPv4 Leased Addresses for Purposes of Determining Utilization for Future Allocations | 2 March 2022 | Draft Policy | None | ARIN 48, ARIN 49 |
| ARIN-2021-7 | Make Abuse Contact Useful | 17 December 2021 | Draft Policy | 14 March 2022 | ARIN 49 |
| ARIN-2021-8 | Deprecation of the 'Autonomous System Originations' Field | 15 December 2021 | Draft Policy | 6 June 2022 | ARIN 49 |
| ARIN-2022-1 | MDN Clarification for Qualification | 2 May 2022 | Recommended Draft Policy | 21 March 2022 | ARIN 49 |
| ARIN-2022-2 | Remove Barrier to BGP Uptake in ASN Policy | 2 May | Draft Policy | None | None |
| ARIN-prop-305 | Editorial Clean-up of NRPM Section 2 | 7 June 2022 | Proposal | None | None |
| ARIN-2022-3 | Remove officer attestation requirement for 8.5.5 | 21 June 2022 | Draft Policy | None | None |
| ARIN-prop-310 | Clean-up of NRPM Sections 2.1 and 2.2 | 6 June 2022 | Proposal | None | None |
| ARIN-prop-311 | Editorial Clean-up of NRPM Sections 2.4 and 2.5 | 14 June 2022 | Proposal | None | None |
| ARIN-prop-312 | Clean-up of NRPM Section 2.11 | 14 June 2022 | Proposal | None | None |
| ARIN-prop-313 | Editorial Clean-up of NRPM Sections 2.12 and 2.14 | 14 June 2022 | Proposal | None | None |
| ARIN-prop-314 | Clean-up of NRPM – Introduction of Section 2.17 | 14 June 2022 | Proposal | None | None |
| ARIN-prop-315 | Editorial Clean-up of NRPM Section 2.16 | 14 June 2022 | Proposal | None | None |
| ARIN-prop-316 | Streamlining Section 11 Policy Language | 15 June 2022 | Proposal | None | None |
Find the status of current policy discussions on our website and subscribe to the ARIN-PPML (Public Policy Mailing List) to make your opinions heard.
A Tip From Our Registration Services Department
Did you know you can view all tickets associated with your Organization Identifier (Org ID)? If your ARIN Online user account is linked to the Admin or Tech Point of Contact (POC) for the Org ID, you can view all tickets, old and new, by clicking "Tickets" in the left navigation bar. Clicking the "Search Tickets" button allows you to sort through the tickets. You can also provide additional information and reply to any Open Tickets for your organization.
Customer and Member Statistics (as of 1 June 2022)
39,284 total customer organizations, including 7,465 General Member Organizations and 9,253 Service Member Organizations
15,069 organizations holding Legacy Resources; 7,553 organizations holding only ASNs
316 IPv6 delegations equating to 349,383.25 /32s of IPv6 address space (YTD); 44.5% General Member Organizations hold an IPv6 block
Year-to-Date Through 31 May 2022
1,266 transfers requested; 1,120 transfer tickets processed
62,315 /24s transferred via 8.2 transfers; 35,310 /24s transferred via 8.3
1,757 /24s outgoing 8.4 transfers; 3,314 /24s incoming 8.4 transfers:

785 /24s to APNIC; 1,549 /24s from APNIC
14 /24s to LACNIC; 16 /24s from LACNIC
958 /24s to RIPE NCC; 1,749 /24s from RIPE NCC
Statistic of Interest: In 2022, the ARIN region has received more IPv4 address space coming into the region via 8.4 transfers than in the last three years combined.
See our recently revised monthly statistics now with more detail on IPv6 and transfers!
Recent Posts on the ARIN Blog
Recent blogs categorized under: ARIN Bits
---
GET THE LATEST!
Sign up to receive the latest news about ARIN and the most pressing issues facing the Internet community.
SIGN ME UP →
---
Blog Categories
IPv6
•
Business Case for IPv6
•
Fellowship Program
•
Grant Program
•
Caribbean
•
Internet Governance
•
Updates
•
IPv4
•
ARIN Bits
•
Elections
•
Tips
•
Public Policy
•
Customer Feedback
•
Security
•
Outreach
•
RPKI
•
Training
•
IRR
•
Data Accuracy