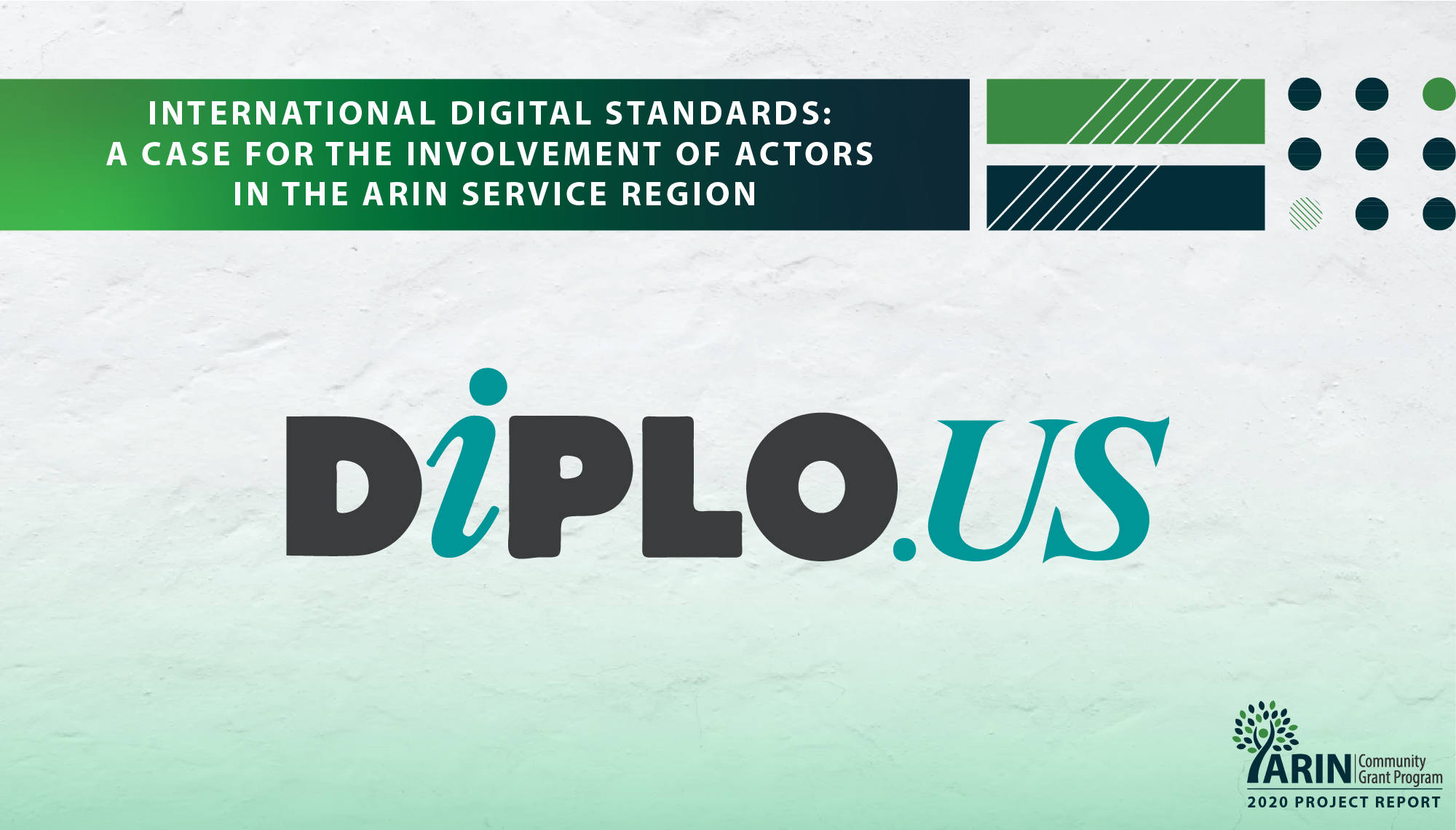 International Digital Standards: A Case for the Involvement of Actors in the ARIN Service Region
ARIN Community Grant Program Report: Studying the Standardization Gap
The international community has already raised and recognized the importance of the involvement of small, developing countries in standard-setting processes. Yet the so-called standardization gap — the limited or non-participation of actors from developing countries — is still a reality, including in the ARIN service region.
This subject is the focus of the study titled International Digital Standards: A Case for the Involvement of Actors in the ARIN Service Region (in Spanish), conducted by Diplo US with funding from the ARIN Community Grant Program. The study's outcome paper reveals the current involvement (or lack thereof) of small, developing countries in the ARIN region in international standardization processes.
The main finding of this paper is that US and Canadian actors are primarily involved in the development of international digital standards, while there is very little (if any) participation from other countries in the ARIN region. To help close this standardization gap, the paper offers practical recommendations for more active engagement of these other countries and their various stakeholders in the setting of international standards for digital technologies. As indicated in the report, it would be beneficial if international and regional standards developing organizations (SDOs) join forces in intensifying capacity development.
Initiatives should be focused on:
Raising more awareness within the region about the importance of technical standards, especially international ones.
Empowering stakeholders from across the region with the knowledge and skills needed to increase their participation in standardization processes.
The paper was launched during the event International Digital Standards: Stepping Up the Engagement of Stakeholders from the ARIN Region, held in February 2022 and aimed at raising awareness about digital standards among stakeholders in small, developing countries in the ARIN region.
What are digital standards and how do we classify them?
According to the definition of "standard," developed by the International Organization for Standardization (ISO) and the International Electrotechnical Commission (IEC), a standard is "a document, established by consensus and approved by a recognized body, that provides, for common and repeated use, rules, guidelines or characteristics for activities or their results, aimed at the achievement of the optimum degree or order in a given context."
Digital standards cover various technologies and related infrastructures, devices, applications, and services:
Internet technical standards form the infrastructure that makes the internet work and include the Transmission Control Protocol/Internet Protocol (TCP/IP), the domain name system (DNS), and the secure sockets layer (SSL).
Web standards are formal standards and technical specifications for the World Wide Web. They ensure that content is accessible across devices and configurations, and provide the core rules for developing websites. These include the HyperText Markup Language (HTML), the Extensible Markup Language (XML), and Cascading Style Sheets (CSS).
Standards for networks and infrastructure cover technologies and architectures for mobile networks (e.g. 4G and 5G), broadband networks, and next-generation networks, to name just a few.
Standards for advanced technologies are increasingly being developed in areas such as the Internet of Things (IoT), artificial intelligence (AI), robotics, nanotechnologies, additive manufacturing, and quantum technologies.
Most standards are voluntary, and market players choose to adhere to them depending on their goals and interests. Sometimes standards can also be mandatory. For instance, some standards are mandatory from the outset in China, while in the USA or the EU standards become mandatory when specific laws or regulations require compliance. We can also classify standards as de facto or de jure standards. De facto standards emerge through market updates, and de jure standards are developed and adopted within SDOs.
Stepping Up the Engagement of Stakeholders From the ARIN Region
Digital standards are developed at the national, regional, and international level. The key SDOs that deal with digital standards include: the ISO, the IEC, the International Telecommunication Union Telecommunication Standardization Sector (ITU-T), the Institute of Electrical and Electronics Engineers Standards Association (IEEE SA), the 3rd Generation Partnership Project (3GPP), the Internet Engineering Task Force (IETF), and the World Wide Web Consortium (W3C).
What does the participation from ARIN region countries in standard-setting organizations look like?
At ISO, Canada and the US are among the top 20 most active countries by the number of technical committees (TCs) and subcommittees (SCs) they participate in fully. The figure below shows significantly less participation in TCs and SCs from other ARIN countries.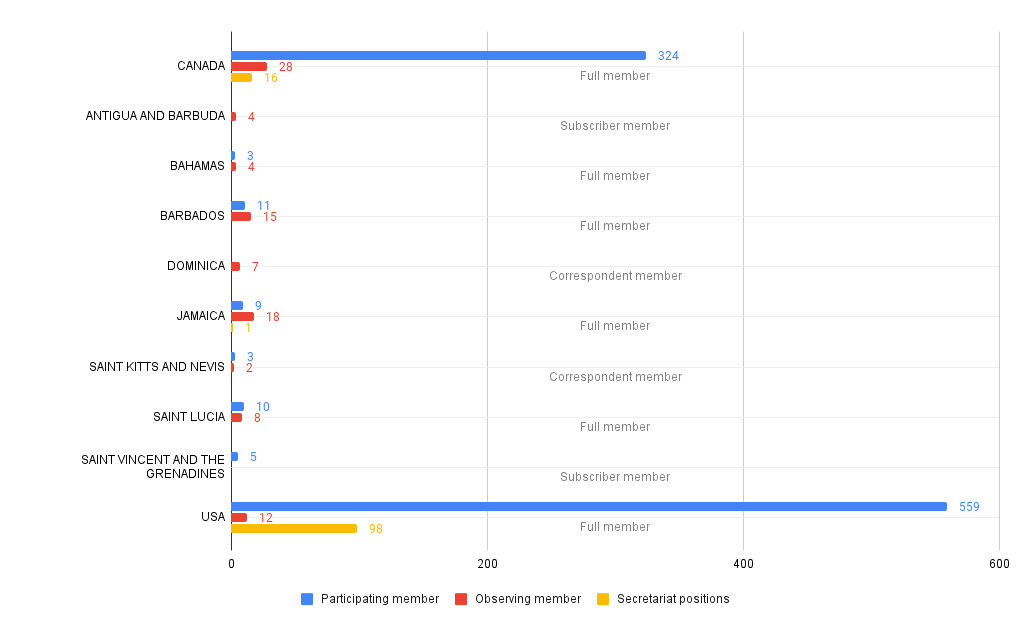 ARIN countries: Participation in ISO TCs and SCs, including positions held in the Secretariat (January 2022)
While all ARIN countries participate in ITU, only Canada, the US, and Jamaica have ITU-T members. Regarding other SDOs, Canada and the USA are the only countries participating in the IEC, IEEE SA, 3GPP, IETF, and W3C.
Arguments for More Active Engagement: Implications of Digital Standards
Having demonstrated that participation of ARIN states in international standard-setting processes is minimal, this study identifies the need for a more active engagement and awareness-raising. The paper both addresses why greater participation is necessary and offers a set of recommendations for different actors.
There exists a misperception that digital standards are relevant only for tech companies or developed countries. On the contrary, digital standards have numerous implications from different perspectives. Beyond technical implications — which comprise facilitating interoperability, fostering quality of service, and quality of experience — there are many economic implications, such as: supporting innovation; helping develop and sustain competitiveness; and facilitating global trade. The implications of digital standards can also extend to sustainable development.
Digital standards can help societies take advantage of the opportunities offered by digital technologies, including in terms of devising effective responses to global challenges. Furthermore, digital standards can provide the context for promoting or abusing human rights. Hence, it is vital to integrate a human rights approach into standard development processes. Standards can also help achieve specific public policy objectives, such as: improving public services; advancing innovation and economic growth; or protecting consumers.
Factors Affecting Participation in the SDOs
The second event dedicated to this topic, titled Towards a More Diverse International Standardisation Landscape: Motivations and Actions for Stakeholders in the ARIN Region, addressed actors' different motives to participate in international subcommittees. It also explored concrete actions that could step up the engagement of stakeholders from the ARIN region in international SDOs.
Various factors explain why certain groups or states participate in standard-setting processes and others traditionally are not even present at the table. The experience within the ARIN region, which comprises both developed and many small developing countries, helps us identify these factors explaining the nuances of participation and, likewise, challenges these countries face.
First, to participate in a standard-setting body, a certain degree of technical competence is required. The smaller the society, the smaller the economy, the more difficult it is to find an expert with sufficient knowledge and competence to credibly contribute to these processes. Given the size of most markets and territories in the ARIN region, this is one of the most significant factors influencing international standardization participation. But there also seems to be a cultural dimension – a presumption that somebody somewhere will take care of the standardization processes, and, whatever the outcome, it will respond to as many interests as possible. However, this assumption is not always valid.
Second, awareness plays a particularly significant role. Lack of knowledge, awareness, and understanding of which international body is responsible for what kind of standards is a hindrance for small, developing countries, preventing them from meaningfully engaging in standard-setting bodies.
Third, outreach could increase awareness within developing countries. For example, ITU has a solid and historical presence in the Caribbean. Therefore, governments are naturally very active in ITU processes. Their perspectives are vocalized to a greater degree when compared to other standardization bodies. Indeed, there is a link between direct outreach to the territory and the presence or attention of stakeholders.
Fourth, relevance to national priorities is another critical aspect. Developing countries are more likely to connect with a tangible benefit or relation to particular development goals. For instance, small island states might find it beneficial to participate in developing environmental standards.
Outcomes of ITU-T WTSA-20
The second event in our series was held after the conclusion of ITU's World Telecommunication Standardization Assembly (WTSA-20) held in Geneva 1-9 March 2022. Thus, we also looked briefly at how the WTSA went. The following outcomes were approved:
The work program for the new ITU-T study period
The leadership of ITU-T study groups
Modifications of some resolutions (e.g. on cybersecurity, spam, ICTs, climate change, and others)
Interestingly, the following are some of the proposals not approved at WTSA-20:
New resolution on AI which, among other provisions, would have instructed the director of the Telecommunication Standardization Bureau to develop a framework of ethical principles on AI
New resolution on SMART (Science Monitoring and Reliable Telecommunications) cables
New resolution on open access networks, which proposed the strengthening of standardization activities related to the development of systems based on open-source and open-access networks, tech, and solutions (including non-radio aspects of Open-RA-based IMT systems)
A series of proposals were put forward to amend the resolution on industry engagement, which, among others, would have encouraged more involvement of the private sector in study groups, including leadership positions. The private sector expressed concern that it becomes challenging for them to motivate themselves to participate at ITU-T.
In conclusion, the Diplo US paper on standardization in ARIN countries and the related events contributed to raising awareness on digital standards in ARIN service countries, as well as to developing capacity of stakeholders in the region.
About the ARIN Community Grant Program
ARIN provides financial grants in support of initiatives that improve the overall Internet industry and Internet user environment. Are you working on a project that advances ARIN's mission and broadly benefits the Internet community within the ARIN region through informational outreach, research, Internet technical improvements, or Registry processes and technology improvements? Visit the ARIN Community Grant Program page for more information and to find out how your organization can apply in 2022 by the 1 June deadline. For application tips and support, read this post on our blog.
Any views, positions, statements, or opinions of a guest blog post are those of the author alone and do not represent those of ARIN. ARIN does not guarantee the accuracy, completeness, or validity of any claims or statements, nor shall ARIN be liable for any representations, omissions, or errors contained in a guest blog post.
Recent blogs categorized under: Grant Program
---
GET THE LATEST!
Sign up to receive the latest news about ARIN and the most pressing issues facing the Internet community.
SIGN ME UP →
---
Blog Categories
Grant Program
•
Public Policy
•
IPv4
•
Updates
•
Security
•
RPKI
•
IPv6
•
Data Accuracy
•
Elections
•
ARIN Bits
•
Business Case for IPv6
•
Fellowship Program
•
Caribbean
•
Internet Governance
•
Tips
•
Customer Feedback
•
Outreach
•
Training
•
IRR