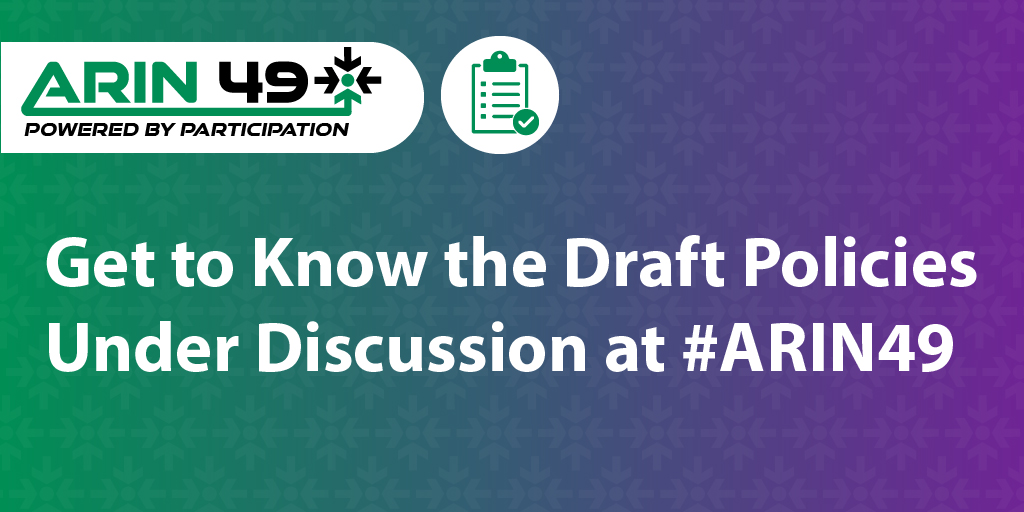 7 Draft Policies Under Discussion at ARIN 49
We're 11 days away from ARIN 49, and we're so excited to gather both in person and virtually! We always love bringing our community together to help ARIN achieve one of its prime directives: the development of policy for the management of IP addresses and Autonomous System Numbers. These biannual Public Policy and Members Meetings are critical for our Policy Development Process (PDP), and we appreciate your participation that enables their ultimate success.
To help you prepare you for the meeting, here's a look at the Draft Policies and Recommended Draft Policies up for discussion during Days 1 and 2 of ARIN 49, taking place 25-26 April in Nashville, Tennessee, and online. Please reference the agenda for start times of the policy discussion blocks.
Recommended Draft Policies
Recommended Draft Policies are being recommended for adoption, and this may be the last time they are available for discussion by the community at an ARIN meeting.
ARIN 2021-3: Private AS Number and Unique Routing Policy Clarifications ARIN-2021-3 identifies three points of potential confusion with the current NRPM text relating to AS Numbers and updates that text for clarity.
ARIN 2021-4: Clarifications to Sections 8.3, 8.4 and 8.5.6 ARIN-2021-4 replaces the word "and" with "and/or" in sections 8.3, 8.4 and 8.5.6 in the NRPM.
Draft Policies
Draft Policies are works in progress managed by Advisory Council shepherds and presented to the community for feedback.
ARIN 2020-6: Allowance for IPv4 Allocation "Swap" Transactions via 8.3 Specified Transfers and 8.4 Inter-RIR Transfers. ARIN-2020-6 allows organizations to receive smaller blocks of IPv4 address space so that they can renumber into it before transferring space to another organization.
ARIN 2021-6: Permit IPv4 Leased Addresses for Purposes of Determining Utilization for Future Allocations. Current ARIN policy prevents the use of leased-out addresses as evidence of utilization. The change would inform staff that neither physical nor virtual circuits are required for a technical connection between LIR and customer.
ARIN 2021-7: Make Abuse Contact Useful. This Draft Policy allows for the use of Abuse URLs on Abuse Point of Contact Records within the Whois directory service.
ARIN 2021-8: Deprecation of the 'Autonomous System Originations' Field. This Draft Policy would remove Section 3.5 "Autonomous System Originations" of the NRPM, which directed ARIN to collect lists of permitted origin Autonomous Systems for each IPv4 and IPv6 address block involved in a transaction.
ARIN 2022-1: MDN Clarification for Qualification. This Draft Policy adds clarifying text to Section 8.5.7. specific to Internet number resource transfers involving companies that are operating multiple discrete networks.
Participate in Our Policy Discussions
The ARIN community is important to us, and we invite everyone to participate in our policy discussions. We look forward to hearing your voice and ideas during ARIN 49, and we hope these explanations of the draft policies up for review help you feel informed enough to speak up and share your opinions.
For our virtual participants, you must join the meeting as a registered attendee to participate in policy discussions. The webcast will be open to all who wish to view the proceedings.
Do you want to help contribute to the future of Internet policy?
If you'd like to submit your own Internet number resource policy proposal, fill out our brief template and email it to policy@arin.net. Don't fret over wording your proposal perfectly — our Advisory Council will work with you to polish it so it can move through our Policy Development Process.
Additional resources on the Policy Development Process (PDP) can be found on the following webpages:
We'll see you at ARIN 49!
Recent blogs categorized under: Public Policy
---
GET THE LATEST!
Sign up to receive the latest news about ARIN and the most pressing issues facing the Internet community.
SIGN ME UP →
---
Blog Categories
ARIN Bits
•
IPv6
•
Business Case for IPv6
•
Fellowship Program
•
Grant Program
•
Caribbean
•
Internet Governance
•
Updates
•
IPv4
•
Elections
•
Tips
•
Public Policy
•
Customer Feedback
•
Security
•
Outreach
•
RPKI
•
Training
•
IRR
•
Data Accuracy