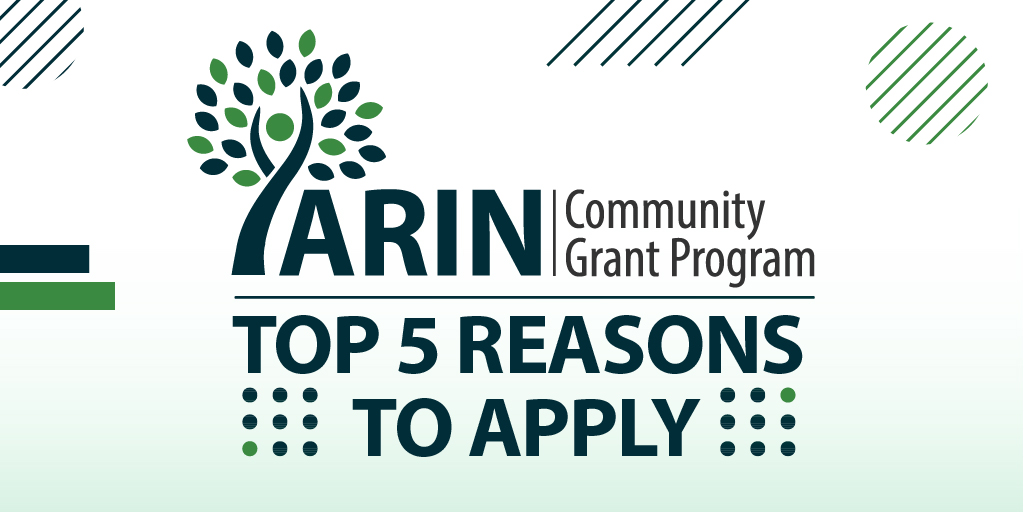 Top 5 Reasons to Apply for an ARIN Community Grant
Our call for applications for the 2022 ARIN Community Grant Program has been extended through 15 June, and this could be your opportunity to get funding for a project you're working on that advances ARIN's mission and broadly benefits the Internet community within the ARIN region through informational outreach, research, Internet technical improvements, or Registry processes and technology improvements.
On the fence about whether you should submit an application or if your project would be a good fit? We think it's well worth the consideration, but don't just take our word for it! Here are the top five reasons to apply for an ARIN Community Grant — backed by the experiences of past grant recipients in their own words.
#1 - Get Free Funding
What project couldn't benefit from a bit more room in its budget? In 2022, the ARIN Community Grant Program has a budget of $60,000 (USD) to provide funding to successful applicants in varying amounts between $1,000-$20,000 (USD), based on project need. In return, grant recipients are required to provide written reports on project status and outcomes.
Susan Graves of DNS-OARC explains how grant funding has facilitated the expansion of their projects: "This ARIN Community Grant has allowed DNS-OARC to develop, maintain, host and improve its suite of open-source tools for DNS measurement, telemetry and testing. This has enabled new releases of these tools, adding features, enhancements and bug fixes in response to requirements from the DNS community. It has additionally supported outreach to the DNS and operator community in support of these tools and received recognition through collaborative development and additional grants being awarded for future enhancement of some of these tools."
Read the DNS-OARC grant project report: RPKI Origin Validation Visibility for Check My DNS
#2 - Increase Project Visibility and Industry Contacts
When you receive an ARIN Community Grant, your project also gains the added exposure throughout the Internet industry that comes with ARIN's community, online audience and network of contacts and fellow organizations. This could be an opportunity to broaden your project's reach, expand your network of industry contacts, partner with other organizations to achieve larger goals, and ultimately increase the impact of your work.
The Industry Network Technology Council (INTC) has received two grants to support its efforts to tackle IPv6 implementation challenges faced by enterprises. After administering surveys to find out why enterprise IPv6 adoption is slow, INTC co-hosted with APNIC a multi-month IPv6 webinar series for enterprise clients that drew nearly 1,000 attendees, including more than 500 from the ARIN region. Nalini Elkins of INTC says, "The attendance at the webinars was much more successful than we had expected in terms of the number and type of enterprise organizations reached."
Read the INTC grant project report: Enterprise IPv4 to IPv6: Making the Switch
#3 - Receive Support From the Start
An ARIN Community Grant comes with more than just money — it comes with the support of ARIN staff that begins as soon as you submit an application. When applying for the grant program, you now can request that an ARIN staff member reach out to you and act as a sounding board for any questions you might have about completing the application, from which details to include in the project overview to the items needed in the budget breakdown. And, if awarded a grant, that support continues throughout the duration of the project and your reporting.
Tereza Horejsova of Diplo US says, "ARIN has been very responsive and supportive throughout the project and its implementation, on organisational issues as well as on amplifying and spreading the findings and content of the project."
Read the Diplo US grant project report: International Digital Standards: A Case for the Involvement of Actors in the ARIN Service Region
#4 - Solve a Problem Faced by the Internet Community
Many questions, issues, and opportunities for improvement exist within the vast and complex world of Internet infrastructure and governance — and more arise each day. The ARIN Community Grant Program was created to help you to take on projects that answer those questions, tackle challenges, and broadly benefit the Internet community within the ARIN service region.
To receive a grant, projects must fit into one or more of the following categories:
Internet technical improvements that promote and facilitate the expansion, development, and growth of the infrastructure of the Internet consistent with the public interest
Registry processes and technology improvements that help maintain a globally consistent and highly usable Internet Number Registry system
Informational outreach that advances the Internet on topics such as, but not limited to: IPv6 deployment, Internet research, and Internet governance
Research related to ARIN's mission and operations
Sander Steffann of Global NOG Alliance says, "The grant from ARIN has allowed us to hire a software development firm so that NOGs will be able to integrate the open source agenda and meeting organisation tool Indico (developed by CERN) with the popular website platform WordPress. We have also directed some of the ARIN grant money into offering commercially hosted online meeting platforms to NOGs in need during the global pandemic, as simple video conferencing is usually insufficient for their needs."
Read the Global NOG Alliance grant project report: Global NOG Alliance Admin Tool
E. Marie Brierly of Saatvik Research says, "The internet community, specifically the IPv6 community, does not currently have access to an integrated source of data from which to conduct research. This project will close that gap and make the resulting relational database publicly available to entities conducting their own research into IPv6 adoption and usage. The internet community relies on lagging indicators for IPv6 adoption. Our continued research will make available leading indicators of enterprise adoption by industry classification."
Read the Saatvik Research grant project report: Building a Database for the Future of IPv6
#5 - Provide Access to Valuable Education and Tools
As the saying goes: "Give a man a fish, and you feed him for a day. Teach a man to fish, and you feed him for a lifetime." By using your ARIN Community Grant funding to educate and enable fellow members of the Internet community to "feed" its progress now and into the future.
Glenn McKnight of the Virtual School of Internet Governance says: "A core problem we are addressing is the availability of a highly structure certificate program in Internet Governance giving a solid grounding in all the elements of Internet Governance. It provides critical information to the non-technical community members on the mechanics of how the Names and Numbers system works effectively. It also provides to technical participants an appreciation of the non-technical dynamics of the Internet ecosystem. The beneficiaries of the course are the income-strapped [community] members anywhere in the world, and [it is] a flexible platform for people to learn at their own pace. It also provides a massive amount of learning resources that they can download and store. We believe that the course content and approach is a very important contribution to overall education of the novice and seasoned professional in the ICT sector."
Read the Virtual School of Internet Governance grant project report: Virtual School of Internet Governance: Instructing a New Generation of Internet Leaders
Apply Now for the 2022 ARIN Community Grant Program
So, what are you waiting for? Since 2019, we have awarded 15 grants and collectively, based on recipient reporting, the completed projects have reached an estimated 46,500+ individuals so far. Your project could be the next one to benefit from the financial, networking, and logistical support and improve the overall Internet industry and Internet user environment.
Visit the ARIN Community Grant Program page for more information and to find out how your organization can apply in 2022 by the 15 June deadline. For application tips and support, read this post on our blog.
Recent blogs categorized under: Grant Program
---
GET THE LATEST!
Sign up to receive the latest news about ARIN and the most pressing issues facing the Internet community.
SIGN ME UP →
---
Blog Categories
ARIN Bits
•
IPv6
•
Business Case for IPv6
•
Fellowship Program
•
Grant Program
•
Caribbean
•
Internet Governance
•
Updates
•
IPv4
•
Elections
•
Tips
•
Public Policy
•
Customer Feedback
•
Security
•
Outreach
•
RPKI
•
Training
•
IRR
•
Data Accuracy