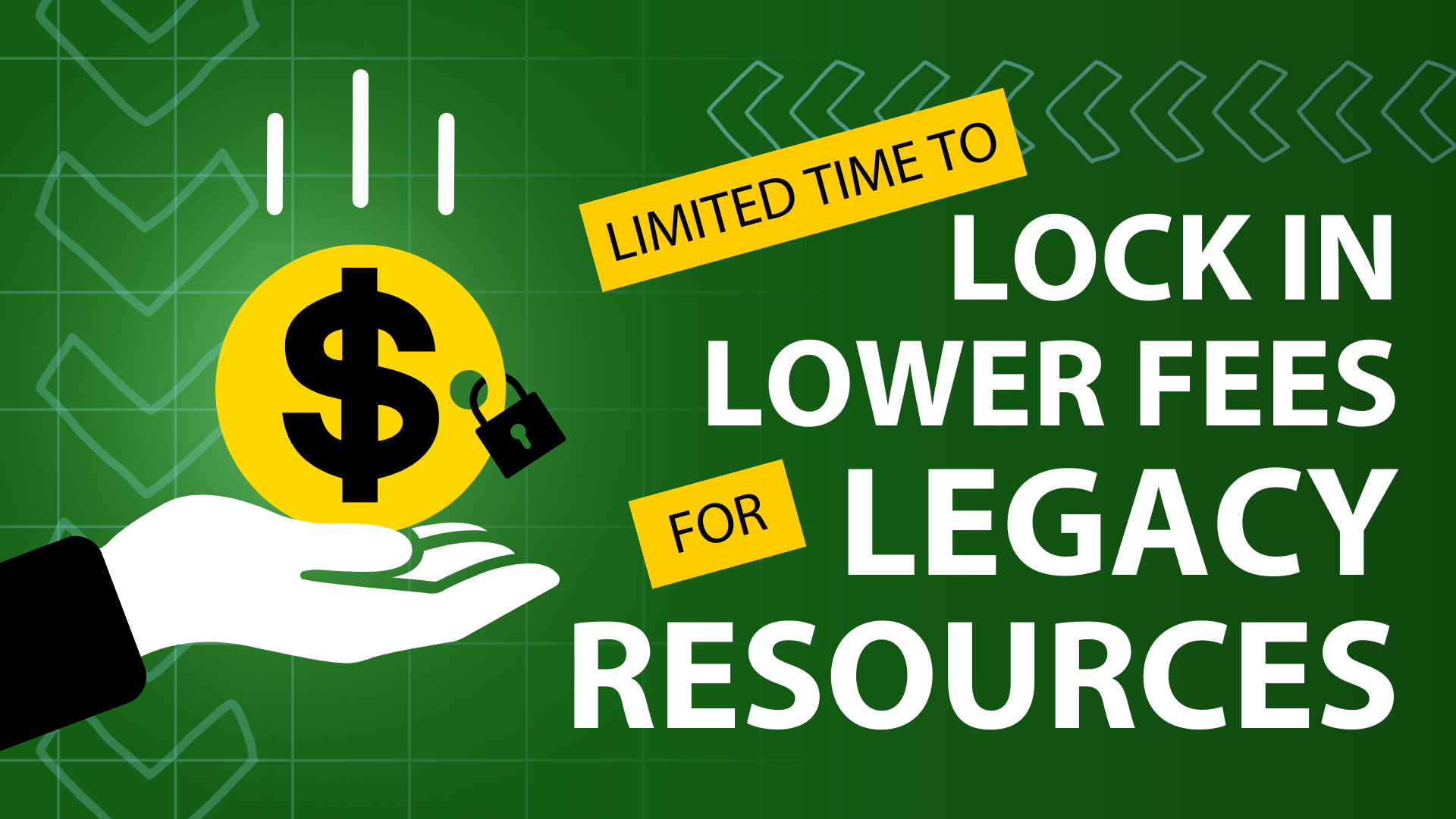 Legacy Resource Holders Have Limited Time Left to Lock in Lower Fees
If your organization holds legacy Internet number resources not under an ARIN Registration Services Agreement (RSA), time is running out to take advantage of reduced fees for those resources. The legacy fee cap, which limits annual registration services maintenance fees for legacy resources, will expire on 1 January 2024. By signing a Legacy Registration Services Agreement (LRSA) before this deadline, you can lock in significantly lower fees while gaining access to ARIN's routing security services, governance participation opportunities, and other membership benefits. Keep reading to learn more about the fee cap, its expiration, and why we encourage you to consider signing an RSA/LRSA.
A Brief History of Legacy Resources
Internet Protocol (IP) address space was originally administered by one individual via a function known as the Internet Assigned Numbers Authority (IANA). Internet number resources were allocated based on simple requests from organizations without any written contracts. The Internet quickly outgrew this distribution method, which ultimately led to the creation of the Regional Internet Registries (RIRs).
Since its formation in December 1997, ARIN has provided Internet registry services to all organizations holding resources in its registry — including organizations issued address space prior to its establishment, known as "legacy" customers. Legacy resource holders receive the same basic registry services — without fees or explicit contracts — that they were receiving at ARIN's formation.
Over time, however, advanced services like ARIN's authenticated Internet Routing Registry (IRR) and Resource Public Key Infrastructure (RPKI) have been developed and released by ARIN based on the direction and financial support of ARIN's contracted customers, and these services are only provided to customers who hold resources covered by an RSA/LRSA and pay standard registration services fees to ARIN.
Understanding the Legacy Fee Cap
Currently, legacy resource holders have the option to bring their resources under a standard Registration Services Agreement (RSA) and gain access to ARIN's full suite of services at a lower cost than ARIN's standard fee schedule. Legacy resource holders who enter into an RSA have the benefit of a "legacy fee cap" that has been in place since the introduction of the LRSA in 2007. It provides an annual limit on total maintenance fees for legacy resources (US$175 for 2023 and increasing each year by $25), which applies regardless of the amount of IPv4 legacy number resources held.
Recent Changes in Fee Structure
Last year, ARIN transitioned all customers with IPv4 and/or IPv6 number resources to the same Registration Services Plan (RSP) Fee Schedule with categories based on the total amount of resources held. Also in 2022, the ARIN Board of Trustees voted unanimously in favor of no longer offering the legacy maintenance fee cap to organizations bringing legacy resources under an LRSA as of 1 January 2024. (The legacy fee cap will continue to be applied going forward for all those who have brought resources under an LRSA prior to 1 January 2024.)
This change aims to normalize the contractual relationship between ARIN and legacy resource holders and to move toward equitable treatment of all ARIN customers. It means that any new legacy resources brought under an RSA/LRSA as of 1 January 2024 will be subject to the full, normal RSP fees without the legacy fee cap. However, if your legacy resources are already covered by an RSA/LRSA or if you bring them under one prior to that expiration date, you will continue to enjoy the legacy fee cap going forward.
Benefits of Signing an LRSA
Covering resources under an RSA/LRSA formalizes your organization's relationship with ARIN. By signing, you will:
Have a contract specifying your rights as a registrant to an address block and access to all ARIN services.
Solidify the foundation of your organization's business with ARIN.
Receive validation with clearly defined legal rights and responsibilities for number resources.
If you or someone you know have a legacy resource but haven't signed an RSA/LRSA yet, I encourage you to take another look at the agreement. Note that ARIN has worked to align the RSA and LRSA, and in its current version, the RSA (v13.0) and LRSA (v5.0) are identical, with special provisions applicable to the rights of legacy resource holders if the agreement is terminated. Also, based on feedback from the ARIN community, the RSA/LRSA was updated in 2022 to remove significant representations from Section 7 and renames the section (previously titled "No Property Rights") to "Acknowledged Rights To Included Number Resources."
By signing in the next six months and securing the legacy fee cap, you can lock in the most favorable fees for your ARIN legacy resources, providing significant cost savings compared to the regular RSP Fee Schedule.
Cost Savings of the Fee Cap
Choosing to bring your legacy resources under an RSA/LRSA sometime this year means you'll gain access to the same services as everyone else — and via an agreement that provides for substantially lower cost due to the benefit of the legacy fee cap. Even if your legacy IPv4 aggregate block size is a /24 or smaller, placing you in the smallest service category with the lowest normal RSP annual fee of US$250, you will still see cost savings through at least 2025 by signing an LRSA before the fee cap expires.
The current and future cost savings drastically increase with the size of the IPv4 legacy holdings. For example, if you wait until next year to enter an RSA for IPv4 legacy resources totaling between /18 and /16, you will not gain the benefit of the legacy fee cap and will pay standard registration services fees (US$4,000 per year) rather than only US$200 (increasing to $225 in 2025, $250 in 2026, and so on). Such a legacy resource holder will lose out on thousands of dollars of reduced costs for failing to bring their resources under agreement before year-end.
Steve Wallace, Director of Internet2 Routing Integrity, explained in a recent webinar on ARIN's RPKI services and legacy fee cap expiration the impact of this cost difference across the entire Internet2 community. "The difference between everybody getting their [Legacy Registration Services] agreement this year versus waiting [until next year] is US$2 million a year in fees," he said. "This adds up to a pretty substantial opportunity for those that want to sign the agreement to lock in these lower fees."
ARIN Service Membership Explained
Legacy resource holders who sign an LRSA become ARIN Service Members, enjoying all our services, benefits, and privileges. These include:
The ability to request General Membership to secure voting eligibility for ARIN Elections.
Access to all enhanced ARIN services such as IRR and RPKI, as well as other features offered by ARIN.
Clearly defined legal rights and responsibilities for their number resources.
The opportunity to subscribe to ARIN's Premier Support Plan.
Furthermore, signing an RSA/LRSA in no way changes your ability to transfer the covered resources. In fact, it can make it easier because your information will already be recently vetted and made up to date during the process of bringing those resources under agreement.
Determining Your Current Coverage
About 46 percent of the more than 2,000 blocks of IP addresses ARIN has allocated exist outside of an RSA/LRSA, and it's not unusual for customers to mistakenly believe that (all) their resources are covered by an agreement. With ARIN offering a variety of services that do not require an agreement and with many organizations holding a mix of resources, it may seem as if you have any agreement with ARIN when you do not or as if you have agreements to cover all your resources when in fact only some are covered. In either case, you may have resources not eligible for important routing security services because they are not covered by an RSA/LRSA.
Perhaps you're now wondering "Are my resources (all) covered?" or "How do I know if I have legacy resources?" The answer is easy to find in your ARIN Online account by navigating to the dashboard and selecting the "Networks (NETs)" item labeled with a green cloud icon. This takes you to a list of your networks, and clicking on each one will bring up a Network Information listing that indicates whether it is covered by an RSA/LRSA.
Governmental Entities and Institutions
We know that governmental entities or similar institutions interested in requesting an LRSA have specific guidelines to follow, so we have developed an efficient approach for limited modifications. We have worked with several of these entities to amend the RSA/LRSA and adjust clauses they're prohibited by law to enter.
A specific help page on the ARIN website provides guidance for navigating the process of requesting an LRSA with consideration for potential modifications required by applicable laws. The request can be made online by submitting an Ask ARIN ticket with the topic "Legacy Resources" via your ARIN Online account; you'll be able to include all the necessary documentation to demonstrate need and identify the specific terms of the agreement that are at issue.
Act Now and Spread the Word
To sum it up, this is very important and impactful news for legacy resources holders. If you are one or know one, be sure to review and share all this information. If you think your organization may have a need for advanced services like RPKI and IRR for its legacy resources — now or in the future — now's the time to act.
We strongly encourage organizations with legacy resources not currently under agreement to consider signing an LRSA before 1 January 2024 to secure the fee cap and gain access to our advanced services. Acting now can help ensure your organization's Internet resources are protected and fully supported — with the most favorable fees — in the ever-evolving digital landscape.
If you have any questions about the LRSA or would like to learn how your organization can request an LRSA, please visit https://www.arin.net/legacy.
If you have any additional questions, contact the ARIN Registration Services Department via your ARIN Online account or by calling +1.703.227.0660 during open hours.
Recent blogs categorized under: IPv4
---
GET THE LATEST!
Sign up to receive the latest news about ARIN and the most pressing issues facing the Internet community.
SIGN ME UP →
---
Blog Categories
ARIN Bits
•
IPv6
•
Business Case for IPv6
•
Fellowship Program
•
Grant Program
•
Caribbean
•
Internet Governance
•
Updates
•
IPv4
•
Elections
•
Tips
•
Public Policy
•
Customer Feedback
•
Security
•
Outreach
•
RPKI
•
Training
•
IRR
•
Data Accuracy