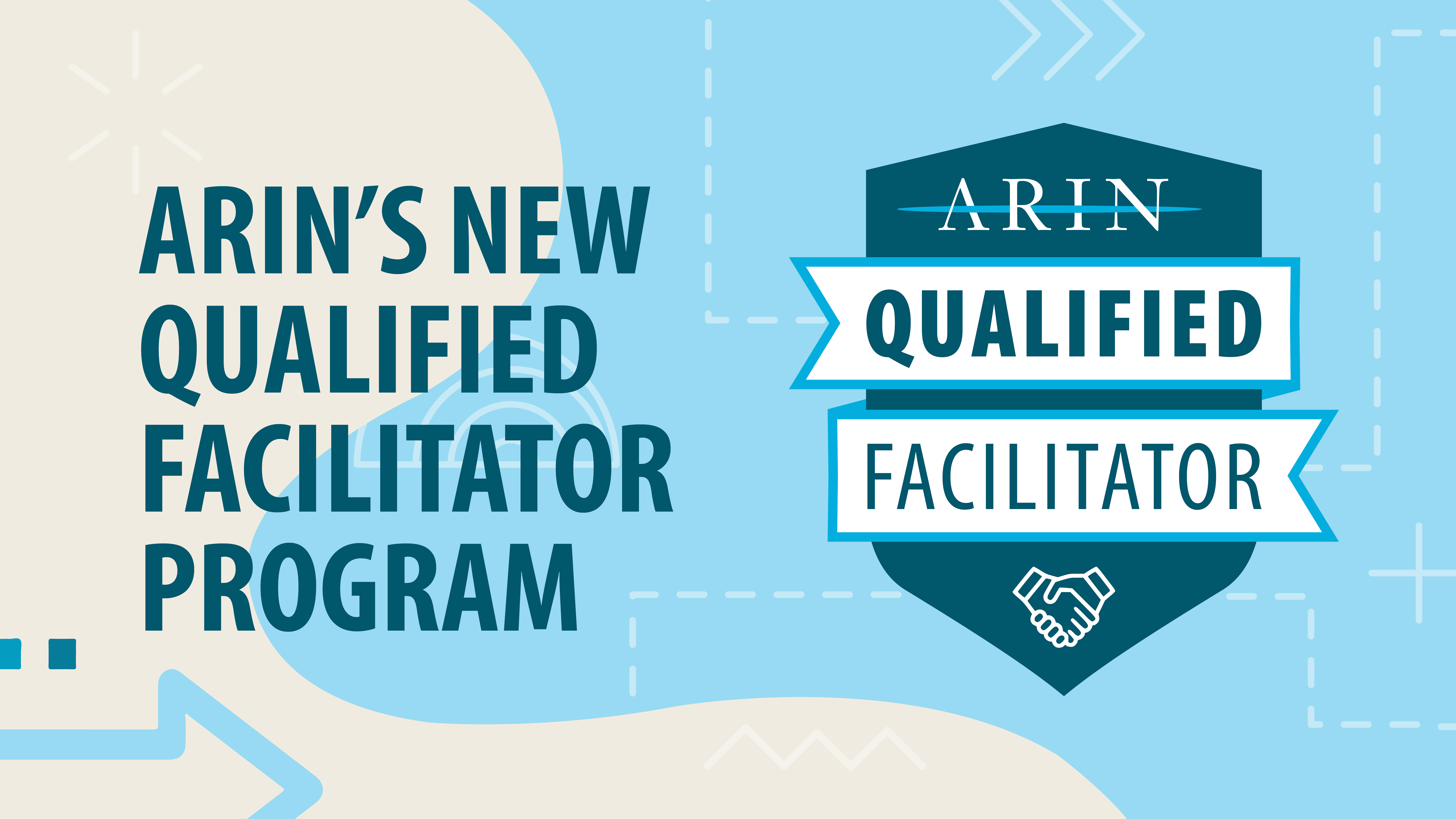 Introducing ARIN's Qualified Facilitator Program
As the demand for IPv4 addresses persists long after the depletion of ARIN's IPv4 address pool, we recognize that organizations in our region seeking to acquire these resources often face a complex and challenging process when turning to the active transfer market. To address this and provide valuable support to the ARIN community, we are thrilled to announce the launch of ARIN's new Qualified Facilitator Program.
The Qualified Facilitator Program replaces the Specified Transfer Listing Service (STLS), which was retired on 1 June 2023. ARIN's approved Qualified Facilitators can act as valuable resources, assisting client organizations in navigating IPv4 and Autonomous System Number (ASN) transfer processes efficiently and in compliance with ARIN policy.
Why choose an ARIN Qualified Facilitator?
If your organization needs IPv4 address space but is unsure of where to obtain it, has unused IPv4 address space but is unsure of the organization to transfer it to, or simply needs assistance understanding and managing the resource transfer process, using a Qualified Facilitator may be a good option.
All listed Qualified Facilitators have undergone a rigorous application and approval process, ensuring that customers can confidently rely on their expertise in navigating the required regulations. And while organizations are not required to use a Qualified Facilitator for IPv4 or ASN resource transfers, we hope that doing so will streamline the process with ARIN Registration Services.
"We are excited to introduce ARIN's Qualified Facilitator Program, which is a manifestation of our dedication to providing top-notch customer support, fostering transparency, and promoting a smooth transfer experience," said Marty McLaughlin, ARIN Certification Program Manager. "By identifying Qualified Facilitators for our community, we aim to make the complex resource transfer process more accessible and empower organizations to thrive in today's dynamic Internet landscape."
How does this program help organizations seeking to acquire IPv4 addresses via transfer?
To safeguard against fraud and potential address hijacking, the transfer process entails meticulous verification of the registration rights of the resource holder and requires the receiving organization to provide justification for their resource needs in accordance with ARIN's Number Resource Policy Manual. With the introduction of the Qualified Facilitator Program, buyers and sellers can easily identify the most qualified brokers to support their IPv4 transfer needs, ensuring a smooth and secure process.
What is the qualification process?
To achieve ARIN Qualified Facilitator status, organizations must complete a thorough application process and meet a stringent set of criteria — including operating within the ARIN service region and being under an ARIN Registration Services Agreement (RSA). Applicants must ensure that at least two company representatives who have completed the ARIN qualification on transfers are listed as Points of Contact in their ARIN Online account. That qualification on transfers is based on an interview and subsequent approval from both the ARIN General Counsel and Chief Customer Officer.
Additional requirements include:
Demonstrating general liability insurance naming ARIN.
Furnishing evidence of third-party background checks for key employees.
Providing at least three written customer references.
Notifying ARIN when assisting with a transfer ticket on behalf of a customer. 
Committing to abide by a code of conduct emphasizing ethical behavior, transparency, competency, care, cooperation, and compliance in all transactions.
Qualified Facilitators must confirm their compliance with all requirements and pay the fee charged to offset the cost of the program's operation on an annual basis. Up-to-date fee information is provided in the fee schedule.
"By vetting and listing Qualified Facilitators, we're providing organizations with a means to navigate the transfer process confidently, ensuring compliance with ARIN policy while meeting their unique resource needs," said John Sweeting, ARIN Chief Customer Officer. "This program reflects ARIN's unwavering commitment to serving our community with excellence and setting industry standards for secure, efficient management of Internet number resources."
How do I find or become an ARIN Qualified Facilitator?
Ready to use a Qualified Facilitator for a transfer? View the list on our Find a Qualified Facilitator page and reach out directly to a facilitator for assistance using the email or phone contact information provided.
If your organization would like to become a Qualified Facilitator and provide valuable support to the ARIN community, ensure it meets the Qualified Facilitator Requirements and follow the instructions here to begin the application process in ARIN Online.
Customer Service and Community Support
As part of ARIN's customer-focused approach, the Qualified Facilitator Program is another significant step in promoting transparency, efficiency, and security in the management of Internet number resources.
We hope this service proves valuable to the ARIN community. If you have any questions or need further assistance, please don't hesitate to contact us at facilitator-support@arin.net.
Recent blogs categorized under: Updates
---
GET THE LATEST!
Sign up to receive the latest news about ARIN and the most pressing issues facing the Internet community.
SIGN ME UP →
---
Blog Categories
ARIN Bits
•
IPv6
•
Business Case for IPv6
•
Fellowship Program
•
Grant Program
•
Caribbean
•
Internet Governance
•
Updates
•
IPv4
•
Elections
•
Tips
•
Public Policy
•
Customer Feedback
•
Security
•
Outreach
•
RPKI
•
Training
•
IRR
•
Data Accuracy