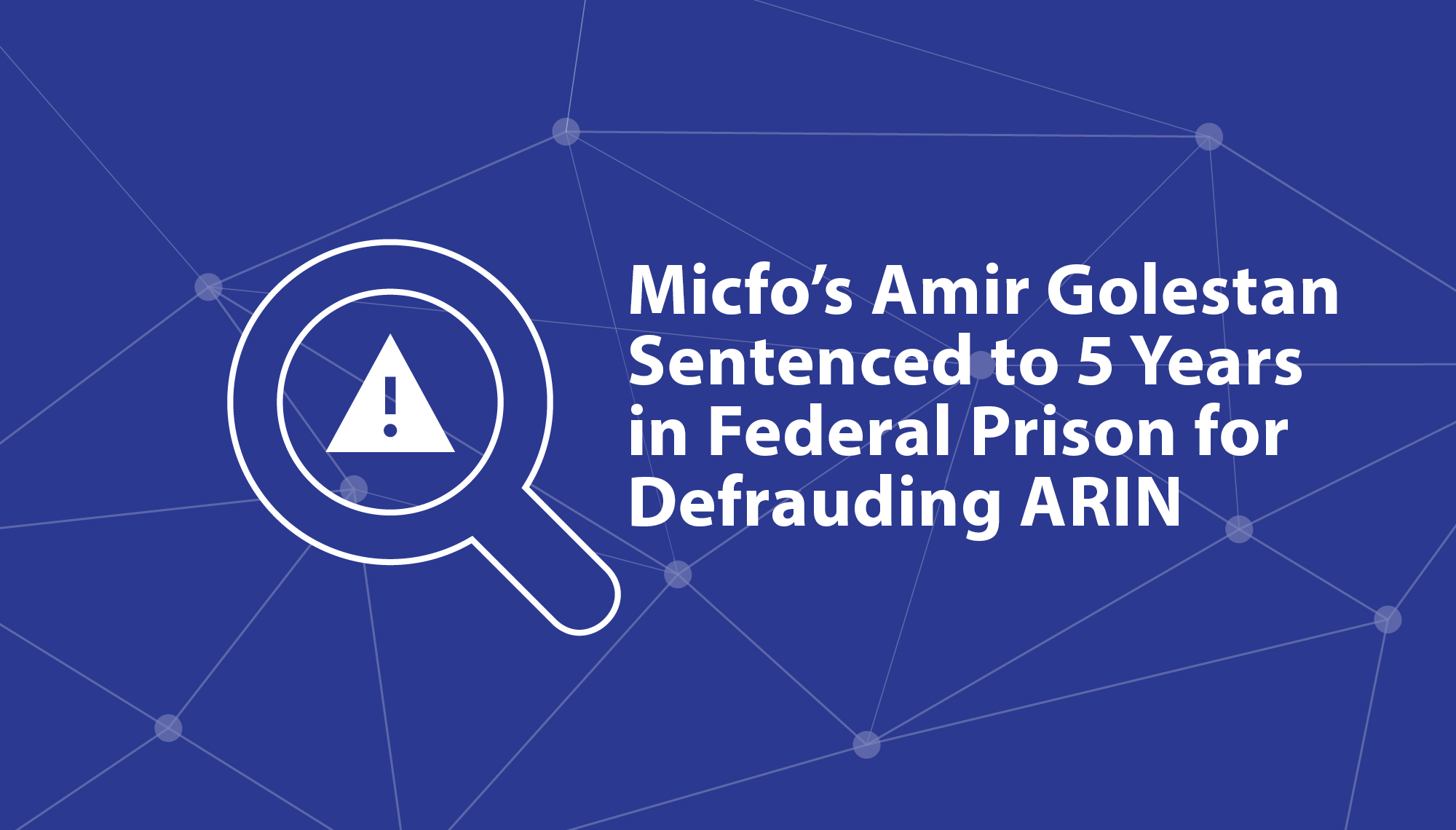 Micfo's Amir Golestan Sentenced to 5 Years in Federal Prison for Defrauding ARIN
Micfo's Amir Golestan's 5-Year Prison Sentence Comes Nearly Two Years After He Was Convicted of Defrauding ARIN and Includes Forfeiture of IP Address Rights and Financial Penalties
In May 2019, federal prosecutors from the United States Attorney's Office for the District of South Carolina announced their indictment of Amir Golestan and his company, Micfo, LLC, for defrauding ARIN. In November 2021, after nearly two days of trial — which included the important testimony of John Sweeting, ARIN's Chief Customer Officer — Golestan and his company, Micfo, pled guilty to all 20 counts charged. After multiple delays in his sentencing hearing, on 13 September 2023, U.S. District Court Judge Richard Gergel sentenced Golestan to five years in prison.
The Court stated that this stiff sentence was justified by the elaborate fraud Golestan orchestrated to deceive ARIN and the lengths he went to conceal the truth behind his companies, including trying to intimidate his employees and other witnesses. The Assistant United States Attorney and the Court referenced Sweeting's testimony from the trial in November 2021 to help explain the seriousness of Golestan's actions. Judge Gergel also emphasized that "the Internet community is watching," and that a serious sentence of imprisonment should serve as an effective deterrent against others who may be inclined to engage in similar conduct to defraud ARIN and others.
Judge Gergel also ordered that ARIN is entitled to $76,978 in restitution costs that ARIN incurred while assisting the government with its investigation and prosecution of the case, despite Golestan/Micfo having already paid a portion of ARIN's out-of-pocket legal fees to ARIN pursuant to a civil settlement in 2019. Judge Gergel overruled Golestan's lawyer's objection that ARIN's decision to assist the government in its case was merely a "business decision." Judge Gergel found that the costs were appropriate and noted that they were limited to those ARIN incurred assisting the government's case, not the fees incurred during the litigation and arbitration proceedings filed by Golestan against ARIN or other work related to Golestan/Micfo.
The Court also ordered the forfeiture of a portion of the IP address rights that Golestan/Micfo obtained from ARIN. ARIN is working with the government to effectuate the forfeiture in a manner that is consistent with ARIN policy.
ARIN appreciates the Court's reasoning for the sentencing decision and again thanks the federal prosecutors and the FBI agents who led the multi-year proceeding against Golestan and Micfo, as the elaborate scheme involved the use of legally registered but non-existent companies Golestan claimed were "Channel Partners" to defraud not only ARIN but also the entire Internet community. The prosecutors proved that "through this scheme, Golestan and Micfo obtained the rights to approximately 757,760 IP addresses, with a market value between $9,850,880.00 and $14,397,440.00."
This federal indictment, criminal conviction, and sentencing came after the conclusion of the civil court litigation and arbitration proceedings Golestan and his sham corporations brought against ARIN in 2018. Judge Gergel's sentence sends an important message of deterrence to other parties contemplating fraudulent schemes to obtain or transfer Internet resources: Those who seek to defraud ARIN (or other Regional Internet Registries) are subject to costly and serious civil litigation, criminal charges, and, ultimately, a lengthy term of incarceration.
For more background on the Golestan case, read our posts from 13 May 2019 (Taking a Hard Line on Fraud), and 30 November 2021 (ARIN Taking a Hard Line on Fraud Pays Off In Precedent-Setting Criminal Trial and Conviction).
Detecting, Stopping, and Reporting Criminal Activity Directed Against ARIN and Other Regional Internet Registries Is Ongoing
Most organizations obtain their address space from ARIN in good faith according to the policies set out by the community, but occasionally organizations provide ARIN with fraudulent or inaccurate information in an attempt to obtain resources. ARIN has sound due diligence processes to review and reject resource requests, transfer requests, and changes of Points of Contact (POCs) that do not comply with community-developed policy. In cases where fraud is suspected, and discovered, as in this case, ARIN will investigate and revoke resources if necessary, and, when appropriate, report suspected criminal behavior to the appropriate law enforcement agencies.
Apart from the Micfo case, ARIN has recently made a criminal referral to authorities in another service region regarding an individual and his corporate entities that improperly sought addresses from ARIN.
What to Do If You Suspect Fraud
ARIN works to protect the registration rights of its IP address holders and to prevent the fraudulent transfer of IP address space. Our staff actively investigates suspected cases of fraud. If you have reason to believe a certain block of Internet number resources may have been inappropriately obtained from ARIN or improperly transferred, please submit a fraud report to us, and we will investigate it.
Recent blogs categorized under: Data Accuracy
---
GET THE LATEST!
Sign up to receive the latest news about ARIN and the most pressing issues facing the Internet community.
SIGN ME UP →
---
Blog Categories
Grant Program
•
Public Policy
•
IPv4
•
Updates
•
Security
•
RPKI
•
IPv6
•
Data Accuracy
•
Elections
•
ARIN Bits
•
Business Case for IPv6
•
Fellowship Program
•
Caribbean
•
Internet Governance
•
Tips
•
Customer Feedback
•
Outreach
•
Training
•
IRR