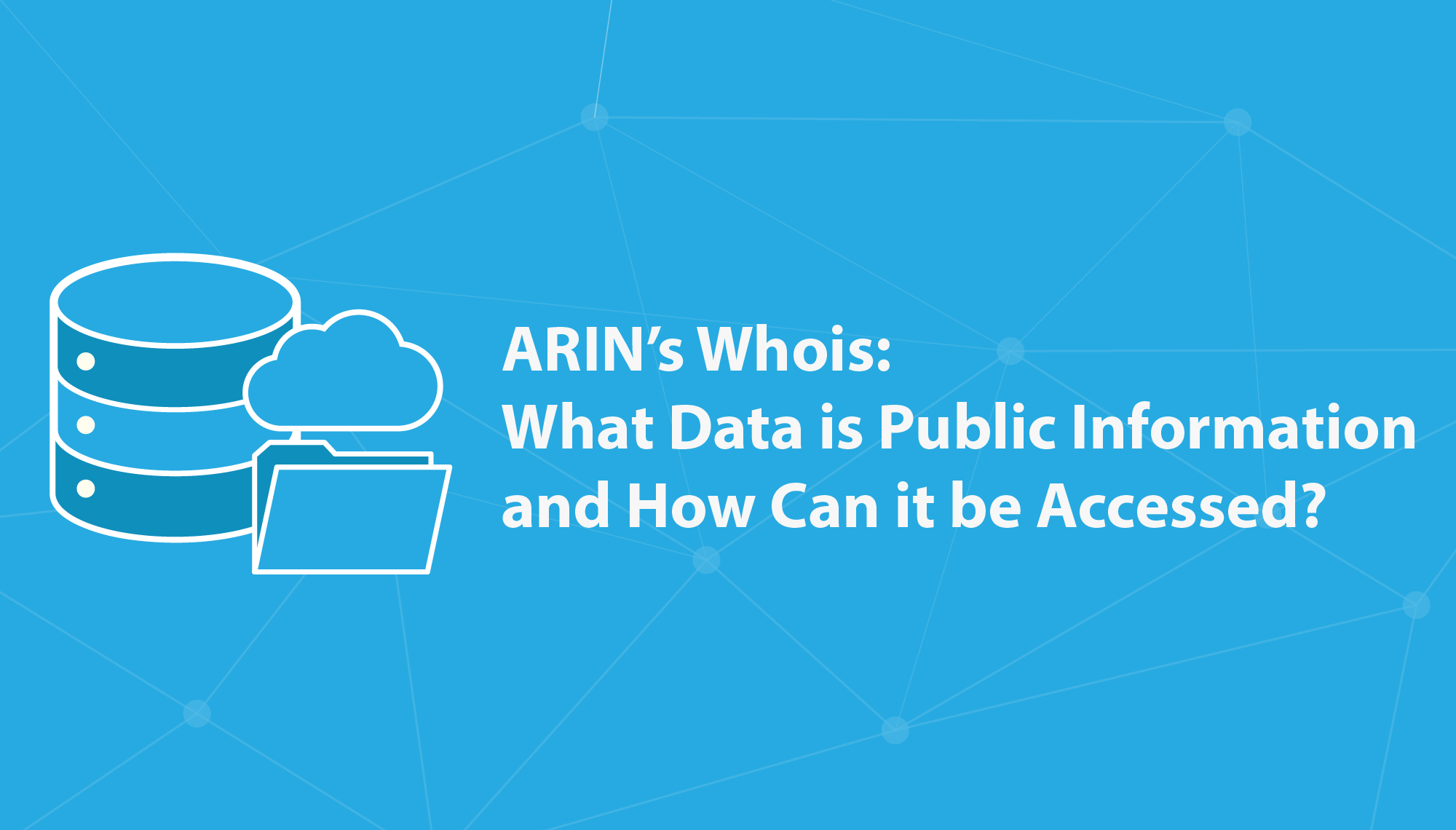 ARIN's Whois: What Data is Public Information and How Can it be Accessed?
The core functions of a Regional Internet Registry (RIR) are to distribute and manage the Internet number resources (IPv4 and IPv6 addresses and Autonomous System Numbers (ASNs)) within its registry. The public portion of ARIN's registry is often referred to as the "Whois database" – Whois refers to both the protocol and commands that have traditionally been used to make queries against it. Today, any Internet user can visit ARIN's website to use our Whois search tool to retrieve information about IP number resources, organizations, and Points of Contact (POCs) in the ARIN registry.
Questions about what data can be found via ARIN's Whois, and whether this data is still publicly accessible, have been raised in recent years.
The short answer to the above question is Yes! Much of the registry information placed in ARIN's Whois as part of the resource issuance process is still publicly displayed and available to query, and can provide helpful information about who holds the rights to a given Internet address block or ASN that was issued by ARIN or its predecessors. In this manner, ARIN's Whois provides technical troubleshooters, law enforcement, and the interested public with information about which network providers administer specific number resources. Distributing this information is in the public interest and supports the proper functioning of the Internet as ARIN details in its privacy practices. 
Let's take a look at what data is collected and displayed in ARIN's Whois.
Registration information collected in ARIN's Whois includes: 
IP addresses and AS numbers issued by an RIR to a direct customer
IP addresses and AS numbers issued by predecessor registries prior to the establishment of the RIRs (legacy space)
Organizations that hold these resources (ORGs)
Points of Contact for resources or organizations (POCs)
Customer reassignment information from Internet Service Providers (ISPs) to their downstream customers (who can be other ISPs or end user businesses and customers)
Original registration date and date the record was last updated
Information not collected in ARIN's Whois includes:
Registration information about domain names. Domain name information can only be found in a Whois database maintained by a domain name registrar or registry and is quite different from the information in the ARIN Whois database.
Authoritative information for number resources registered in other RIRs' Whois. ARIN search results contain either a pointer record to the appropriate RIR or will display limited information about the number resource if the RIR supports RDAP.
Customer reassignments smaller than /29 (per ARIN policy). These small reassignments are collected by ARIN during a resource request but not displayed publicly. (They may be available via the submission of a subpoena or court order.)
Certain privatized residential customer data (per ARIN's Residential Customer Privacy policy.)
Routing information – routing information can be found in ARIN's Internet Routing Registry or other Internet routing registries but are not part of ARIN's Whois data.
The specific geographic location of the network. ARIN cannot guarantee that the street address associated with an Internet resource record is the actual physical location of the network itself, as there is no specific policy requiring this.
ARIN may have some additional current or historical information that is not publicly displayed, and this information would require formal legal process such as a subpoena or court order to be released. 
How you can access the data in ARIN's Whois
ARIN offers public access to Internet resource registration data via a number of services.
Using the "Search" button on ARIN's homepage will allow you to access the data using Registration Data Access Protocol (RDAP), the Whois replacement for querying resource registration data from RIRs, RDAP is a protocol that delivers registration data like Whois, but its implementation uses standardized data and query response formats. When a search is done using RDAP, limited information from other RIRs or registrars may be displayed in the search results if that entity supports RDAP.
Alternatively, you can use the older ARIN-specific Whois-RWS search, which allows a user to retrieve information about number resources and associated information in the ARIN registry by pulling this data directly from the ARIN database.
To use ARIN's Whois/RDAP on its combined site search from the ARIN homepage, enter the information you want to search Whois for into the search box (labeled Search Site or Whois). ARIN sends your query to search.arin.net, and returns results based on the type of search it guesses you were trying to perform.
If using Whois-RWS, ARIN provides the following access methods:
We hope this helped to provide clarification on Whois registration data and how to access it. For more information on ARIN's Whois, please visit our website.
Recent blogs categorized under: Data Accuracy
---
GET THE LATEST!
Sign up to receive the latest news about ARIN and the most pressing issues facing the Internet community.
SIGN ME UP →
---
Blog Categories
Grant Program
•
Public Policy
•
IPv4
•
Updates
•
Security
•
RPKI
•
IPv6
•
Data Accuracy
•
Elections
•
ARIN Bits
•
Business Case for IPv6
•
Fellowship Program
•
Caribbean
•
Internet Governance
•
Tips
•
Customer Feedback
•
Outreach
•
Training
•
IRR