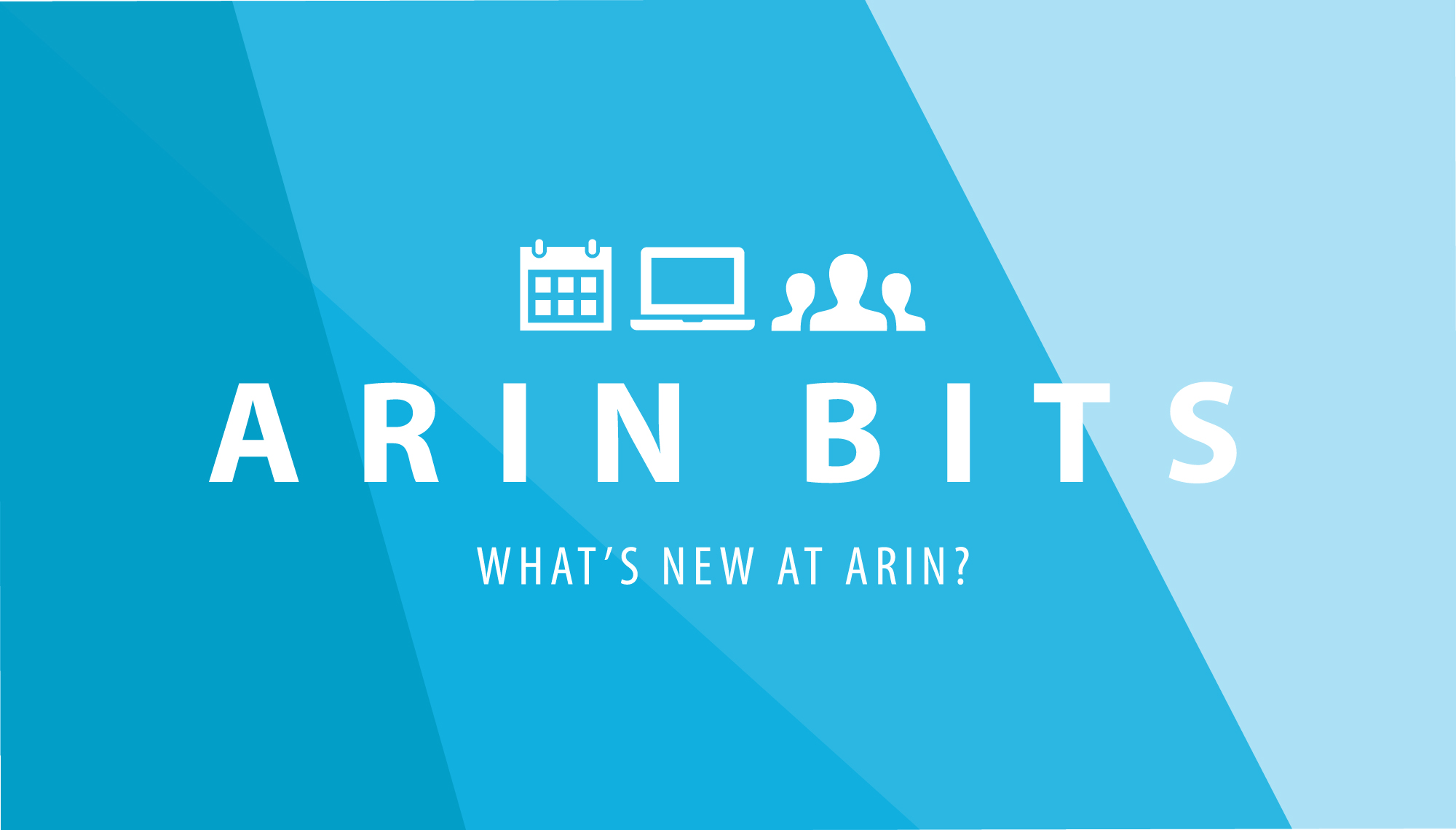 ARIN Bits: December 2021
Put a pin in 2021, it's almost over! We've had a busy end of the year here at ARIN and as always, we're so grateful for the support of our community. Even though we've mostly adjusted to our "new normal", we are looking forward to more in-person happenings in 2022. Keep your eyes peeled for announcements relating to some of our popular events like ARIN on the Road, ARIN's Lunch by the Numbers and of course, our biannual meetings next year.
In this edition of ARIN Bits, we'll talk about the ARIN Election results, ARIN 48, and MUCH more. If you've missed any of our previous ARIN Bits editions, check out our ARIN Bits archive. Without further ado…
*Insert Drum Roll Here*
The 2021 ARIN Election cycle for the Board of Trustees, Advisory Council and NRO Number Council ended on 12 November and the winners were announced on 17 November. We'd like to congratulate all of those who participated and look forward to your continued community involvement. Here are your newly-elected community leaders for 2022:
Board of Trustees
Bram Abramson
Peter Harrison
Advisory Council
Kat Hunter
Brian Jones
Amy Potter
Kerrie Richards
Alicia Trotman
Chris Woodfield
NRO Number Council
In Other Board News…
Earlier this year, long-term Board of Trustees Chair, Paul Andersen, announced he would not be running for re-election this year. As part of a succession plan the Board developed, Andersen stepped down as Chair in November, and the Board confirmed Bill Sandiford as the Chair and Tina Morris as Vice-Chair. This change took place immediately and will run through the annual selection process that takes place in January 2022.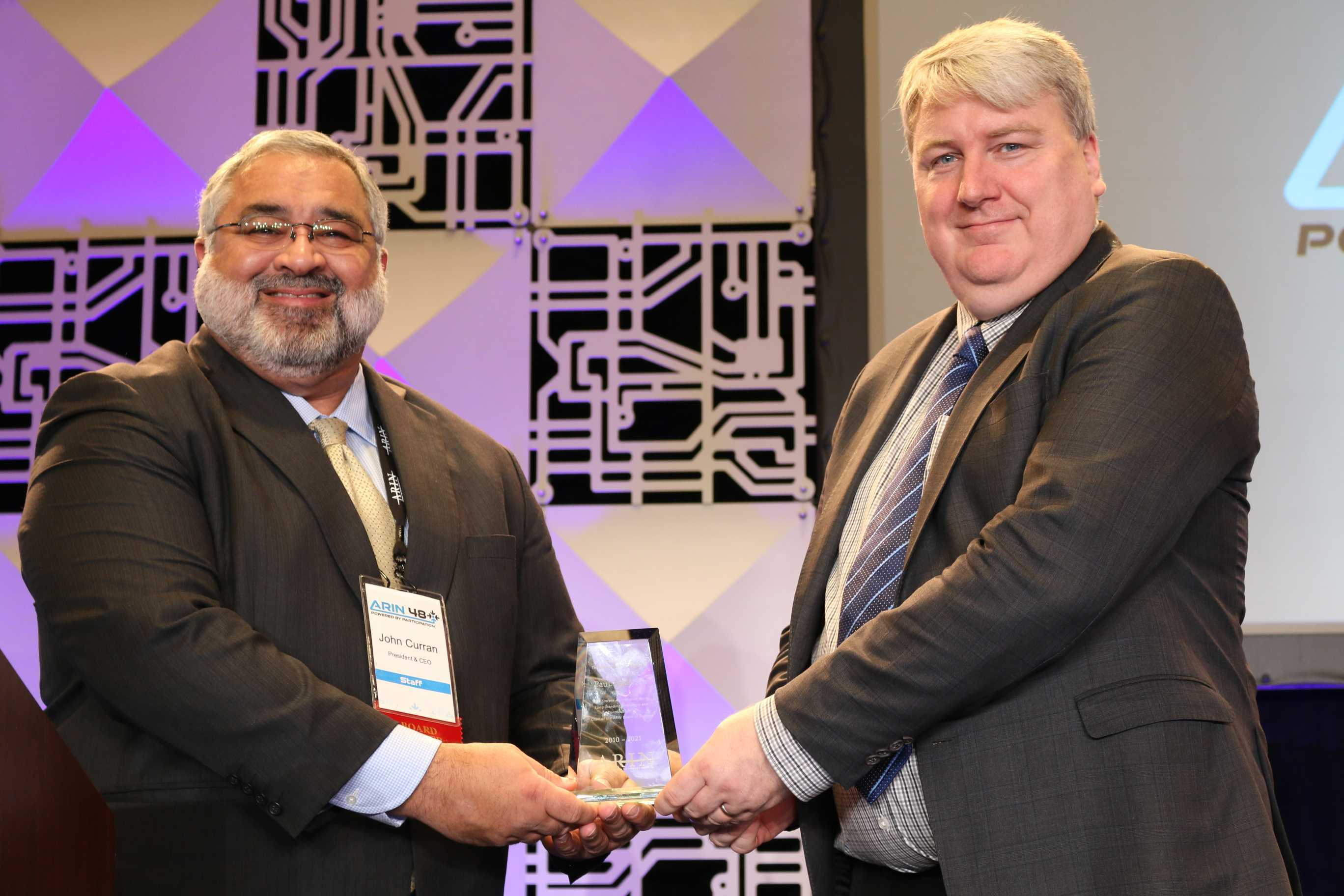 During ARIN 48, ARIN President and CEO John Curran gave a heartfelt tribute to Paul Andersen, and we'd like to extend our thanks and best wishes to Paul for his leadership and dedication over the years.
While We're Talking About ARIN 48…
ARIN 48 was held over four days in October and November, with our Members Meeting in hybrid format, meaning attendees could either join us in person in Minneapolis or virtually at home. If you were unable to attend, you can view the ARIN 48 Meeting Report, including webcasts, transcripts and presentations. Thanks to everyone who participated to make this unprecedented meeting a success!
We're already stoked for ARIN 49, which is scheduled to be another hybrid meeting in Nashville, TN, from 24-27 April 2022. Registration will open soon for that, and we hope to see you there either virtually or in person!
Current Draft Policies and Proposals
| Number | Title | Status |
| --- | --- | --- |
| ARIN-2020-6 | Allowance for IPv4 Allocation "Swap" Transactions via 8.3 Specified Transfers and 8.4 Inter-RIR Transfers | Draft Policy |
| ARIN-edit-2020-9 | Section 8 Editorial Clean-up | Pending Implementation |
| ARIN-edit-2021-1 | ASN Clarifications to Sections 2 and 8 | Pending Implementation |
| ARIN-2021-2 | Special Use IPv4 Space Out of Scope for Purposes of Determining Waitlist Eligibility | Recommended Draft Policy |
| ARIN-2021-3 | Private AS Number and Unique Routing Policy Clarifications | Draft Policy |
| ARIN-2021-4 | Clarifications to Sections 8.3, 8.4, and 8.5.6 | Draft Policy |
| ARIN-2021-5 | Update ISP and End User References For 2022 Fee Schedule | Draft Policy |
| ARIN-2021-6 | Remove Circuit Requirement | Draft Policy |
| ARIN-2021-7 | Make Abuse Contact Useful | Draft Policy |
| ARIN-2021-8 | Deprecation of the 'Autonomous System Originations' Field | Draft Policy |
| ARIN-prop-305 | Editorial Clean-up of the NRPM Section 2 | Proposal |
| ARIN-prop-306 | MDN Clarification for Qualification | Proposal |
Find the status of current policy discussions on our website and subscribe to the ARIN-PPML (Public Policy Mailing List) to make your opinions heard.
New Year, New Fee Schedule
Following a community consultation from earlier this year, ARIN is adopting a new Fee Schedule beginning January 2022. The changes will ensure costs are distributed in an equitable manner by eliminating the current fee differentiation between ISP and end user organizations. Some of you may have already received a 2022 invoice, but if you haven't, you can log into ARIN Online and check out our handy Fee Calculator to see your fees for 2022 based on your organizations current holdings. If you have any questions regarding the 2022 fee schedule, visit our FAQ, email 2022Fees@arin.net or submit via Ask ARIN while logged into your ARIN Online account.
Webinars, Party of One
Feeling like you could use a refresher on some of the services ARIN offers? We have a robust repository of on-demand webinars on topics such as:
Enhancing your Routing Security Using ARIN's Hosted RPKI
Getting to know IRR-Online at ARIN
IPv6 Address Planning Basics
Using ARIN's RESTful API for IRR
The Policy Development Process
All of these are available 24-7 on the ARIN website, ready for you to watch and learn on your own time. Whether you're interested in our Policy Development Process, learning more about our hosted RPKI, or digging deep into ARIN's IRR-Online, we have something for you!
And speaking of IRR…
We're getting closer and closer to retiring our NONAUTH IRR database. After 31 March 2022, our users will no longer be able to create, update or delete records in the ARIN-NONAUTH database, and the ARIN-NONAUTH data stream will no longer be available in Near Real Time Mirroring (NRTM) or via FTP or Whois Port 43.
If your organization has objects in our NONAUTH IRR, we've already reached out to you via your Point of Contact to offer our assistance. But if you have any questions about the transition, we're here for you:
Submit an Ask ARIN ticket or chat with us using your ARIN Online account
Email the Routing Security Team at routing.security@arin.net
Contact the Registration Services Help Desk by phone Monday through Friday, 7:00 AM to 7:00 PM ET at +1.703.227.0660
Governance Working Group Consultations
In January 2020, the ARIN Board of Trustees established a Governance Working Group (GWG) to assess the structure and design of the Board. The GWG worked with an external advisory firm to assess and identify the opportunities for change within the Board. In December, the GWG announced a series of four consultations over the coming weeks to gather your input on some proposed improvements for ARIN's governance, and they are as follows:
Term Limits for the Board of Trustees
Changing the ARIN Election Process from "First to the Post" Voting to a "Single Transferable Vote" Balloting Process
Improvements to the Nomination Committee Process and Procedure
Increasing the Board Size
The first consultation on term limits for the Board was released on 1 December 2021 and closed on 15 December 2021. The additional consultations are planned to be released in early 2022, so stay tuned to the ARIN-announce email list for updates. If you'd like to participate in discussion on these consultations, we welcome your input via our ARIN-consult mailing list.
8.3. Transfers Between Specified Recipients Within the ARIN Region
If your organization has more IPv4 addresses than you currently need, a transfer to a specified recipient is an option to help the ARIN community by providing unused IP addresses to an organization in need of IP addresses. Keep in mind the restriction, "The source entity will not be allowed to apply for IPv4 address space under Section 4.1.8. ARIN Waitlist for a period of 36 months following the transfer of IPv4 address resources to another party." You may want to retain the registration rights to enough IPv4 space to ensure continued network operations.
A Tip from our Registration Services Department
A common question we receive is: "Should I submit an ISP or End-user request for IP Addresses?"
The answer depends on whether or not your organization provides Internet services to customers.
Current Internet Service Provider policy is not limited to only the traditional "ISP" that provides last mile Internet connectivity. The ISP policy applies to any organization that provides Internet services to customers which includes, but is not limited to, web hosting, cloud hosting, SaaS, VPS, VPN, and VOIP.
End users do not provide Internet services, and instead utilize resources on their internal infrastructure exclusively for the use of its employees and running their own networks.
Customer and Member Statistics (As of 30 November 2021)
39,274 total customer organizations, including 7,489 member organizations
837 8.3 Transfers and 254 8.4 Transfers completed YTD 2021
8.4 Transfers completed YTD 2021:

39 to APNIC, 122 to RIPE NCC, 8 to LACNIC and 35 from APNIC, 42 from RIPE NCC, 8 from LACNIC

60.2% of members have an IPv6 block
Recent Posts on the ARIN Blog
… And a Happy New Year!
Happy holidays from ARIN! We'll see you in March 2022 for the next edition of ARIN Bits.
Recent blogs categorized under: ARIN Bits
---
GET THE LATEST!
Sign up to receive the latest news about ARIN and the most pressing issues facing the Internet community.
SIGN ME UP →
---
Blog Categories
IPv6
•
Business Case for IPv6
•
Fellowship Program
•
Grant Program
•
Caribbean
•
Internet Governance
•
Updates
•
IPv4
•
ARIN Bits
•
Elections
•
Tips
•
Public Policy
•
Customer Feedback
•
Security
•
Outreach
•
RPKI
•
Training
•
IRR
•
Data Accuracy