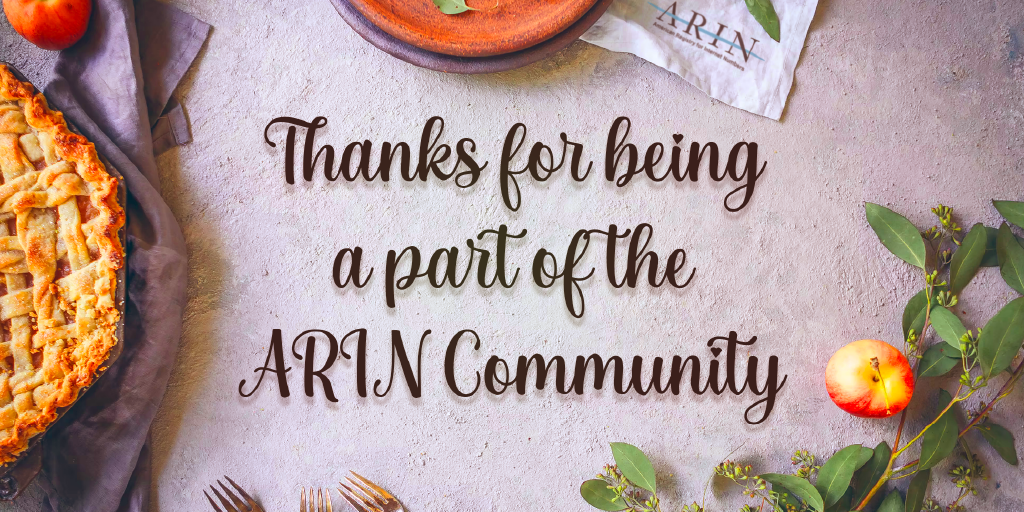 Thanks For Being a Part of the ARIN Community
Service to the ARIN Community is at the heart of what we do. As we approach the holiday season and giving thanks is on the minds of ARIN staff, we want to recognize the members of the community who go above and beyond with the gift of their time to help us fulfill the mission of ARIN through their involvement with various policies, projects and programs. We could not accomplish all we are able to without their participation and involvement. Now let's get to the thank yous!
Public Policy Mailing List Contributors
First, we'd like to thank those of you who contribute to our Public Policy Mailing List (PPML). Your voice is important in shaping policies that are fair and impartial, technically sound, and supported by the community. This year, we've had more than 1,000 messages to the list to date.
ARIN Meeting Attendees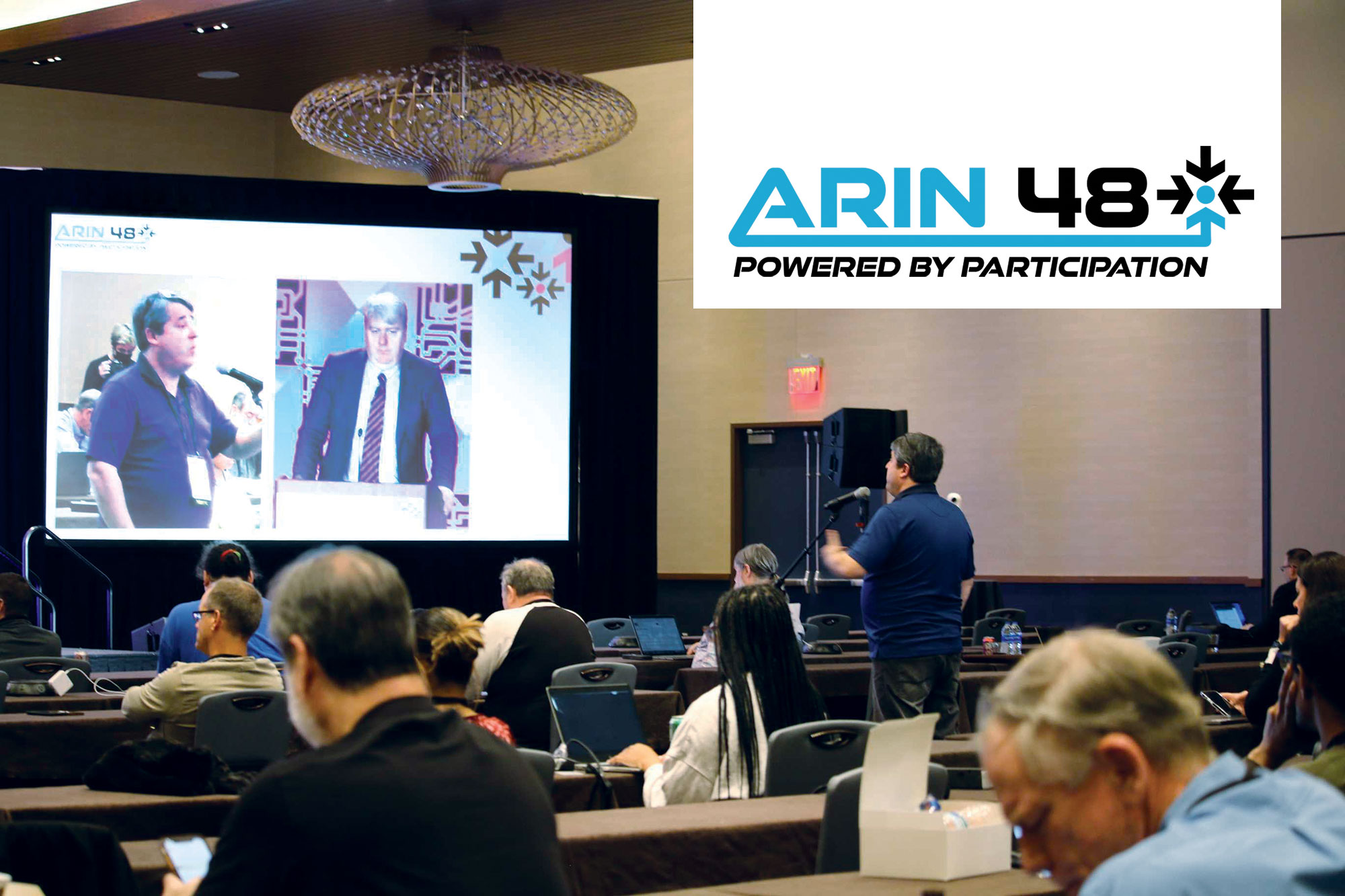 Second, we'd like to thank everyone who attended an ARIN Meeting either in person or virtually. From discussing ARIN policies to the future direction of the organization, our meetings wouldn't be possible without your participation.
ARIN Fellowship Program Participants
Next, thanks to everyone involved in the Fellowship Program that went completely virtual for both ARIN 47 and ARIN 48, with the Fellows gathering via Zoom to dig deep into the ARIN Policy Development Process, learn what policies were on the docket, discuss Internet Governance, and more.
Fellowship Selection Committee
Twice this year, members reviewed the Fellowship Program applicants – reading and ranking the applications to finalize the top tier of selected candidates. Our thanks to the 2021 Fellowship Selection Committee:
Rudolph James, Jaymon Lefebvre, Chris Woodfield
Mentors and Special Guests
A key component of the Fellowship Program is the mentorship aspect, delivered by sitting members of the ARIN Advisory Council. Mentors guided a group of Fellows and led breakout sessions to answer questions and offer insight into the complexities of Internet Number Resource policy development. Our thanks to the 2021 ARIN Fellowship Program Mentors:
Joe Provo, Kerrie Richards, Christian Tacit, Alicia Trotman, Matthew Wilder
Lending a hand to provide additional discussion and insights into policymaking were special guests, ARIN Advisory Council Chair and Vice Chair:
Fellows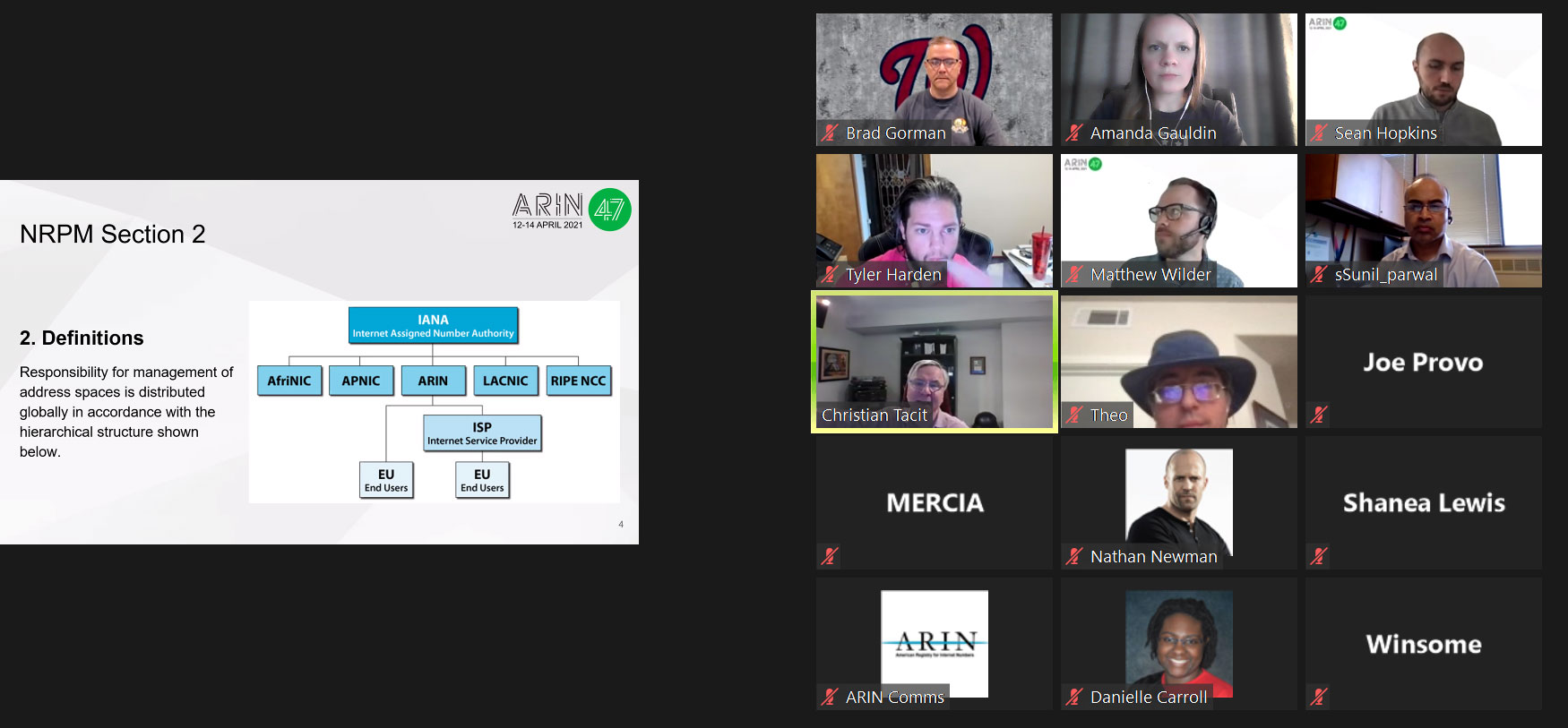 We would be remiss if we didn't thank our Fellows for their participation in this grand experiment of taking the ARIN Fellowship Program virtual. We enjoyed our sessions together and look forward to seeing them around the ARIN community in the future as well.
ARIN 47 Fellows
Theo Alpert, Mercia Arnold, Winsome Bennett, Danielle Carroll, Tyler Harden, Shanea Lewis, Sunil Parwal, Bonnie Smalley
ARIN 48 Fellows
Meri Baghdasaryan, Tim Barnes, Zoey Barthelemy, Jeremy Bernick, Shearvon Devenish, Aggrey Marsh, Marlin Martes, David McGarraugh, Malisa Richards, Phoebe Rouge, Miles Smith
ARIN Community Grant Program Participants
The ARIN Community Grant Program provides financial grants in support of initiatives that improve the overall Internet industry and Internet user environment and relies on input from a number of individuals to make the program possible.
Grant Selection Committee
Similar to the ARIN Fellowship Selection Committee, a group of volunteers from the community read and review the grant applications, then meet to select the grant recipients. Our thanks to the 2021 Grant Selection Committee members:
Kat Hunter, Patrick Voigt, Andrew Gallo, Peter Harrison
Community Grant Recipients
Thanks to the ARIN community grant project representatives who completed their projects in September of this year and presented their work at the fall Public Policy and Members Meeting. We appreciate the time and dedication you devoted to your project for the betterment of the Internet.
E. Marie Brierley, Alfredo Calderon, Nalini Elkins, Glenn McKnight, Stephen Lee, Keith Mitchell, Phil Robers, Job Snijders
ARIN Training & Events Attendees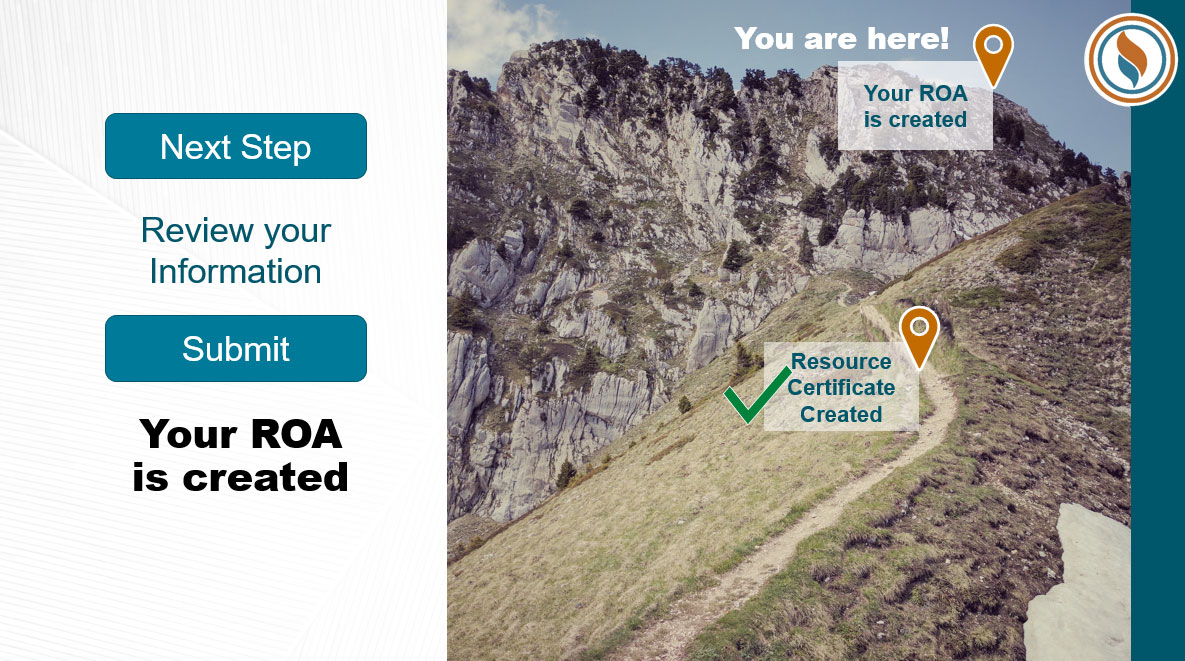 Did you know by the end of 2021, ARIN will have produced more than 20 live and virtual events? These include training webinars, new customer onboarding sessions known as ARIN Optimized, our new Strategic Partnerships Program, and more. ARIN was also very active in the Caribbean region with participation in many forums and other virtual events. If you participated in any of these events, thank you for joining us!
ARIN Elected Volunteer Leaders
Board of Trustees
The Board of Trustees maintains authority over the ARIN scope, mission, and helps establishes the strategic direction and fiscal oversight of the organization. We would like to thank the members of our 2021 Board of Trustees for their dedication to the ARIN and the community:
Paul Andersen, Nancy Carter, John Curran, Peter Harrison, Catherine Middleton, Tina Morris, Bill Sandiford
Advisory Council
The Advisory Council advises the Board of Trustees on Internet number resource policy and works toward achieving consensus-based policy proposals for ratification. We would like to thank the members of the 2021 Advisory Council for their dedication to the ARIN mission and Policy Development Process:
Andrew Dul, Gary Giesen, Kat Hunter, Anita Nikolich, Amy Potter, Joe Provo, Alyssa Quinn, Kerrie Richards, Leif Sawyer, Robert Seastrom, Chris Tacit, Alicia Trotman, Matthew Wilder, Alison Wood
NRO Number Council
Each Regional Internet Registry (RIR) has three members on the Number Resource Organization Number Council (NRO NC), and they act as a point of consultation to external entities on proposed global IP number resource policies, addressing questions that may be raised concerning such policy proposals, maintaining a dialogue with the entity and the RIRs concerning these proposals as required. We would like to thank the 2021 NRO NC representatives from the ARIN Region:
Kevin Blumberg, Martin Hannigan, Louie Lee
Guest Bloggers
Thank you to the 11 individuals who have contributed a guest post on the ARIN blog this year. We enjoy hearing your perspectives and keeping up-to-date with all that is going on.
The Whole ARIN Community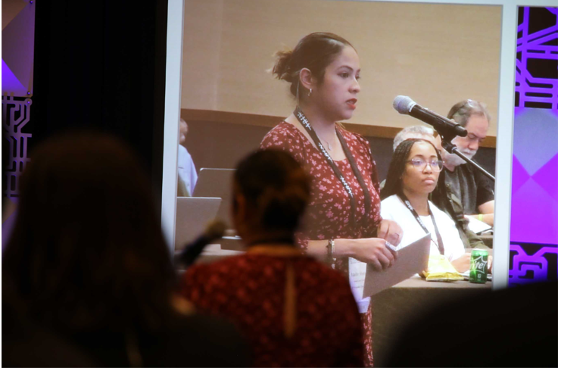 Most importantly, we want to take a moment and thank YOU, the community, for your participation no matter how big or small. Whether you attended a webinar, commented on a policy, filled out a survey, voted in the ARIN elections, or interacted with us on social media, your opinions and your voice are important to us. We look forward to seeing you - virtually or in person - and talking with you more in 2022.
Recent blogs categorized under: Outreach
---
GET THE LATEST!
Sign up to receive the latest news about ARIN and the most pressing issues facing the Internet community.
SIGN ME UP →
---
Blog Categories
ARIN Bits
•
IPv6
•
Business Case for IPv6
•
Fellowship Program
•
Grant Program
•
Caribbean
•
Internet Governance
•
Updates
•
IPv4
•
Elections
•
Tips
•
Public Policy
•
Customer Feedback
•
Security
•
Outreach
•
RPKI
•
Training
•
IRR
•
Data Accuracy