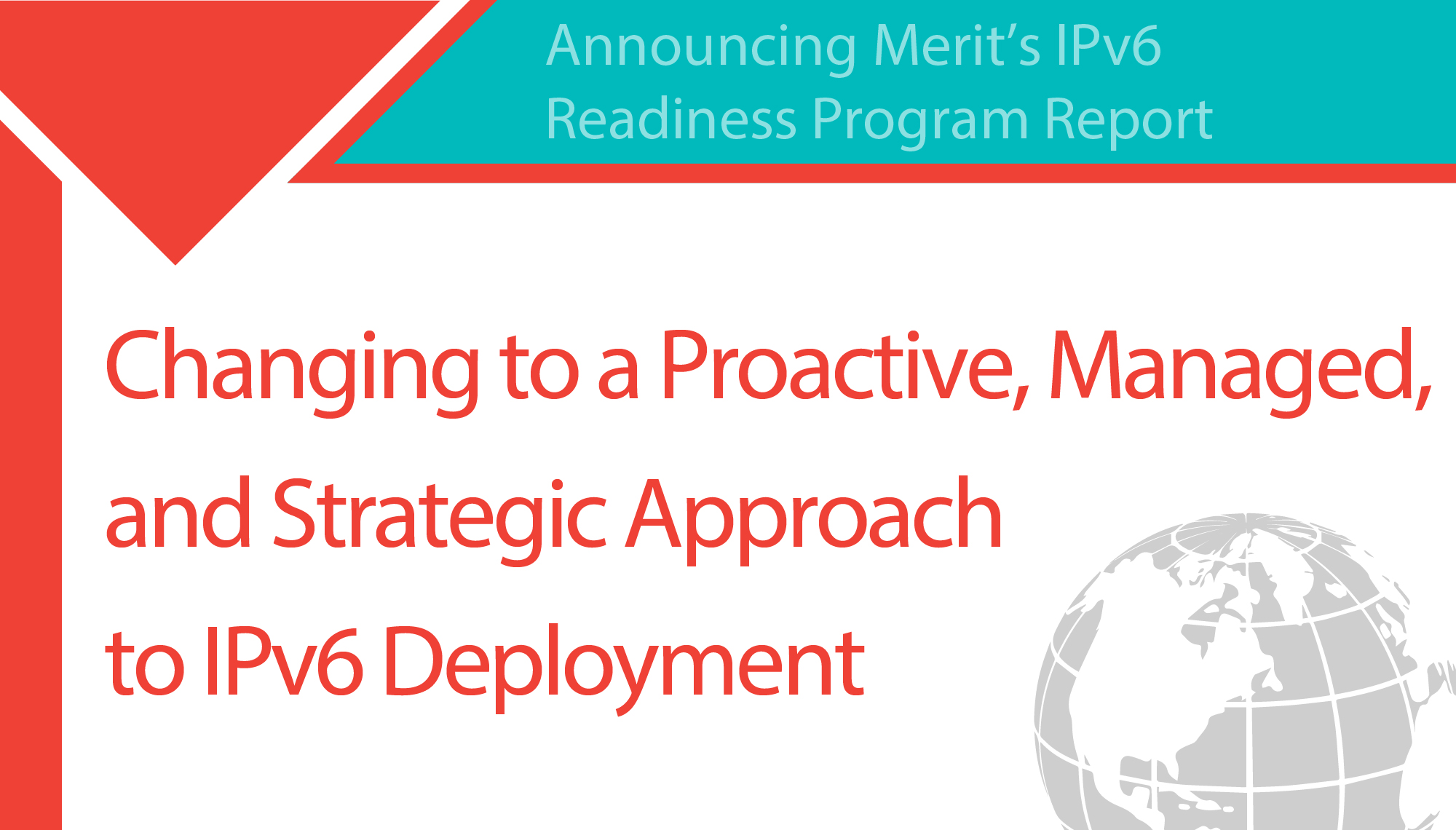 Changing to a Proactive, Managed, and Strategic Approach to IPv6 Deployment
Announcing Merit's IPv6 Readiness Program Report
Merit Network Inc. is a non-profit, member-owned organization that runs a regional Research & Education (REN) network for the state of Michigan. Twelve public universities serve as Merit's governing members. Merit is their internet service provider, and as part of that service provides them with IP addresses.
In October 2017, Merit assessed their IPv4 address usage and determined that several of the governing members might run out of IPv4 addresses in five years if they continued at their current growth rate. Merit presented these results to its governing board members and recommended a program to help them begin or further IPv6 deployment on their campus networks. The board agreed with the recommendation and approved a fully funded IPv6 Readiness Program.
The IPv6 Readiness Program ran from January 2018 to December 2019. Realizing the risks and challenges that IPv6 deployment presents, Merit designed the program to train staff members in IPv6 technology, assist in creating IPv6 deployment plans, encourage the start or advancement of IPv6 deployment, and build an IPv6 support community. It was designed to change a reactive approach to solving IPv4/IPv6 problems to a proactive, managed, and strategic IPv6 deployment program. The program's strategy included:
Engaging IT leadership
Engaging IPv6 experts as advisers and trainers
Educating IT staff who represented a wide of variety of functional and reporting responsibilities
Providing various communication channels to promote informal discussions
Holding meetings and workshops
Providing conference presentations and Q&A sessions with IPv6 experts
Guiding the process with documents and templates
What's in the Report?
Merit has recently released a report on the program. For a copy of the report, please visit the IPv6 Readiness Program website.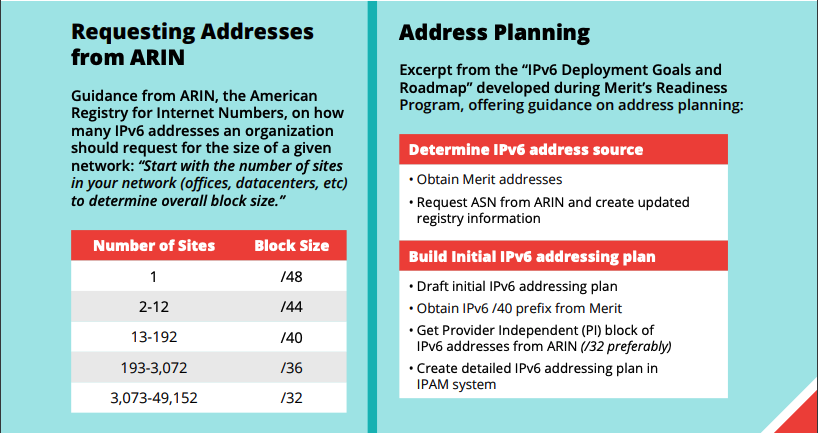 This report, aimed at executive-level higher education administrators as well as network engineers, was produced with guidance from those experts and delivers major points, considerations, and insights from the program, including:
How to avoid rushing into a costly deployment
The rapidly rising prices for IPv4 addresses on the open market
How IPv6 supports a stronger network
The security, performance, cost, and reputational risks — and opportunity costs — of not deploying IPv6
History, trends, and data on IPv6 adoption, performance, and outlook
Why the higher education sector has been slow to take up IPv6
Valuable tips for planning and starting an IPv6 deployment
Advice from leading experts in the field
Important differences between IPv4 and IPv6 address acquisition and planning
Any views, positions, statements, or opinions of a guest blog post are those of the author alone and do not represent those of ARIN. ARIN does not guarantee the accuracy, completeness, or validity of any claims or statements, nor shall ARIN be liable for any representations, omissions, or errors contained in a guest blog post.
Recent blogs categorized under: IPv6
---
GET THE LATEST!
Sign up to receive the latest news about ARIN and the most pressing issues facing the Internet community.
SIGN ME UP →
---
Blog Categories
ARIN Bits
•
IPv6
•
Business Case for IPv6
•
Fellowship Program
•
Grant Program
•
Caribbean
•
Internet Governance
•
Updates
•
IPv4
•
Elections
•
Tips
•
Public Policy
•
Customer Feedback
•
Security
•
Outreach
•
RPKI
•
Training
•
IRR
•
Data Accuracy