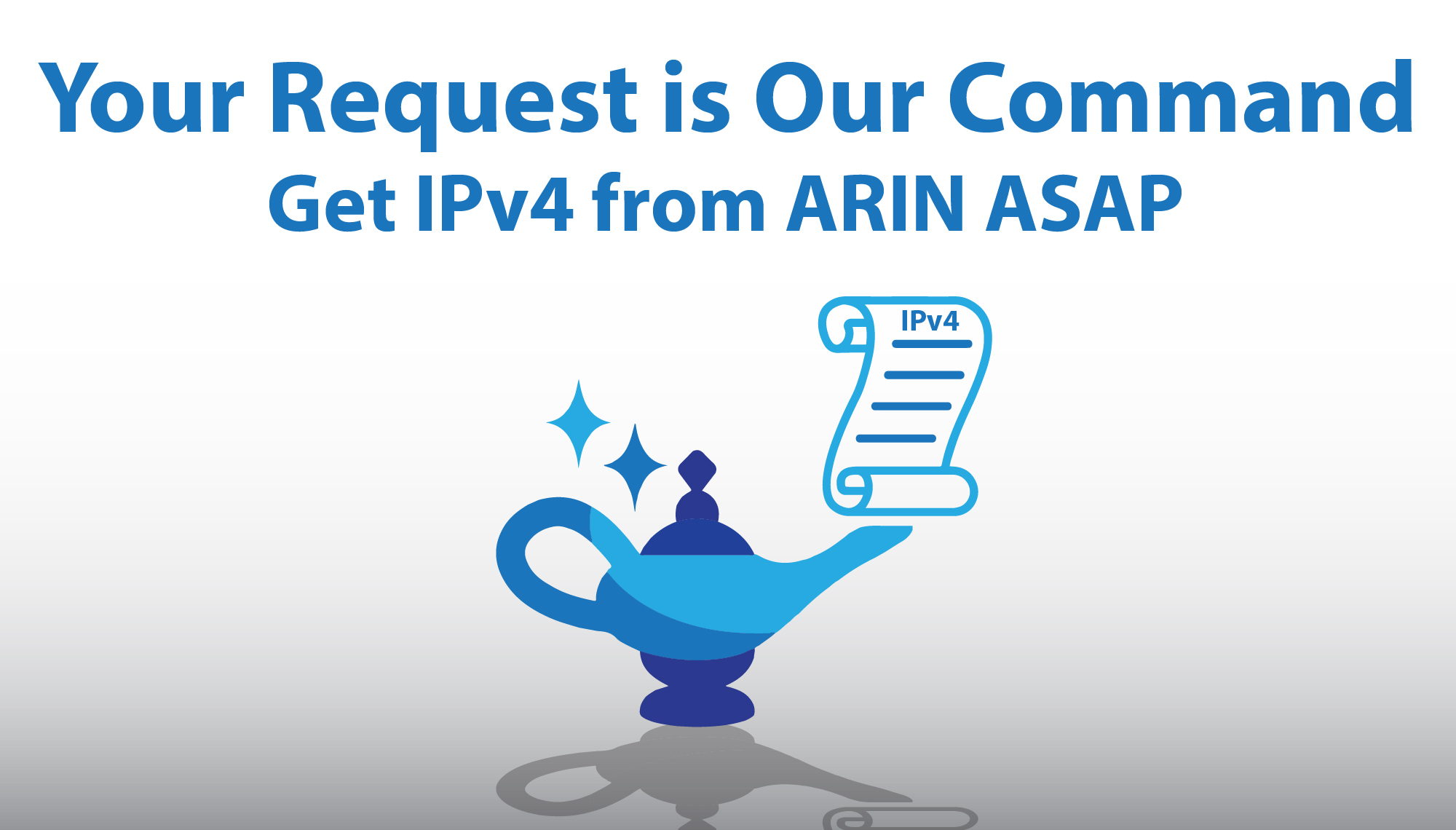 Your Request is Our Command: Get IPv4 from ARIN ASAP
A little more than five years ago on 24 September 2015, our IPv4 well ran dry. At that time our pool of IPv4 addresses whittled down to zero. For some time, there were only two options to obtain IPv4 addresses yourself: pay a broker and go to the transfer market or add your name to our waiting list, which (at that time) took a very long time to get filled. There were no restrictions about who could add their name to the waiting list and there was no limit around how much IPv4 address space you could request. This really slowed down how quickly we were able to fill these requests, sometimes years. Neither of these options, of course, were very appealing.
So, what changed?
We have a little more IPv4! We made a best effort to find IPv4 address space, which has resulted in a little more IPv4. We are still in a depletion status; we don't expect this space to last forever, but it is available now. About a year ago, we brought some data to the community explaining that many of the large IPv4 requests we were filling were being held for a year and then transferred or sold on the market. Our community looked at this and saw that this wasn't what they intended. So, they decided to implement a set of requirements that needed to be met in order to be eligible to add your name to the waiting list. A few of these main requirements state:
You must have /20 or less from ARIN
You can only request /22 or less based on a 24 month need
You must show 80% overall usage of at least 50% of each block
This allowed us to go from filling one request to filling dozens of requests at a time. In our latest distribution we were able to fill 223 IPv4 requests, which was almost the entire list!
The Time is Now
Requests on the waiting list can only be filled when ARIN adds IPv4 address space to its available IPv4 inventory. This usually occurs after: a registrant returns IPv4 address; a revocation by ARIN (typically for non-payment of annual fees); IPv4 address space distribution to ARIN by Internet Assigned Numbers Authority (IANA); or otherwise made available to be re-issued.
Our next fulfillment of the IPv4 waiting list will be taking place on 30 March 2021. Now is the time to add your name to the waiting list! In order to get on the list, follow these steps:
Log into ARIN Online account

You will need at least one Point of Contact (PoC)
You will need an Organization Identifier (Org ID)

Select IP Addresses from the navigation menu.
Select Request.
The subsequent windows guide you through your request.
If you have any questions about this process, don't hesitate to reach out to our Registration Services Team at 703.227.0660, Monday – Friday from 7:00 AM to 7:00 PM Eastern Time.
Recent blogs categorized under: IPv4
---
GET THE LATEST!
Sign up to receive the latest news about ARIN and the most pressing issues facing the Internet community.
SIGN ME UP →
---
Blog Categories
ARIN Bits
•
IPv6
•
Business Case for IPv6
•
Fellowship Program
•
Grant Program
•
Caribbean
•
Internet Governance
•
Updates
•
IPv4
•
Elections
•
Tips
•
Public Policy
•
Customer Feedback
•
Security
•
Outreach
•
RPKI
•
Training
•
IRR
•
Data Accuracy