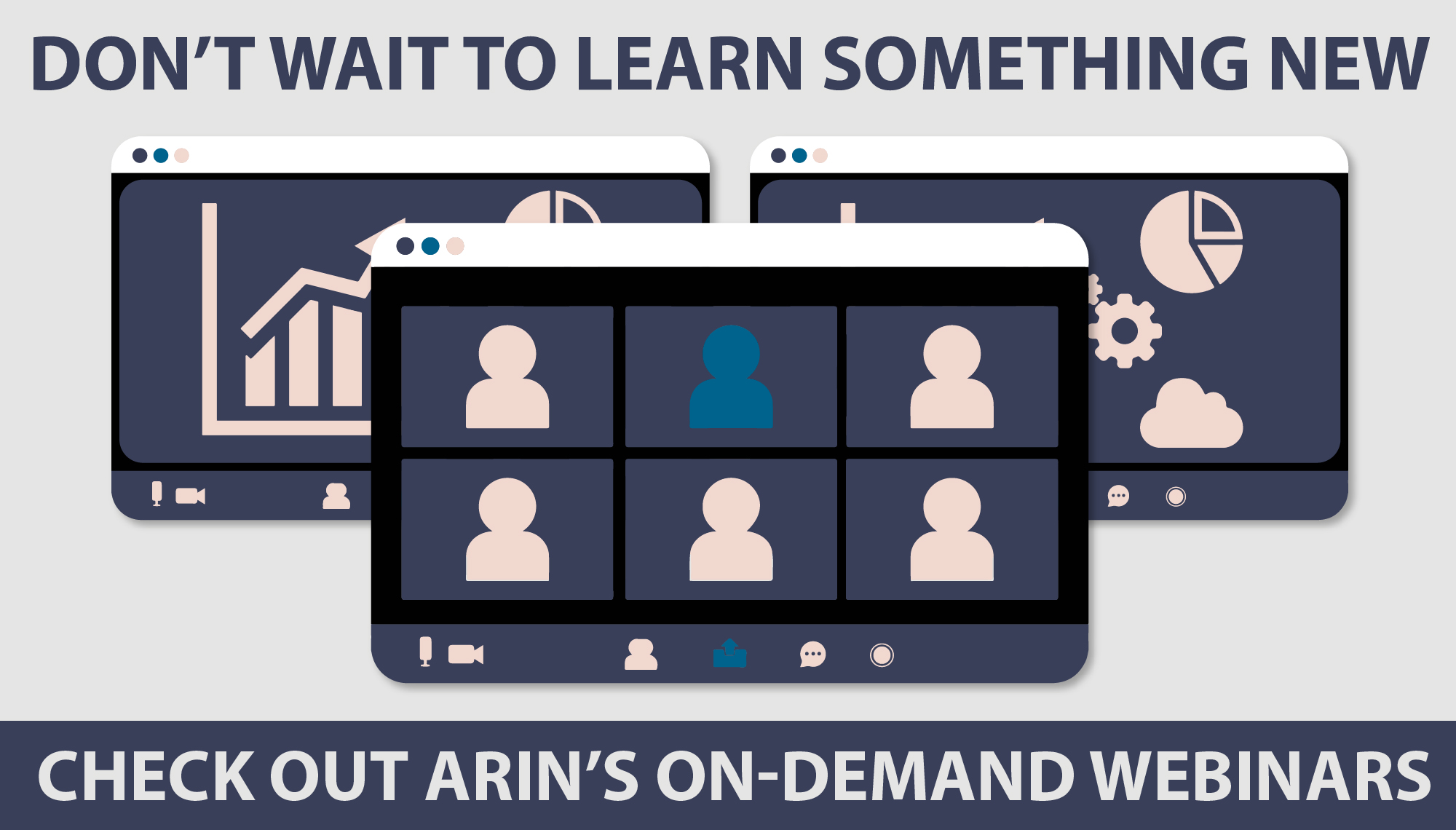 Don't Wait to Learn Something New
Check out ARIN's On-Demand Webinars
Over the last year, training and education has been a primary focus here at ARIN. We've been diligently working to provide valuable, instructional content to our community featuring different services within our organization. We have created videos, job-aids, and several webinar series including topics such as IPv6 Basics, Policy Development Process, and IRR Online (Internet Routing Registry). All of these webinars are led by experts within our organization and offer hands-on learning opportunities for our community. We currently have four on-demand webinars available for you to access immediately, with more live webinars planned for later this year.
We've received great feedback about our webinars so far. In a survey collected at the end of each workshop we ask attendees what they most enjoyed about the webinar. A few of the responses we received include:
"This was my second ARIN webinar. Both have been very informative. Well organized, logically presented. Jon obviously knows the subject material well and it shows in his presentation. I look forward to future webinars."
"The IPv6 concepts were explained clearly. Information learned can be applied immediately."
"The overview of how ARIN allocates IPs and the guidelines for how we (ISPs) should. I have a much greater understanding of the concepts behind allocation of IPv6 now."
"The pace of graphical slides and the quantity of information provided by the speakers kept me engaged for the full hour. Kudos to you for such a great job on that!"
Below is a look at some of our on-demand webinars that are available now:
IRR-Online
Our most recently held webinar saw over 100 attendees during the live workshop! That same webinar is now available on demand. 
In this webinar, attendees learn:
What an IRR is and how ARIN has implemented ours
The differences between ARIN's IRR and RPKI
Methods to retrieve routing data
The benefits of using ARIN's IRR to enter and maintain your routing data
& more!
Register for Getting to Know IRR-Online at ARIN
IPv6 Address Planning Basics
This webinar has been our mostly widely viewed, with 335 attendees over the course of its lifetime so far. This informative, hands-on presentation helps you better understand the basics of IPv6 address planning, block sizes, and how to plan for growth. It offers a great introduction for how to get started with IPv6.
Register for IPv6 Address Planning Basics
Policy Development Process
This webinar is a must for anyone who is new to ARIN and wants to learn more about how to get involved with our Policy Development Process. Hosted by Sean Hopkins, this tutorial covers some of the basics such as how policies are developed by the ARIN community, why you should get involved, and steps to get started. This is especially helpful to view before any of our Public Policy and Members Meetings.
Register for ARIN's Policy Development Process
Leadership Development Program
This program is designed for anyone looking to get more involved with ARIN's community and wants to take on a leadership role. You will learn more about ARIN and how it fits into the larger community, as well as our election cycle and the composition and responsibilities of the ARIN Advisory Council and Board of Trustees
Register for ARIN's Leadership Development Program
Thank you to all who have attended one or more of these webinars. We hope you have found them valuable. If you attend any of the on-demand webinars, please take two minutes at the end to fill out a quick survey. It helps us to keep improving. 
Do you have an idea for a topic you'd like to see covered in a future webinar? Email training@arin.net to share your idea!
Recent blogs categorized under: Training
---
GET THE LATEST!
Sign up to receive the latest news about ARIN and the most pressing issues facing the Internet community.
SIGN ME UP →
---
Blog Categories
IPv6
•
Business Case for IPv6
•
Fellowship Program
•
Grant Program
•
Caribbean
•
Internet Governance
•
Updates
•
IPv4
•
ARIN Bits
•
Elections
•
Tips
•
Public Policy
•
Customer Feedback
•
Security
•
Outreach
•
RPKI
•
Training
•
IRR
•
Data Accuracy