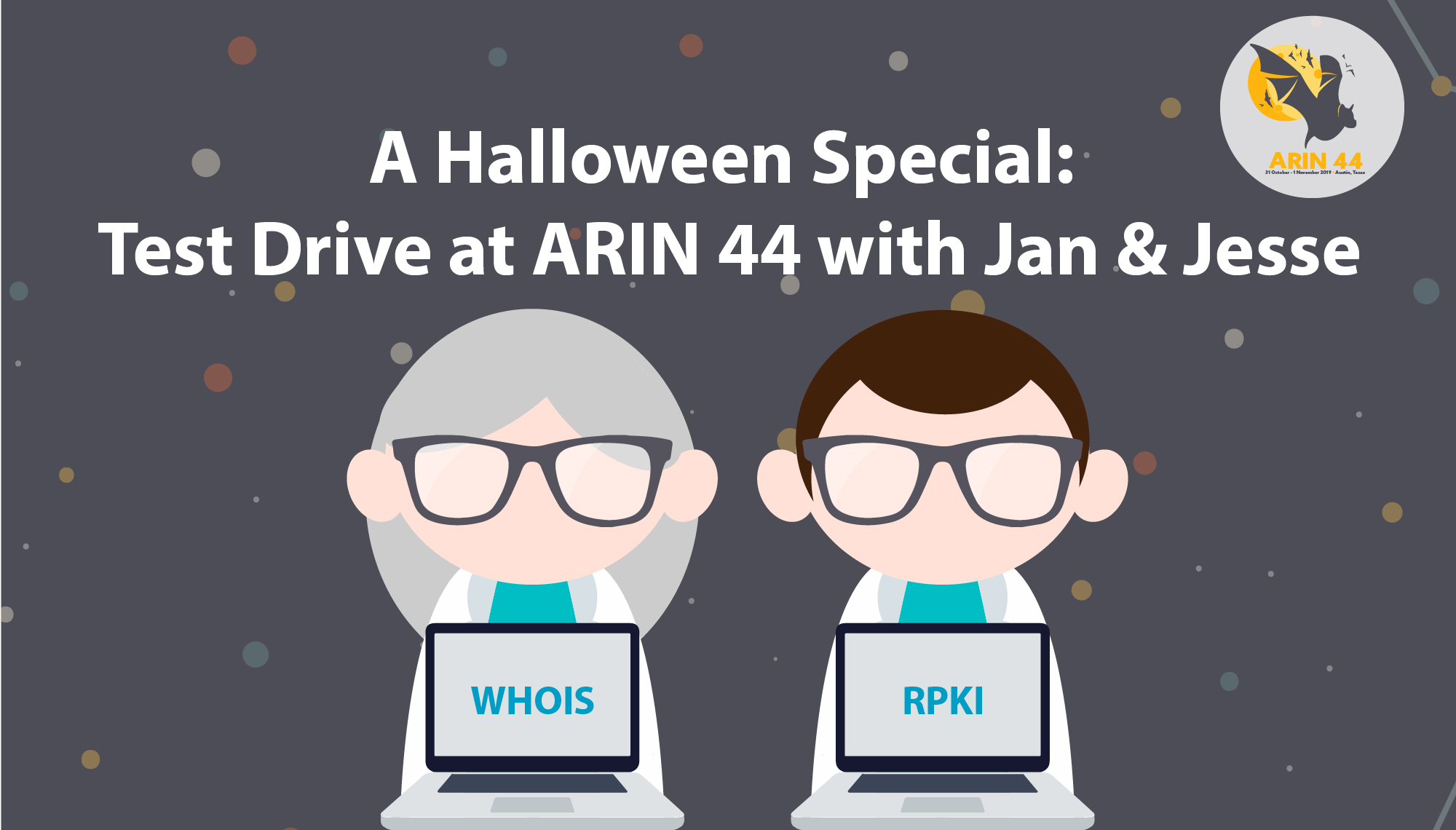 A Halloween Special: Test Drive at ARIN 44 with Jan & Jesse
We're gearing up for ARIN 44 in Austin, Texas this October and wanted to share information about an exciting opportunity for our meeting attendees: test driving. Maybe you noticed that we launched a brand new arin.net this year? Community input was critical every step of the way, but that launch does not mean we're done seeking your feedback. We want to continue making informed improvements to the website, and we look forward to seeing you during ARIN 44. 
The main purpose of sending us to Austin is to get information from attendees that will help us make the site and online services more useable and intuitive for you. In-person test drives can reveal things that we would not discover any other way, and also help us gain understanding of what it is like to navigate and use ARIN's online presence from diverse points of view. This fall, we want to know what YOU think of the redesign we launched in the spring – what is working better, and what refinements we need to make.
Volunteers can expect a one-on-one, no-judgment, and hands-on test drive of the informational website and online services, and maybe even an early look at features in the works.
Areas of focus for this test-driving experience include:
Whois/RDAP
Reverse DNS and Routing security tools in ARIN Online
Text and design changes under development
Archived content and ARIN history (the Vault)
Our hours will be the same as the Registration Services Help Desk hours on the ARIN meeting days. Come visit our desk!
Wednesday, 30 October: 10:00 AM - 3:30 PM
Thursday, 31 October: 8:30 AM - 5:00 PM
Friday, 1 November: 8:30 AM - 1:00 PM
There will be two separate test drive set-ups, and you can try out either or both of them. There is no need to sign up in advance. We will be wearing our lab coats again, so we should be easy to spot (but maybe not, because it's Halloween!) We look forward to seeing you in Austin!
Recent blogs categorized under: Customer Feedback
---
GET THE LATEST!
Sign up to receive the latest news about ARIN and the most pressing issues facing the Internet community.
SIGN ME UP →
---
Blog Categories
ARIN Bits
•
IPv6
•
Business Case for IPv6
•
Fellowship Program
•
Grant Program
•
Caribbean
•
Internet Governance
•
Updates
•
IPv4
•
Elections
•
Tips
•
Public Policy
•
Customer Feedback
•
Security
•
Outreach
•
RPKI
•
Training
•
IRR
•
Data Accuracy