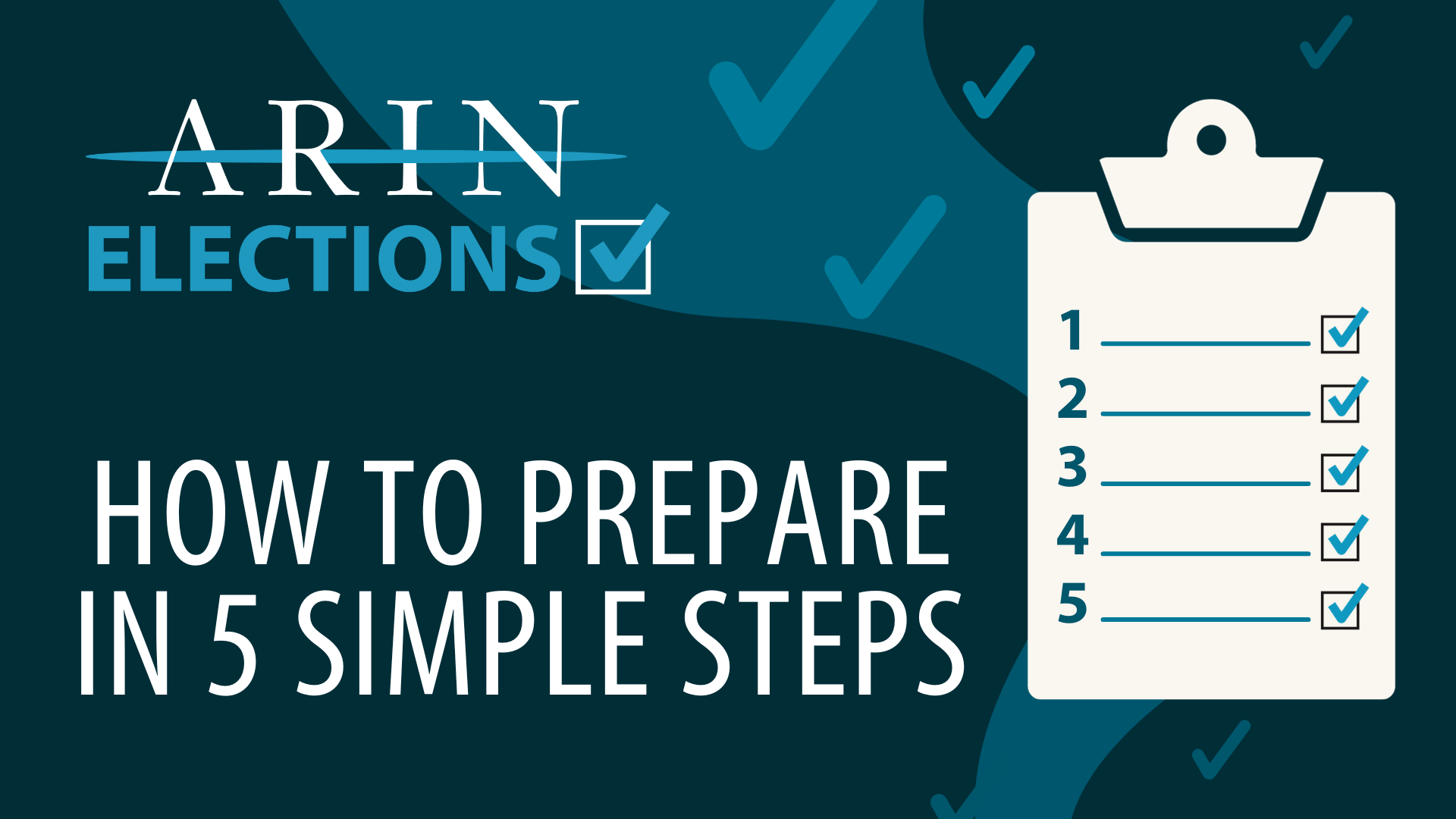 Five Simple Steps to Get You Ready for ARIN Elections
Voting is an essential right and responsibility of ARIN General Members, as it helps direct the future of the organization's governance and the development of Internet number resource policy. As we approach the culmination of the 2023 ARIN Elections, we encourage you to take some time to create a voting plan to help you learn about this year's candidates running for the Board of Trustees and Advisory Council (AC).
To simplify the process, we've broken it down into five easy steps you can take to get ready for when voting opens at 3:00 PM ET on Thursday, 19 October.
1. Get to Know the Candidates
First and foremost, get to know your candidates! This year we have an additional open full-term seat to fill on the Board as a result of the Bylaws revision allowing for its phased expansion to nine elected Trustees. So, the 2023 elections will fill three full-term Board seats. There is also a one-year term seat to fill on the Board — the remaining term of a seat vacated via resignation earlier this year. For the Advisory Council, there are five full-term seats, as well as two one-year term seats open to fill the remaining terms of two vacant seats.
The Nomination Committee (NomCom) has put forward the 2023 Slate of Candidates for the terms beginning 1 January 2024.
We created a Voter Guide to provide you with all the details you need to know about the candidates. The guide includes information from each candidate about their job experience, education, related experience, views on the future of ARIN, and much more.
When viewing the slate of candidates, the classification for each candidate that you see next to their name will also appear on the ballot. The candidates were classified by an independent third-party firm based on the Nominee Classification Process in the NomCom Charter. Every nominee is put forward on the initial slate unless the third-party firm classifies a nominee as "Unable to Qualify."
The classifications were based in part on the following Guidance Letters submitted by the Board and AC that describe desired relevant experience and backgrounds for candidates:
2. Join the General Members Mailing List
All candidates for the Board and AC were offered the opportunity to subscribe to the General Members Mailing List, where they can be available to answer questions from the voting community. If your organization is a General Member at ARIN and plans to vote this year, we encourage you to join the mailing list to be part of the dialogue with candidates and to keep informed of ARIN Election activity.
3. Read or Make Statements of Support
After familiarizing yourself with the candidates, take time to reflect on the issues that are most important to you, your organization, and your community and to determine the representative(s) you believe will best address those concerns. Then it's time to read and/or make statements of support. This is a great way to support your candidate(s) of choice and learn about what others in the community are saying.
Please note that all Statements of Support are held for moderation and will be posted, upon approval, within one business day. All submissions are subject to the Statements of Support Acceptable Use Policy.
4. Watch Candidate Speeches at ARIN 52
As part of the ARIN 52 Public Policy and Members Meeting held in San Diego, California, and online, prerecorded speeches by the candidates running for the Board and AC will be presented Thursday, 19 October, from 10:55 AM to 12:15 PM PT. Registration — and additional information — is available on the ARIN 52 website.
Candidate speeches will also be made available on ARIN's YouTube channel, the candidates' Statements of Support pages, and our election headquarters shortly after their broadcast at the meeting.
5. Cast Your Vote!
Check, check, check, check! You've learned about the candidates, participated in the General Members Mailing List, viewed or written statements of support, and attended ARIN 52 in-person or virtually to watch the candidate speeches. Now it's time to plan when, where, and how you'll be casting your ballot.
Don't forget that voting is now a requirement for maintaining your organization's General Member status. Following this year's ARIN Elections, General Members that did not cast a ballot in any of the previous three elections will revert to Service Member status.
ARIN Elections for General Members
In 2023, Voting Contacts for eligible General Members may cast ballots for the Board and AC. Voting opens at 3:00 PM ET Thursday, 19 October 2023, and closes at 7:00 PM ET Friday, 27 October 2023.
Please note that to cast a ballot in ARIN Elections, an individual must be the designated Voting Contact for a General Member in Good Standing (as of 4 September 2023) and have a valid ARIN Online account. Voting Contacts can be updated until seven days before the election; this year that deadline is 3:00 PM ET on 12 October 2023.
Voting is fast and easy and can be done online from anywhere, anytime during the voting period. To access and cast your ballot, log in to your ARIN Online account and click on the "Vote Now" link located on your dashboard.
Prior to the opening of the voting period, the Election System Instructions page will be updated to provide walkthroughs with screenshots to help you navigate ARIN's election system.
Easy as 1-2-3-4-5
There you have it! In just five simple steps you'll be ready to vote in our 2023 elections and fulfill a vital community responsibility by helping shape the future of ARIN and the Internet as a whole. We thank you in advance for your participation in this year's elections. If you have any questions throughout this process, please email elections@arin.net and visit our election headquarters to learn more.
Recent blogs categorized under: Elections
---
GET THE LATEST!
Sign up to receive the latest news about ARIN and the most pressing issues facing the Internet community.
SIGN ME UP →
---
Blog Categories
Grant Program
•
Public Policy
•
IPv4
•
Updates
•
Security
•
RPKI
•
IPv6
•
Data Accuracy
•
Elections
•
ARIN Bits
•
Business Case for IPv6
•
Fellowship Program
•
Caribbean
•
Internet Governance
•
Tips
•
Customer Feedback
•
Outreach
•
Training
•
IRR