Election System Instructions
The Voting Contact for each ARIN Member organization must have a valid ARIN Online account to be eligible to vote in ARIN Elections. Learn more on our Voting Contacts page. Voting Contacts must have been updated before 3:00 PM ET on 12 October 2023 to cast a ballot in this year's election.
Submitting Votes in an ARIN Election
Signing into ARIN's election system is integrated with ARIN Online. The Voting Contact for each ARIN General Member must have a valid ARIN Online account in order to be eligible to vote in ARIN Elections. Please see the Login page to recover your username and password so you can access your ARIN Online account in time to vote.
Important! The recovery process will need to be started well in advance of the deadline for voting to ensure access.
After your ballot is completed, a vote confirmation page will appear requiring you to review and confirm your ballot selections. If you need to correct your ballot, you must select the "edit selection" link. Once you've verified that your ballot is accurate, you must select the "Submit" button to cast your ballot. Please note that once a ballot has been cast, under no circumstances can a ballot be altered. Once your ballot has been cast, you will be emailed a vote receipt for your records.
Step-by-Step Voting Instructions
1. On any ARIN web page, log in to ARIN Online and click the "Vote Now" link located on your dashboard.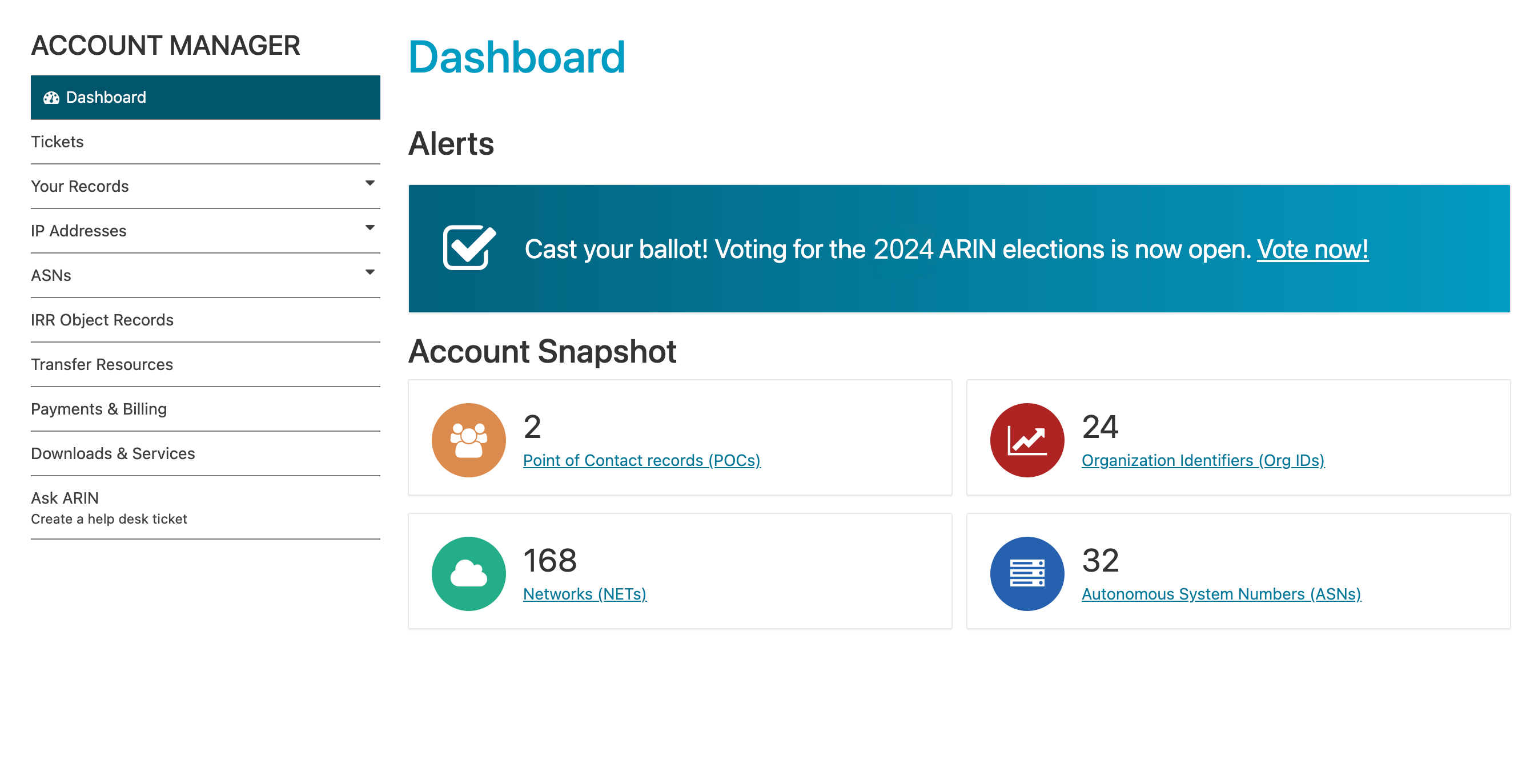 2. Select up to four candidates for the ARIN Board of Trustees and seven candidates for the Advisory Council, then click "Next"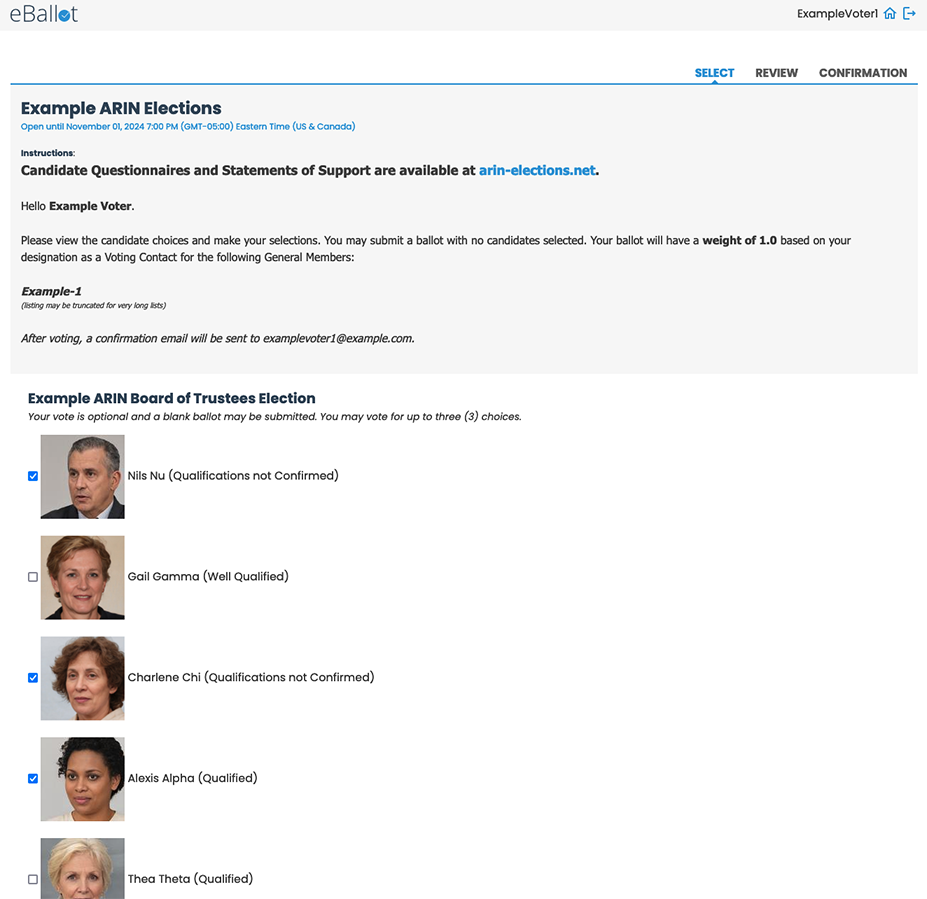 3. Review Choices and Consent Agreement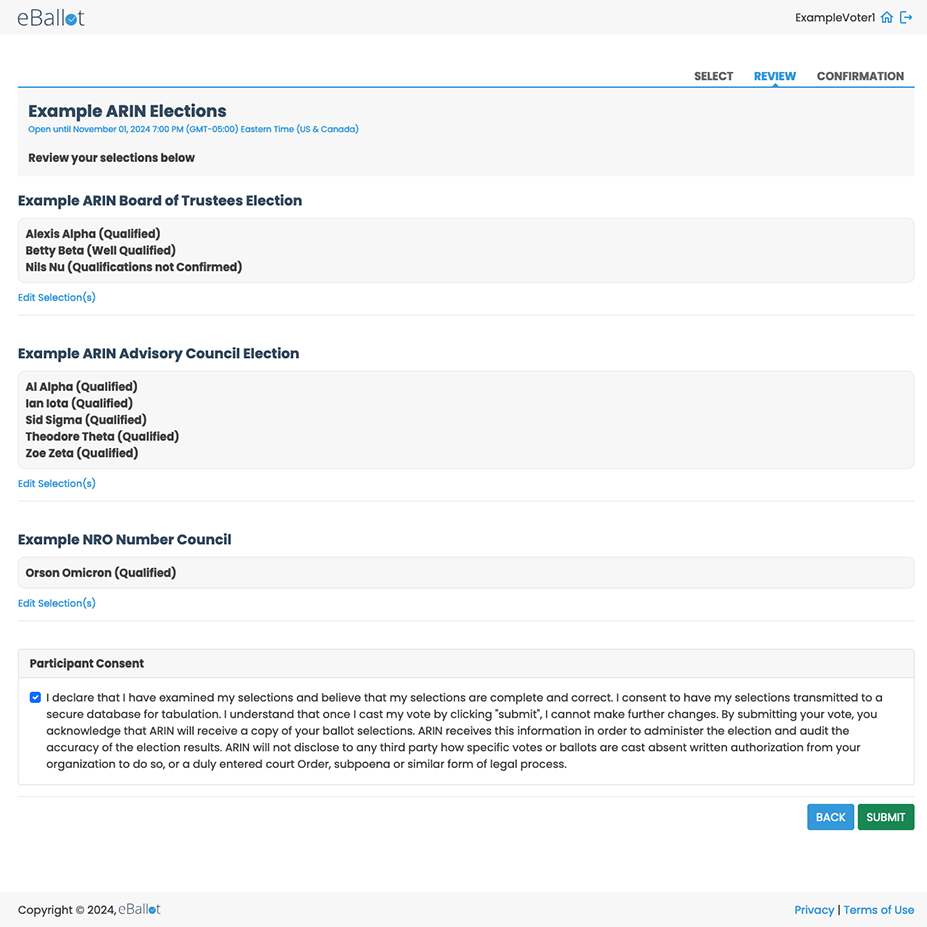 4. View Confirmation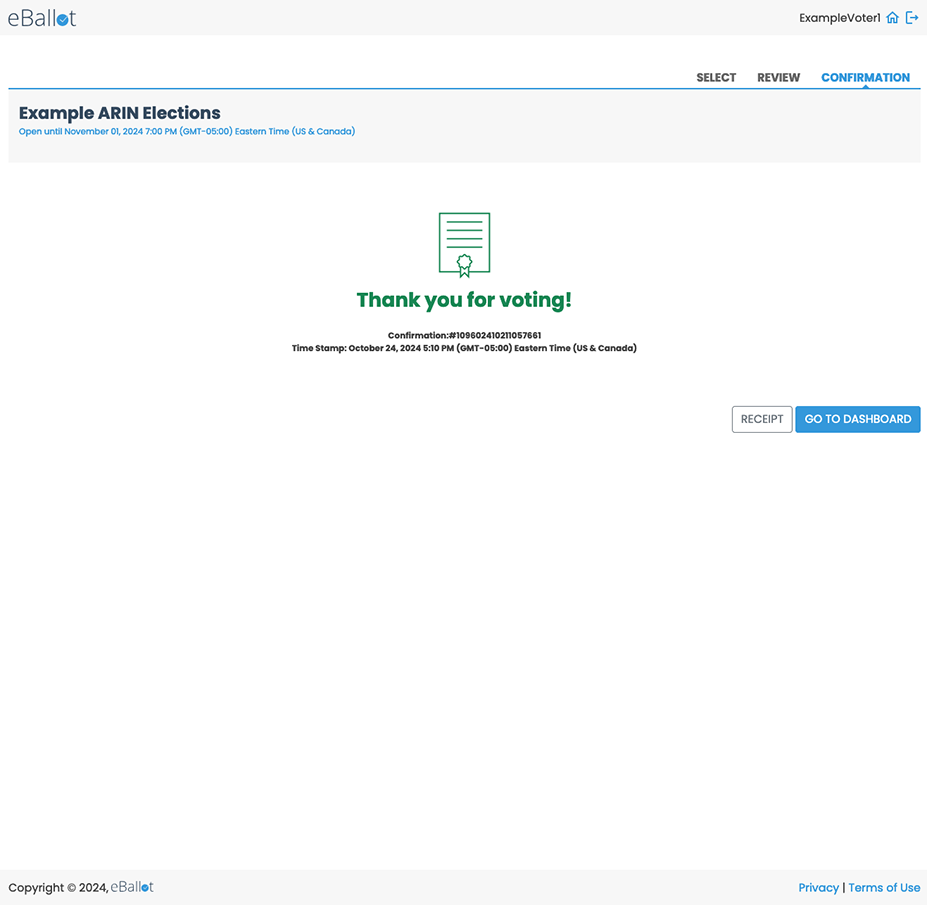 Voting Contacts with a Weight Greater than One
If you are eligible to vote on behalf of more than one ARIN Member organization, your ballot with have a weight greater than one. Your ballot will vote your complete vote weight for your selected candidates. For voting integrity and auditing, your vote weight cannot be split across multiple ballots. Your vote weight is noted in the "Instructions" tab to the right of the candidate listing, along with a listing of General Member OrgIDs you are the voting contact for.
The vote weight represents how many eligible member organizations you represent as a Voting Contact.
Important Reminders
Voting Contacts may not select more than the number of open seats, but they may choose to select fewer candidates than the number of open seats, or to cast a blank ballot. Voting Contacts may not cast more than one ballot per election.
Voter registration records are retained for future elections. Voting will be deactivated after the deadline for voting passes. All votes must be cast online through ARIN Online and confirmed before the voting period closes to be counted. All results are archived electronically and may only be printed at the request of the President, Chief Operating Officer, or Chief Customer Officer.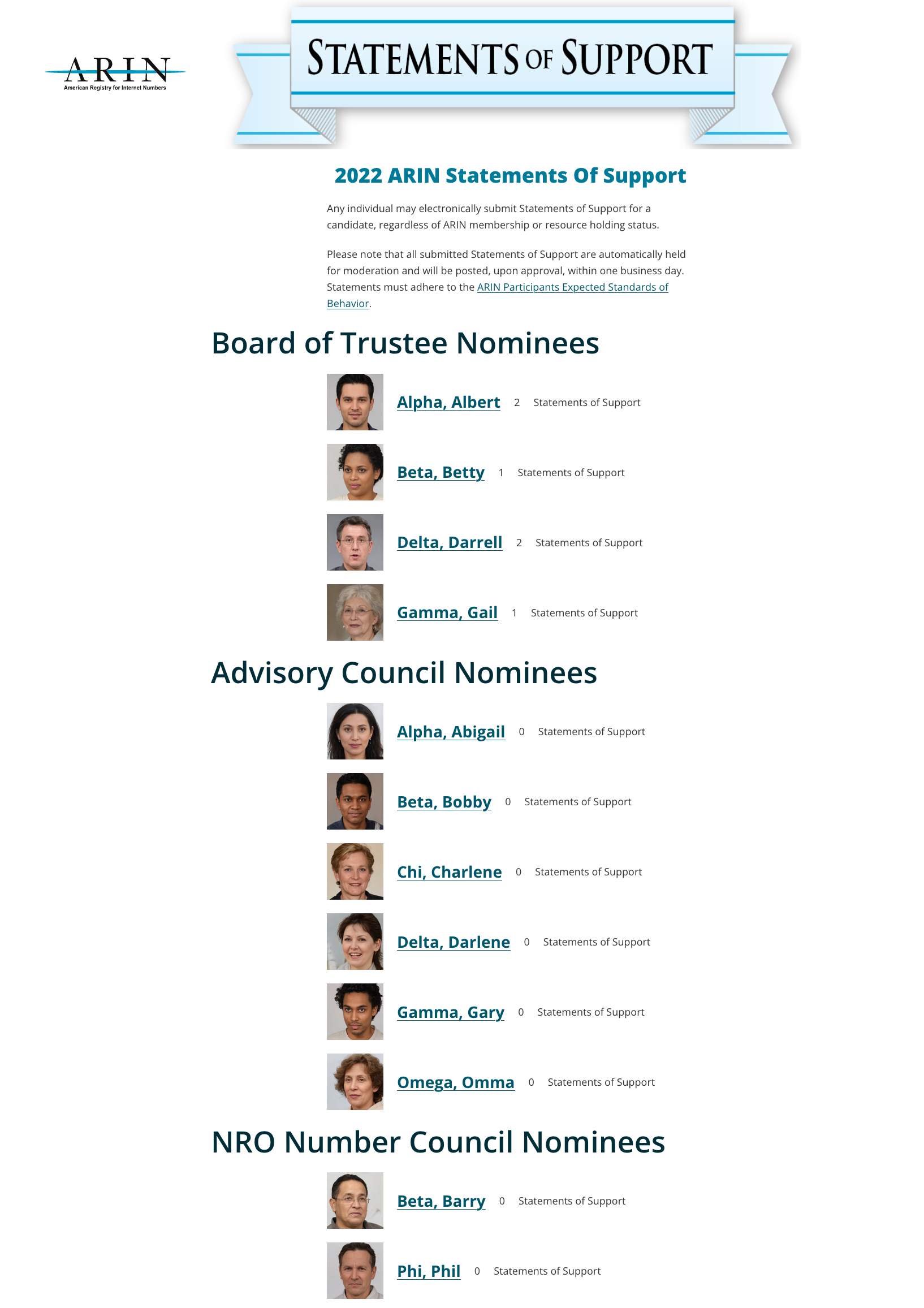 Statements of Support
Statements of Support are held for moderation and will be posted unedited, upon approval, within one business day. All submissions are subject to the Statements of Support Acceptable Use Policy. Anyone may submit a statement of support for a candidate, but we do ask that statements are kept relevant to the role for which the candidate is running.
Submit a Statement of Support
Read the Statements of Support Acceptable Use Policy to understand how your post may be moderated.
Go to the Statement of Support site and select the candidate you wish to submit a statement in support of.
Select the "View or Make Statement of Support" button to jump to the bottom of the page.
Enter your statement and then provide at minimum your name and email. Select click "Post Comment" to proceed. You may only post one statement in support of a candidate. Statements should meet the guidelines as outlined in the Acceptable Use Policy.
Your statement has now been received and will be reviewed within one business day and made public upon approval. ARIN staff may reach out to you via the elections@arin.net account if there are any questions about your submission.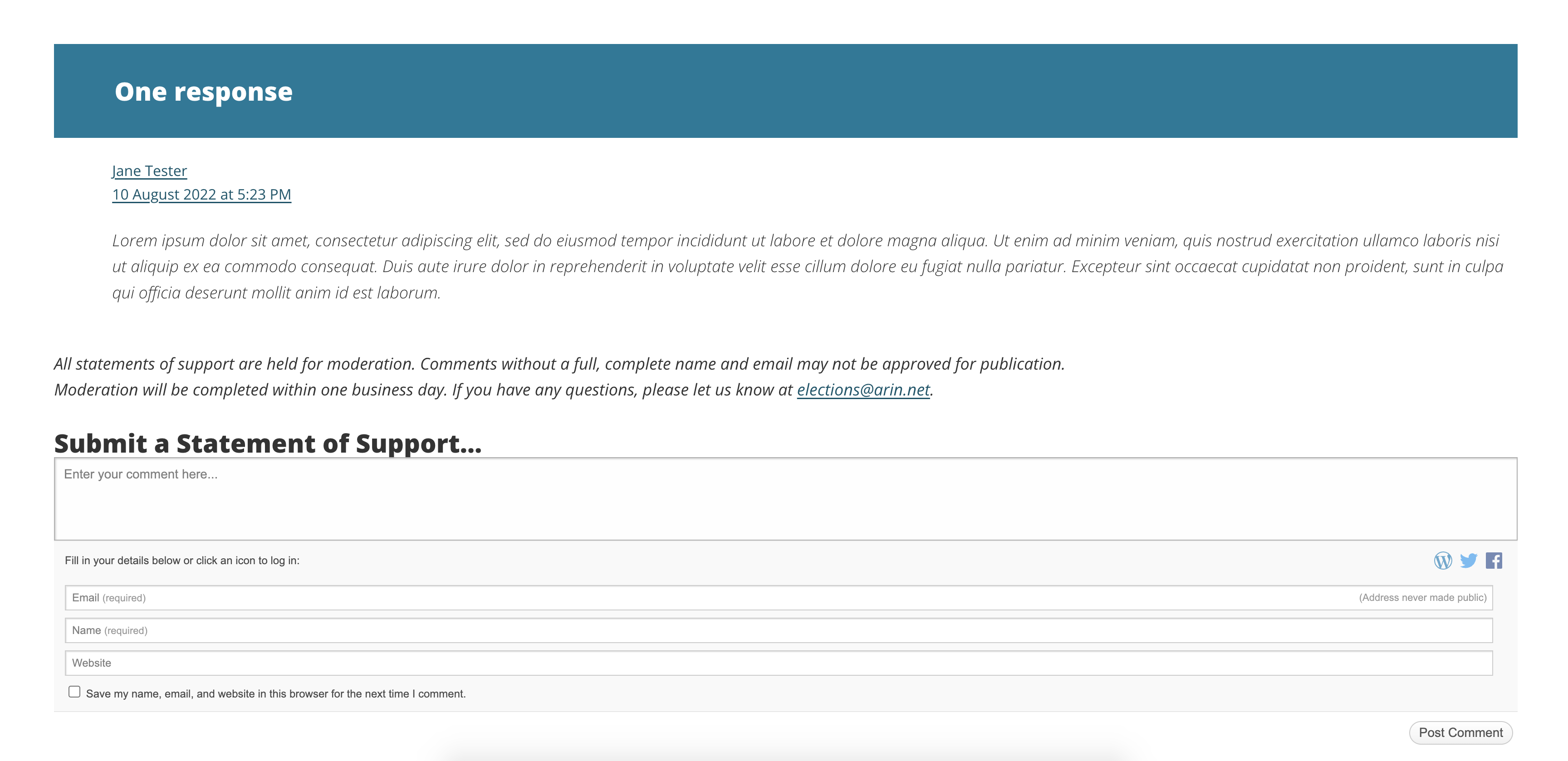 Election System Instructions