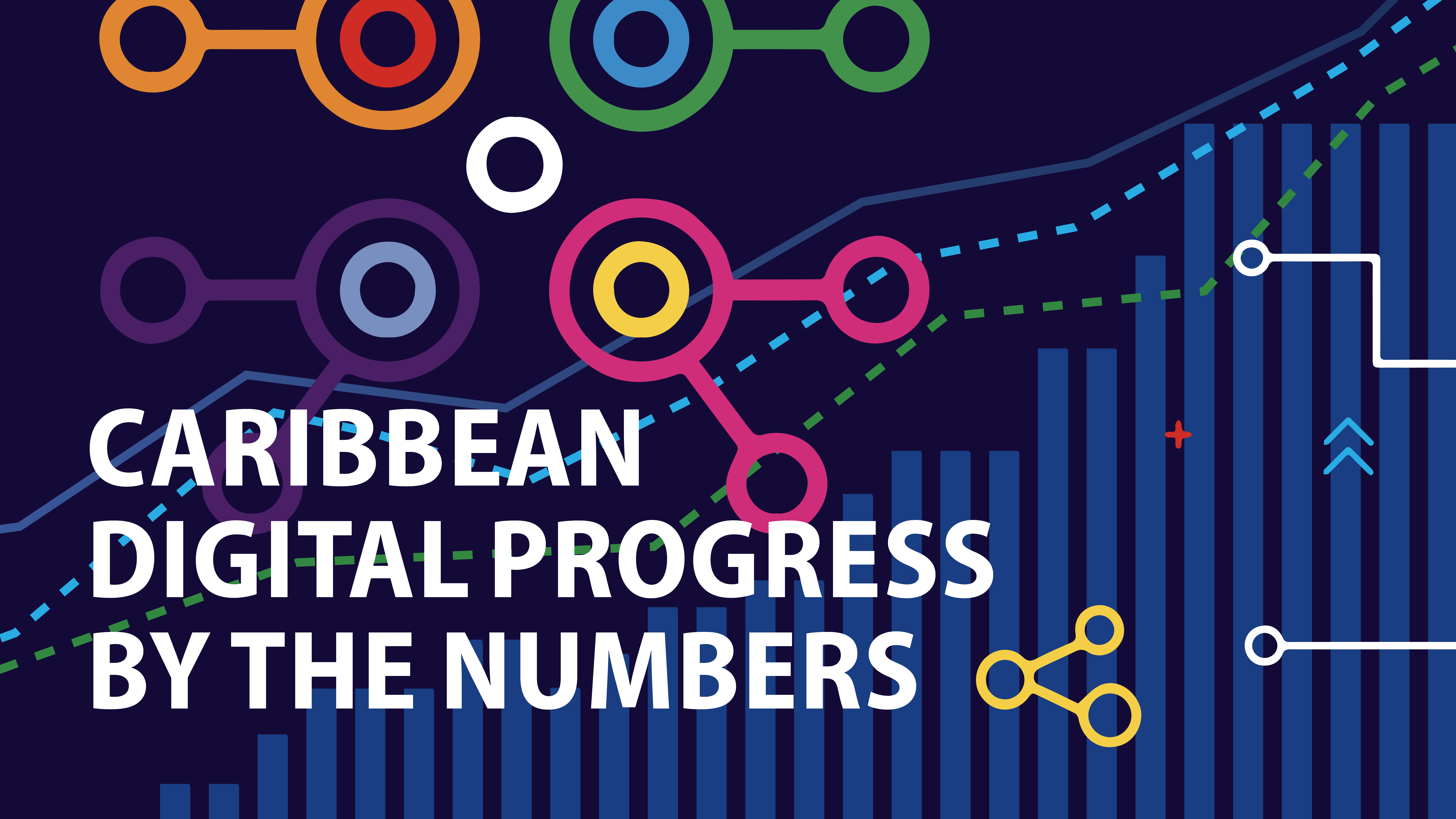 Caribbean Digital Progress by the Numbers
Supporting Caribbean Digital Transformation
We are pleased to present this update highlighting ARIN's ongoing efforts supporting the digital transformation of the Caribbean.
As a staunch advocate for Internet technology adoption and development, ARIN has witnessed the positive impact of increasing digital connectivity for economic growth, sustainability, and capacity building in this area of its region. Our initiatives in the Caribbean include ARIN-hosted engagements with high-level government officials, workshops with technocrats, and active participation in events hosted with partner entities such as the Caribbean Network Operators Group (CaribNOG), the Caribbean Telecommunications Union (CTU), and CANTO. Alongside organizations such as the Latin American and Caribbean Network Information Centre (LACNIC) and the International Corporation for Assigned Names and Numbers (ICANN), ARIN remains dedicated to promoting the evolution of Information and Communications Technology (ICT) throughout the Caribbean.
This report will delve into key areas of focus, including the deployment of IPv6 and Internet Exchange Points (IXPs), and how these initiatives contribute to long-term success in the region's digital transformation.
Measuring Transformation Success
Successful long-term digital transformation — in the Caribbean and around the world — is highly dependent on both the deployment of IPv6 and IXPs. As a result, ARIN reports the progress of these two key technologies at every opportunity during its engagements throughout the region. It is important to understand what is reported and how we derive the measurements for the benefit of the entire ARIN community.
IPv6 Reporting
Let's start with IPv6. ARIN reports the progress of the deployment of IPv6 throughout the Caribbean (within both the ARIN and LACNIC regions) in the form of an IPv6 leaderboard, or rankings, based on traffic levels averaged from five IPv6 measurement sources. The current Caribbean IPv6 Leaderboard can be found in this blog post: Who's Leading the Charge for IPv6 in the Caribbean?
It is important to remember that the Caribbean comprises both sovereign independent nations as well as non-sovereign territories. Territories may have received Internet number resources from ARIN and/or received resources from their governing country. Not every measurement source reports IPv6 traffic for every nation and territory; to provide a comprehensive view, ARIN's leaderboard rankings are based on an average of the sources reporting for a given country. The sources we currently use for IPv6 traffic measurement are Akamai, APNIC, Cloudflare, Google, and Meta (Facebook).
IXP Reporting
Turning now to IXPs, ARIN similarly tracks the progress of these deployments in each Caribbean country using two sources in its reports: the CTU and Packet Clearing House. As with IPv6, ARIN prefers to use multiple sources for reporting IXP progress to ensure accuracy. It is worth mentioning that CaribNOG provides a Caribbean IXP directory and traffic monitoring initiative.
Intended Outcomes
In reporting these valuable key measurements, ARIN has three primary goals:
Maintain awareness of both IPv6 and IXP deployments among key stakeholders and change agents regarding their own countries' progress in these areas
Provide comparative progress among the Caribbean islands
Assist high-level leaders with their ICT strategy and budgeting for future advances in digital transformation
Commitment to Progress
ARIN is committed to furthering its collaborative efforts to drive digital transformation throughout the Caribbean. By championing the deployment of IPv6 and Internet Exchange Points (IXPs), we are helping pave the way for greater growth, development, and resilience in the region.
Recent blogs categorized under: Caribbean
---
GET THE LATEST!
Sign up to receive the latest news about ARIN and the most pressing issues facing the Internet community.
SIGN ME UP →
---
Blog Categories
ARIN Bits
•
IPv6
•
Business Case for IPv6
•
Fellowship Program
•
Grant Program
•
Caribbean
•
Internet Governance
•
Updates
•
IPv4
•
Elections
•
Tips
•
Public Policy
•
Customer Feedback
•
Security
•
Outreach
•
RPKI
•
Training
•
IRR
•
Data Accuracy