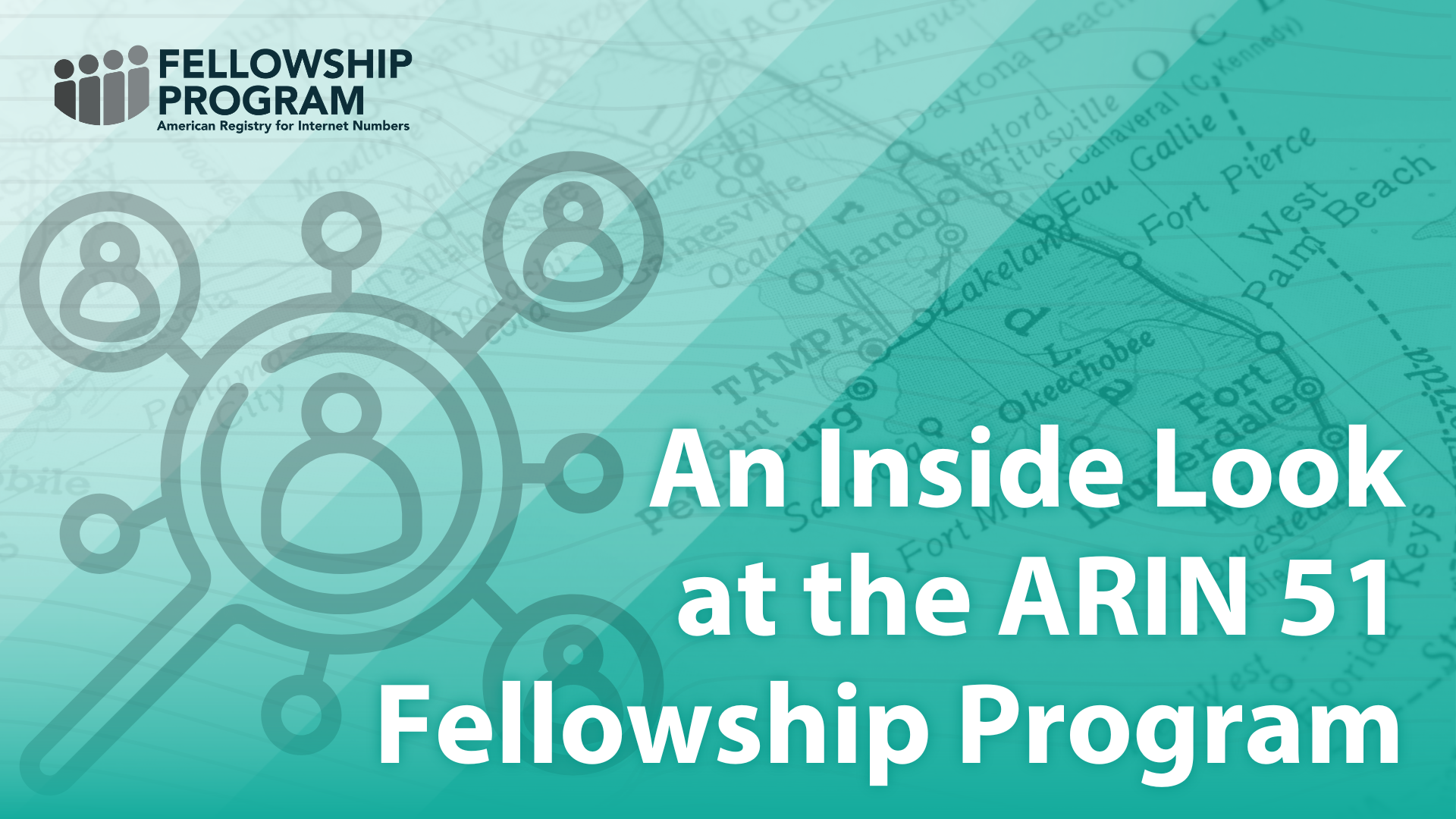 An Inside Look at the ARIN 51 Fellowship Program
First and foremost, I want to thank ARIN for selecting me as an ARIN 51 Fellow. The application process was relatively straightforward, and I was excited by how encouraging the team was about this opportunity. Throughout the whole experience, this fellowship was probably the most engaging program I have been through as a network professional. ARIN staff was focused on making it educational and communicating with us the entire time.
I found the hybrid format to be ideal for this program. The content in the virtual sessions held in the weeks before the Public Policy and Members Meeting clarified the policies and procedures that would take place at ARIN 51, and having Advisory Council (AC) members join us to explain the stewardship of policies helped with that understanding.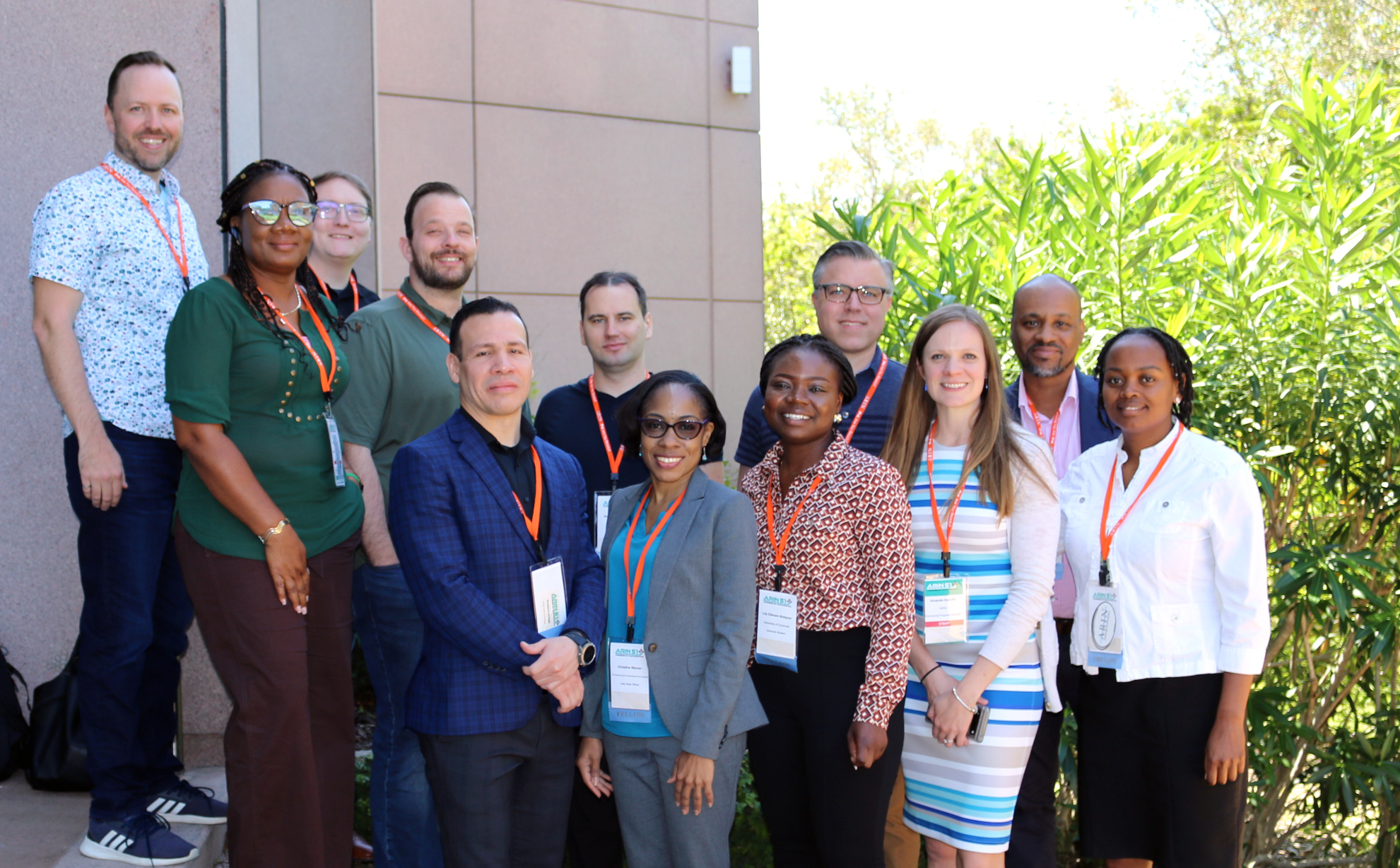 The mentorship aspect of the Fellowship couldn't have been better. Our Mentors were not only helpful when it came to discussing program topics, but they were also engaging in other conversations. I could see these mentors as friends, not just teachers, and that level of engagement really cemented ARIN's core value of being community-led.
I chose to attend the ARIN 51 Public Policy and Members Meeting in person in Tampa, Florida, and the selected location made it very convenient. All events were on-site and generally located in one room, minimizing the amount of moving around and making it easy to stay engaged. Things were clearly marked with signage, and the agenda was easily available to understand and prepare for upcoming topics.
The meeting sessions were appropriately timed, being neither so long as to bore nor so short and uninformative that you had to ask questions to understand the topic. It was exciting to get to the questions and comments portion at the end of each session, as this was when you got to learn about what community members liked or disliked about the information or policy presented. There were quite a few proactive, outspoken, and knowledgeable individuals that you got to know quickly from their participation during open microphone opportunities. These were the people you wanted to talk to and get to know as we continued through the meeting.
I really appreciated the program Mentors and AC members who continually reached out to the Fellows to make sure we were getting the most out of the meeting. I would love to spend more time connecting with them as they were friendly and forthcoming about their roles and responsibilities.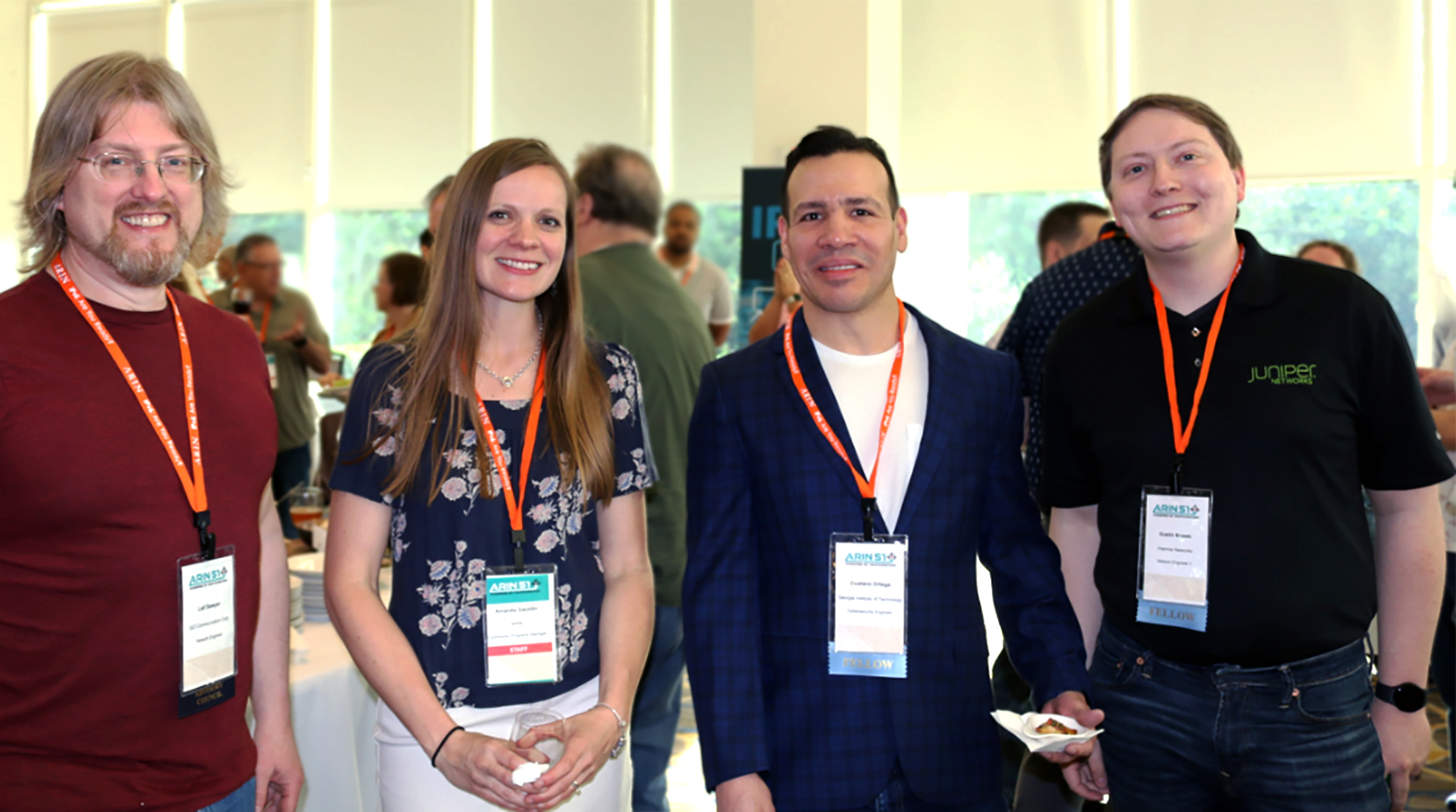 Left to right: ARIN AC Chair Leif Sawyer, Community Programs Manager Amanda Gauldin, and ARIN 51 Fellows Gustavo Ortega and Dustin Moses
All in all, I thoroughly enjoyed the ARIN 51 meeting and the ARIN Fellowship Program. I learned a lot about ARIN policies and policy development, and I look forward to engaging with ARIN more by running for election to a seat on the AC in the future. I also plan to seek out opportunities to engage further with the Internet community by participating in the Internet Society (ISOC), North American Network Operators' Group (NANOG), and, perhaps, at the Number Resource Organization (NRO) or Internet Corporation for Assigned Names and Numbers (ICANN) level.
This program gave me the confidence boost I needed to really start engaging with these many public organizations who all play a part in this wonderful world of the Internet. Likely I would not have come across all these amazing opportunities on my own, and I thank ARIN for this experience. It taught me that ARIN is truly community-led. There are no decrees made by ARIN or rules that nobody wants. Instead, there is a partnership between an intelligent leadership team at ARIN and a community of engaged members working to develop policy in fair and focused ways. I have nothing but respect for all that ARIN does, and my hope is to contribute back to this community in meaningful ways.
Any views, positions, statements, or opinions of a guest blog post are those of the author alone and do not represent those of ARIN. ARIN does not guarantee the accuracy, completeness, or validity of any claims or statements, nor shall ARIN be liable for any representations, omissions, or errors contained in a guest blog post.
Recent blogs categorized under: Fellowship Program
---
GET THE LATEST!
Sign up to receive the latest news about ARIN and the most pressing issues facing the Internet community.
SIGN ME UP →
---
Blog Categories
ARIN Bits
•
IPv6
•
Business Case for IPv6
•
Fellowship Program
•
Grant Program
•
Caribbean
•
Internet Governance
•
Updates
•
IPv4
•
Elections
•
Tips
•
Public Policy
•
Customer Feedback
•
Security
•
Outreach
•
RPKI
•
Training
•
IRR
•
Data Accuracy