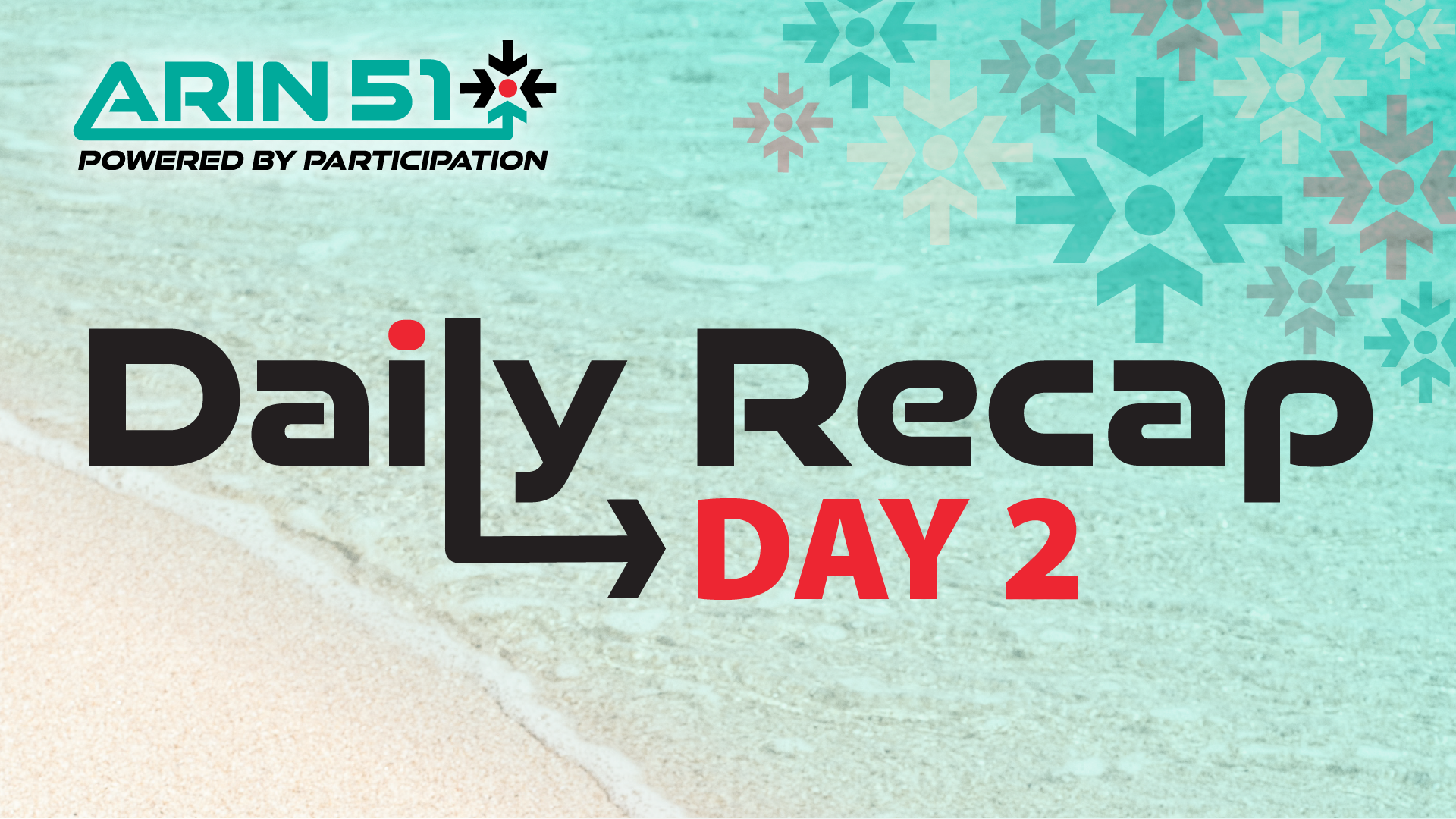 ARIN 51 Day 2 Recap
Welcome back for your Day Two Recap of the ARIN 51 Public Policy and Members Meeting in Tampa, Florida, and online via Zoom. Today's highlights included reports from ARIN Community Grant recipients, presentations by ARIN staff, a keynote and panel sharing IPv6 success stories, and updates from each of the other Regional Internet Registries (RIRs). Thanks to everyone who has joined us so far — we'll see you again tomorrow at 9 AM EDT for the final day of the meeting.
If you wish to participate in the meeting proceedings, it's not too late to register.
Day 2 Morning
Setting us on course for the day, Director of Communications Hollis Kara welcomed all attendees and introduced the Day Two agenda. She then turned the stage over to Brad Gorman, Senior Product Owner of Routing Security, who sailed into a presentation on routing security. He gave updates on team members, Resource Public Key Infrastructure (RPKI) goals and adoption rates, and new and upcoming features for ARIN's RPKI services, including a new, streamlined process for Route Origin Authorization (ROA) creation and maintenance, the introduction of auto-renewal for ROAs, and automation of previously ticketed processes for a more efficient RPKI experience.
Then we were excited to welcome the three 2022 ARIN Community Grant recipients for reports on their funded projects. First, Carolina Caeiro of DNS Research Foundation and Oxford Information Labs and Mark McFadden of Oxford Information Labs shared about their project: "Routing Security in the ARIN Region: Studying Trends, Facilitating Data Analysis, and Promoting RPKI Adoption." Their presentation included a look at adoption and validation results globally, per RIR, and per country and invalids in the ARIN region, along with some case studies, RPKI adoption per IP address, and a look at next steps for the project.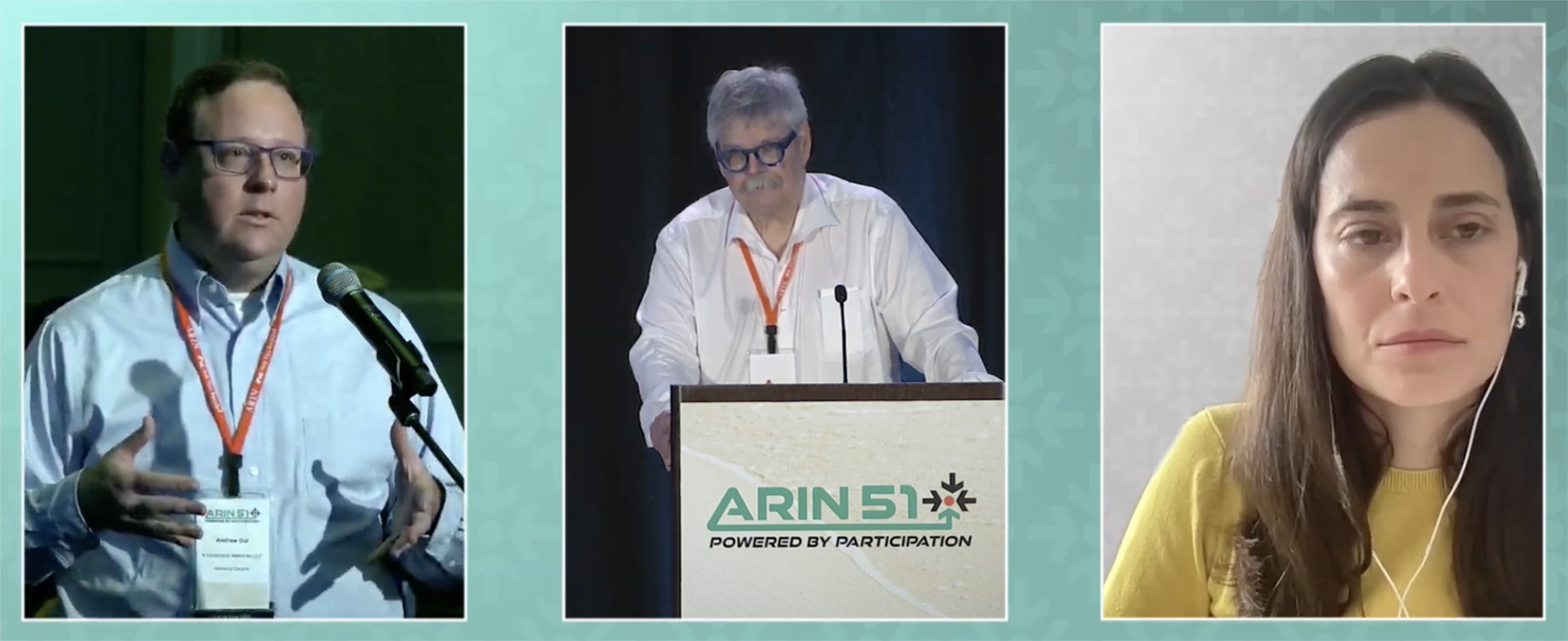 Harlan Stenn of Network Time Foundation discussed the project on NTP Extension Field Cleanup for NTS. He provided a historical overview of Network Time Protocol (NTP) v3 and v4 and the differences between them, reviewed V1 and V2 Extension Field (EF) formats, explained the need for deploying NTS in their NTP software, and shared a status report and next steps for the project.
The third and final grant report was delivered by Matthew Pounsett of DNS-OARC, who shared about the project "AS112 Project Website Improvements." He covered the "what and why" of AS112, this project's motivations and goals, examples of the new listing site, and an AS112 instance survey from RIPE Atlas.
Read more about these projects in this blog post: Three Cheers for the 2022 ARIN Community Grant Recipients. If you're interested in applying for an ARIN Community Grant for your project that benefits the ARIN region, visit arin.net/grants for more info. To be alerted when this year's call for applications opens in a few days on Monday, 24 April, subscribe to our ARIN Announce mailing list.
After a short break, ARIN President and CEO John Curran took the stage to discuss the 31 December 2023 expiration of the annual legacy maintenance fee cap. He explained that to access all ARIN's services, an organization must enter into a Registration Services Agreement (RSA) or a Legacy Registration Services Agreement (LRSA) and noted other reasons why organizations should consider signing an agreement this year for legacy resources not yet covered. He also shared some tips for governmental entities wishing to enter into an RSA/LRSA with modifications. You can learn more about those tips for governmental entities on our website.
John Curran stayed at the mic for the next presentation: an update on the status of AFRINIC. He provided insight into the nature of the dispute, reviewed the timeline of legal developments, and highlighted some aspects of the ongoing litigation. John also shared details regarding governance, elections, Board lawsuits, the Number Resource Organization (NRO) public response, and ARIN's communications to the community on this subject.
IPv6 Success Stories, Round 1
We switched gears from organizational and global updates to an exciting lineup of IPv6 programming, beginning with our IPv6 Success Stories keynote address celebrating 25 years of production IPv6 at Virginia Tech with some of the engineers who made it happen. We heard from Virginia Tech IT staffers Scott Midkiff, Phil Benchoff, Eric Brown, and Brian Jones about their early adoption of IPv6 and the challenges and successes they experienced along the way.
After Scott opened the keynote with a brief introduction to Virginia Tech's history with IPv6, Phil encouraged others in their IPv6 journeys by explaining that, while it took time and effort, this was nowhere close to the hardest and most labor-intensive thing they have done. He explained that, as many of the really difficult-to-deploy technologies are long gone, making progress today is more about asking vendors the right questions and testing than about obscure technical issues. Phil also presented an "IPv6 for Everyone" roadmap, sharing what organizations can do today to make progress in their adoption: ask, test, and have the mindset and goal of making things work on an IPv6-only network. He emphasized the value of a "soft start" as opposed to a flag day when a global IPv6 switch gets flipped. A soft start allows you to build confidence for larger deployments by seeing IPv6 actually work on real networks. As part of this process, Phil also noted that DNS is key for services and interface configuration is key for clients.
Eric then discussed IPv6 barriers, beginning with a call to urgency and a vision of an ideal "soft landing" to full adoption. He identified the following points of friction that are slowing adoption rates: "perverse economics," reachability problems, Internet Service Providers (ISPs), application service providers, network equipment and services, software, users, education, and, last but not least, the will to sunset legacy IP and adopt IPv6 despite some (solvable) technical issues.
Richard Jimmerson, ARIN Chief Operations Officer, followed up to thank Virginia Tech and it's team for serving as the primary proof positive example of IPv6 adoption 15 years ago during ARIN's initial promotional push to encourage other organizations to deploy it.
Lunch and Virtual Table Topics
Following the engaging and informative keynote from the Virginia Tech staff, we paused for a lunch break. Much like in-person attendees enjoyed table topics on site yesterday, virtual participants today had the chance to gather on Zoom in breakout rooms and discuss the following topics:
Leasing IP Addresses with Amy Potter, Advisory Council
IPv4 Waitlist: Transfers and Leasing with Alison Wood, Advisory Council
Policy in a Post-Pandemic Hybrid World with Anita Nikolich, Advisory Council
The Future of IPv4 Policy with Chris Woodfield, Advisory Council
During lunch and our other breaks throughout each meeting day, in-person attendees could stop by the Registration Services Help Desk to get questions answered and get support for any resource requests they're currently working on or planning to submit. They could also visit the User Testing Desk to share their thoughts on their experience with the ARIN website and ARIN Online and provide feedback on new features in development.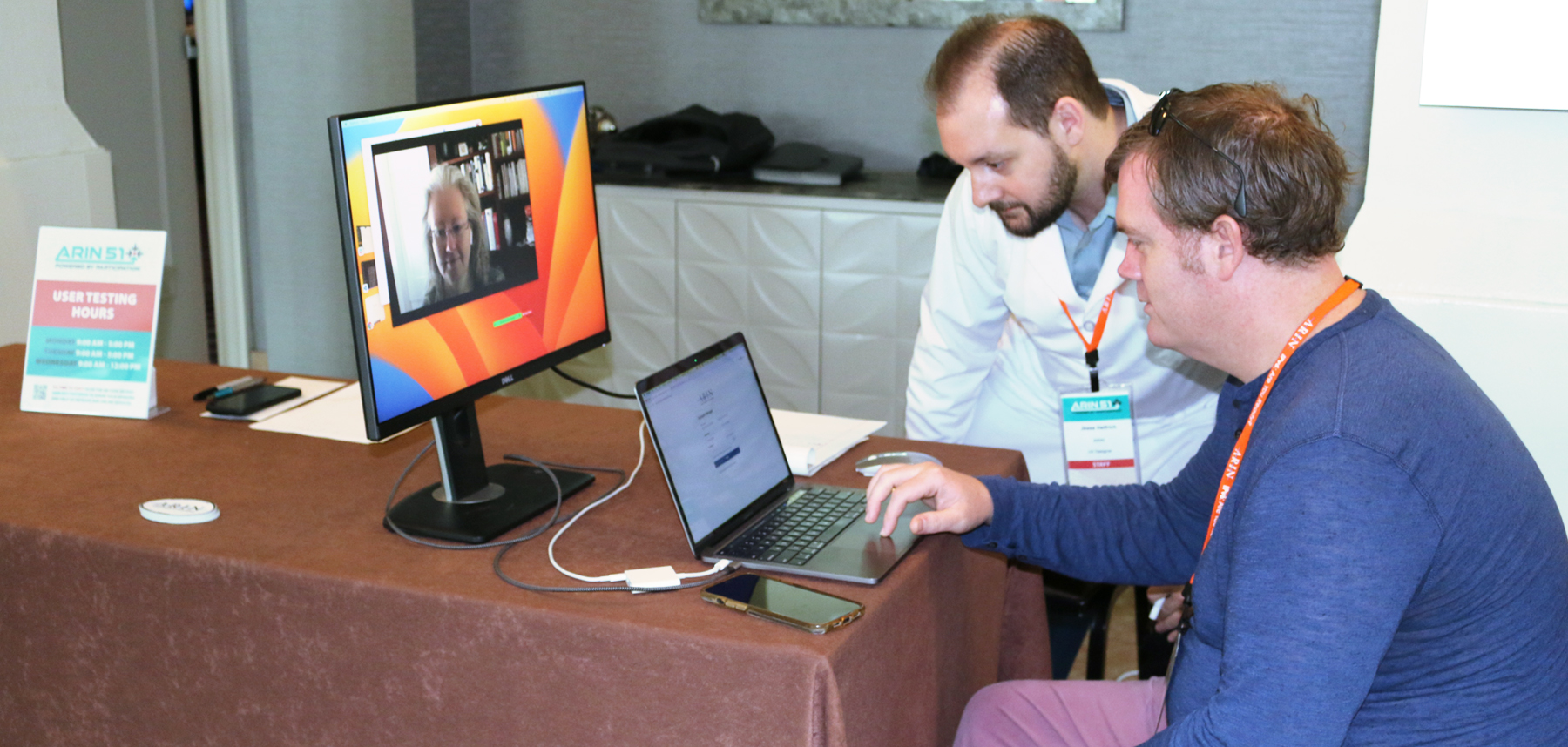 IPv6 Success Stories, Round 2
After refueling, it was time to continue the IPv6 success stories. ARIN has been publishing IPv6 success stories on our blog since 2017, and we wanted to bring some of them to ARIN 51 with a panel comprising these five community members who have contributed to those case studies over the years or have other IPv6 deployment experience:
Ben Bittfield – IPv6 Contractor
Brian Jones – Virginia Tech, ARIN AC
Madhura Kale – AWS
Brent Mc Intosh – MCNET-SOLUTIONS
Matthew Wilder – TELUS Communications, ARIN AC
Each panelist gave a short presentation to share the history, status, and impact of IPv6 at their organization, what other organizations can learn from their experience, and more to help others take the next steps in their IPv6 journeys.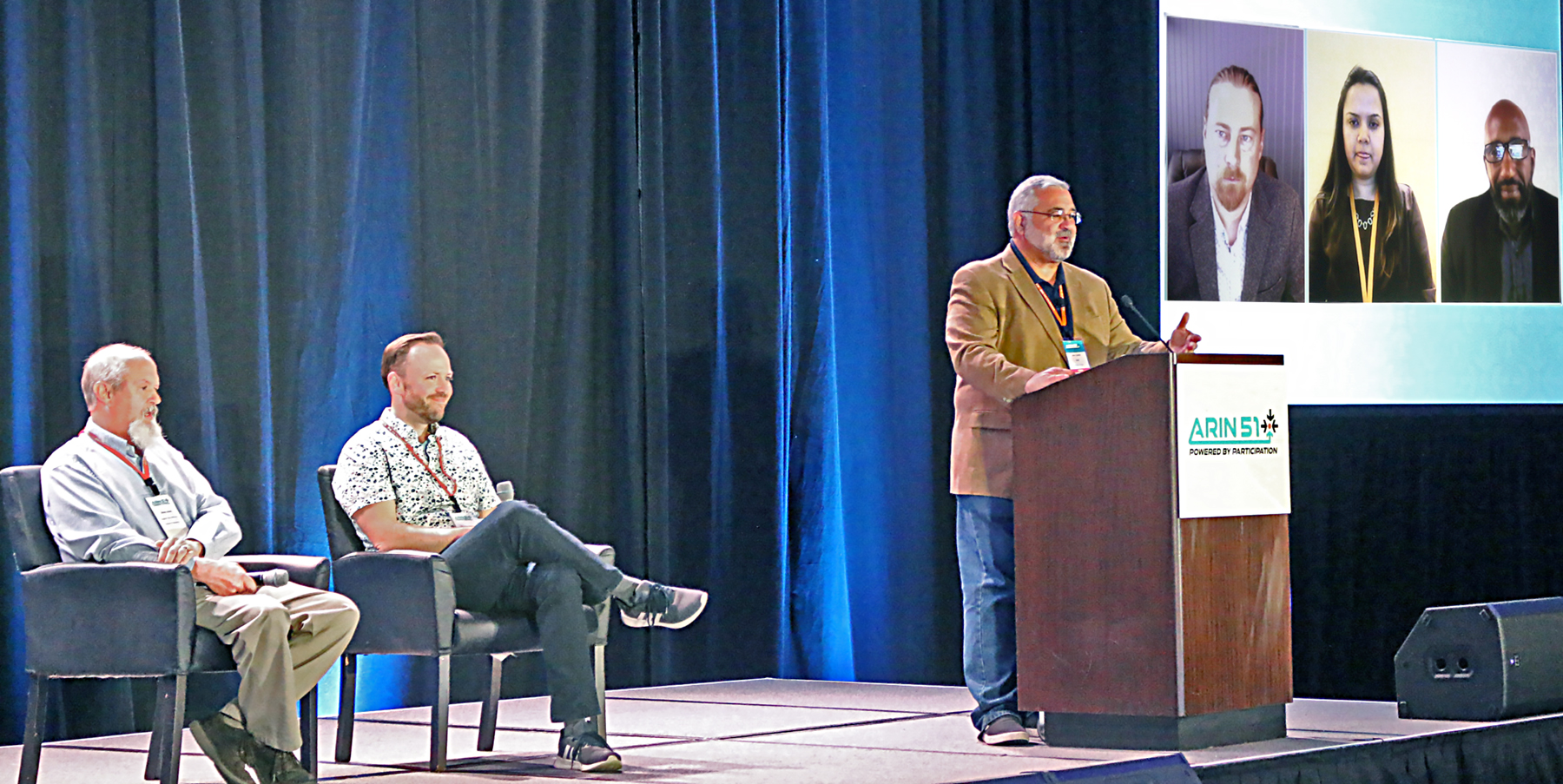 Then John Curran moderated a Q&A session, asking the panelists to answer the following questions about their deployment experiences. Each provided helpful perspective, tips, and lessons learned for organizations to consider when it comes to IPv6 deployment:
What would you have done differently?
What was the biggest hurdle you faced?
How did you make the business case for IPv6?
Did you encounter any unexpected upsides?
What role did carrier-grade NAT (CGN or CGNAT) play, and what are your thoughts on that technology?
Has it made your network more resilient?
John also asked Brent what changes are needed to make IPv6 accessible for Caribbean companies, and Brent suggested that getting their ISPs to be invested advocates is especially important. Then Brian responded to the question of what particular department or segment of the network he would suggest another college or university focus on first in their deployment; he emphasized the importance of getting dorms and their students' personal devices connected.
When asked what one piece of advice they would share with someone just starting their IPv6 journey or what key piece of the process they would tell them to pay attention to, panelists' answers ranged from security and involving more people in the company to having a compelling business case, taking the free ARIN training webinar on IPv6 address planning, and building a strong team.
Questions from the floor and virtual queues prompted additional interesting answers and discussions. Panelists offered their thoughts on how they developed their implementation plans, whether or not they used slack for address allocation, and what their experience has been with DNS64/NAT64 and XSLT. Additionally, the group was asked what we should be building towards with IPv6 deployment: dual-stack forever or IPv6 only? Collectively, the panelists agreed that dual-stack is a useful step in the process, but IPv6 only is the goal in most cases.
To close, Ben, Brian, Madhura, Brent, and Matthew responded to a final question from the floor: Do we need a sunset date for IPv4? The consensus was that this is a good idea, but no one wants to be the one to set that date!
Day 2 Afternoon
We took a quick break after the panel and then rounded out the afternoon with a few more updates. First, we heard from Leslie Nobile, Senior Director of Trust and Public Safety, about why and how ARIN supports law enforcement and public safety, the relevant stakeholder communities, and ARIN's ongoing work and impact monitoring in this area.
Next, we heard updates from each of the four other RIRs, presented by our colleagues: James Chirwa, Head of Member Services, AFRINIC; Karla Skarda, Services Director, APNIC; Alfredo Verderosa, Chief Services Officer, LACNIC; and Marco Schmidt, Registration Services Manager, RIPE NCC. It was great to hear what our fellow RIRs are up to in their respective regions.
Next up, David Dong, IANA Services Specialist for ICANN, gave the IANA Update, covering Service Level Agreement performance, customer satisfaction, information security audits, key signing ceremonies, Trusted Community Representatives, and ongoing and upcoming work.
John Curran and Board of Trustees Chair Bill Sandiford hosted a very quick open mic session before Hollis Kara closed with final announcements and adjournment to conclude Day Two of ARIN 51.
Water, Water Everywhere
Yesterday evening, in-person attendees had the opportunity to enjoy exclusive access to The Florida Aquarium and meet some of its residents.

To reference anything that has been presented during the meeting so far, visit our ARIN 51 Meeting Materials page. All slides from yesterday and today have been posted there, and we will be adding transcripts and webcasts soon, too. We encourage you to continue tweeting with the #ARIN51 hashtag, and we look forward to the third and final day of the meeting tomorrow.
Recent blogs categorized under: Public Policy