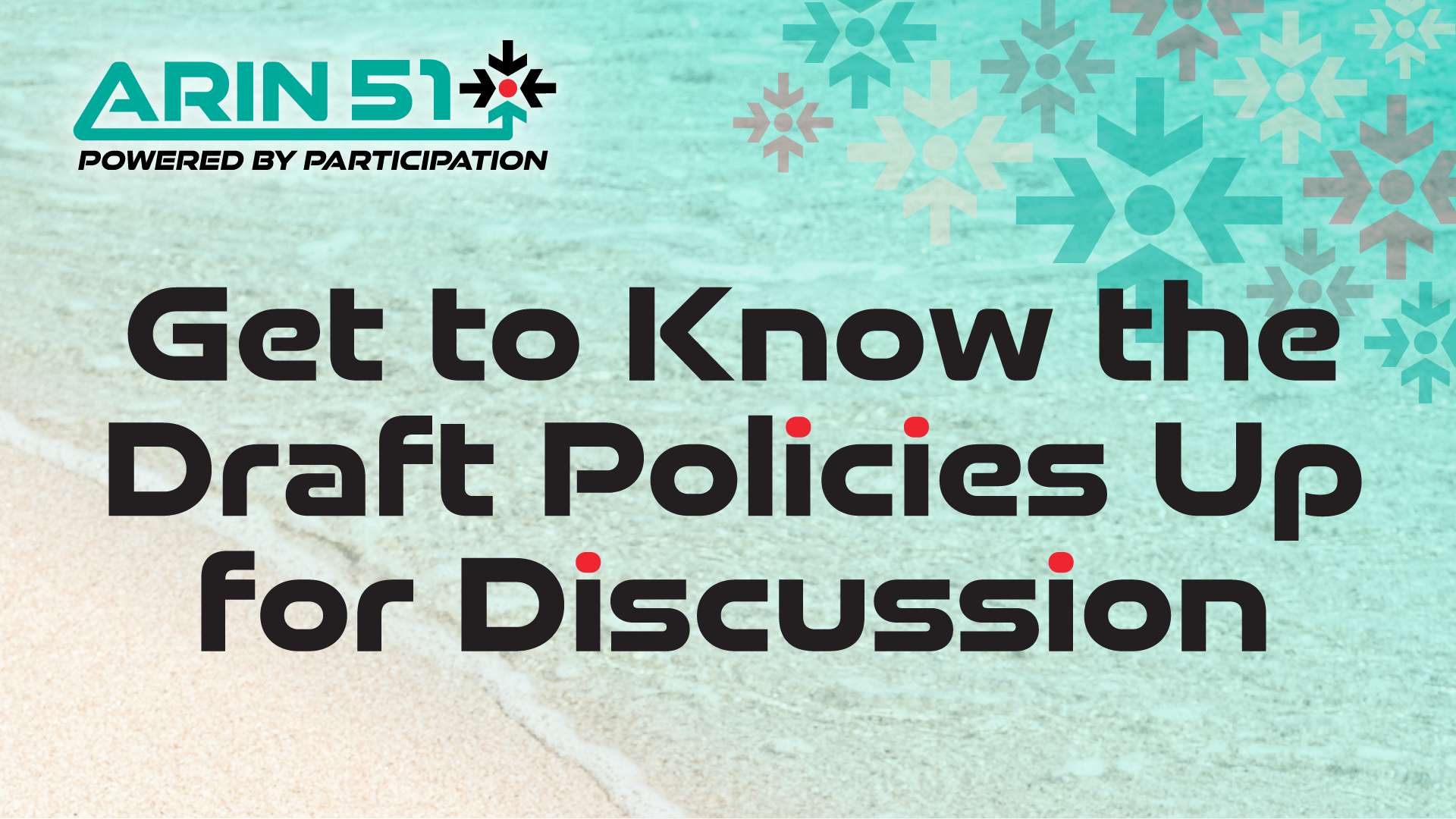 Get to Know the Draft Policies Up for Discussion at ARIN 51
ARIN 51 is almost here, and we can't wait to gather both in person and virtually! I am particularly excited to introduce the policies that will be discussed at this meeting, having just stepped into the role of ARIN Policy Analyst after nearly 12 years in the Registration Services Department. I look forward to following in the footsteps of Sean Hopkins, who was with ARIN for 13 years in various roles, most recently as Senior Policy Analyst.
And now, on to the policy talk! We always love bringing our community together to help ARIN achieve one of its primary responsibilities: the development of policy for the management of IP addresses and Autonomous System Numbers (ASNs). Your participation enables the ultimate success of our biannual Public Policy and Members Meetings, which are critical to the Policy Development Process (PDP).
To help you prepare for the meeting, here's a look at the Draft Policies and Recommended Draft Policies up for discussion during ARIN 51, taking place 16-19 April in Tampa, Florida, and online. Please reference the agenda for start times of the policy discussion blocks scheduled for Monday, 17 April.
Recommended Draft Policies
Recommended Draft Policies are being recommended by the ARIN Advisory Council (AC) for adoption by the ARIN Board of Trustees, and this may be the last time they are available for discussion by the community at an ARIN meeting.
ARIN-2021-8: Deprecation of the 'Autonomous System Originations' Field. This would remove Section 3.5: Autonomous System Originations of the Number Resource Policy Manual (NRPM), which directed ARIN to collect lists of permitted origin Autonomous Systems for each IPv4 and IPv6 address block involved in a transaction.
ARIN-2022-2: Remove Barrier to BGP Uptake in ASN Policy. This would rewrite ARIN's ASN policy, reducing its overall size and specifying single-ASN issuance as the default action.
ARIN-2022-3: Remove Officer Attestation Requirement for 8.5.5. This would remove the officer attestation requirement for organizations qualifying for initial transfers larger than a /24 (ARIN's present minimum IPv4 transfer size) or additional transfers.
ARIN-2022-4: Clean-up of NRPM Sections 2.1 and 2.2. This makes minor editorial changes to NRPM Sections 2.1 and 2.2.
ARIN-2022-5: Clean-up of NRPM Section 2.11. This intends to clarify text in NRPM Section 2.11 for readability.
ARIN-2022-8: Streamlining Section 11 Policy Language. This rewrites significant portions of NRPM Section 11: Experimental Internet Resource Allocations with the intent of clarifying, modernizing, and streamlining the section.
ARIN-2022-11: Clean-up of NRPM – Introduction of Section 2.17 This would add definitions for Internet Assigned Numbers Authority (IANA) and Internet number resources to NRPM Section 2: Definitions.
Draft Policies
Draft Policies are works in progress managed by AC shepherds and presented to the community for feedback.
ARIN-2022-12: Direct Assignment Language Update. This would remove specific language surrounding "direct allocations" in response to ARIN's fee harmonization.
Participate in Our Policy Discussions
The ARIN community is important to us, and we invite everyone to participate in our policy discussions. We look forward to hearing your voice and ideas during ARIN 51, and we hope these explanations of the draft policies on the agenda help you feel informed enough to speak up and share your opinions.
For our virtual participants, you must join the meeting via Zoom as a registered attendee to participate in policy discussions. The livestream will be available on YouTube to all who wish to view the proceedings.
Contribute to the Future of Internet Policy
If you'd like to submit your own Internet number resource policy proposal, fill out our brief template and email it to policy@arin.net. Don't stress about wording your proposal perfectly — our Advisory Council will work with you to polish it so it can move through the Policy Development Process (PDP).
Additional resources on the PDP can be found on the following webpages:
We'll see you at ARIN 51!
Recent blogs categorized under: Public Policy
---
GET THE LATEST!
Sign up to receive the latest news about ARIN and the most pressing issues facing the Internet community.
SIGN ME UP →
---
Blog Categories
Grant Program
•
Public Policy
•
IPv4
•
Updates
•
Security
•
RPKI
•
IPv6
•
Data Accuracy
•
Elections
•
ARIN Bits
•
Business Case for IPv6
•
Fellowship Program
•
Caribbean
•
Internet Governance
•
Tips
•
Customer Feedback
•
Outreach
•
Training
•
IRR