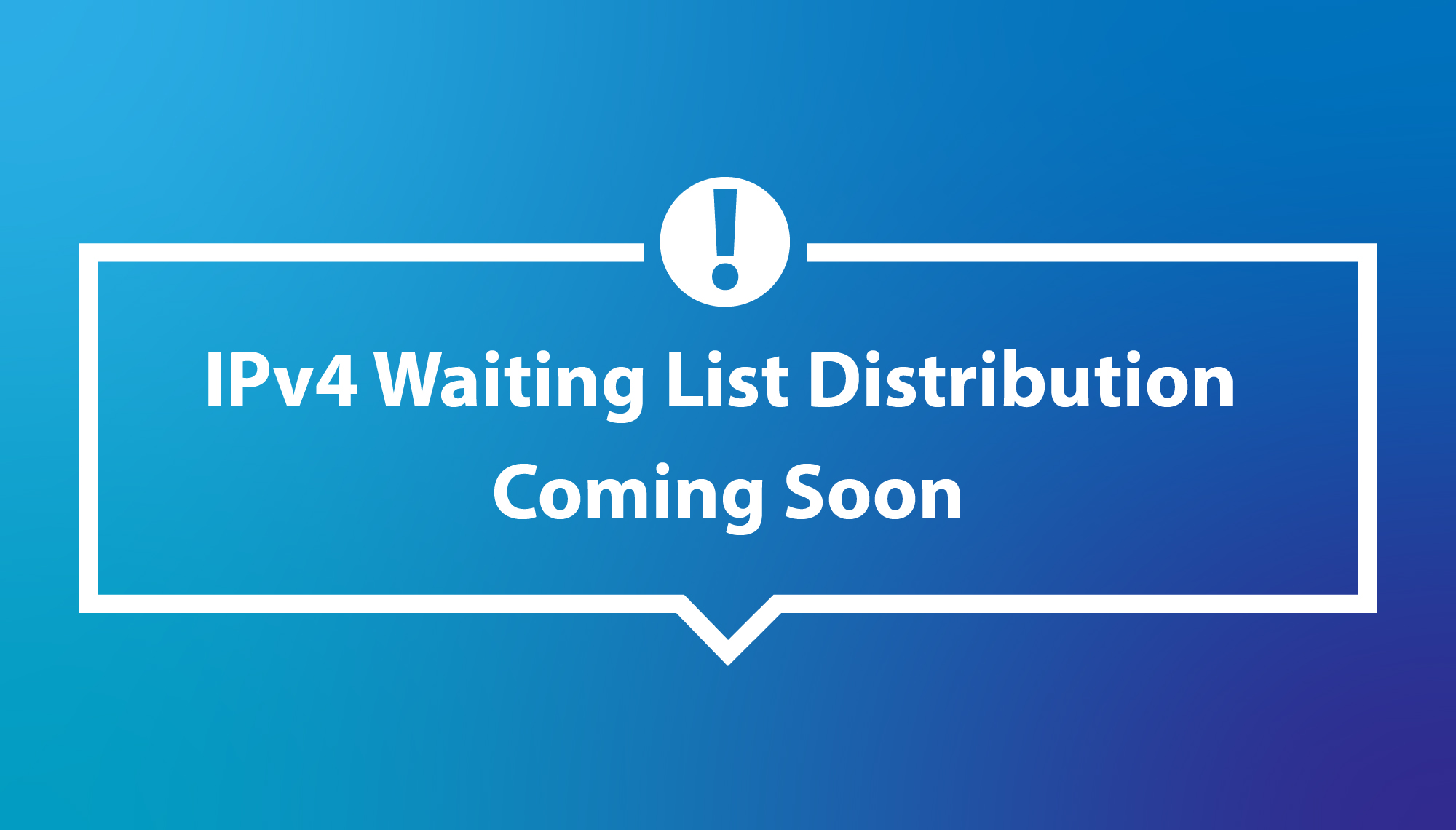 Next IPv4 Waiting List Distribution Coming This Month
ARIN's IPv4 free pool depleted in September 2015, but we continue to issue IPv4 address blocks to organizations via our IPv4 Waiting List. On a quarterly basis, ARIN distributes IPv4 address space that has become available to those parties who have qualified and are on our IPv4 Waiting List.
IPv4 Waiting List Distribution Scheduled for this Month
Our next IPv4 Waiting List distribution is scheduled to begin on Wednesday, 30 June 2021 and will complete during the first week of July. You can find the current waiting list here and learn more about the process of getting on the waiting list. 
How Much IPv4 Could I Get?
You could get a block of 256 to 1,204 IPv4 addresses from ARIN's IPv4 Waiting List. If your organization holds less than a /20 equivalent of IPv4 space in aggregate, you are welcome to put in your request for IPv4 address space through ARIN Online. You could qualify for anywhere from a /22 to a /24 IPv4 block per ARIN policy – that's between 256 to 1,024 individual IPv4 addresses, as mentioned above. You have the option of defining the minimum prefix size you will accept before you are added to the list. Once you have received a distribution from the IPv4 Waiting List, you must wait at least 90 days before applying for IPv4 space again.
Ready to Join the List?
If you'd like to qualify for this distribution, submit your IPv4 request now to make sure your request is processed and added in time. You can read more about how the IPv4 Waiting List works in the blog we shared earlier this year.
If you need any help, you may either submit an Ask ARIN Help Desk ticket, call ARIN's Help Desk at 703-227-0660 (Monday - Friday, 7:00 AM-7:00 PM ET), or chat with an analyst via our website (Monday – Friday, 10:00 AM-4:00 PM ET). We look forward to filling as many requests as we can during this distribution. If you need IPv4, and you'd like to take part, now is the time.
Recent blogs categorized under: IPv4
---
GET THE LATEST!
Sign up to receive the latest news about ARIN and the most pressing issues facing the Internet community.
SIGN ME UP →
---
Blog Categories
ARIN Bits
•
IPv6
•
Business Case for IPv6
•
Fellowship Program
•
Grant Program
•
Caribbean
•
Internet Governance
•
Updates
•
IPv4
•
Elections
•
Tips
•
Public Policy
•
Customer Feedback
•
Security
•
Outreach
•
RPKI
•
Training
•
IRR
•
Data Accuracy