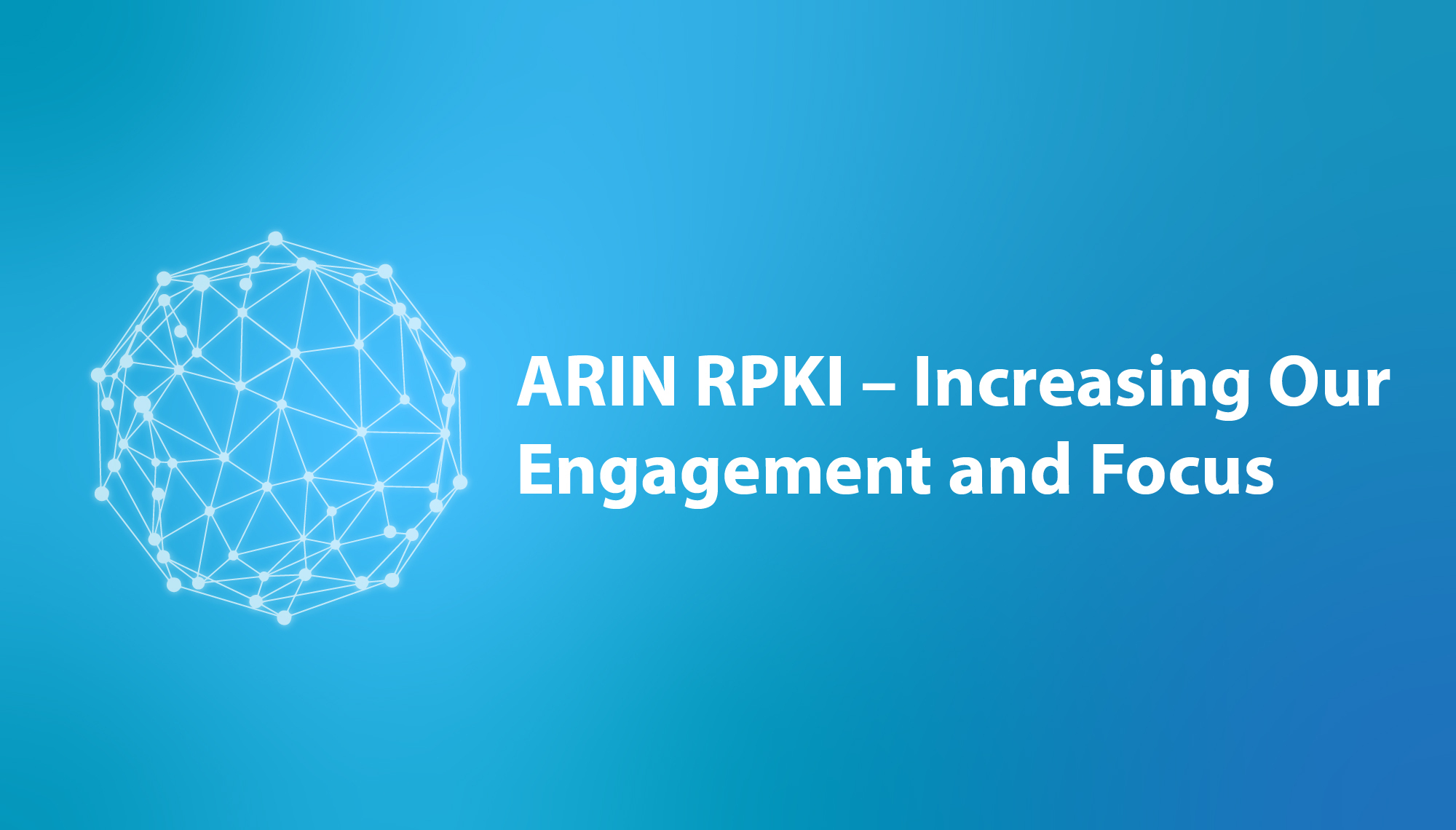 ARIN RPKI – Increasing Our Engagement and Focus
Progression of ARIN Routing-Related Services
ARIN has determined that the current approach and level of resources supporting RPKI/Routing Data strategies and support is not sufficient to meet the growing needs of the community. As the industry continues to evolve, the importance of the continued security and accuracy of our routing-related security service offerings only continues to grow in both scope and complexity. 
Subsequently, the innovation and changes that are required to support and improve these services has increased steadily over the years. This has resulted in the need to mitigate future risk to the community with an increased focus and community engagement to continue to ensure safe and accurate routing services at ARIN.
What are we doing?
The ARIN leadership team has made the decision to respond to this need by committing to an updated approach and staff resource focus for our routing-related services under the direction of the Chief Customer Officer (CCO). We brought a new Senior Product Owner team member onto staff and he will be 100% dedicated to routing-related service offerings and will own the RPKI strategy and development paths on behalf of ARIN and the community. A multi-faceted approach will be leveraged to help us meet these challenges:
Providing a dedicated "business focused" SME to focus on the tools, architecture, development decisions and implementation roadmaps for RPKI, IRR, and other routing related services that ARIN provides.
Increasing routing specific engagement within the community and other RIRs.
Coordinating and expanding on collaborative work opportunities with external community partners.
Ensuring the openness and transparency of current and future routing related architecture, development, and deployment plans.
Committing that the community will have the opportunity to review and provide input into ARIN routing service development, tools, and prioritization efforts.
Identifying and implementing industry and ARIN community focus groups, either virtually or in person, as allowed, to discuss routing services and architecture. These will be structured and occur on a regular basis to further ensure community engagement and transparency.
Providing access to beta versions of service offering enhancement upgrades (test environment). This will help ensure the inclusion of community feedback is reflected in any final implementations.
The creation of dedicated training content and supporting communications to ensure widespread education and awareness within the community.
Why are we doing this and how does this position us for the future?
Ensuring that routing information continues to be safe and accurate is critical to the success of ARIN, the global registry system, and the Internet Community. Given the stakes, ARIN has determined that there is a clear and present need to make this additional foundational investment to increase our community engagement and staff focus now to best position us to successfully support our customers and the larger global Internet community in the years to come.
ARIN is excited to move forward and share updates with the community as we roll out this new role and supporting engagement services to continue to support a secure and reliable Internet routing experience.
Recent blogs categorized under: RPKI
---
GET THE LATEST!
Sign up to receive the latest news about ARIN and the most pressing issues facing the Internet community.
SIGN ME UP →
---
Blog Categories
IPv6
•
Business Case for IPv6
•
Fellowship Program
•
Grant Program
•
Caribbean
•
Internet Governance
•
Updates
•
IPv4
•
ARIN Bits
•
Elections
•
Tips
•
Public Policy
•
Customer Feedback
•
Security
•
Outreach
•
RPKI
•
Training
•
IRR
•
Data Accuracy