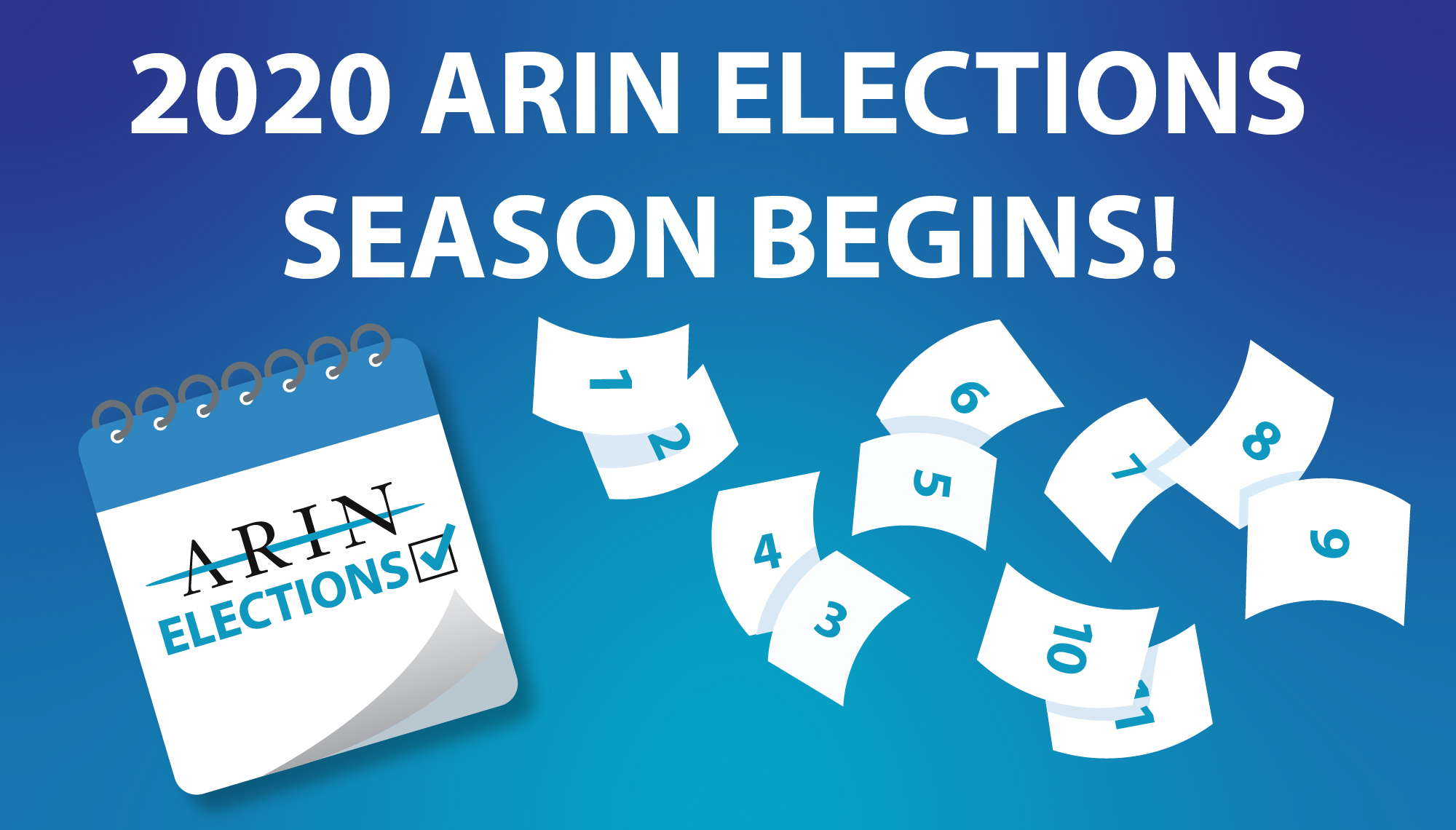 Save the Dates: 2020 ARIN Elections Season Begins!
We're beginning to enter the 2020 ARIN Elections season and wanted to bring your attention to a few important dates coming up. ARIN Membership has its perks, but the privilege to vote each year in the ARIN Board of Trustees and Advisory Council, and every two out of three years in the Number Resource Organization Number Council (NRO NC) Elections, is undoubtedly the most important benefit of membership. ARIN Elections give you the chance to direct the future of ARIN, our community, and the Internet itself.
On 21 May 2020 we will be opening our "Call for Nominations." ARIN Trustees and representatives from General Members in Good Standing can nominate candidates for seats on the ARIN Board of Trustees and Advisory Council. A nominator may nominate themselves, a representative from an ARIN Member organization, or from non-member organizations consistent with ARIN election processes, and may make up to three nominations per open seat. This is an important step to participate in to help direct the future of our community.
Any individual, regardless of ARIN Member affiliation, may also self-nominate or nominate one or more candidates to fill one seat on the NRO Number Council. Nominees for the NRO Number Council must reside in the ARIN region. This year the ARIN Board of Trustees will appoint the representative.
All eligible nominees must officially accept their nomination no later than 5:00 PM ET on Saturday, 13 June - the same time that the call for nominations close.
Once we have our pool of nominees, their applications will be referred to the 2020 ARIN Nomination Committee (NomCom), which is responsible for identifying, recruiting, and certifying a properly selected slate of Trustee and Advisory Council Candidates to be placed in nomination before the membership for election. To assist them in this process the Board of Trustees provides them with specific guidance to use in evaluating potential candidates in the 2020 ARIN Board Guidance to NomCom letter.
After we have identified a slate of candidates, we will introduce them to the community through the publication of questionnaires, blog posts, and at our Fall Public Policy and Members Meeting, ARIN 46.
When does voting open?
The polls will open on Thursday, 22 October for member voting to seat representatives on the 2021 ARIN Board of Trustees and Advisory Council. While October may feel far off, it will be here before you know it, so it's important to save the date now for this year's ARIN Elections.
You'll also want to ensure you are eligible to vote in this year's elections by making sure your organization remains a General Member in Good Standing and has a designated and up-to-date Voting Contact on file by 7 September, this year's voter eligibility deadline.
Once the polls are open, that's your time to make your voice heard. Make sure you review the election system instructions on our website beforehand so you're all ready to go when the time comes to vote.
The polls will close promptly at 5:00 PM ET on Friday, 30 October, giving you just over a week to participate in this important process. The results of the elections will be announced no later than 6 November. For other key elections dates, check out the calendar on the Election Headquarters page.
Over the next few weeks, you can expect a few more blog posts to help you understand the duties of the ARIN Board of Trustees and Advisory Council, as well as upcoming elections reminders. If you're interested in running in the ARIN Elections this year, we strongly recommend you register for our next ARIN Leadership Development Training, taking place 14 May.
If you have any questions about the voting or elections process, email me at members@arin.net for assistance. We look forward to making this a great Elections season!
Recent blogs categorized under: Elections
---
GET THE LATEST!
Sign up to receive the latest news about ARIN and the most pressing issues facing the Internet community.
SIGN ME UP →
---
Blog Categories
Grant Program
•
Public Policy
•
IPv4
•
Updates
•
Security
•
RPKI
•
IPv6
•
Data Accuracy
•
Elections
•
ARIN Bits
•
Business Case for IPv6
•
Fellowship Program
•
Caribbean
•
Internet Governance
•
Tips
•
Customer Feedback
•
Outreach
•
Training
•
IRR