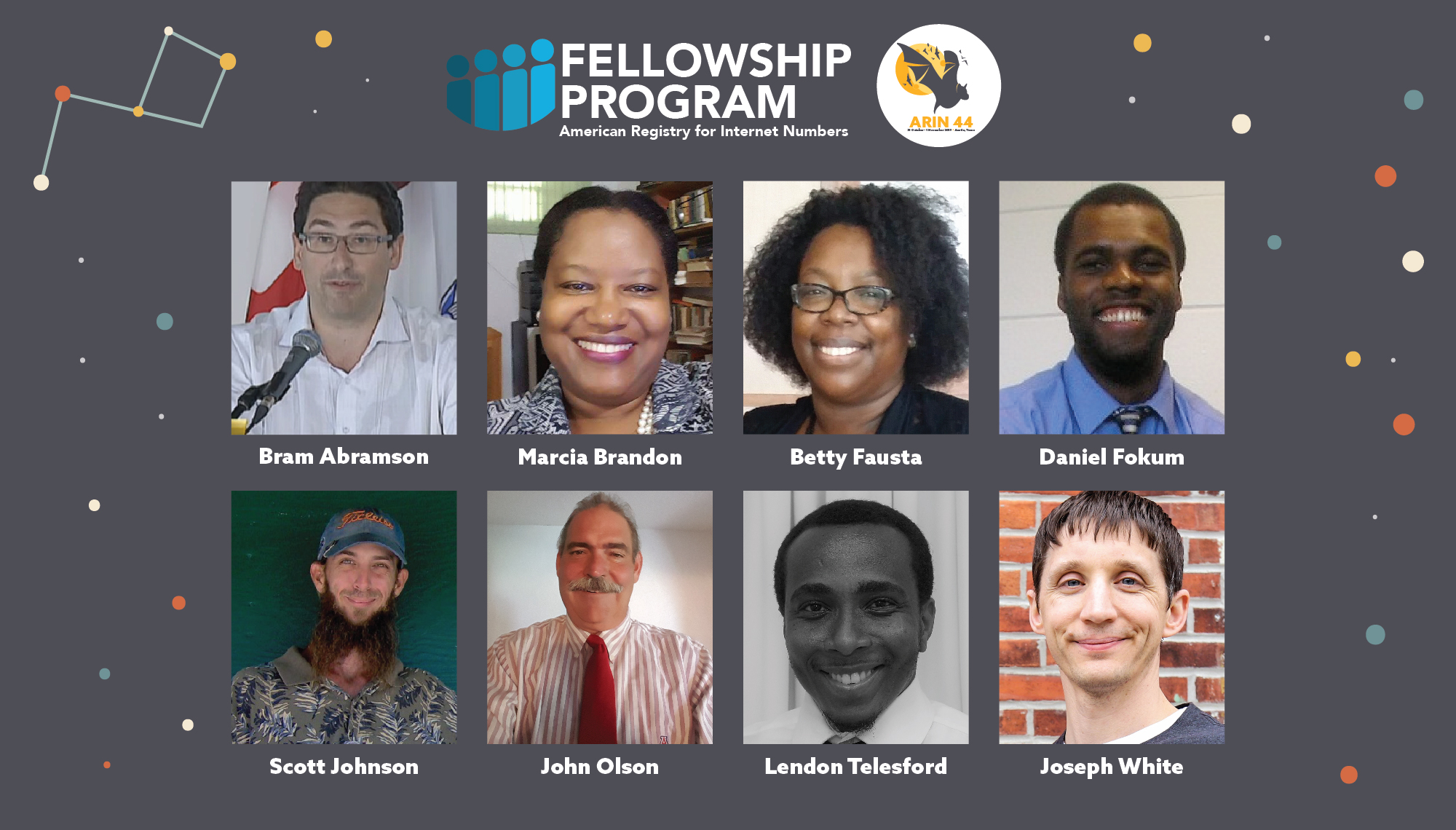 Introducing the ARIN 44 Fellows!
We're busy getting ready to head to Austin, Texas for our next Public Policy and Members Meeting, ARIN 44. We look forward to having a spooky good time at this meeting (which overlaps with Halloween.) Don't forget our ARIN Social includes an optional costume contest!
We'd like to introduce the eight fellows that will be joining us in Austin later this month. Over the last 10 years we've welcomed 136 fellows to our meetings in order to expand our educational outreach and add new voices to our public policy discussions. With this new group of fellows, we've increased that number to 144! We encourage you to take the time to say hello to our fellows at the meeting and welcome them to our community. Let's meet the fellows!
 ARIN 44 Fellows by the Numbers:
Canada:
Bram Abramson, Technology Counsel
Caribbean:
Marcia Brandon, Caribbean Centre of Excellence for Sustainable Livelihoods
Betty Fausta, IPEOS I-Solutions
Daniel Fokum, The University of the West Indies
Lendon Telesford, NTRC – Grenada
United States:
Scott Johnson, SolarNetOne, Inc.
John Olson, Webhiway Communications
Joseph White, Blue Cross Blue Shield of Kansas, Inc.
Meet the Mentors
One of the benefits our fellows receive is being paired with an experienced mentor who can guide them through the meeting and policy discussions. These seasoned veterans help our fellows feel comfortable going up to the mic to voice their opinions and introduce them to key members in our community. We'd like to thank our mentors in advance for lending their time and experience to our new slate of fellows!
Cathy Aronson, Daydream Imagery LLC
Kevin Blumberg, NRO Number Council/The Wire Inc.
Aaron Hughes, 6connect
Alyssa Moore, CIRA/ARIN AC
Leslie Nobile, ARIN
Joseph Provo, ARIN AC
Christian Tacit, Tacit Law/ARIN AC
Chris Woodfield, ARIN AC
Let's Get to Know Our Fellows!
When asked why he decided to apply, Bram Abramson said, "I have a deep interest in Internet infrastructure, an ongoing career as policy counsel, and missed being involved in the conversations that lead to governance decisions. I hope that my experience and interest puts me in a position to contribute, and I'd like to." He believes that this experience will support him in what he hopes to achieve because it will help him "stay involved in Internet governance, and weave it into my abiding interests in privacy, digital rights, and open data, during the coming years." Bram says he most looks forward to "getting to be a part of things!" at our upcoming meeting. And we are excited too!
Marcia Brandon decided to apply for an ARIN Fellowship after "researching and decided that it is an area I could benefit from if I improved my knowledge of it. I was not fully aware of this organization, and seeing that the Caribbean is included, which is my region, I am convinced that knowing more about this area is important for me. She looks forward to "learning about the policy development process and understanding it, as well as being able to transfer this knowledge to the SMEs, NOGs, and other community partners." We asked her how she believes this experience will support her and what she is hoping to do now and in the future. She said, "… this experience will help me participate in relevant meetings, shape policy, educate the general public, especially the SMEs and other stakeholders and partners I work with, and be more active in the Caribbean space with Internet Governance…"
Betty Fausta said that she was introduced to ARIN last year by one of our members. She believes this Fellowship will support what she hopes to achieve in the future by helping her "develop more abilities and increase [her] network." Betty is most looking forward to learning more about the organization, connecting and sharing good practices with others in the industry, and hopes to be helpful in developing an IPv6 migration plan in Guadeloupe and Martinique (French West Indies). When asked how she felt when she learned she was selected to be an ARIN 44 Fellow, she responded, "Happy!"
Daniel Folkum learned about the ARIN Fellowship through Regenie Fräser. Daniel said, "It will be good to gain some knowledge about how a Regional Internet Registry like ARIN operates. I also hope to form linkages that will help me move forward with my study on quantifying the participation of women in Internet governance." He hopes to be able to "contribute to some of the discussions on the mailing lists." He believes this experience will help him "explain to my students much better how Regional Internet Registries operate."
When asked how he first heard about the ARIN Fellowship, Lendon Telesford responded "My organization became aware of the ARIN Fellowship and thought it would be good to have representation at the meeting so that we are in a better position to understand ARIN." By attending ARIN 44, he "hopes to learn more about ARIN and its processes related to policy development." He also believes this experience will help support his long-term goals. "Coming from a regulatory agency, I think this experience would give me a better view of ARIN and the issues it deals with, so I am better able to communicate these issues to my community."
Scott Johnson applied "in order to further understand this critical component of core Internet operations, just as I have studied the operation of the DNS and associated entities in the past." We asked Scott what knowledge he hopes to gain by attending ARIN 44 and he responded, "I hope to leave with a further understanding of the system for allocating and managing IP addressing. The Internet is the most complex machine on the planet; a complete view of its inner workings, both technical and organizational, is critical to being able to harness its full potential. He believes this Fellowship will support him and his organization's goals. "As my organization expands its network offerings and sphere of influence in shaping network growth regionally, and in other areas worldwide where we have commercial activity, a firm grasp on the details of IP addressing and allocation will be very beneficial to our progress…"
John Olson was "ecstatic" to be selected as an ARIN Fellow. He is most looking forward to "meeting the ARIN team, the Trustees, and of course, Wendy!" We asked what he hopes to take away from this Fellowship, and he said, "As a rural ISP, I hope to have the ability to convey the knowledge I learn from this experience to others in the industry serving other rural communities, but more importantly to the communities I serve." He looks forward to gaining "a better functional knowledge of policy making and procedures utilized by ARIN."
Last, but certainly not least, meet Joseph White! We asked Joseph how he foresees himself contributing to/supporting ARIN in the future. He said, "I see myself keeping informed through the conversation exchanges on the mailing lists(s) and adding value. I could see myself assisting with ARIN's community software. Maybe I could test new deployments and aid in bug testing new tools." He is most looking forward to "gaining a new mentor and new contacts that are willing to show me the ropes of the ARIN organization." And we can't wait for you to have that experience, Joseph!
We would like to wish another big congratulations to our ARIN 44 Fellows. We can't wait to see you all in Austin!
P.S. The ARIN Fellowship Program for ARIN 45 in Louisville, KY 26-29 April 2020 will be accepting applications soon. Stay tuned!
Recent blogs categorized under: Fellowship Program
---
GET THE LATEST!
Sign up to receive the latest news about ARIN and the most pressing issues facing the Internet community.
SIGN ME UP →
---
Blog Categories
Grant Program
•
Public Policy
•
IPv4
•
Updates
•
Security
•
RPKI
•
IPv6
•
Data Accuracy
•
Elections
•
ARIN Bits
•
Business Case for IPv6
•
Fellowship Program
•
Caribbean
•
Internet Governance
•
Tips
•
Customer Feedback
•
Outreach
•
Training
•
IRR