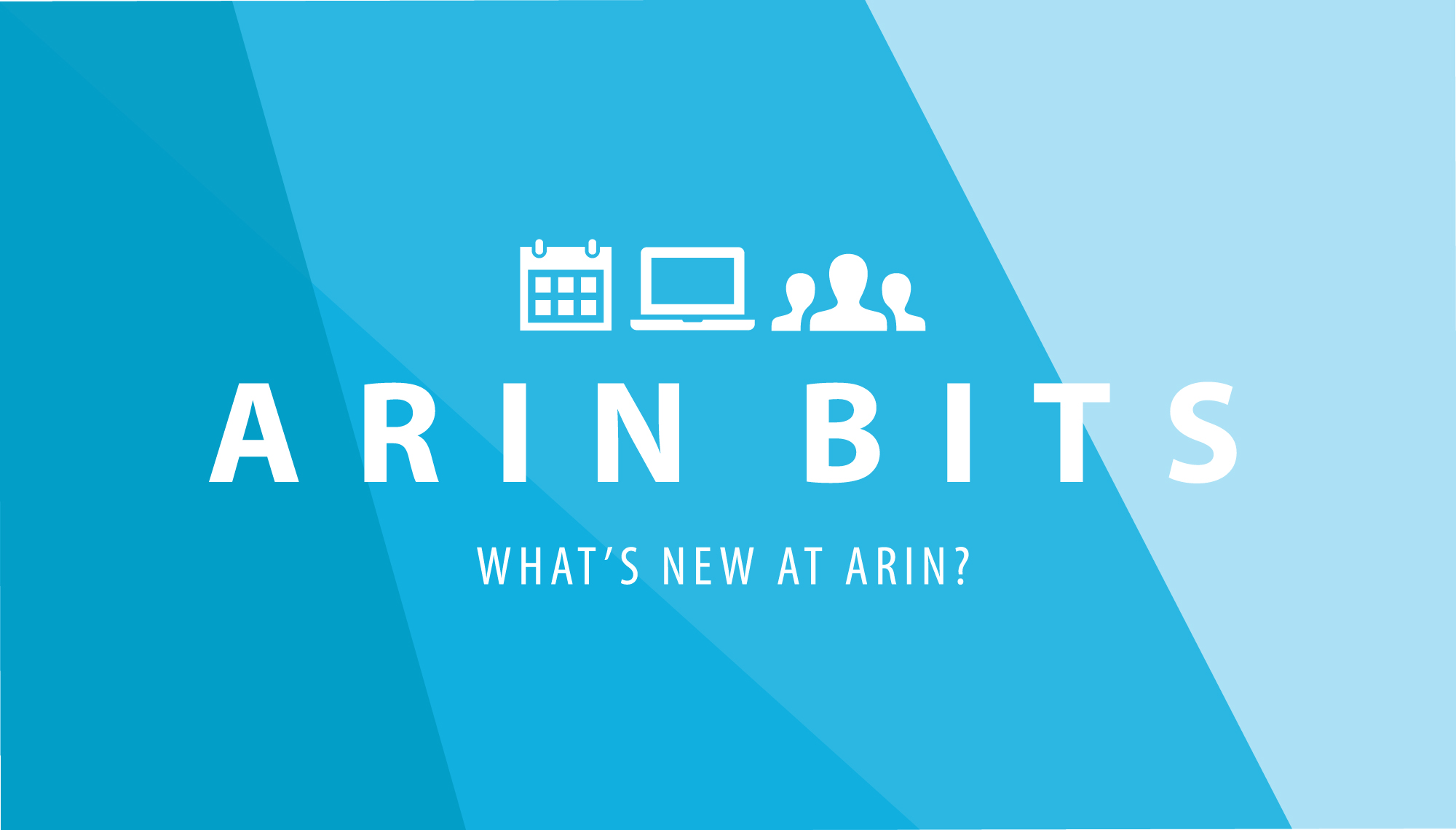 ARIN Bits: March 2019
We have a spring in our step as we welcome Spring! While winter brought snowy weather and cold temperatures, we didn't let that slow us down this quarter. In this edition of ARIN Bits, we share information about our upcoming meeting, announce the launch of our redesigned arin.net, share tips from our Registration Services and Financial Services teams, and so much more. Missed last quarter's edition? You can find all past editions on our ARIN Bits page.
The unveiling of a new ARIN.net!
By now I'm sure you've seen our newly-redesigned www.arin.net. This was a major initiative and we are excited to announce the new site is live. We began the redesign process in October 2017, and we sought community input every step of the way. Check out Hollis Kara's "Getting Ready for the Big Reveal" for more details about how community input shaped our new website and be sure to take some time to poke around the site. We have a feedback button at the top of every page, and we're curious to know what you think. Thank you to everyone who provided valuable input; we're very proud of this new site we built together.
Barbados, here we come!
ARIN 43 is just around the corner! We will be hosting our meeting in Bridgetown, Barbados from 7-10 April, and CaribNOG 17 will immediately follow in the same location. There's still time to register for the meeting, and if you can't make it in person be sure to register as a remote participant. We provide access to a webcast, live transcript and chat function.
We are pleased to co-host the second CTU/ARIN Public Policy Group Meeting along with the Caribbean Telecommunications Union (CTU). The theme for this event is "Caribbean Priorities for the Global Internet." This meeting will take place on Thursday 11 April following ARIN 43. Be sure to register in advance on the meeting's website.
We also recently announced the 13 Fellows that will be joining us at ARIN 43. Be sure to say "hello!" to our new group of Fellows. We congratulate those who were selected, and we thank all who applied. Applications for a fellowship to ARIN 44 will be opening soon.
Coming soon in Q2…
We will be opening registration soon for our next two ARIN Lunch by the Numbers events.
Providence, RI: 14 May

Boston, MA: 15 May
These lunches are tailored to ARIN customer organizations that may not have much visibility into the inner workings of ARIN. During lunch, ARIN staff present an overview of current ARIN activities and services.
We will have a Registration Services Help Desk at each event, opening at 10:30 AM and available throughout the lunch, to answer any questions about your resources or pending requests. Two individuals per ARIN customer (i.e., an organization holding resources directly issued from ARIN) are welcome to attend. Look out for registration opening soon.
ARIN Board suspends Waiting List Issuance Policy
At their business meeting in January 2019, the ARIN Board of Trustees, in light of the potential misuse of number resources under the Number Resource Policy Manual (NRPM) section 4.1.8 (Unmet Requests), suspended issuance of number resources per NRPM section 4.1.8.2. (Fulfilling Unmet Needs), and referred NRPM section 4.1.8 to the ARIN Advisory Council for their recommendation. We will complete open transactions to waiting list organizations where IPv4 addresses have already been approved pending fee payment.
We will continue to accept and process IPv4 requests according to NRPM 4.1.8, and organizations may be added to the waiting list while waiting list issuance is suspended. All future IPv4 address space issued under this policy is subject to the outcome of pending policy review. View the Board meeting minutes and NRPM 4.1.8 for more information.
IANA issues /23 to ARIN
On 1 March 2019, ARIN received a total of /23 of IPv4 address space (two /24 blocks) from the IANA in accordance with the Global Policy for Post Exhaustion IPv4 Allocation Mechanisms by the IANA. The full text of that policy is available on ICANN's website.
We will hold this IP address space until the suspension of the Waiting List Issuance policy is lifted. Please refer to our previous announcement for more details.
We have a few policy proposals under discussion:
On 7 March 2019 the ARIN Board of Trustees published a new version of the Number Resource Policy Manual: NRPM 2019.1. The following new policies were then implemented:
The following proposals are currently under discussion:
Recommended Draft Policies
Draft Policies
You can find the status of current policy discussions on our Draft Policies and Proposals page. Click here to subscribe to ARIN-PPML (Public Policy Mailing List) to voice your opinions or  to read the list archives. Membership is not required to participate!
Our Featured Policy Requirement:
8.4. Inter-RIR Transfers to Specified Recipients
Originally, Inter-RIR Transfer policy only allowed IPv4 addresses to be transferred between regions, but not Autonomous System Numbers or IPv6 addresses. This month, an adjustment to policy 8.4 now allows the Inter-RIR transfer of both IPv4 addresses as well as Autonomous System Numbers. Inter-RIR transfers can only take place between RIRs who agree to the transfer and share reciprocal, compatible needs-based policies. Currently these RIRs are APNIC, ARIN, and RIPE NCC. More information on Inter-RIR transfers can be found on our website.
A tip from our Registration Services Department:
Your organization is interested in receiving IPv4 addresses through an 8.3 Specified Recipient Transfer or 8.4 Inter-RIR Transfer, but you aren't sure if you should submit a transfer pre-approval request first.  Here are the most common scenarios and why you may or may not want to submit a pre-approval.
24-month projected need: Your organization can be pre-approved for up to a 24-month need. Once your organization has been pre-approved, you can process as many transfer requests as needed until the total pre-approved amount is depleted. Having a 24-month pre-approval will also save you time during the actual transfer process. By having a pre-approval, you will not need to provide utilization and justification for each and every transfer.
No Source: You haven't located a source organization or you just want to be certain you qualify for the amount of space you are seeking before entering into a contract, working with a facilitator, or a source organization.
The Source wants pre-approval: You have located a source organization, but they require that your organization be pre-approved first. It is not necessary to submit a pre-approval ticket. Instead, you may submit an 8.3 Specified Recipient Transfer or 8.4 Inter-RIR Transfer recipient ticket. Once your organization has met the qualification requirements for the block size being requested, we will create a pre-approval for your organization within the transfer ticket. At that point, you can let your Source know you have been pre-approved and provide them with your Recipient transfer ticket number. They will include your ticket number in their Source transfer ticket, and we will link the tickets together to process and complete the transfer.
More information on transfers and transfer pre-approvals can be found on our website.
A tip from our Financial Services Department:
Having trouble keeping up with the happenings at ARIN?  Did you miss a major announcement? Want to receive more information about current events?
Subscribe to our mailing lists! You can receive notifications about topics including fee discussions/changes, elections, upcoming meetings, and ideas for policy development.
Subscribing is voluntary. You may subscribe to the mailing list(s) or visit us from time to time and cruise through the archive to catch up. Get connected today!
*All mailing lists are open to the public except the ARIN Discussion mailing list, which is for ARIN members only.
Check out these Customer and Member Stats (As of 28 February 2019):
38,221 total customer organizations, including 5,958 member organizations

128 8.3 Transfers and 24 8.4 Transfers completed YTD 2019

8.4 Transfers completed YTD 2019: 5 to APNIC, 10 to RIPE NCC, 4 from APNIC, 5 from RIPE NCC

59.1% of members have an IPv6 block
Four security services you should be using:
Your data protection is extremely important to us. Andy Newton, Chief Engineer, explains four security services we offer that you should be using to secure your accounts in a recent post on TeamARIN. We encourage you to take advantage of these free, easy-to-use services which are all here to protect your information.
We'll see you next quarter, happy Spring!
Recent blogs categorized under: ARIN Bits
---
GET THE LATEST!
Sign up to receive the latest news about ARIN and the most pressing issues facing the Internet community.
SIGN ME UP →
---
Blog Categories
ARIN Bits
•
IPv6
•
Business Case for IPv6
•
Fellowship Program
•
Grant Program
•
Caribbean
•
Internet Governance
•
Updates
•
IPv4
•
Elections
•
Tips
•
Public Policy
•
Customer Feedback
•
Security
•
Outreach
•
RPKI
•
Training
•
IRR
•
Data Accuracy