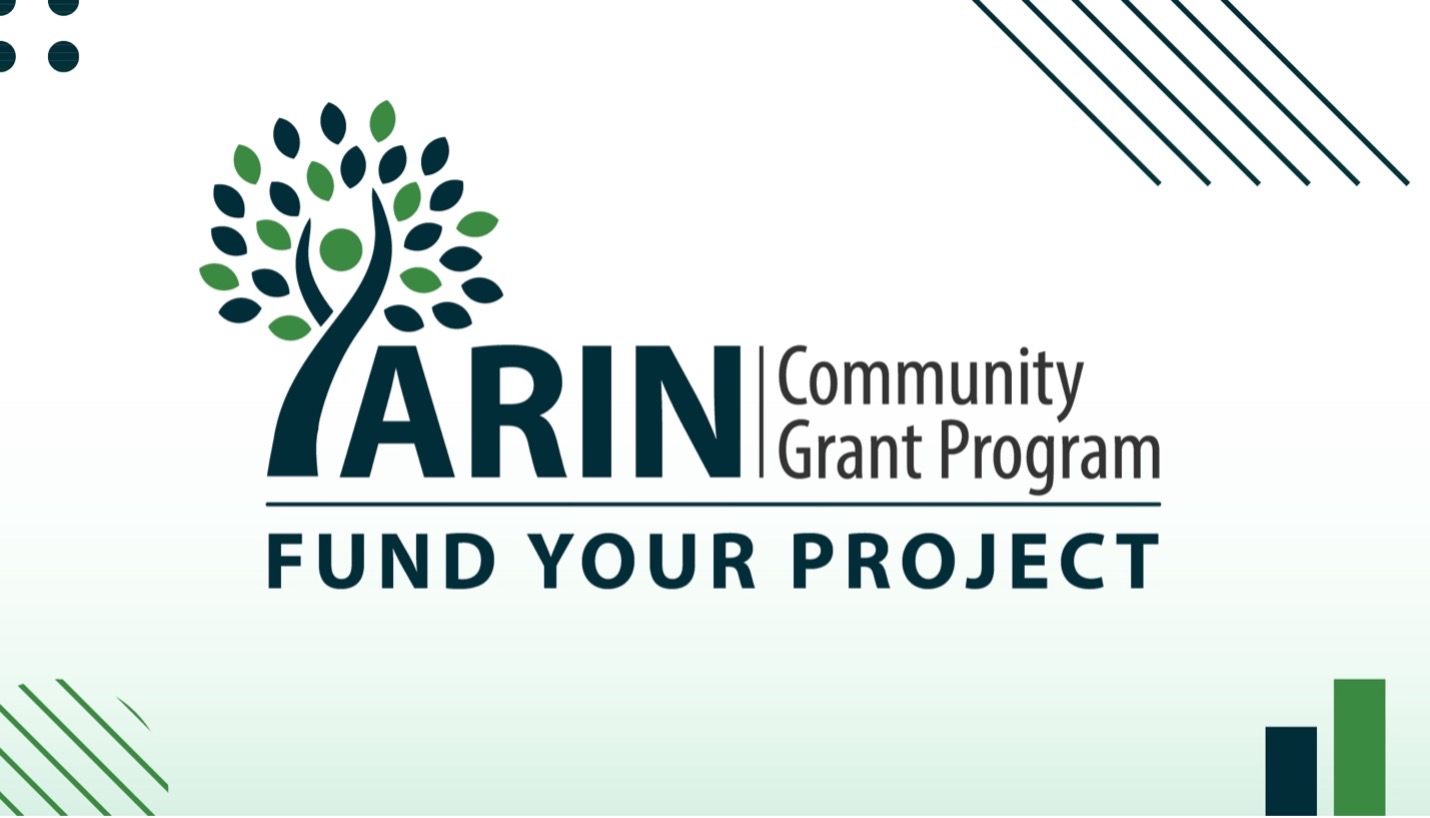 Apply for an ARIN Community Grant
At ARIN, we don't take the health and growth of the Internet for granted, which is why we launched the ARIN Community Grant Program in 2019. Now entering its fifth year of providing financial grants in support of operational and research projects that improve the overall Internet industry and Internet user environment, this program has funded 18 projects with a cumulative US$183,975 so far. And now it could be your turn to receive financial, networking, and logistical support for a project that benefits the ARIN community.
The call for applications for the 2023 Grant Program is out, and we encourage you to apply if you think your project seems like a good fit!
Who is eligible?
Individuals may apply on behalf of organizations pursuing projects that are noncommercial in nature and broadly benefit the Internet community within the ARIN region. The following four categories outline the types of project goals the Selection Committee looks for to determine eligibility:
Internet technical improvements that promote and facilitate the expansion, development, and growth of the infrastructure of the Internet consistent with the public interest
Registry processes and technology improvements that help maintain a globally consistent and highly usable Internet Number Registry System
Informational outreach that advances the Internet on topics such as, but not limited to: IPv6 deployment, Internet research, and Internet governance
Research related to ARIN's mission and operations
Please refer to the ARIN Community Grant webpage for more details on eligibility and guidelines for applicants.
Which projects are a great fit?
When deciding if your project would be a good candidate for an ARIN grant, it's helpful to take a look at past grant recipients to get a sense for the types of projects we typically fund. I also recommend that you read through all the content we have posted on our website, including the blog, and carefully consider how your project meets the selection criteria.
And as for our number one application tip? Make it very clear throughout your application how your project meets each of the five main topic areas in the selection criteria, including:
Alignment with eligibility guidelines
Relevance and reach
Impact
Budget
Likelihood of success
The Grant Selection Committee uses these criteria to review and score applications, which informs the decision on which projects to fund.
On the fence about whether you should submit an application or if your project would be a good fit? We think it's well worth the consideration, but don't just take our word for it! Read our blog post on the top five reasons to apply for an ARIN Community Grant, which features the experiences of past grant recipients in their own words.
What else do I need to know?
So you can be prepared with all the information needed to successfully complete the application, you'll want to make note of these other key components as well:
Biographies of senior participants in the project work
A data management plan if code or data will be generated
Explanation of how the project plans to demonstrate results and specifically whom it aims to benefit
Specification of how outcomes will be broadly available, sustainable, or replicable
How do I apply?
You will need to create an account in SurveyMonkey Apply to complete your application for the ARIN Community Grant Program. The call for applications is open now through Friday, 2 June 2023. Your application should include enough detail to allow proper evaluation of the long-term value the project will bring to the ARIN community. The strongest applications are both thoughtful and detailed. If you have any questions, you can reach out to us at apply@arin.net.
I look forward to seeing the projects you are working on to the benefit of the Internet community in the ARIN region!
Recent blogs categorized under: Grant Program
---
GET THE LATEST!
Sign up to receive the latest news about ARIN and the most pressing issues facing the Internet community.
SIGN ME UP →
---
Blog Categories
Grant Program
•
Public Policy
•
IPv4
•
Updates
•
Security
•
RPKI
•
IPv6
•
Data Accuracy
•
Elections
•
ARIN Bits
•
Business Case for IPv6
•
Fellowship Program
•
Caribbean
•
Internet Governance
•
Tips
•
Customer Feedback
•
Outreach
•
Training
•
IRR