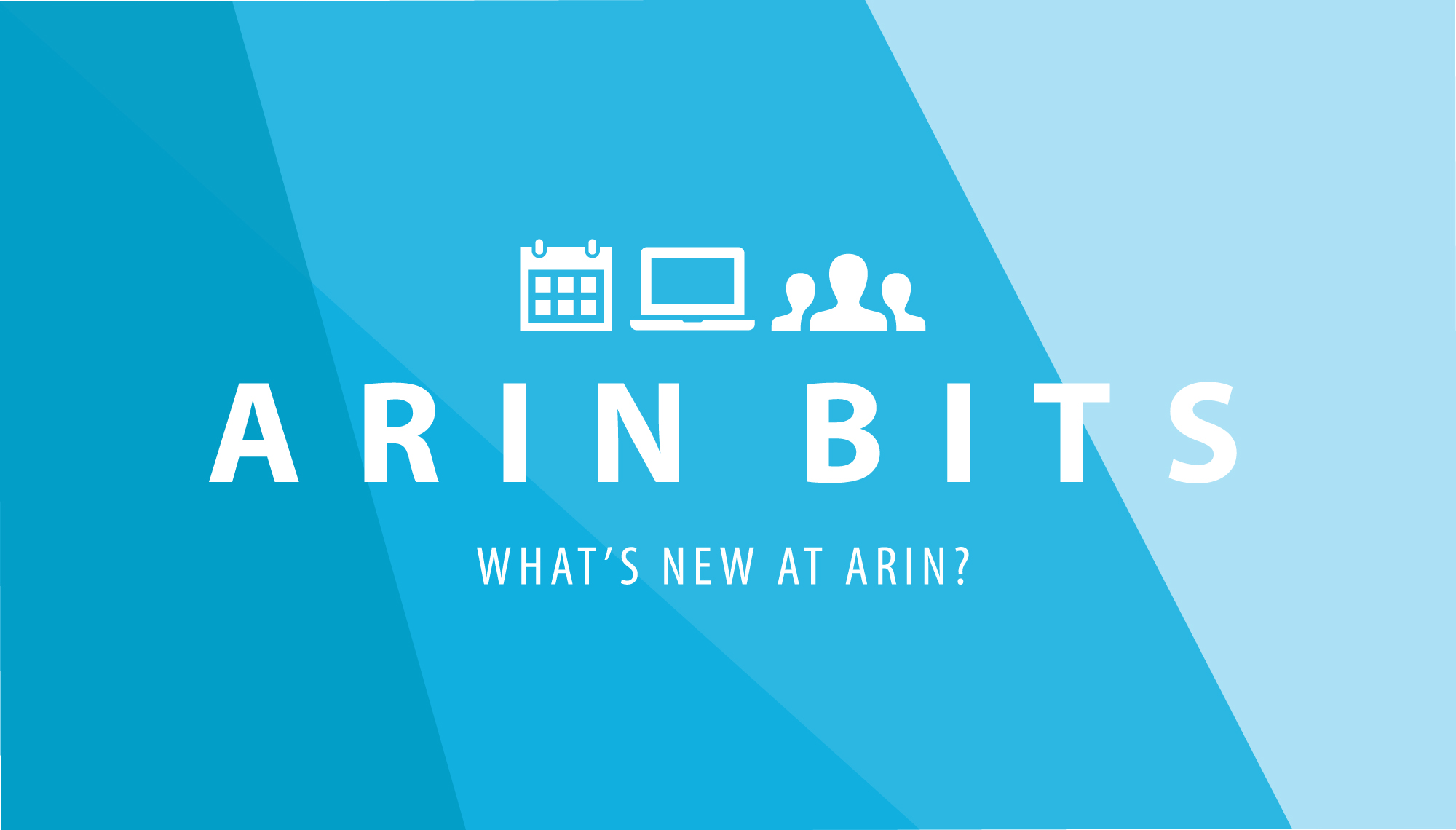 ARIN Bits: December 2020
While 2020 may have had all the "tender sweetness of a seasick crocodile," we couldn't be more grateful for the support of our community as we approach the end of this year.
Despite these unusual times, we haven't found ourselves any less productive this quarter! In this edition of ARIN Bits, you'll discover the results of this year's ARIN Elections, find out about a new series of events we're hosting, learn about current policy discussions, and much more. If you missed any previous editions of Bits and want to catch up, you can find them on our ARIN Bits archive page.
The Results Are In…
The 2020 ARIN Elections concluded on Friday, 30 October, and we congratulate all those elected by the community to serve on the ARIN Board of Trustees and ARIN Advisory Council (AC). We thank everyone who voted in the 2020 ARIN Elections, and also extend a big thank you to all who ran. We look forward to a great 2021. We announced the results on 3 November, but in case you missed it, here are your newest community leaders.
Board of Trustees:
Advisory Council:
Anita Nikolich
Leif Sawyer
Matthew Wilder
Chris Tacit
Andrew Dul
Gary Giesen (Appointed to fill the position vacated by Tina Morris)
Number Resource Organization Number Council (NRO NC)
Kevin Blumberg (Reappointed)
Access Granted: All Materials from ARIN 46 Now Available
We held our virtual Public Policy and Members Meeting, ARIN 46, on 14-15 & 23 October. In case you'd like to reference anything from the meeting, the ARIN 46 Meeting Report is available. This report includes all presentations, links to daily recaps on TeamARIN, transcripts, and webcast archives. Thank you to everyone who participated to make this a wonderful meeting!
Please plan to join us for ARIN 47 so you can participate in this integral part of ARIN's Policy Development Process. Details and registration will be available soon, so stay tuned!
Meet the 2020 ARIN Community Grant Program Recipients
Earlier this quarter, we announced the eight projects that were selected to receive an ARIN Community Grant in 2020. The ARIN Community Grant Program provides financial grants in support of initiatives that improve the overall Internet industry and Internet user environment, advance ARIN's mission, and broadly benefit the Internet community within the ARIN region.
Congratulations to the 2020 grant recipients! Details about each of these projects, application statistics, and historical program information is available on our website or in this blog.
Thank you to everyone who applied for a grant this year. We will issue a call for applications for next year's program in spring 2021, so stay tuned.
Introducing ARIN Optimized!
We've created a new master class onboarding experience for new ARIN customers and members, which launched earlier this month. We held three 90-minute sessions on 1 December, 8 December, and 15 December.
These sessions included three spotlight story videos from the ARIN community, polls, and a handout chock-full of information and links for future reference. In the future, we plan to host quarterly onboarding sessions for new customers.
These sessions featured three panelists from ARIN…
Hollis Kara, Director of Communications
John Sweeting, Chief Customer Officer
Jon Worley, Senior Technology Architect
… and covered topics including:
ARIN's governance, structure, and mission
IPv4 depletion and IPv6 transition
What are the tools in your ARIN Online toolbox?
How to engage with the ARIN community
Why Internet policy is important
What our attendees had to say:
"I really enjoyed the webinar, and learned a lot. Best webinar I have been to this year."
"Amazing information. Very helpful group of people."
"It was great. Obviously in-person is always better, but this is such a great format for a first welcome meeting."
"Learning more about the IPv4 waiting list was great, along with the info on RPKI and IRRs."
"Thanks all for the time that you put into outreach. We are very happy and proud to be new ARIN members!"
Thank you to all who attended these first three sessions. We look forward to bringing more of these events in 2021.
Current Policy Proposals Under Discussion
| Number | Title | Status |
| --- | --- | --- |
| ARIN-2019-10 | Inter-RIR M&A | Pending Implementation |
| ARIN-2020-1 | Clarify Holding Period for Resources Received via 4.1.8 Waitlist | Advanced to Board of Trustees |
| ARIN-2020-2 | Reinstatement of Organizations Removed from Waitlist by Implementation of ARIN-2019-16 | Last Call Concluded 3 November |
| ARIN-2020-3 | IPv6 Nano-Allocations | Advanced to Board of Trustees |
| ARIN-2020-5 | Clarify and Update Requirements for Allocations to Downstream Customers | Advanced to Board of Trustees |
| ARIN-2020-6 | Allowance for IPv4 Allocation "Swap" Transactions via 8.3 Specified Transfers and 8.4 Inter-RIR Transfers | Draft Policy |
| ARIN-2020-7 | 4.4 gTLD Micro-allocation Clarification | Recommended Draft Policy |
| ARIN-2020-8 | Clarify and Update 4.2.1.2 Annual Renewal Fee | Draft Policy |
| ARIN-2020-9 | Editorial Clean-up of NRPM Section 4 and Related Provisions | Draft Policy |
| ARIN-2020-10 | Removal of Requirement to Demonstrate Utilization of Reassignments and Reallocations for ISPs Seeking Initial Allocation from ARIN | Draft Policy |
| ARIN-prop-294 | Remove IPv6 End-User Assignment Criteria | Proposal |
| ARIN-prop-295 | Replace the Image in Section 2 With a Textual Description | |
You can find the status of current policy discussions on our website and subscribe to ARIN-PPML (Public Policy Mailing List) to voice your opinions. Remember, membership is not required to participate!
Our Featured Policy
ARIN Waitlist (NRPM 4.1.8)
Has your organization's request been added to the IPv4 Waiting List, and you're wondering when your request might get filled? Unfortunately, ARIN can't predict how long it will take for a request on the waiting list to be filled, but we do provide some information that can help give you an idea on our website.
On the Waiting List page, we will announce when the next estimated distribution will be. Currently: "The last distribution was completed Wednesday, 30 September 2020. The next distribution will occur on or about Wednesday, 30 December 2020."
Also, on the Waiting List page, you will see the waiting list itself indicating a ticket's maximum and minimum block sizes, their position on the waiting list, and a date/time stamp. These time stamps match the time stamp when each ticket was added to the waiting list. Requestors can match the time stamp on their ticket to the time stamp on the waiting list to determine their current position.
A Tip from our Registration Services Department
While working with ARIN staff to process a request ticket in ARIN Online, you can see the current ticket status in the Tickets section of your ARIN Online account. Occasionally, we get questions about what a ticket status means. Here are a couple of the most common concerns related to these statuses.
Approved: "My status says approved, but I don't see the resource issued to my organization."
What does it mean? This commonly means the request has been approved, but there are still additional steps required, such as payment of fees and/or completion of a Registration Services Agreement. Additional information and next steps will be provided within the ticket correspondence.
Action Needed by Customer: "My status says action needed by customer, but I thought I completed everything I needed to do."
What does it mean? In most cases, this status is straightforward. However, 8.3 Specified Recipient Transfers and 8.4 Inter-RIR Transfers have two customers involved, a Source organization and a Recipient organization. Often, one customer organization completes their ticket before the other. Although their ticket is complete, their ticket status will indicate "Action Needed by Customer" because ARIN staff is still working with the other customer organization to complete their request. A more detailed explanation will have been provided within the ticket correspondence by ARIN staff.
Customer and Member Stats as of 30 November 2020
38,962 total customer organizations, including 6,835 member organizations
823 8.3 Transfers and 147 8.4 Transfers completed YTD 2020
8.4 Transfers completed YTD 2020: 32 to APNIC, 65 to RIPE NCC, 15 from APNIC, 35 from RIPE NCC
60.0% of members have an IPv6 block
A Few Blogs from this Quarter…
See you next year!
We'll see you in Q1 2021 for the next edition of ARIN Bits. Wishing you and yours a wonderful holiday season.
Recent blogs categorized under: ARIN Bits
---
GET THE LATEST!
Sign up to receive the latest news about ARIN and the most pressing issues facing the Internet community.
SIGN ME UP →
---
Blog Categories
Grant Program
•
Public Policy
•
IPv4
•
Updates
•
Security
•
RPKI
•
IPv6
•
Data Accuracy
•
Elections
•
ARIN Bits
•
Business Case for IPv6
•
Fellowship Program
•
Caribbean
•
Internet Governance
•
Tips
•
Customer Feedback
•
Outreach
•
Training
•
IRR