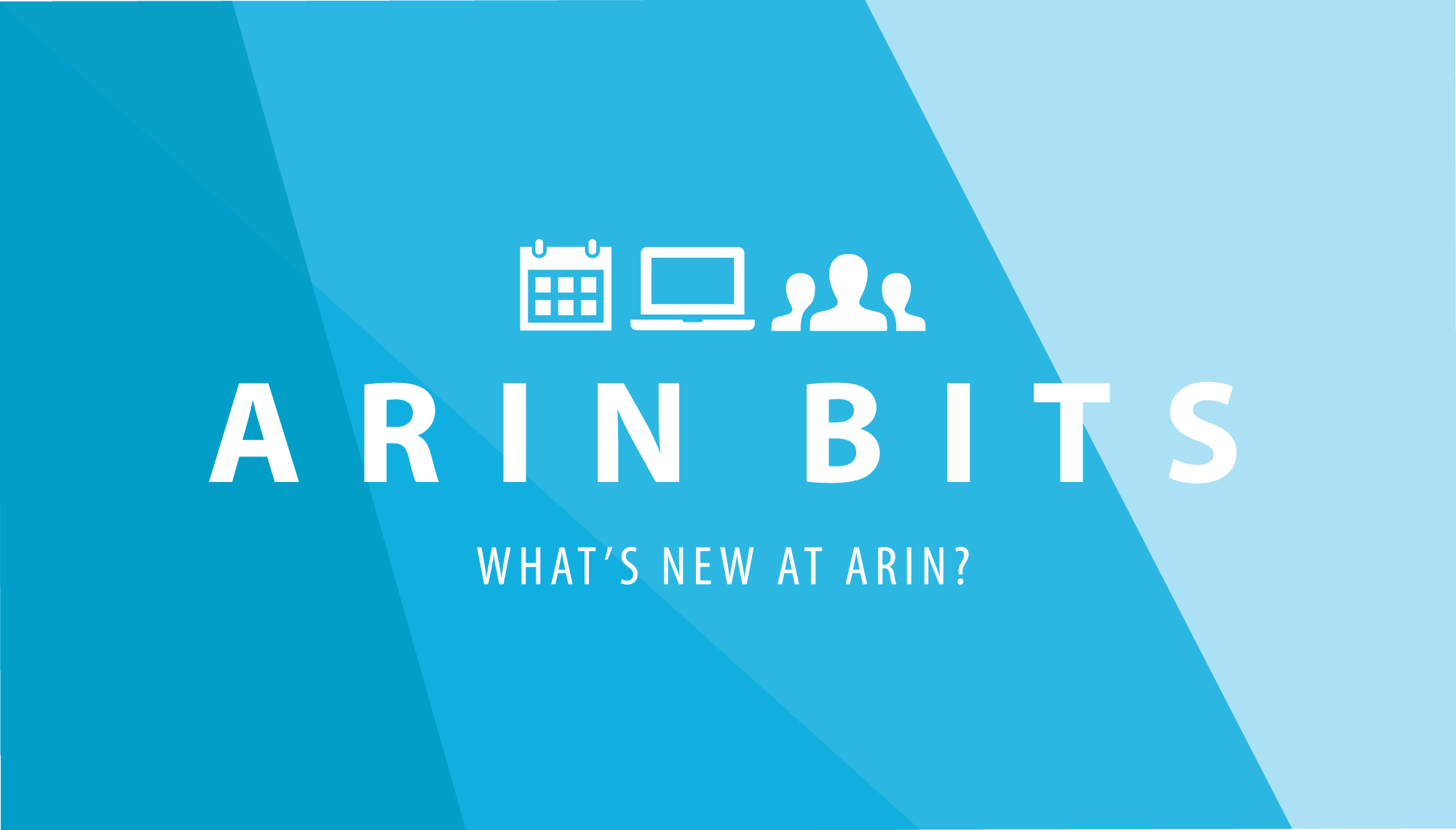 ARIN Bits: March 2020
We're welcoming in longer days and shorter nights as we enter the season of Spring, and we've had a productive start to this year. In this edition of ARIN Bits, we share information about our upcoming meeting, details about our ARIN Community Grant Program, tips from our Registration Services Department, and so much more. Missed last quarter's edition? You can find all past editions on our ARIN Bits page.
ARIN 45 to be held virtually
In light of the current circumstances related to the rapidly evolving coronavirus disease 2019 (COVID-19) outbreak and guidance from Federal and state governments, the ARIN 45 Public Policy and Members Meeting will no longer have an in-person component as originally scheduled to take place in Louisville, Kentucky.
We have been closely monitoring the latest news and guidance related to the COVID-19 outbreak from the Centers for Disease Control and Prevention (CDC), the World Health Organization (WHO), and local health departments. Following the most recent guidance from the CDC, we must prioritize the health of our ARIN community members and their families, and thus, the ARIN 45 Public Policy and Members Meeting will now proceed entirely as an online-only meeting for all participants.
We ask that all participants please save the original dates of Monday, 27 April and Tuesday, 28 April while we review our normal policy discussions and related meeting programming to select material to be added to the agenda. We will be publishing the agenda and how to participate in the near future.
We thank you for your understanding, and wish you safety and good health as we get through this together. If you have any further questions, please reach out to meetings@arin.net.
Servers available to test upcoming SWIP changes
Over the last several years, the community has been discussing ARIN policy regarding how reallocations and reassignments are made to downstream organizations. As a result of these discussions, two new policies will be implemented in the coming weeks. These new policies may impact you, your downstream customers, and your automated SWIP scripts or email templates for detailed reassignments and reallocations. The changes to our systems required by these policies will be deployed during our next release cycle, scheduled for the week of 30 March 2020, as previously announced.
To help you prepare for our community-driven policy changes, we have provided special servers in our Operational Test and Evaluation (OT&E) Environment. If you are an ISP who performs Detailed Reassignments or Reallocations of IP addresses to customers, we recommend that you use these servers to test the configuration changes that you will need to make as a result of the policy changes.
To test RESTful calls using the OT&E server, modify your RESTful commands to use the URL reg-swip.ote.arin.net in place of reg.arin.net. Documentation for RESTful commands can be found here: https://www.arin.net/resources/manage/regrws/
To try out the reassignment and reallocation changes in ARIN Online, access the OT&E server at https://account-swip.ote.arin.net/public/login  and navigate to IP Addresses > Reassign Addresses to begin testing.
We also wrote a blog to share some of the impacts you may see after these policies are implemented, so be sure to check that out as you prepare.
Apply for an ARIN Community Grant
Do you know of a project that needs funding, is not commercial in nature, and benefits the Internet community within the ARIN service region? Apply now for a 2020 ARIN Community Grant. The call for applications is open through 10 June 2020.
The ARIN Community Grant Program provides financial grants in support of operational and research projects that improve the overall Internet industry and Internet user environment that advance ARIN's mission and broadly benefit the Internet community within the ARIN region. For 2020, the ARIN Board of Trustees has approved a total expenditure of up to $60,000 (USD) for grants of varying amounts, starting at $1,000 (USD) and based on project need.
Projects must fit into one or more of these four broad categories:
Internet technical improvements that promote and facilitate the expansion, development, and growth of the infrastructure of the Internet consistent with the public interest
Registry processes and technology improvements that help maintain a globally consistent and highly usable Internet Numbers Registry system
Informational outreach that advances the Internet on topics such as, but not limited to: IPv6 deployment, Internet research, and Internet governance
Research related to ARIN's mission and operations
Grant applications will be accepted 4 March – 10 June 2020. Learn more and apply.
Join one of our upcoming IPv6 Address Planning Webinars
Due to continued high demand, we are happy to share that we have new dates for our popular "IPv6 Address Planning Basics" webinar!
If you're wondering where to start with IPv6 or what the right size block is for your organization, you won't want to miss this session. Led by Jon Worley, ARIN's Technical Services Lead, this webinar will help you better understand IPv6 address planning, block sizes, and how to plan for growth. We will include some real-life examples and even give you an opportunity to try your hand at planning for your own organization!
Topics will include:
Comparing what you know about IPv4 and IPv6
Building blocks of IPv6
Building an address plan
The right block for your organization
Registration is completely free; on the registration form, simply select which date you would like to attend:
Tuesday, 7 April; 1:00 – 2:00 PM ET
Tuesday, 12 May; 1:00 – 2:00 PM ET
Space is limited, so don't miss out. Register today!
We have a few policy proposals pending implementation or under discussion:
The following proposals have been adopted by the ARIN Board of Trustees and are pending implementation:
The following proposals are currently under discussion:
Recommended Draft Policies:
Draft Policies:
Editorial Change:
Proposals:
You can find the status of current policy discussions on our website and subscribe to ARIN-PPML (Public Policy Mailing List) to voice your opinions. And remember, membership is not required to participate!
Our Featured Policy Requirement:
Dedicated IPv4 Block to Facilitate IPv6 Deployment (NRPM 4.10)
Does your organization need IPv4 address space to deploy your IPv6 network? As part of the community-adopted policy, a contiguous /10 IPv4 block has been set aside and dedicated to facilitate IPv6 deployment. Examples of such deployment include IPv4 addresses for key dual stack DNS servers, NAT-PT, and/or NAT464 translators. If your organization will be utilizing these or similar technologies to transition to IPv6, and already has IPv6 registered, you may want to consider requesting an IPv4 /24 under policy 4.10 to assist you with your deployment.
A tip from our Registration Services Department:
Has your organization's Point of Contact (POC) left your company? Do you need to be added as the new POC on your Organization Identifier (ORG ID)? There are many different ways POCs can be associated with Org IDs and a few possible solutions to this scenario. Here are the three most common scenarios and their solutions.
The current POC represents a group within your organization and has a distribution list as its email. Create your own ARIN Online user account to log into arin.net, then Link to the POC. You must be able to receive an authorization email that will be sent to the distribution list.
The current POC is a person based POC representing the employee that has left the organization. Create your own ARIN Online user account to log into arin.net, create a new POC for yourself, then submit an Org Recovery request to be added as a new Tech point of contact for your Org Id.
The IP addresses are reassigned to you by your ISP. ARIN may be able to assist you via an Organization Recovery.  ARIN would also advise that you contact your ISP and inform them that you are the new point of contact for the IP addresses they are providing your organization.
More specific details and steps can be found on our website.
If you're unsure of how to handle your particular situation, ARIN analysts are happy to help. Give them a call at the Help Desk or submit an Ask ARIN ticket through your ARIN Online account.
Check out these Customer and Member Stats (As of 29 February 2020)
38,609 total customer organizations, including 6,399 member organizations
136 8.3 Transfers and 19 8.4 Transfers completed YTD 2020
8.4 Transfers completed YTD 2020: 4 to APNIC, 8 to RIPE NCC, 4 from APNIC, 7 from RIPE NCC
59.7% of members have an IPv6 block
See you in June!
And that's a wrap. We'll see you next quarter. Wishing you good health and a happy Spring!
Recent blogs categorized under: ARIN Bits
---
GET THE LATEST!
Sign up to receive the latest news about ARIN and the most pressing issues facing the Internet community.
SIGN ME UP →
---
Blog Categories
Grant Program
•
Public Policy
•
IPv4
•
Updates
•
Security
•
RPKI
•
IPv6
•
Data Accuracy
•
Elections
•
ARIN Bits
•
Business Case for IPv6
•
Fellowship Program
•
Caribbean
•
Internet Governance
•
Tips
•
Customer Feedback
•
Outreach
•
Training
•
IRR